Back To Top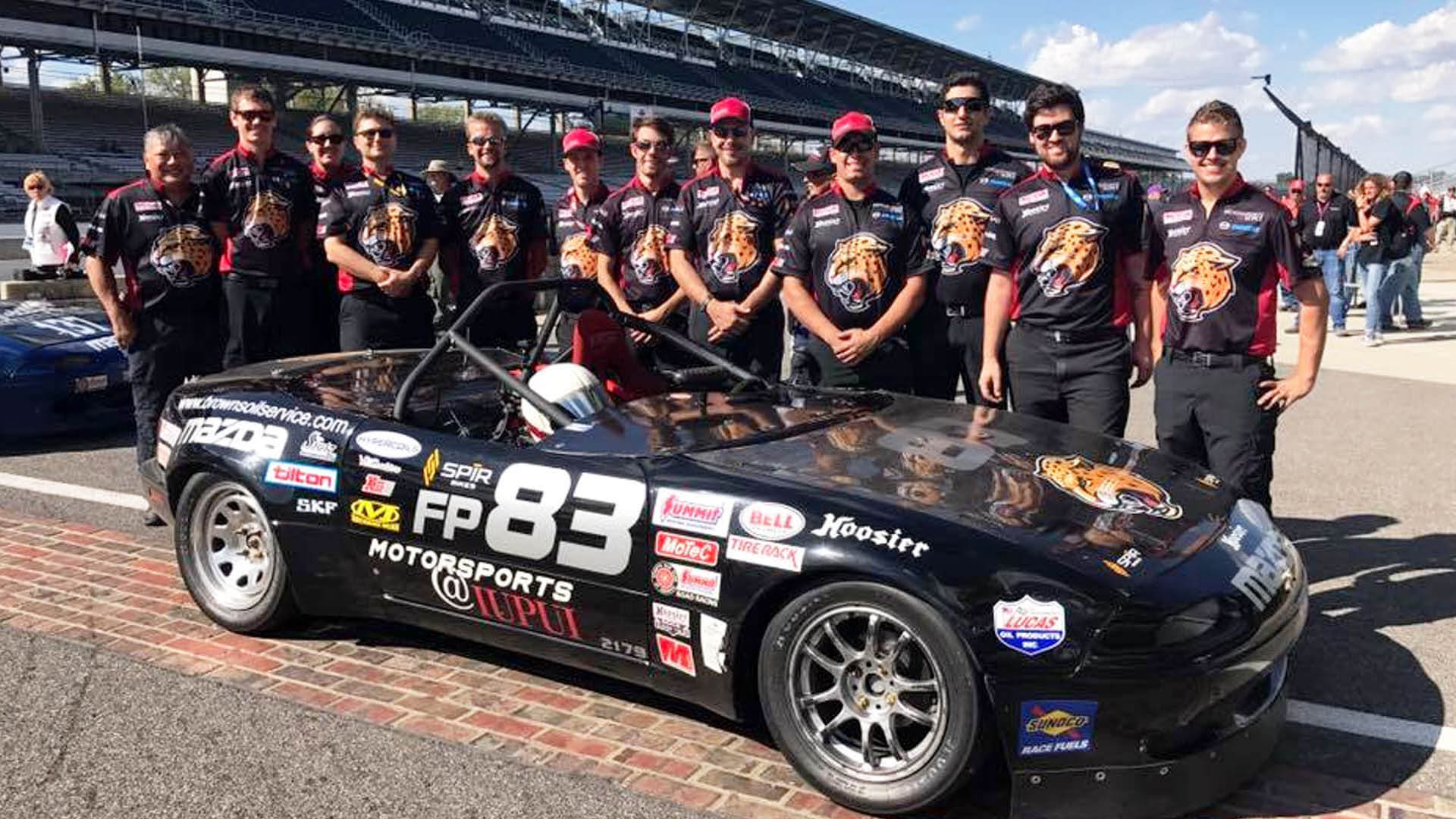 Purdue University in Indianapolis offers degrees designed for race fans
There's only one institution in the country providing an undergraduate motorsports engineering program that's recognized by the Accreditation Board for Engineering and Technology.
In the "Racing Capital of the World," no less.
Located less than a 15-minute drive from where the Indianapolis 500 captures international attention every year, Purdue University in Indianapolis is helping launch racing careers and creating unparalleled opportunities for students.
"This program is one-of-a-kind," says Chris Finch, director of the motorsports engineering program at Purdue University in Indianapolis. "Graduates have a well-rounded understanding of what it takes to win races. They're as comfortable working in the shop with their hands as they are computing behind the keyboard of a laptop."
Created in 2008, the program is second to none in preparing students to pursue motorsports careers. Students build an all-encompassing understanding of problem-solving, applying their proficiency to find real-world answers.
"The curriculum is created with direct insight from industry professionals guiding the program to assist in the development of the technical skill required by the industry," Finch says. "Guidance and insight into the technical requirements of the motorsports industry comes from our Industry Advisory Board, which consists of engineering professionals from IndyCar, NASCAR, IMSA, OE Manufacturers and industry tier-one suppliers." 
Critical thinking stems from studying the fields that matter most to racing teams. Courses are specific to what future engineers will need to know: vehicle dynamics, aerodynamics, systems engineering, performance engineering and design.
Graduates have a well-rounded understanding of what it takes to win races.

Chris Finch
Motorsports Engineering Program Director
"Racing is always rapidly evolving, and we respond to that with the help of our advisory board and our research and outreach," Finch says. "Industry leaders are letting us know how to equip students for technical innovations in motorsports like the current trend of electric and hybrid cars."
When Finch was a motorsports engineer earlier in his career, he hired multiple interns from the prestigious program. He joined the faculty in 2014 to help lead the impressive talent taking on the industry.
Finch earned his bachelor's and master's degrees in mechanical engineering from Purdue's flagship campus in West Lafayette. With over 20 years of experience and countless connections created with racing teams, he has invaluable insight and contacts that can assist students in seeking their first job.
In IndyCar racing, graduates have joined some of the biggest names in the capital city, including Chip Ganassi Racing, Arrow McLaren, Andretti Autosport, A J Foyt Racing, Ed Carpenter Racing and Rahal Letterman Lanigan Racing.
IMSA and NASCAR have also hired Purdue motorsports alumni. Tier-one suppliers to the industry like the Auto Research Center, Honda Performance Development, GM Motorsports, Ford Performance and Toyota Racing Development employ alumni, too.  
Students motivated to pursue engineering careers outside the motorsports industry have landed prestigious engineering roles at places like Space X, Harley-Davidson, Ford, Polaris, GM, Cummins and Caterpillar, landing all around the U.S. Going to school in Indianapolis is a launching point for anything students want to pursue.
"We're right down the road from the 'Greatest Spectacle in Racing,'" says Reed England, a junior in the motorsports program. "It's immersive. Not only do you get to know racing teams, but you also really become a known face to them. You get hired."
One of the most enjoyable aspects of being part of the program is meeting other people devoted to racing.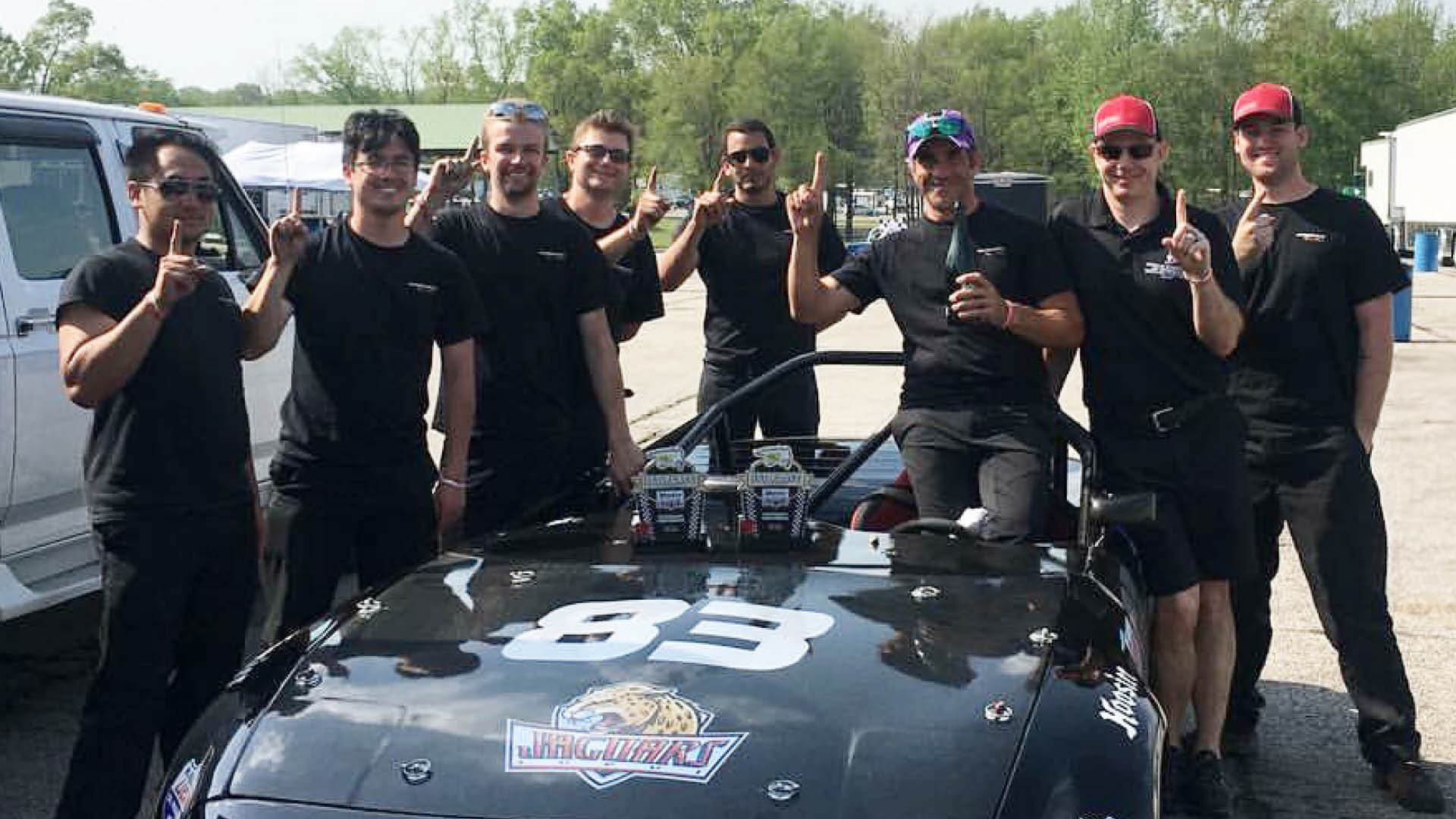 "On any given weekend when there's a bunch of races, group chats are just exploding," England says. "It's unbelievable. Growing up, I was the only one in my friend group who was interested in this. Now, I'm in an environment where it's all anybody wants to talk about."
That group chat is the "fun group chat" — there's another one, set up for networking, that's known for being highly successful. Older students that have had internships will relay new openings to the group. England's peers get a preview into what wouldn't have been posted on a job board.
"Some of the opportunities I've had are just from saying hi to older students," England says. "Through our motorsports club, I recently got offered the chance to work with a team on an upcoming race. I've been a part of a series for about a year now that I heard about through the club at the end of my freshman year.
"I remember traveling to a track during the first weekend that I was in the series. I was in awe, going, 'I'm flying to a raceway that I've heard about my whole life. And I'm going to work there.' It was amazing."
Classes have helped prepare England for the lessons he will need to know at raceways. From collecting data via driving simulations to designing custom parts with 3D printers, he's well-equipped to handle what happens in the moment. All of this knowledge is built on a strong foundation of engineering fundamentals, calculus, physics — a course load that is by no means easy.
"You have to be persistent," England says. "The older students taught me that, too. It's going to be tough. There are going to be times that you question your abilities. But you stick with it. You travel to your first race, you're at a circuit you've seen on TV for years, you see the big picture. It's all worth it."
England was excited to share a stat from 2023's Indy 500: Purdue motorsports engineering students were on 32 of the 33 IndyCar teams.
Reaching for rungs on the ladder to a career in motorsports isn't just a dream for him and his peers. The motorsports engineering students are making it a reality, earning degrees that drive their success forward into unrivaled futures.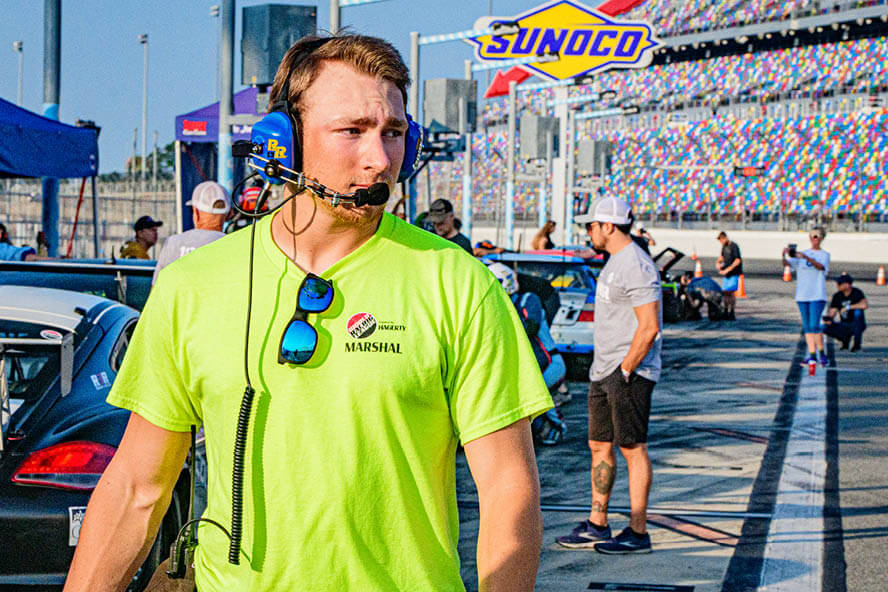 You travel to your first race, you're at a circuit you've seen on TV for years, you see the big picture. It's all worth it.

Reed England

Junior, motorsports engineering