Back To Top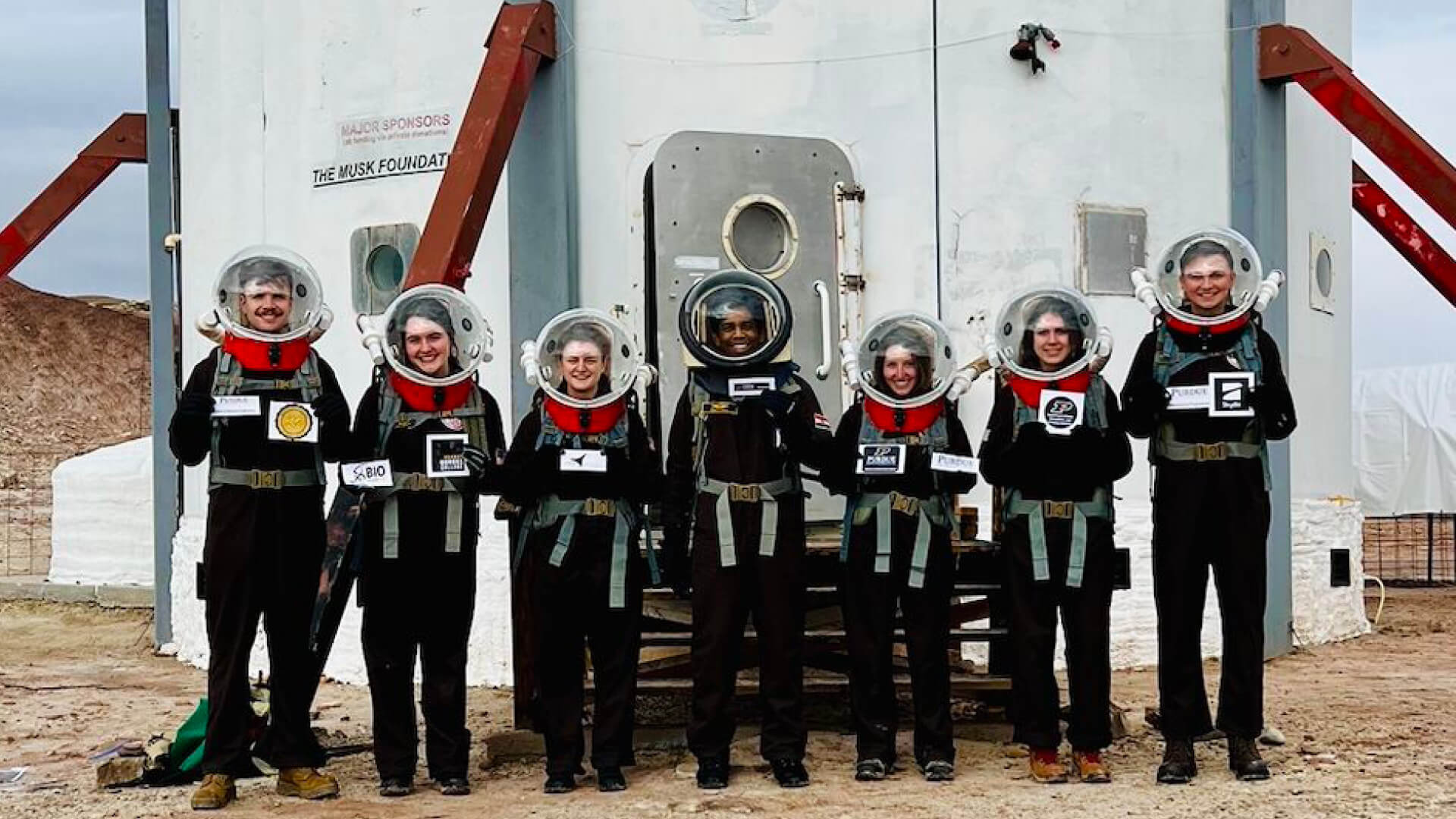 Reflections on two weeks in an analog space habitat in the Utah desert
Humankind has yet to make the journey to Mars — but we have been to Hanksville, Utah. And as our crew of Boilermakers learned, it's kind of the same thing.
Home to the Mars Desert Research Station (MDRS), an analog space habitat maintained by the Mars Society, the region boasts a sun-soaked red landscape that bears an uncanny resemblance to the solar system's fourth planet. The iron-rich soil is a geological analog to what can be found on Mars, meaning that it's not just a look-alike — its composition is actually similar to that of the Martian surface.
In January 2023, our crew became the 272nd to visit MDRS — and the fifth composed entirely of Purdue students and staff. Like other analog space habitats, MDRS hosts researchers for rotations in live simulation of operations inside (and outside) the deep-space habitats of the future. Analog astronauts of various backgrounds come to study the challenges associated with living and working in isolation.
Commander Kshitij Mall, a postdoctoral researcher in the School of Aeronautics and Astronautics, led Crew 272 — affectionately dubbed the Purdue Redusters as a play on the iconic Purdue Goldusters. Mall is a veteran analog astronaut who previously participated in one of Purdue's first two-week rotations at MDRS. He worked with the Space & Earth Analogs Research Chapter at Purdue (SEARCH) to assemble this year's team of student space explorers from hundreds of applicants.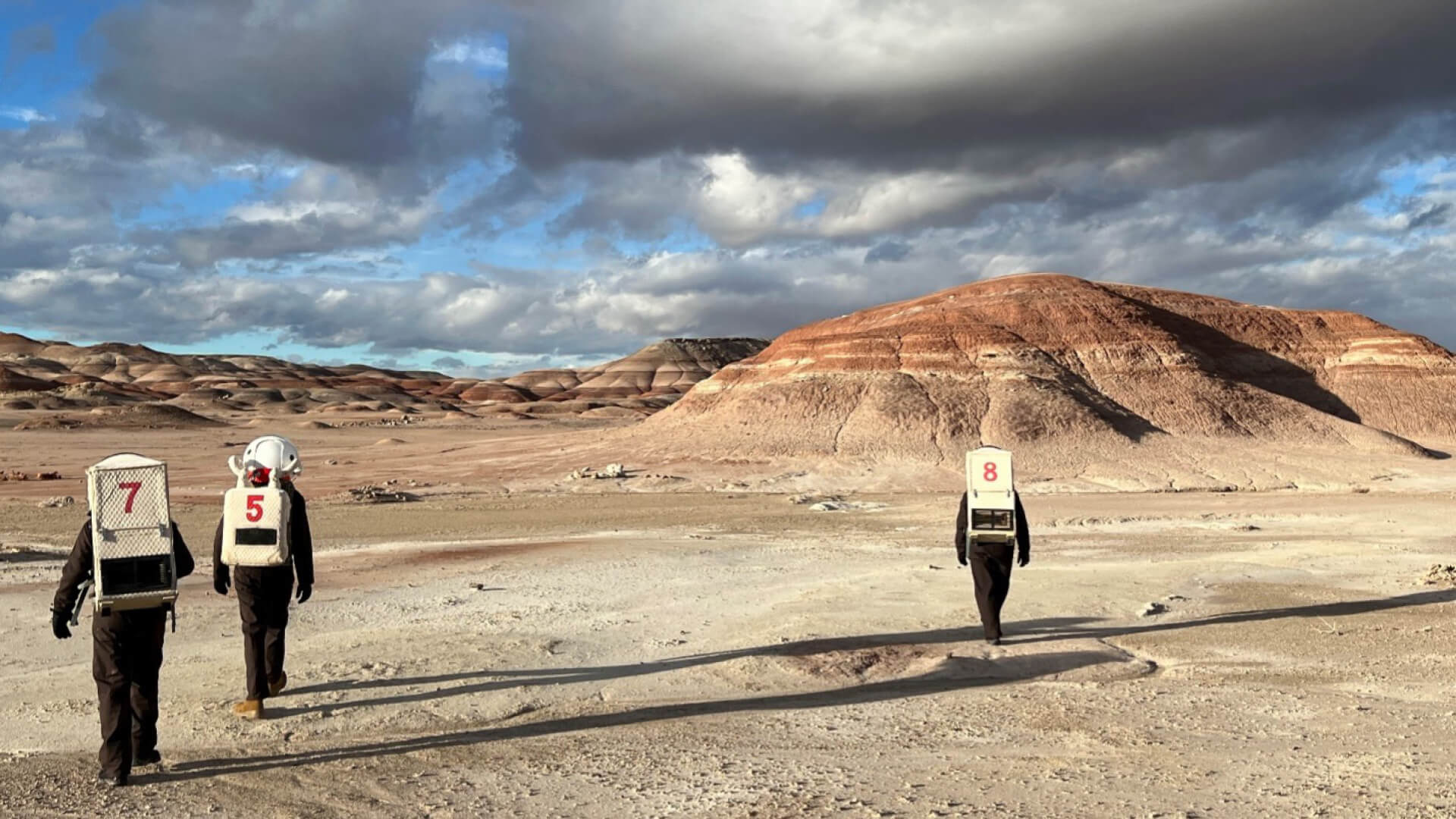 After several months of meetings and research project development, we set out for MDRS with a crew of seven, including representation from four academic programs (Aeronautics and Astronautics; Agricultural and Biological Engineering; Earth, Atmospheric, and Planetary Sciences; and Mechanical Engineering) and three countries (U.S., India and Canada). Our primary advisor, Cesare Guariniello, Purdue Mission Control — a remotely based group of Purdue students who supported planning efforts — and other research advisors and collaborators formed a support network alongside our reliable backup crew.
An average "sol," or solar day, at MDRS started with some light exercise led by our health and safety officer, Megan Rush. Stretching was much needed after emerging from our tiny bunk rooms — floor space doesn't come cheap when you need to fit seven people in a space-portable dome! We ate dehydrated breakfasts together each morning while receiving a group briefing on the sol's plans. Crew geologist Adriana Brown typically led groups of four in our near-daily extravehicular activities (EVAs) to nearby geological formations like Cowboy's Corner, Candor Chasma and Kissing Camel Ridge.
In the spirit of true simulation, we treated the air outside as unbreathable. This meant strict pre-EVA procedures donning bulky air-circulating EVA suits, testing radio equipment and participating in prebreathe sessions in the air lock. Similar to scuba divers' need for controlled ascents to decompress on return to the surface, astronauts require time to acclimatize to the pressure inside their suits. These five-minute sessions allowed us to simulate adjusting to the suit air supply prior to the EVA.
For destinations out of range on foot, we climbed into electric rovers and motored over. Aside from on-site geological investigations, Mall conducted field research on radio navigation, and our crew engineer, Mason Kuhn, piloted a nifty Skydio 2 drone for terrain scouting and mock search-and-rescue missions.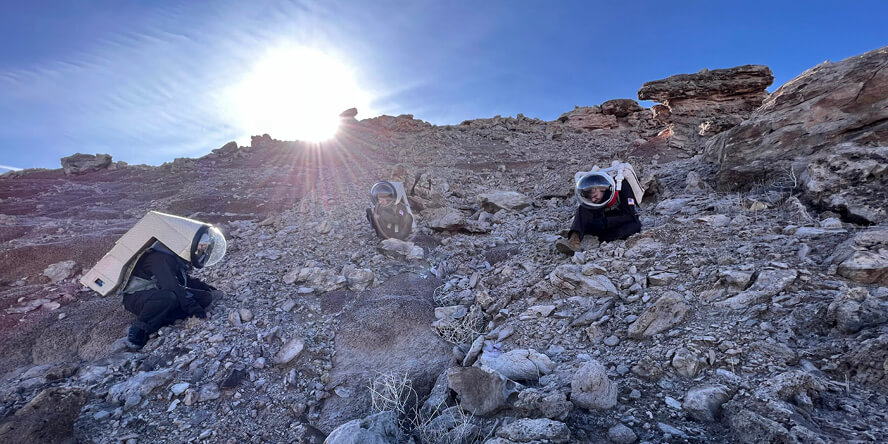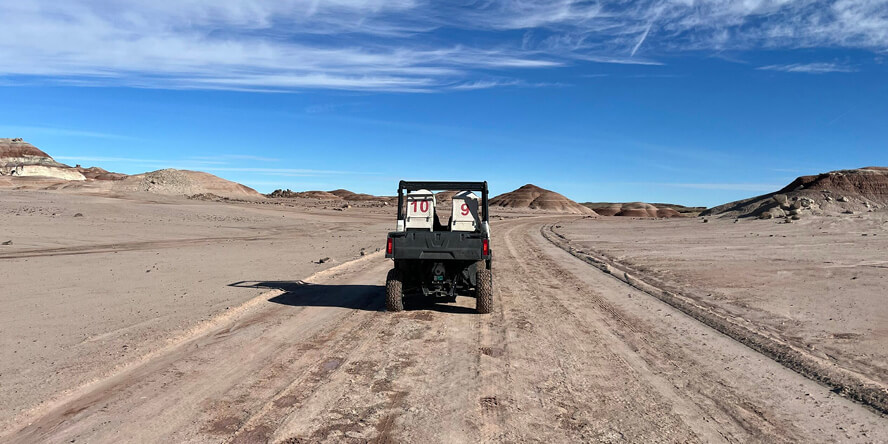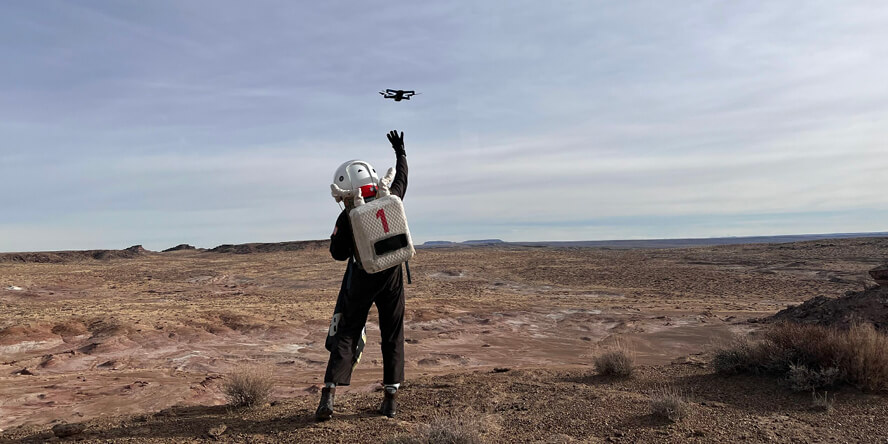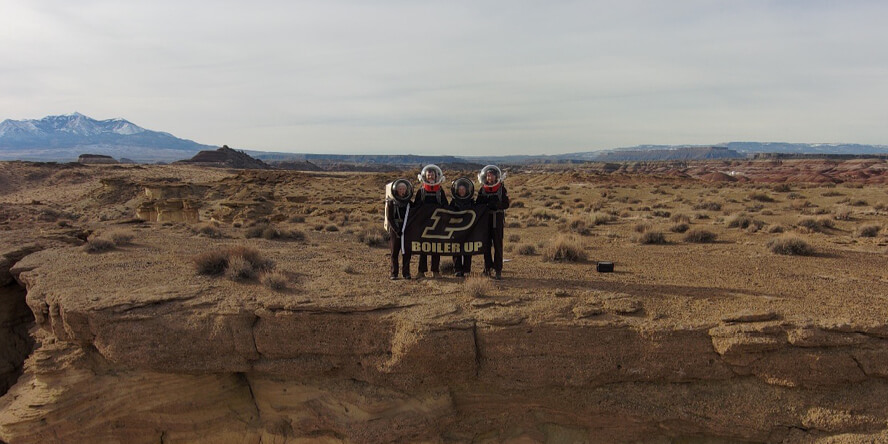 Meanwhile, there was plenty to do for anyone back at the "Hab" during the EVA. Air locks and tunnels connected the main living dome with other MDRS facilities, including the Science Dome, the Musk Observatory, the Repair and Maintenance Module, and a greenhouse called the GreenHab. On any given sol, GreenHab officer Madelyn Whitaker could be found tending to the thriving microgreens while Arly Black, our crew scientist, processed data on the effects of isolation on cognitive performance. As the crew journalist, I crafted a sol summary and planned living schedules for upcoming sols.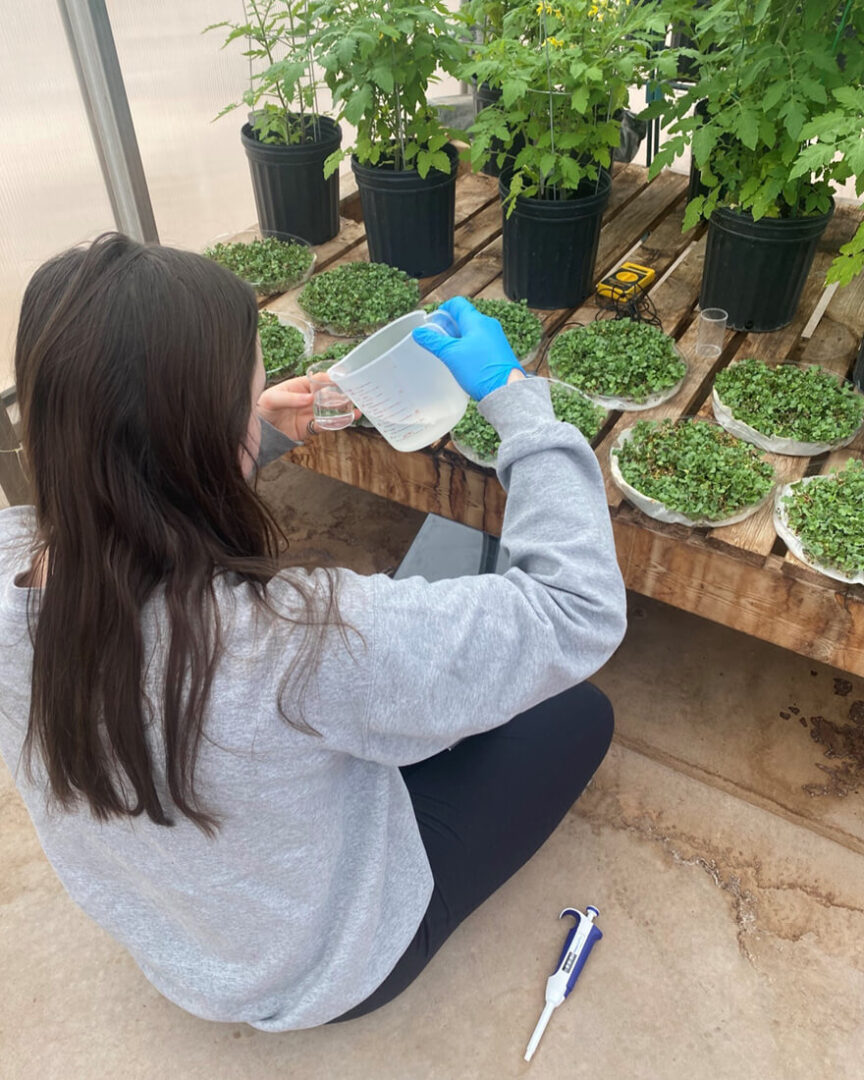 Once the EVA group returned, we debriefed on their mission and enjoyed a dehydrated powder medley for dinner — just like Mom used to make! After a narrow window for report writing and external communications, the evening brought some free time to unwind, as mental well-being is an important component of crew health.
Throughout the two weeks of exploration, maintaining the Hab and surviving the uncertainties of an inhospitable environment (and each other's constant company), we were often forced to adapt to changing conditions to accomplish our academic goals. Sometimes this meant adjusting a schedule, and sometimes it meant devising an innovative solution, like when we used a 3D printer to create replacement tools for a project undertaken by Rush, our health and safety officer.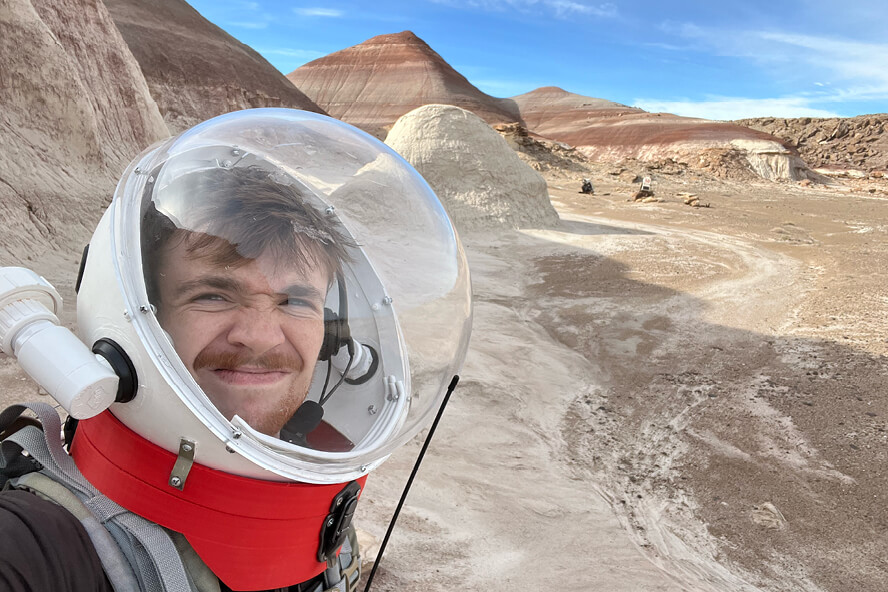 It's safe to say that MDRS left its mark on us — I hope we can say the same about our impact on analog habitat research and our university's pioneering involvement in the field.

Kenny Pritchard

BSAAE '21, MSAA '23
We learned so much during our stay at MDRS. We figured out how to gel as a team, master novel procedures and produce research under unforgiving circumstances. It's safe to say that MDRS left its mark on us — I hope we can say the same about our impact on analog habitat research and our university's pioneering involvement in the field. Carrying on the legacy, Crews 288 and 289 will depart from Purdue in December 2023.
Written by: Kenny Pritchard, pritchak@purdue.edu