Back To Top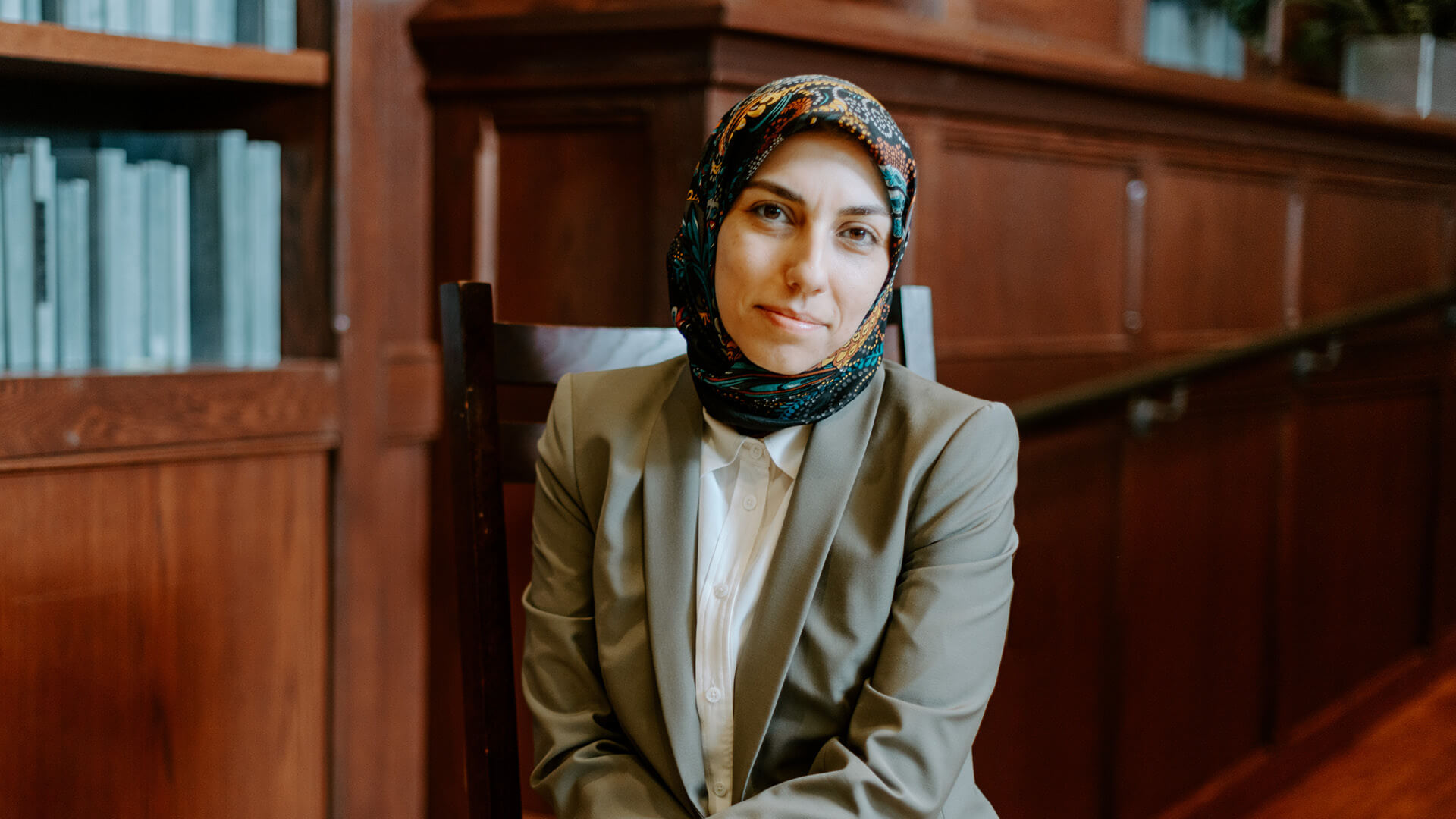 Exceptional Early Career Teaching Award Winner: Zahra Tehrani
Zahra Tehrani was not the typical UCLA premed student.
Surrounded by competitive peers, she was the student who would record lectures, write color-coded notes and share them with the rest of the class.
"I realized that I had a knack for taking complex information and translating it in an accessible way, and I loved seeing that light bulb go off while tutoring my peers and helping my study groups," Tehrani says. "I got a release of endorphins when I was able to make that connection for people in my classes, and when I would see my professors teaching class, I would think, 'That's what I want to do.'"
So that's what she did.
With just a week left to submit her pharmacy school application, Tehrani instead applied for graduate school and went on to earn a doctoral degree in molecular, cell and developmental biology. Now she's living out her dream at Purdue as a clinical associate professor in the John Martinson Honors College – a space where she's discovered and adopted new approaches to teaching.
"It's sort of like a sandbox for faculty who want to experiment and try new things outside of the traditional instruction that many of us experienced in our own academic journey," says Tehrani, a recipient of the 2023 Exceptional Early Career Teaching Award. "When I was an undergrad, most of my courses, if not all of them, were mostly lecture-based. But Purdue really values this active learning approach, and we are encouraged to try new evidence-based methods and explore things outside of our comfort zone."
Relearning how to teach
When Tehrani joined the Honors College in 2014, she was the college's first and only STEM faculty member. In her past teaching roles, she taught students the same way professors had taught her – through lecture-based courses that left little room for open-ended discussion. But this time around, she was tasked with explaining complex topics related to aging, human genetic modification and bioethics to students from all disciplinary backgrounds.
"I couldn't assume students had that foundational knowledge of scientific concepts, because some of them were biology majors and some weren't," Tehrani says. "And that was a challenge because how do you explain the science and teach it in a way that doesn't bore the students who are biology majors but also doesn't overwhelm the students who are English majors?"
Eager to adopt a new approach that would best fit her students' needs, Tehrani replaced exams with group projects and began weaving creative writing assignments, case studies, role-playing activities and opportunities for reflection into her course curricula. She says the shift has helped her create a safe, stress-free environment where students are encouraged to ask questions and generate honest, open dialogue about course topics.
This interchange of ideas is on full display in Tehrani's eugenics course, in which students explore the discourse surrounding human genetic modification by assuming the roles of various stakeholders on a Food and Drug Administration advisory committee charged with considering genetic conditions that qualify for gene editing. After researching their position, they come to class ready to play their part and decide to approve or reject the proposal. The exercise challenges them to view a complex issue from perspectives outside of their own, a skill that Tehrani says she wants all her students to take from her courses.
"My goal is to encourage students to not just try to understand science, but to be always mindful of how science impacts society. One of the outcomes in all my courses is to cultivate perspective-taking – the ability to look at issues from the standpoint of different stakeholders and articulate their concerns and values about certain technology. My hope is that when they leave Purdue, whether they further their academics or go into industry, they are mindful about not only their work, but also the implications of their work."
My goal is to encourage students to not just try to understand science, but to be always mindful of how science impacts society. My hope is that when they leave Purdue, whether they further their academics or go into industry, that they are mindful about not only their work, but also the implications of their work.

Zahra Tehrani
Clinical assistant professor, John Martinson Honors College
From mentee to mentor
If it weren't for her exceptional mentorship experience as an undergraduate researcher, Tehrani says her career path may have veered in a completely different direction. "That's what got me into STEM research, and if that experience was horrible and I felt like I wasn't smart enough to do this, there would be no way I would've applied to graduate school. It was the rich mentorship I received from my graduate student that instilled that confidence and made me think, 'Maybe I can do this.'"
Today, a large chunk of Tehrani's work is dedicated to supporting undergraduate researchers in the Honors College. She serves as director of the Future Mentors Program, a 16-week course she developed and launched in 2021 that teaches graduate students how to effectively mentor and support undergraduate student researchers. To match the students with mentors in the program, Tehrani also launched a separate initiative she currently directs – the Undergraduate Research Fellowship. To date, 30 graduate students and postdocs across five of Purdue's colleges have mentored 41 undergraduate students in the Honors College.
Tehrani knows that enriching these students' experiences early in their research journey is vital to maintaining and nurturing their interest in STEM research, and she's determined to help make the same impact as her own graduate student mentor all those years ago.
"Not all faculty are trained to think about their other roles and responsibilities as a research mentor, so that's something I think about for my undergraduates," Tehrani says. "I'm thinking about professional development opportunities for them and the psychosocial support that's important for mentors to provide. We know undergraduate research is a high-impact practice, but we also know from the research that they only reap the benefits if they have a good mentor – that's the caveat."
One professional development opportunity she often points her students to is the annual Purdue Undergraduate Research Conference, hosted by the Office of Undergraduate Research. For four years, Tehrani served on the conference's planning committee, where she helped lead the effort to expand the number of student presenters from 30 to well over 100. Additionally, she worked with OUR's CURE-Purdue program to introduce the Honors College's first course-based research experience (CURE), and today students can choose from eight different CUREs offered by the college.
This isn't the first time Tehrani has been recognized for her exceptional work with students in the classroom. In 2019 she received the Honors College Outstanding Teaching Award, and just this year, she earned the Honors College Pillar Award for Outstanding Research Mentorship. But this most recent recognition makes her feel like she's finally found the answer to a problem she's been trying to solve for nearly a decade.
"I just feel that all of the challenges and blood, sweat, and tears of the first couple years of figuring out this transition from traditional science instruction to this interdisciplinary, project-based, active learning approach – all of that effort has finally paid off," Tehrani says.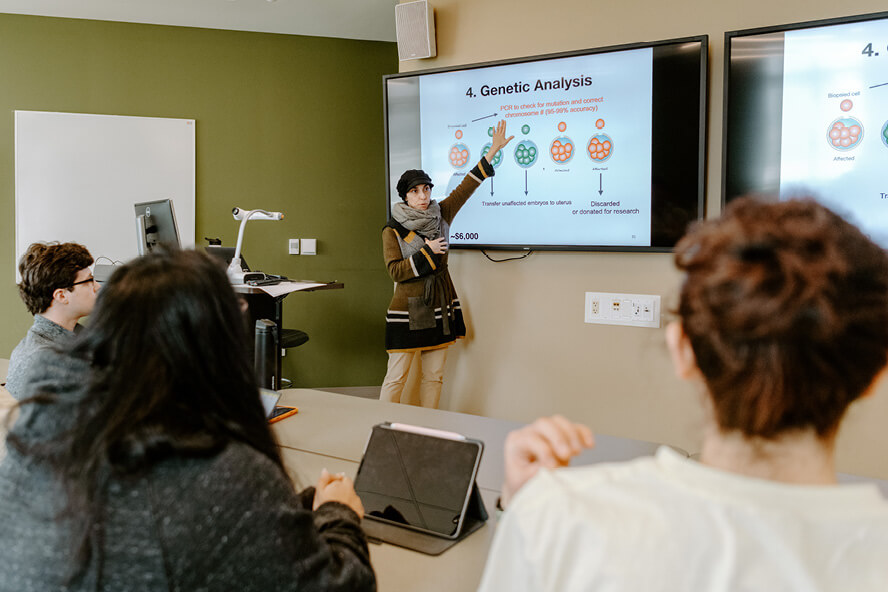 We know undergraduate research is a high-impact practice, but we also know from the research that they only reap the benefits if they have a good mentor – that's the caveat.

Zahra Tehrani

Clinical assistant professor, John Martinson Honors College