Back To Top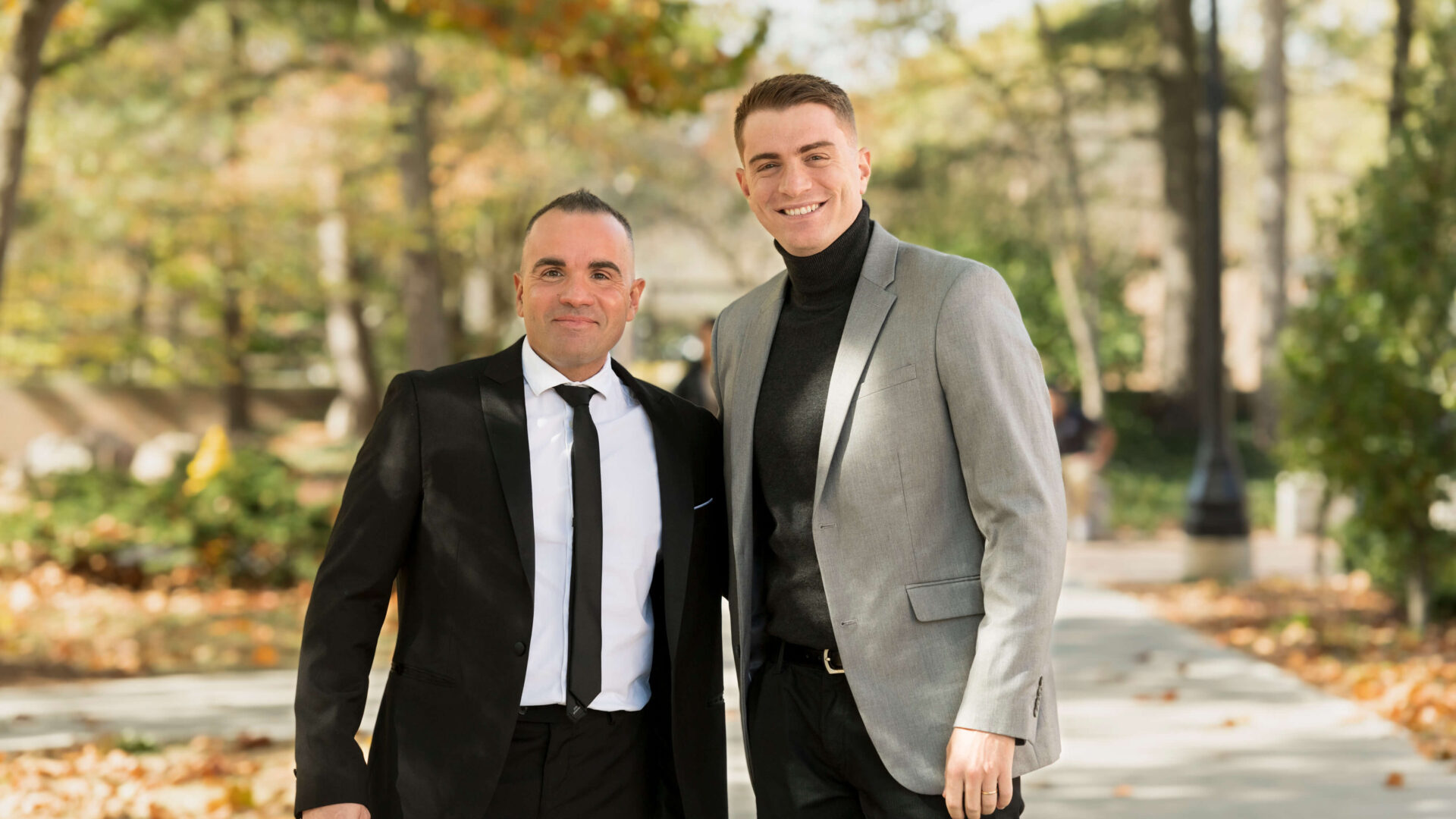 Purdue Global professional flight students bond over their Italian heritage
All around Purdue's Elliott Hall of Music and campus, new Purdue Global graduates posed for photos with well-wishers.
Their parents. Their children. Their professors, classmates and friends. All commemorating the new graduates' accomplishment in a tradition that's as much a part of the commencement ritual as crossing the stage to accept their diplomas.
Among that sea of smiling photo-takers at the October 2022 commencement were Gabriele "Gabe" Giusti and Massimo Ruzza, two brand-new Purdue Global alumni who were neither friends nor family this time a year ago. Now, they felt like both after meeting online as professional flight students and quickly bonding over their mutual love of aviation, Italian heritage and efforts to complete the program together.
This commencement ceremony that we're attending together, it's a family thing more than an achievement thing. We definitely did it together.

Massimo Ruzza
BS professional flight '22, Purdue Global
"This commencement ceremony that we're attending together, it's a family thing more than an achievement thing," Ruzza says. "We definitely did it together."
Although they had never met before attending their first Purdue Global class together in November 2021, Giusti and Ruzza had so much in common that a long-distance friendship was all but inevitable.
In their travels as U.S.-based commercial airline pilots – Giusti is a first officer with PSA Airlines, and Ruzza is a captain with Republic Airways – they rarely encounter other Italian-born pilots. Now, they were studying alongside one another in the same virtual college classroom.
When their academic advisor first informed Giusti that Ruzza was already studying in the program, he immediately reached out to make contact.
"He sent me an email and said, 'Hey, do you want to be in contact with me?' I'm glad he did," Ruzza says. "He says that I helped him a ton, but I don't think I would have made it here today, graduating from Purdue Global, if it wasn't for Gabriele."
Once they became acquainted, Giusti and Ruzza found that they simply liked each other. They each also respected what their new friend brought to their shared classes: Gabe's intellect and test-preparation skills and Massimo's reliability, professional experience and meticulous nature that revealed itself through detailed responses to their weekly discussion-board assignments.
They met in person for the first time in February, when their work travel routes happened to overlap in Charlotte, North Carolina. And how did they spend that first afternoon hanging out? Collaborating on Purdue Global course assignments, of course.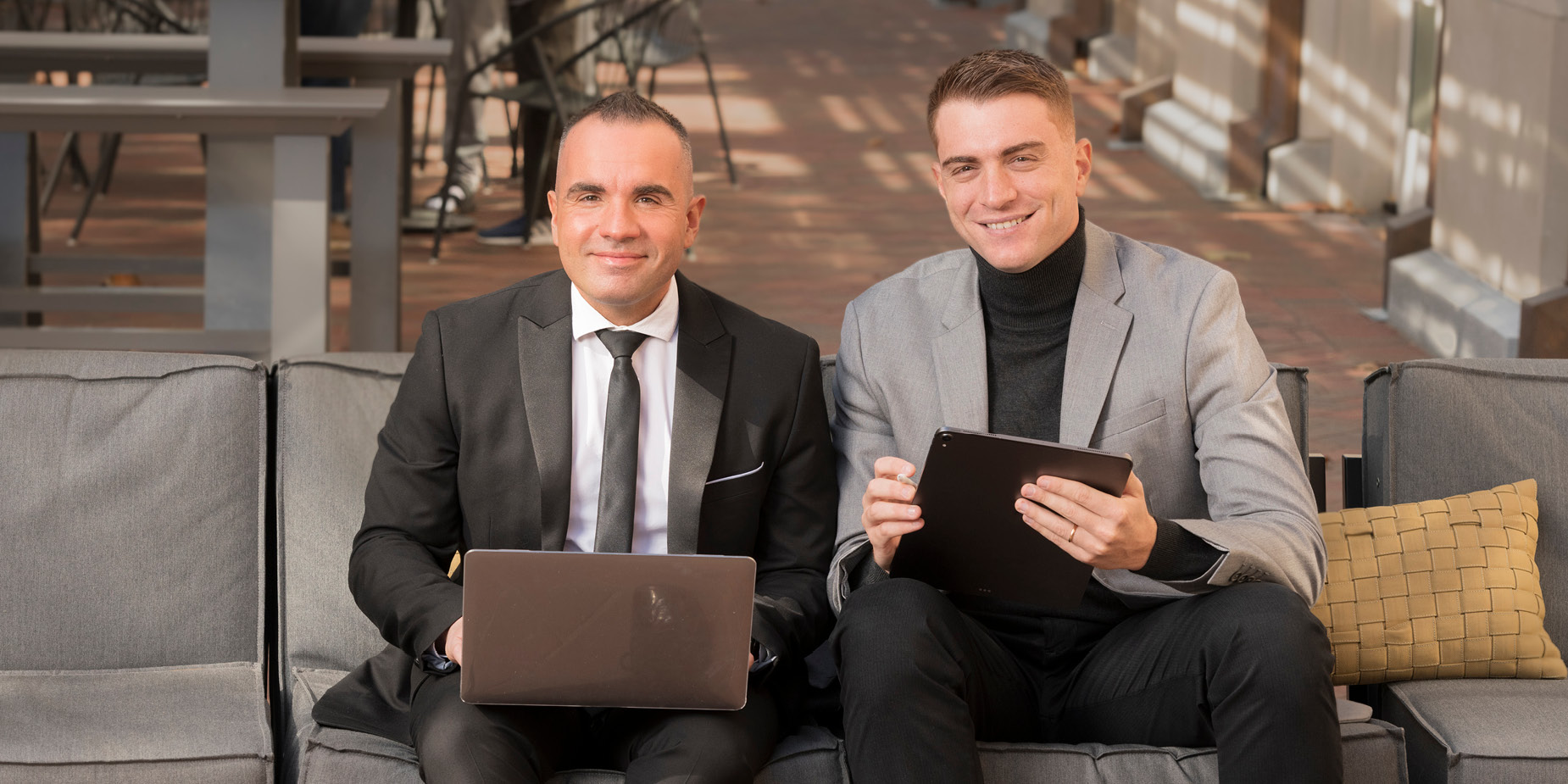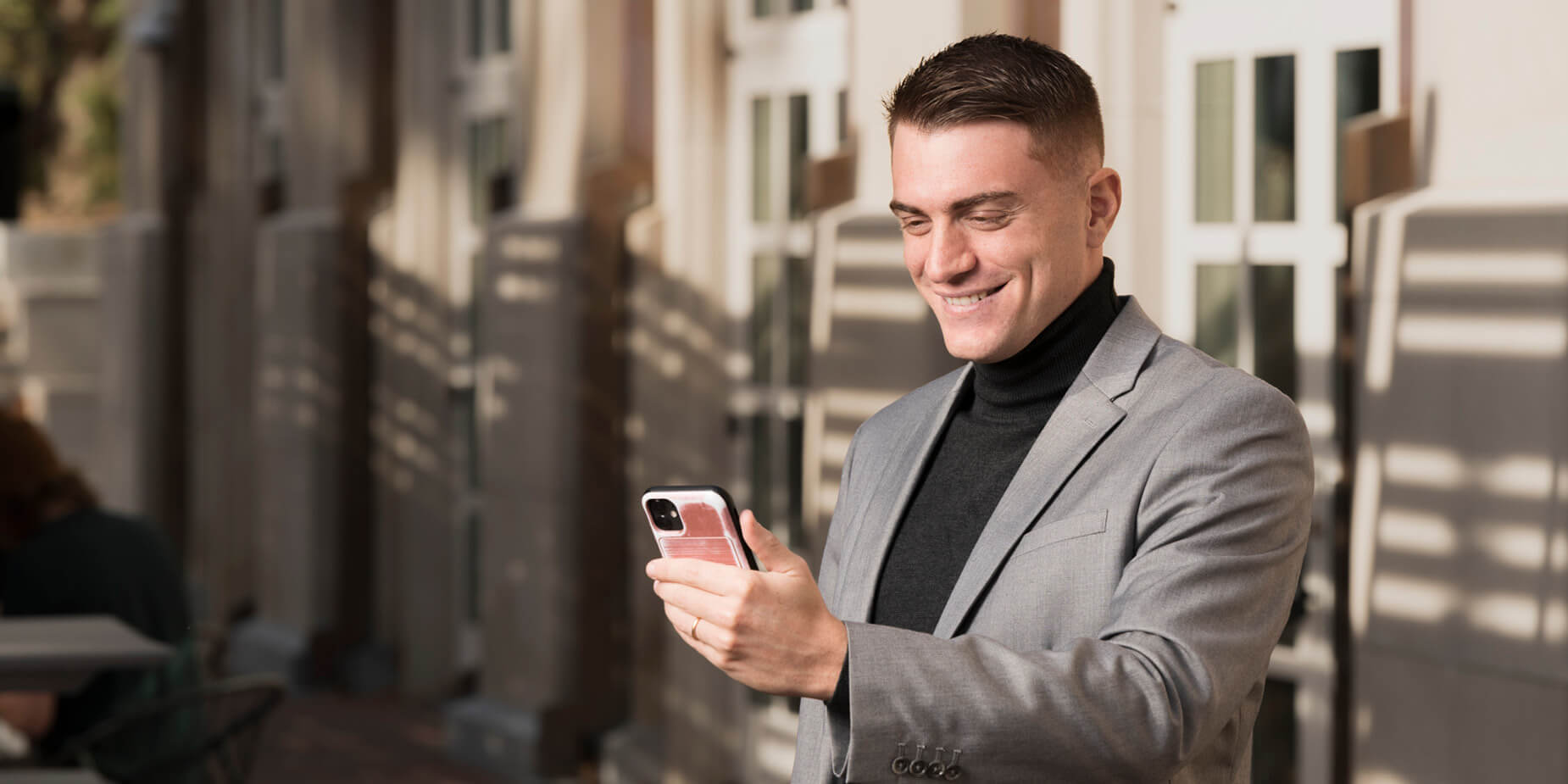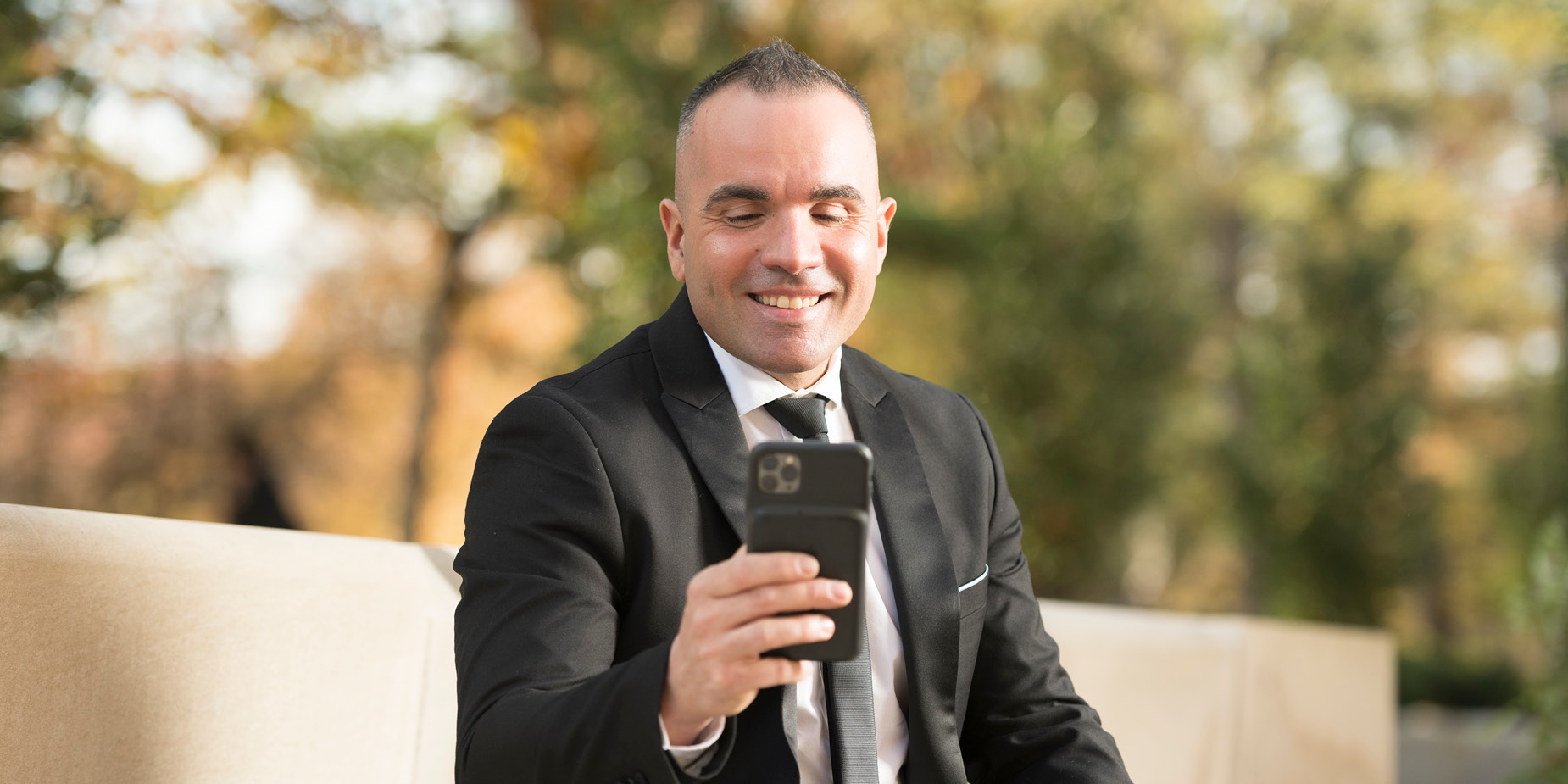 "We've been bonding ever since," Ruzza says. "He'll help me with some work; I'll help him with some work, and we've been working together as a team for the last 10 months."
The two pilots quickly decided they wanted to do whatever was necessary to graduate together. Getting there was no easy feat, however, especially for Giusti.
Because Giusti started the program after Ruzza, he had to take an extra course for several consecutive terms if he wanted to catch up to his friend and classmate.
And Giusti's plate was already full between a normal course load, being a full-time pilot and husband … oh, and he also moonlights as a professional referee with the United Soccer League.
"I do a million things," says Giusti, who resides in Fort Lauderdale, Florida. "[Recently] in one week, I was only home for one day. After a four-day trip for work, I flew into Louisville, Kentucky, worked a game on Friday, got home on Saturday and Sunday went back to work. Those are sacrifices, but to me soccer is special. I love doing it, and I just love the profession, but I know in the long run aviation is the priority."
Ruzza had been the first to mention that he'd like to graduate together, but he was nonetheless surprised by the lengths his friend was willing to go to make it happen.
"I said, 'Are you crazy?'" Ruzza recalls with a laugh.
It was important to Giusti, however, that they share the accomplishment once they completed the program.
"We have been doing everything together, and we're finishing together," Giusti says. "That's what I wanted, and I feel so happy doing it. I feel proud of myself and proud of Massimo at the same time."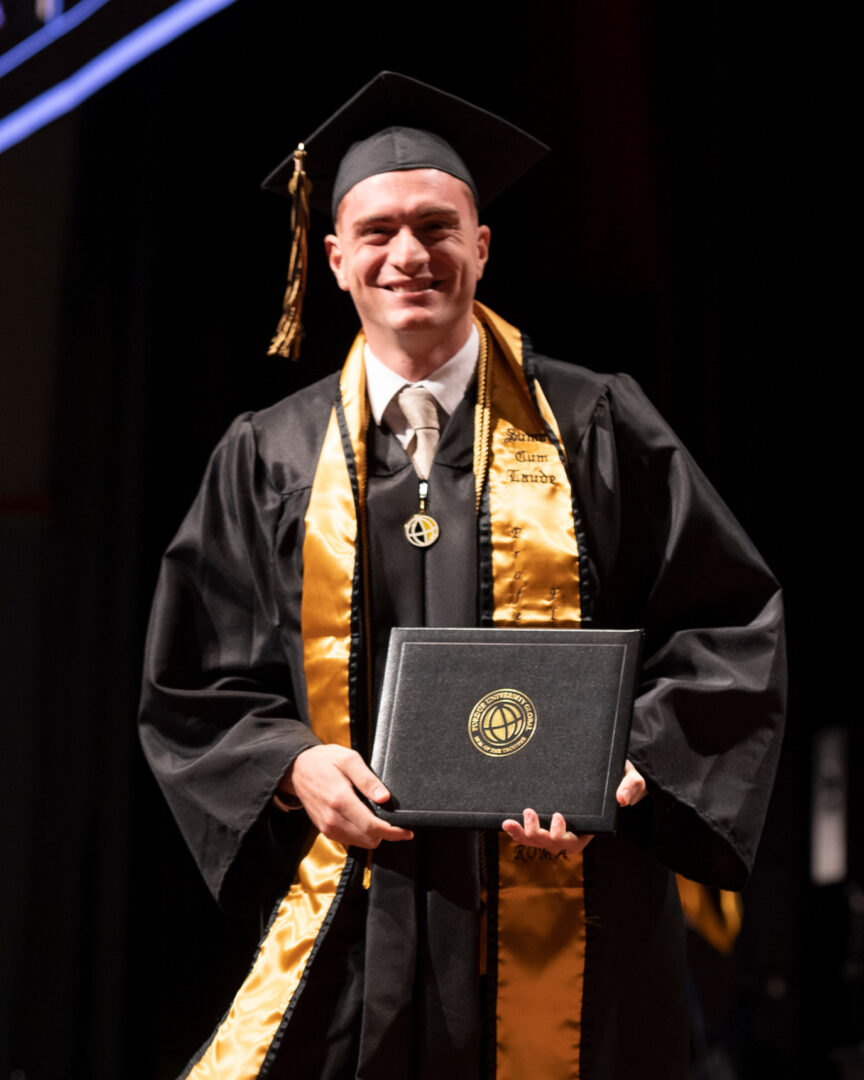 Fascination with flight
Aviation has fascinated Giusti ever since he got his first job as a ramp agent at his hometown airport in Rome. Encouraged by pilots he encountered there to join their ranks, at age 21 he accepted his father's offer to send him to Tampa, Florida, to live with a cousin who is a professional pilot. In the U.S., he could learn to speak English and determine whether aviation suited him as a career choice.
It didn't go well at first. When Giusti's small Cessna plane encountered turbulence on his maiden flight, he was sure this piloting stuff was not for him.
"We got back, and I called my dad and said, 'Dad, tomorrow I'm coming back to Italy.' I didn't like it at all," Giusti says. "My dad said, 'Well, try it one more time. Maybe it was the weather that caused the turbulence.' Guess what, he was right. I started training on good weather days, and then I started loving it. I just became addicted."
Giusti's love of flying has only grown since he became a certified flight instructor and then a commercial airline pilot. He believed, however, that his career trajectory might be limited by not having a college degree. So he enrolled at Purdue Global after finding the professional flight program via an online search.
Even when many major airlines removed their bachelor's degree requirement for pilots after he entered the program, Giusti still chose to finish what he had started.
"Getting a degree is good for your resume," Giusti says. "I have a job right now that I feel good about, but it was a personal thing to get a degree. When they removed the requirement right after I started, I said, 'Well, I don't care. I want to have it. I want to finish.'"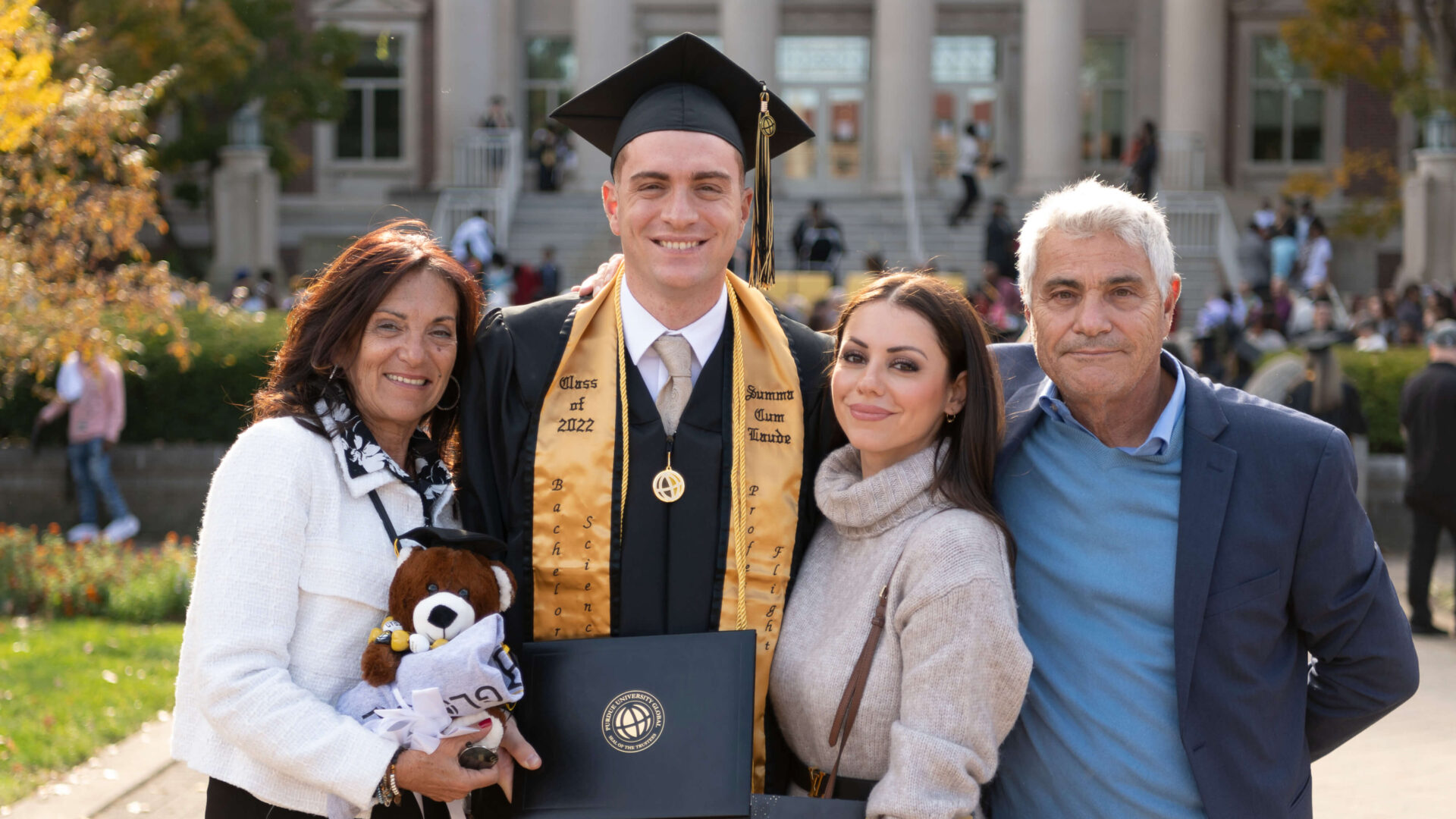 Path to the profession
Ruzza's love for aviation dates back to a childhood spent in a working-class town near Milan. He remembers family shopping trips where their route would take them past a busy airport in Alessandria and an aeronautical school that had a decommissioned North American F-86K fighter jet on display. He was immediately fascinated.
"I had my nose pressed against the car window, and my dad would slow down to make sure I saw," Ruzza says. "That's how I was hooked. For me, I always wanted to fly."
He, too, came to the states to make his way as a pilot, but Ruzza had no connections to help him launch a career. He did odd jobs in an uncle's restaurant to earn enough money to pay for a green card and, eventually, American citizenship. Then he worked as a tradesman in a variety of additional jobs to pay for flight school, earning status in 2006 as he worked his way toward joining Republic in 2015.
The little boy who used to beg his dad for a few bucks to pay for enough fuel mixture to power a motorized hang glider is now a veteran professional pilot.
"I don't know why I like it, but I can't stay away from it," says Ruzza, who lives in northwest Pennsylvania. "In my days off, I flight-instruct for free at the flight school where I was rated over the years. For me, that's where I learned my art. There's nothing better than teaching what I love."
Ruzza's work takes him across the continental U.S., as far north as Canada and as far south as Latin America. But for all his experience as a pilot, he still has one destination he desperately wants to cross off his flight bucket list: Milan.
"All of my co-workers fly home, but I never got to do it," Ruzza says. "I want to know what it feels like to land in Milan after a long flight: landing at home and having my parents waiting for me to come to pick me up."
A friend and a mentor
Just as the challenges Ruzza faced to become a pilot motivated him to help his flight students, they also influenced him to mentor junior co-workers.
"What makes me feel complete as a person is being able to help somebody else," Ruzza says. "It's looking at someone and saying, 'Oh, that's me 20 years ago.' I want to be for that person the mentor that I never had when I came here."
He has a willing listener in Giusti, who is thrilled to learn about his more experienced friend's career exploits. Giusti does not hesitate to say Ruzza is more than a classmate that he frequently collaborated with so they could complete their degrees together. He's also a friend, a countryman, a mentor and now an unofficial family member.
Those bonds are worth celebrating, which made their impromptu graduation-day photo session all the more meaningful. "A year ago, I really met a friend, and I'm really happy about that," Giusti says. "He's a classmate and a brother now."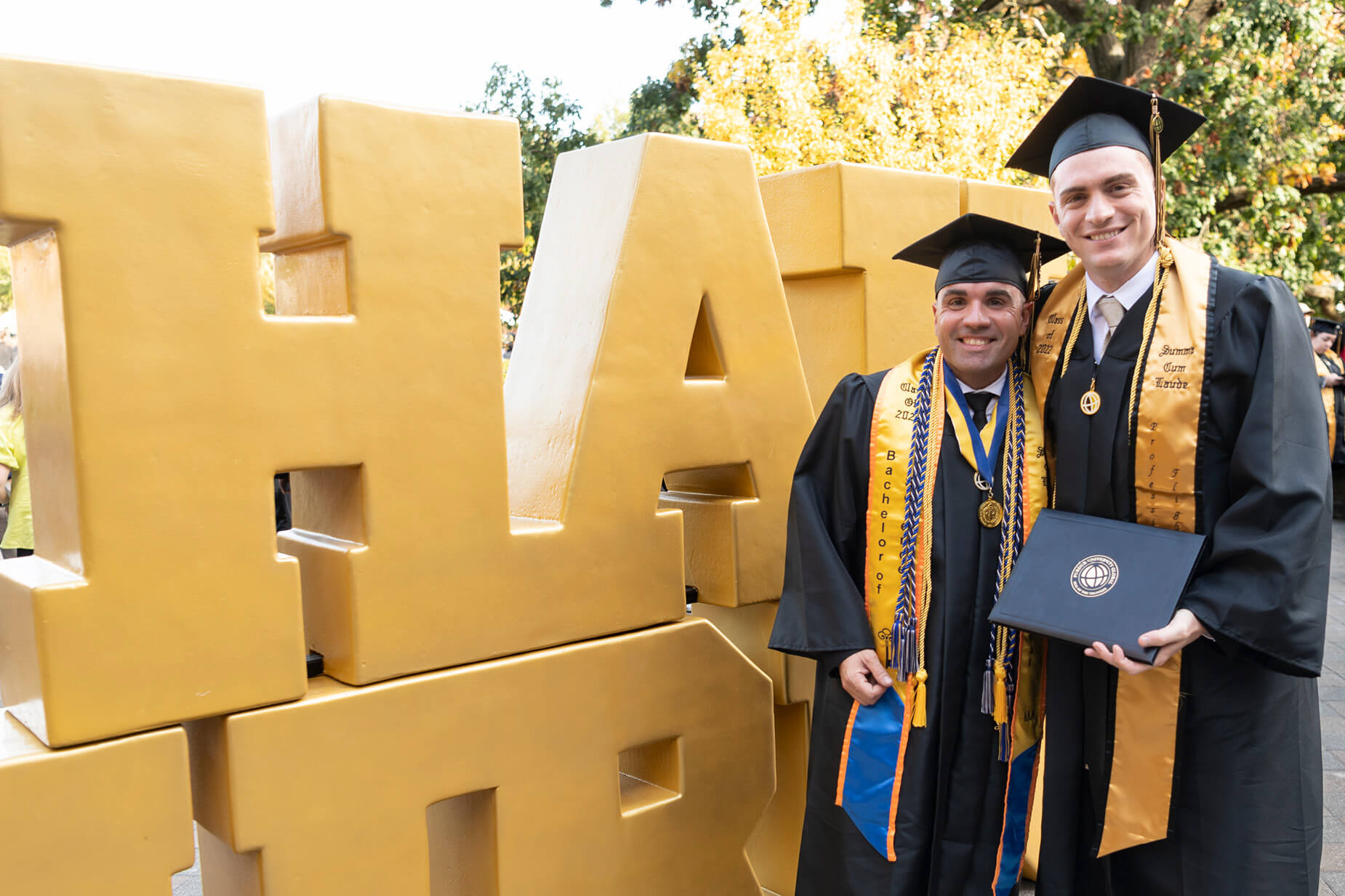 A year ago, I really met a friend, and I'm really happy about that. He's a classmate and a brother now.

Gabe Giusti

BS professional flight '22, Purdue Global