Back To Top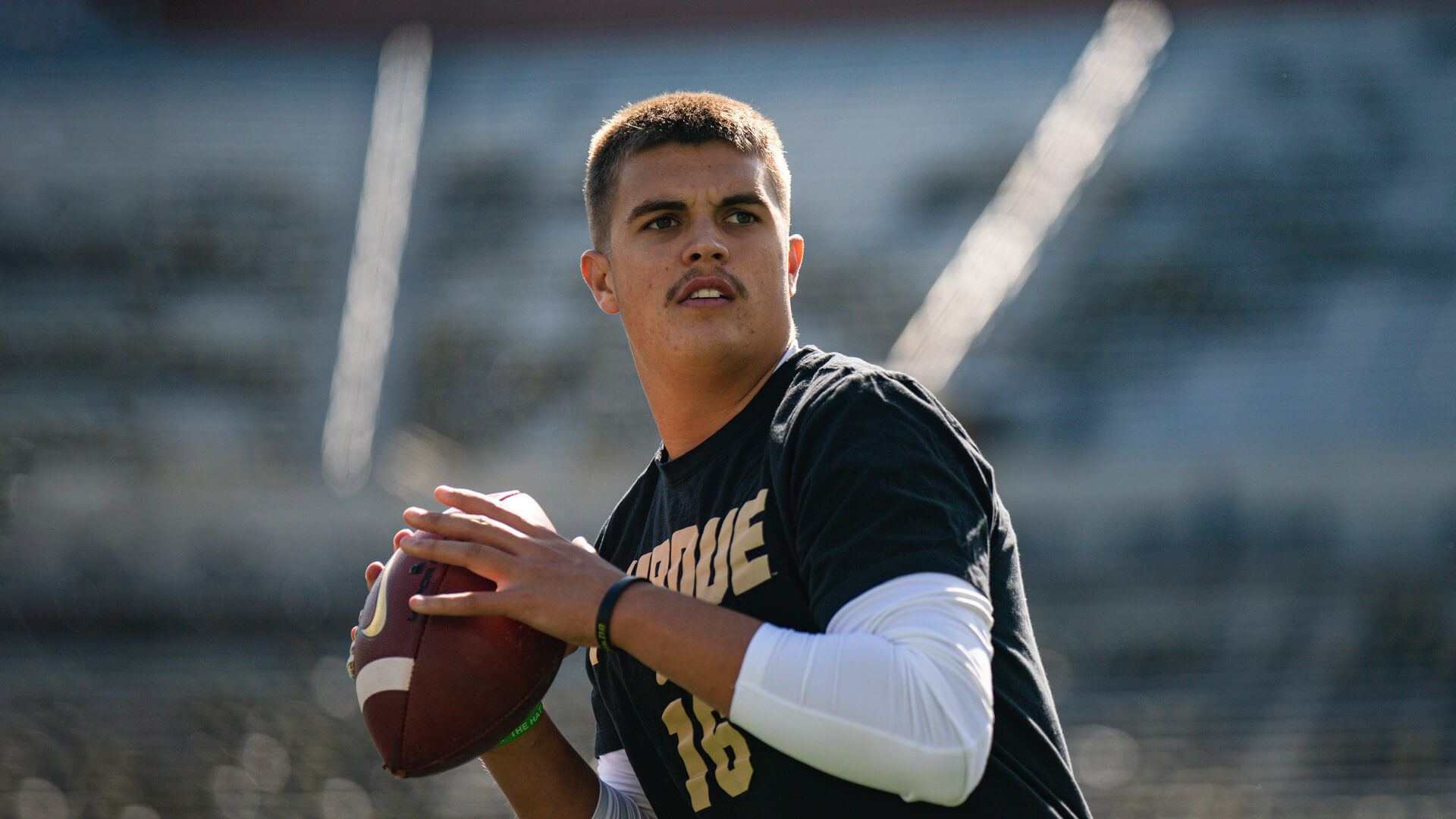 A higher calling has led Aidan O'Connell from Purdue Football walk-on to NFL hopeful
Aidan O'Connell faced a big decision coming out of high school. He could follow in the footsteps of his older brother, Patrick, and play at Division III football power Wheaton College. Or he could take his chances to walk on to a Division I program and see if he could hold his own against the country's best players.
He decided to take the risk, heading to Purdue in 2017 with no promises in hand and believing he could play at the highest collegiate level. The gamble has paid off: O'Connell enters the 2022 season as the Boilermakers' starting quarterback and may have a professional career in his future.
He credits his faith as the guiding force in his amazing ascent. "It's the center of my life," he says. "If I weren't a Christian, I would have gone insane long ago."
In addition to assisting his spiritual needs, O'Connell credits his involvement with the Fellowship of Christian Athletes (FCA) with finding his future spouse. He first met volleyball standout Jael Johnson at an FCA meeting in 2018. The pair began to date the following year and will be married on July 30.
"Even if I had never played a snap at Purdue, I would have stayed," O'Connell says. "I love my teammates and the school, and my FCA experience has highlighted my time here."
Climbing the ladder
O'Connell went to Stevenson High School just north of Chicago. He worked with quarterback guru Jeff Christensen at Throw It Deep, an elite quarterback and wide receiver training academy. Still, he couldn't grasp the starting job until his senior year. Despite throwing for a school-record 2,741 yards and 26 touchdowns, he admits the phone didn't ring off the hook with collegiate offers.
I got discouraged the first couple of years, but I tried to keep a poker face about it. I believe in the saying 'fake it 'til you make it,' and I kept grinding away.

Aidan O'Connell
Purdue quarterback
Brian Brohm, Purdue's quarterbacks coach and offensive coordinator, says that the staff didn't have extensive information about O'Connell when he came to visit in early 2017. He says O'Connell started the season as the eighth- or ninth-string quarterback, but he began to capture attention with his work ethic.
"He would stay after practice every day for extra throws and spent much time studying film," Brohm says. "On Sundays, we would give the younger guys extra time, and he always threw the ball with accuracy. Even when he was way down on the depth chart, he never complained, but he kept his head down and worked."
O'Connell admits that was a challenge.
"I got discouraged the first couple of years," he says. "But I tried to keep a poker face about it. I believe in the saying 'fake it 'til you make it,' and I kept grinding away."
He didn't see the field in 2017 or 2018, but his big opportunity came during the 2019 season. Elijah Sindelar was hurt early in the season, and O'Connell got some mop-up work behind Jack Plummer in the Penn State and Illinois games. On Nov. 2, Plummer went down in the fourth quarter against Nebraska with a season-ending injury, and it was up to O'Connell to save the day.
With the Boilermakers trailing 27-24, he led the game-winning touchdown drive, completing 6 of 7 passes for 62 yards. When David Bell scored the winner on a reverse with 1:08 to play, the comeback was complete.
"My life changed that day," O'Connell admits.
The following week, he lived out a childhood dream by leading Purdue to a 24-22 win at Northwestern in front of dozens of family and friends. He completed 34 of 50 passes for 271 yards and two touchdowns in his first start. J.D. Dellinger booted a 39-yard field goal to seal the win, prompting O'Connell to take an emotional knee on the sidelines.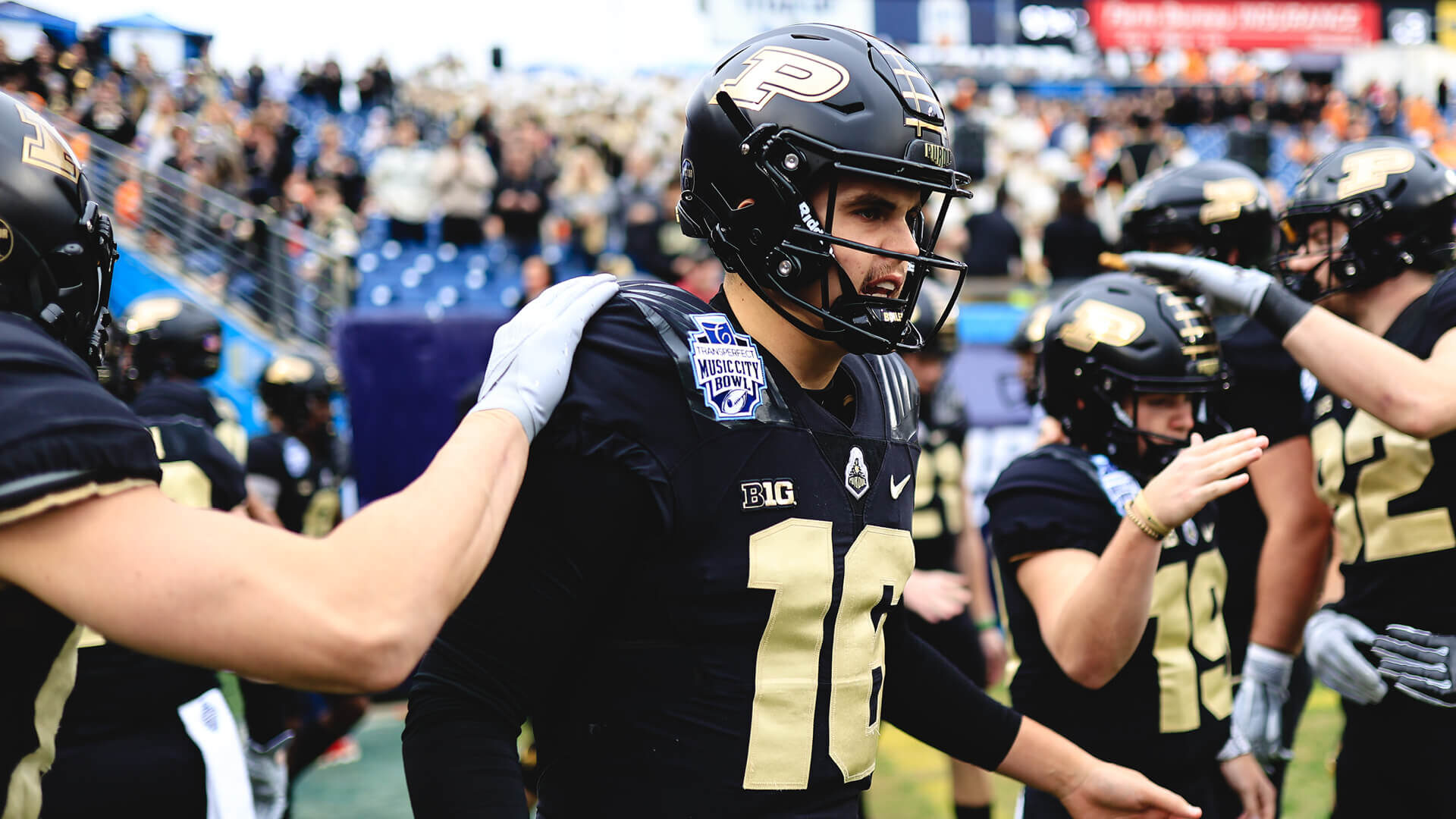 In, then out, then in
O'Connell won a spirited competition with Plummer for the starting job in the COVID-delayed 2020 season and led the team to wins over Iowa and Illinois. He subsequently injured his toe in a loss to Northwestern and missed the remainder of the season.
The two battled again for the starting role last season, and Plummer came out on top this time. O'Connell was disappointed, but it never bled into his relationship with his fellow quarterback, who decided to transfer to University of California, Berkeley, after the season.
"It didn't affect our friendship. Jack was a great leader, and I was pulling for him to have success. We still talk together all the time," O'Connell says.
Plummer started the first three games of the 2021 season, but when he struggled against Illinois, O'Connell entered the game in the third quarter. He threw a 14-yard touchdown pass to TJ Sheffield with 5:44 to play to give the Boilermakers a 13-9 win, and O'Connell was back in the starter's role the following week.
In the season's last five games, O'Connell averaged 372 yards per game with 18 touchdowns and no interceptions. The stretch included a 536-yard performance against unbeaten and third-ranked Michigan State and a 423-yard afternoon against Northwestern at Wrigley Field.
"It was a collective thing," O'Connell says of the stretch. "The coaches were calling great plays, and we found our identity on offense. I felt confident, but I knew that each week I had to keep performing at a high level."
The season concluded with a thrilling 48-45 overtime win against Tennessee in the Music City Bowl, a contest O'Connell called "the most fun game I've ever played." Despite starting just nine games, O'Connell was named second-team All-Big Ten by both conference coaches and media, completing 72% of his passes for 3,711 yards and 28 touchdowns.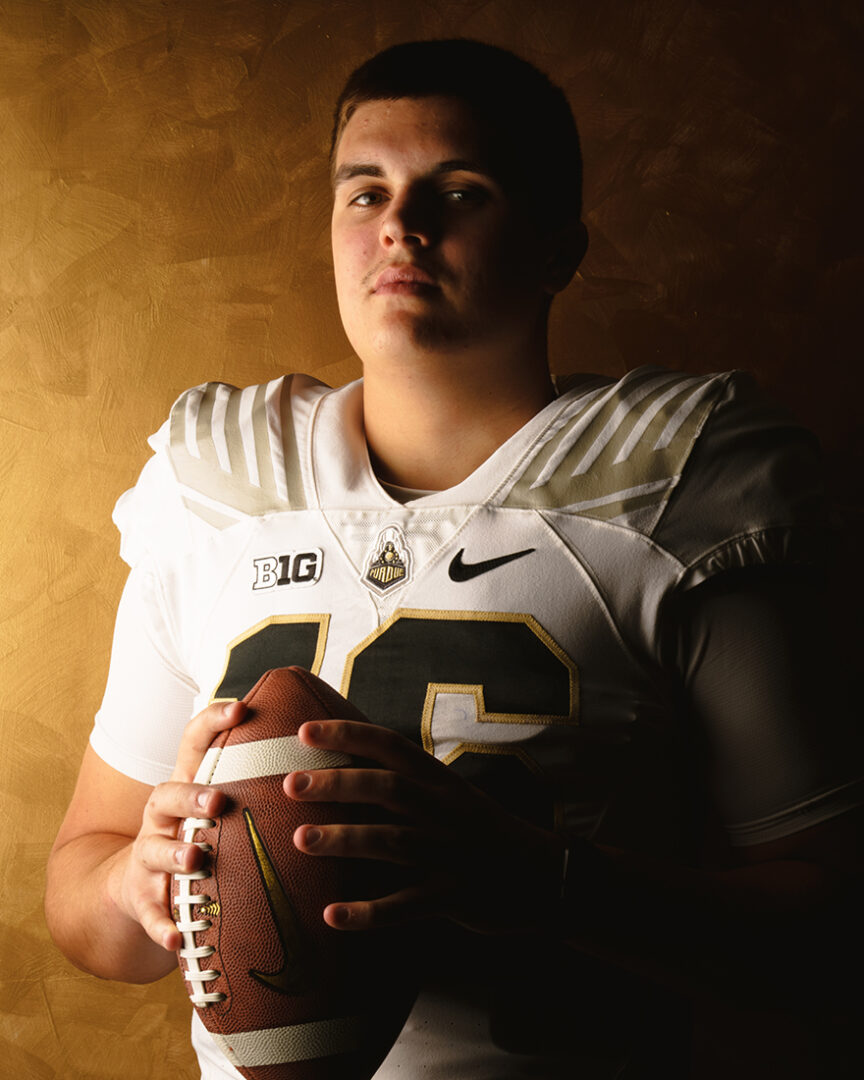 Nerves tested
O'Connell had a couple of decisions to make after the season. The first was his plan for 2022: Go pro or come back for a sixth season? He chose the latter.
"I heard from different people that I could have been drafted after last season but that it would be better for me to have more film. I'm in a quarterback-friendly system, and I love it here, so the decision to come back and play another year seemed like the right thing to do," he says.
Perhaps more nerve-racking was coming up with the proper way to propose to Johnson. She says she had some indications that an ask was on the way one weekend earlier this year, but when it didn't happen the first night, she was "devastated." The next night, though, she knew something was up when the usually unflappable O'Connell started speaking in a shaky voice as he pulled up to his proposal spot.
Their shared faith and experiences have drawn the couple together.
"Aidan has led me in finding spiritual truth, and he always pushes me to have grace and compassion," Johnson says. "We both understand the demands of being college athletes, and when he finishes a day exhausted, I know what he's going through."
Johnson admits having nerves watching O'Connell play – "I hate it when he gets hit" – but she also gets to see a side most don't.
"He comes off as very serious, but he's really goofy. He always makes me laugh," she says, adding that she'll be making most of the plans for their summer wedding. "He wants to help … but I'm doing it."
Johnson is graduating in May with a degree in speech, language and hearing sciences, and she will begin work on an online master's degree in human resources management from the Krannert School in the fall. Her plans will go hand in hand with O'Connell, who hopes to have a big super-senior season to enhance his NFL stock.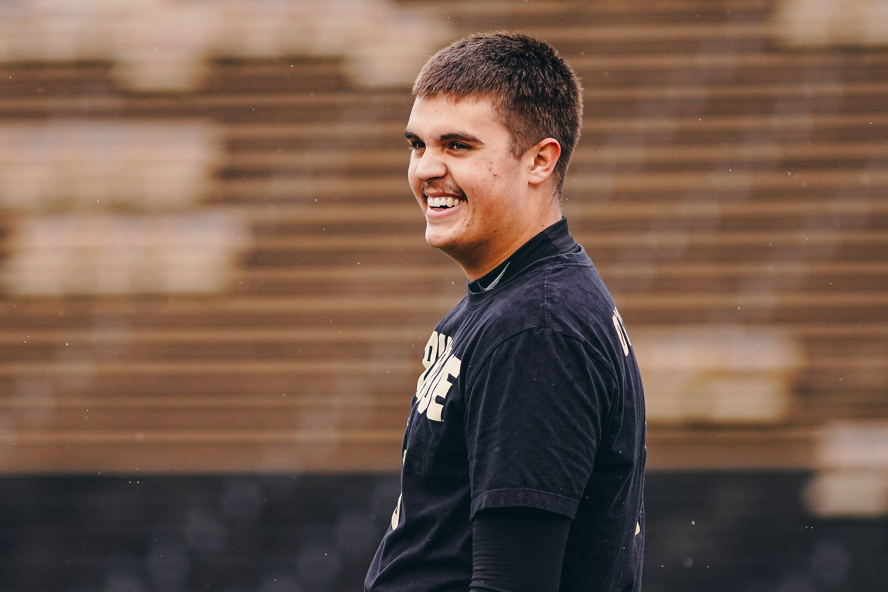 I think my dream job would be to become an NFL chaplain, like Sean Pugh. It would allow me to connect my spiritual and football worlds, which would be perfect.

Aidan O'Connell

Purdue quarterback
"I'm never going to be known as a runner, but I'm trying to model my game after guys who keep their eyes downfield and make plays. I just need to chip away at my weaknesses," he says.
O'Connell has the endorsement of his position coach. "I think he can play at the next level," Brohm says. "He can make all the throws, and he's super accurate. We want to try to limit his interceptions without taking away his ability to make plays."
For his part, O'Connell would like to get a shot at the professional ranks. He originally planned to go into coaching once his quarterback days were through, saying he wanted to play at a Division I program, in part, because he thought it would be necessary to further his coaching career.
But with an undergraduate degree in management in hand and a master's degree from Purdue Polytechnic on the way, his horizons have expanded. And once again, he may follow his faith in his decision.
"I think my dream job would be to become an NFL chaplain, like Sean Pugh," he says, referring to Purdue's former director of player development who now works for the Detroit Lions. "It would allow me to connect my spiritual and football worlds, which would be perfect."
Written by: Tim Newton, tnewton@purdu.edu