Back To Top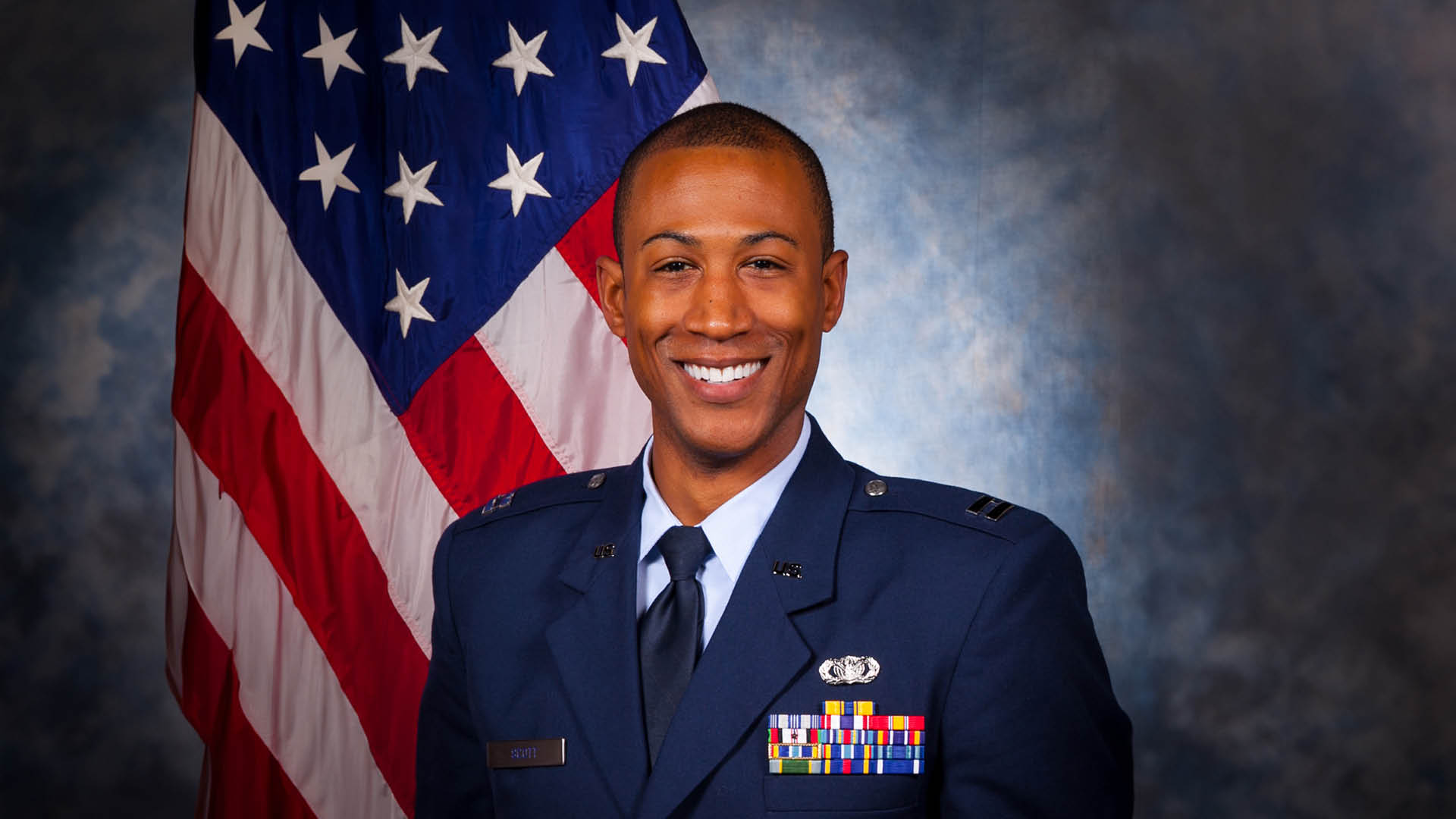 Boilermaker's whirlwind career puts him on the cusp of diplomatic events happening around the world
One wintry campus visit was all Justin Scott needed to know Purdue was right for him.
"I arrived in West Lafayette in freezing temperatures. Snow everywhere. And I was like, 'I love this place!' It was blistering cold, and I was ready."
"Ready" is definitely the word you would use to describe Scott (BS computer graphics technology '07, MS computer graphics technology '10). As a special agent with the U.S. Department of State's Diplomatic Security Service (DSS), he has traveled from Afghanistan to Ukraine to West Lafayette. And his work can range from protecting consulates and embassies to orchestrating the delivery of humanitarian aid to ensuring the safety of Secretary of State Antony J. Blinken, including during his September 2022 visit to campus to speak with students and tour Birck Nanotechnology Center.
'A lot of highs and lows'
A "day in the life" of Scott's job packs in more than seems possible.
"It's a whirlwind," he says. "One minute I'm at Purdue; the next I'm living in Seoul, South Korea, for two months. I could be working in Manhattan with the U.S. Ambassador to the United Nations, and then, the next thing you know, I am in Ukraine. I was on the ground, walking the streets one week before Russia invaded.
"In my role, I am always on the cusp of diplomatic events happening around the world, so it can get pretty intense. But at the same time, I could be awake in the middle of the night because my job at that moment is simply to watch empty vehicles in a parking lot at 2 a.m. You get a lot of highs and lows."
A huge part of my job is diplomacy. So those soft skills I developed at Purdue of interacting with peers, faculty and staff were all training for the work I do today.

DSS special agent Justin Scott
BS computer graphics technology '07, MS computer graphics technology '10
A '10-talent' person
Purdue was a critical training ground for Scott, who explored every opportunity during his time on campus.
Athletics was an important part of his experience. He is certified in Krav Maga, a form of martial arts developed by the Israeli Defense Forces that combines aikido, judo, karate, boxing and wrestling. During his time at Purdue, he was also an amateur boxer for the state of Indiana, earning the 2010 Golden Gloves runner-up title for novices in the 165-pound category.
Lee Morrison, director of campus living and compliance, notes: "Justin was always health-conscious and athletically gifted. I remember one time he went out and purchased a giant tractor tire. Wiley Hall is such a long building, and Justin would take his tire on the sidewalk in front of Wiley and train with it, flipping it end over end. He was public with his workouts, very encouraging to students about the importance of staying physically fit."
Scott had more than just athletics on his plate. He supported the volleyball team as an honorary Tark Shark, was Hillenbrand Hall club president, and, perhaps his most significant Purdue involvement, was a Wiley Hall staff resident – responsible for 16 resident assistants and about 750 residents.
More than anything, Scott credits his work with residence life for developing the diplomacy and people skills that he uses every day in his career.
"A huge part of my job is diplomacy," he says. "So those soft skills I developed at Purdue of interacting with peers, faculty and staff were all training for the work I do today, only now I am interacting with Department of Defense generals and sergeants and sometimes even world leaders."
Scott's involvement with Wiley Hall was so significant that when it was time to dedicate the new dining court, he was chosen to be the student speaker at the ribbon-cutting ceremony.
"Justin cared about the residents of Wiley," Morrison says. "He cared about the staff. He is one of those 10-talent folks who has a lot of ability. He brought his hobbies and interests and used them to connect with people. I will never forget it."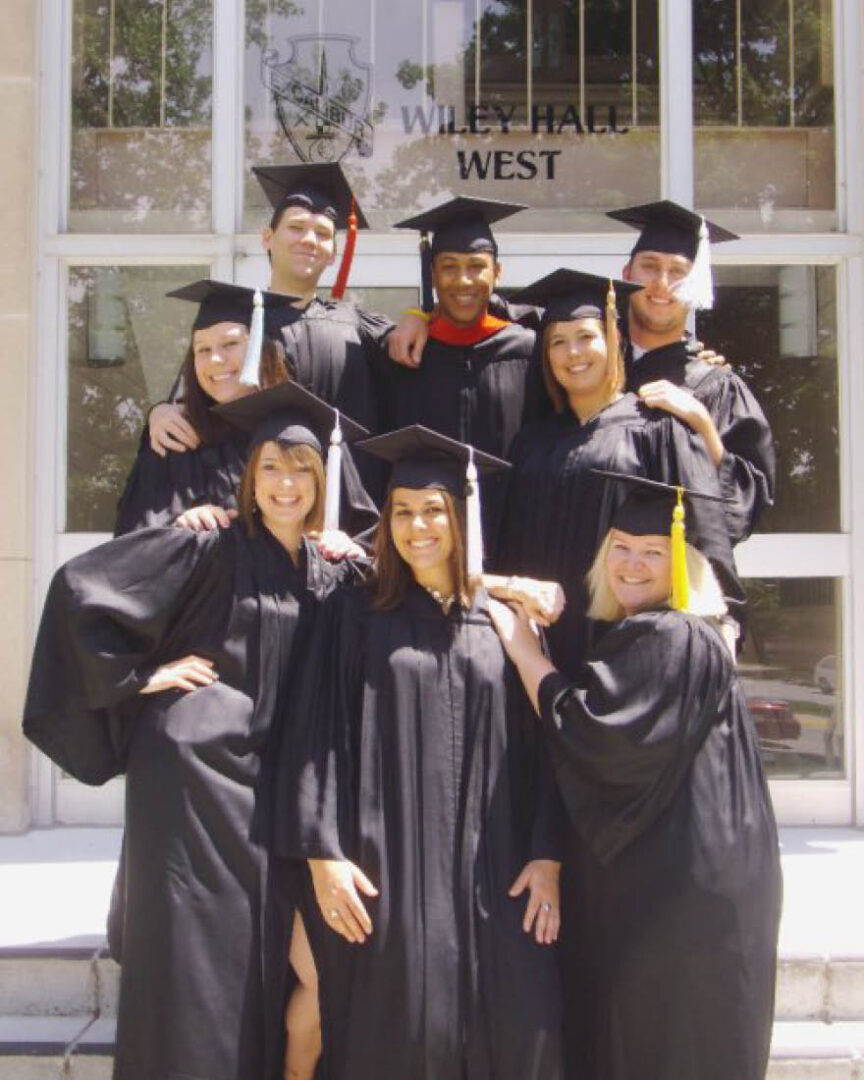 Teaching students, training agents
After earning his bachelor's degree, Scott stayed on to earn an advanced degree in computer graphics technology. Not content to simply be a student, he worked as a graduate assistant for the department, teaching the entry-level 101 course and also working with seniors.
"I have always loved teaching, interacting with people," he says. "It's a blast for me. I train agents from time to time using many of the skills I learned at Purdue."
Scott remains committed to mentorship through his involvement in Blacks In Government and Future Leaders in America's Government. He also volunteers to be on hiring panels and to speak at career fairs.
"I think being a DSS special agent is a great career," he says. "I love talking to people about it."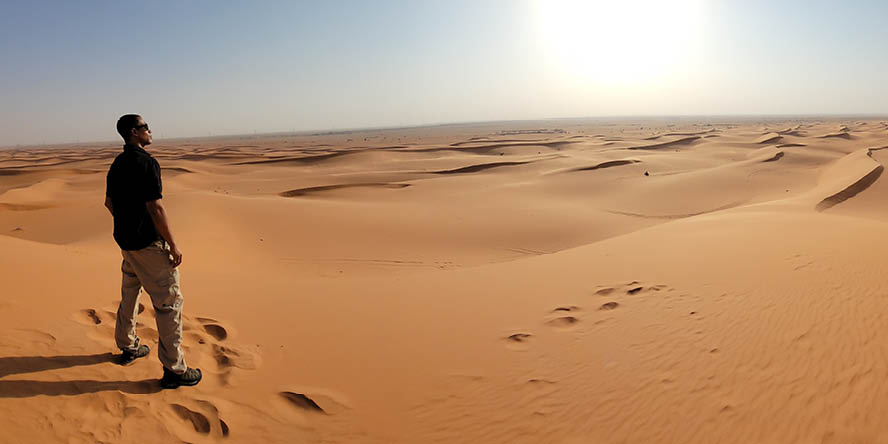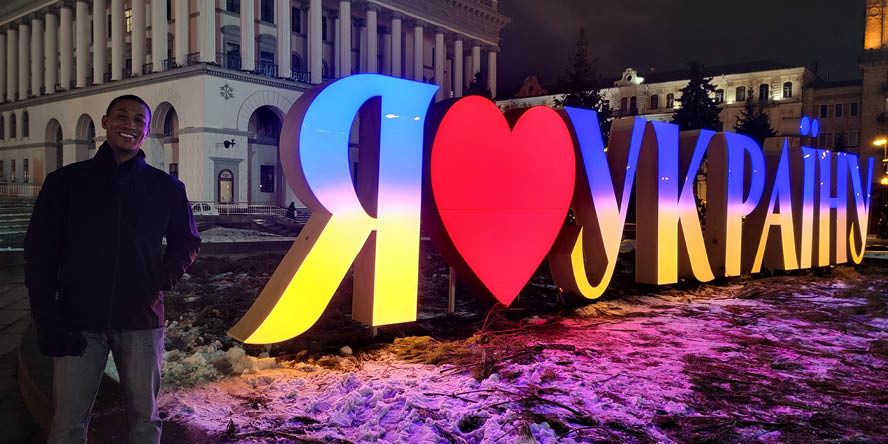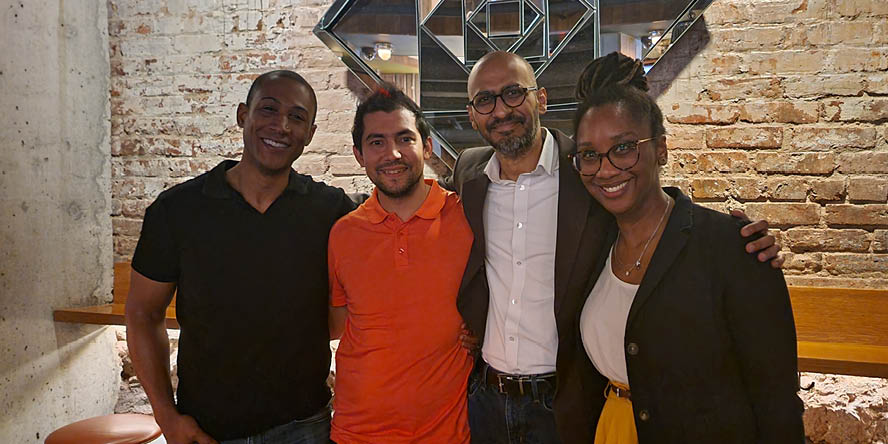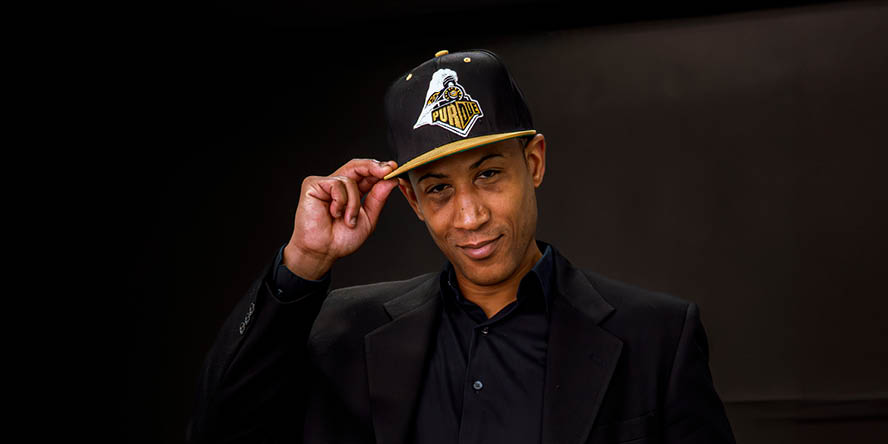 From boxing Boilermaker to DSS special agent
Scott comes from a military family and always knew that he wanted to serve. But how exactly did he go from being a boxing Boilermaker to being a DSS special agent? It started with a postgraduation visit to his local Air Force recruiter.
"When I graduated from Purdue with my master's degree, I literally turned in my thesis and walked down to the Air Force recruiting station. I applied to Officer Training School and eventually became a counterintelligence officer and special agent with the Air Force Office of Special Investigations (OSI), kind of like NCIS for the Air Force."
For nearly 10 years, Scott worked for the Air Force in a variety of places: Florida, California, Colorado and frequent short-term international deployments.
Eventually, his experiences and connections led to an opportunity with the U.S. Department of State.
"I am in the Diplomatic Security Service, which has the largest global presence of any U.S. law enforcement organization and investigates transnational crimes, passport and visa fraud cases, as well as protecting the current and former secretary of state, ambassadors, embassies and consulates abroad, and United Nations delegates in New York City," he says.
Scott's 2022 return to West Lafayette as a member of the team protecting U.S. Secretary of State Blinken was unexpected. "Someone got sick at the last minute, and they sent me a message saying they were headed to West Lafayette. My first thought was, 'West Lafayette? The only thing there is Purdue.' I shared my knowledge of the campus and surrounding community, and eventually they said, 'Since you know everything about it, why don't you just accompany the secretary?'"
It was an opportunity for Scott to reconnect with both the campus and his friends and former colleagues.
Dark sunglasses, white earpieces and meetings … lots of meetings
For the past three years, Scott has been assigned to the Washington Field Office, but that location is a launching pad that sends him around the world.
He was scheduled to serve in Khartoum and spent many hours learning Arabic in preparation. Intense civil conflict, which erupted in Sudan in mid-April, led to his assignment being canceled, but he was still able to play a mitigating role in the crisis.
"I got to sit on the task force as we were evacuating our personnel (from Khartoum)," he says. "It was a dynamic situation that developed very quickly."
Scott's next step could be an international assignment, where he would manage programs overseas with DSS special agents known as regional security officers – a role that is accompanied by a seemingly endless list of strategic meetings.
But when he's not in meetings, writing reports or conducting criminal investigations, Scott is protecting people. (And yes, he wears sharp suits, dark sunglasses and white earpieces.) "It's actually a lot like what you see in the movies," he says.
These diverse responsibilities require him to be nimble. And he credits Purdue with many of the small steps that developed habits of excellence and led to his challenging, satisfying career. "The interactions that you have, the connections you make in college last a lifetime," he says. "I've met so many people in my daily work who are Purdue grads. Purdue sets people up for success. It opens a lot of doors."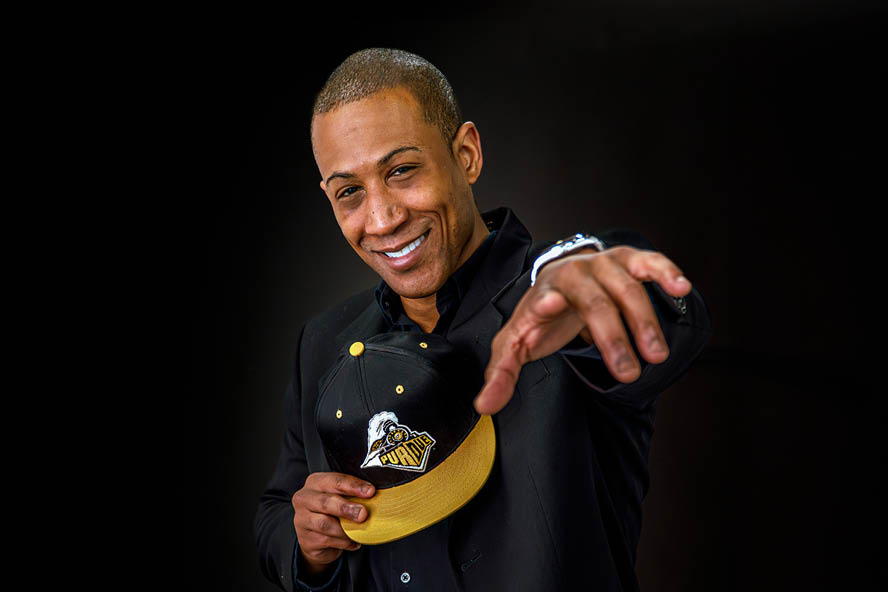 Purdue sets people up for success. It opens a lot of doors.

DSS special agent Justin Scott

BS computer graphics technology '07, MS computer graphics technology '10