Back To Top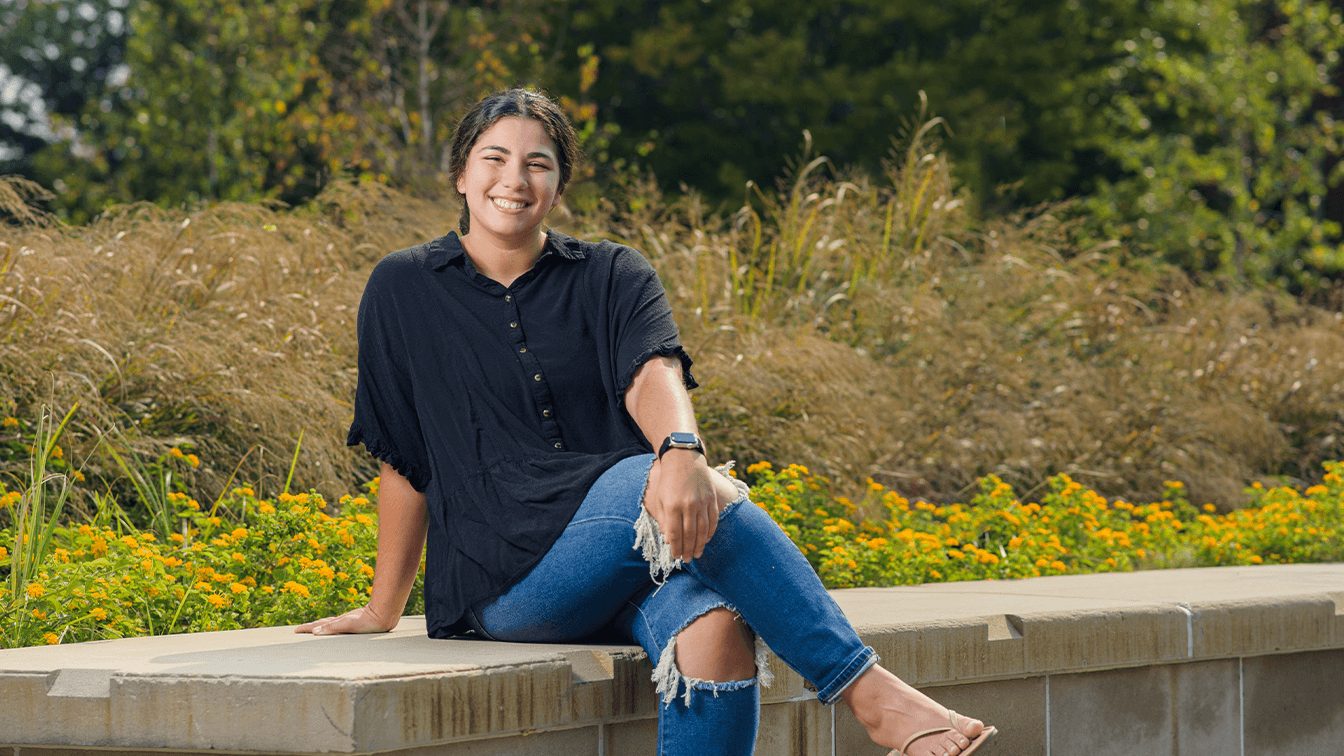 How McKaya Simon sought out a value-packed college experience at Purdue before she leaps nearly debt-free into a career in child advocacy
McKaya Simon knew early on that she would be paying for college herself.
As a student from a single-income household, Simon said cost was easily the most important factor she considered. "As a first-generation college student coming from a family that wasn't super financially stable, I knew that it was going to be my responsibility to pay for my schooling," she says.
Even though she had to keep affordability top of mind, she still wanted a school that offered great value and a rigorous educational experience.
Why? Simon had her sights set on law school and a career in family law and child advocacy.
"Law school is way more expensive than undergrad, so I needed to make the decision that was best for me financially," she says.
She could have changed course and played it safe. Instead, she found Purdue's Degree-in-3 programs. Now, she is in her final year at Purdue and is well on her way to making her dream of being a lawyer by age 25 a reality — and with "almost zero" student debt from her undergraduate education. And she plans to take a year off between her final year at Purdue and her first year of law school to pursue her passion: working with at-risk youth.
"Purdue was not only my top college choice, but it was also the best choice for me financially," she says.
Defining her path
"I toured Purdue my junior year of high school, and I always knew that Purdue was in the back of my mind," Simon says. She met with an advisor from the College of Liberal Arts who recommended Purdue's law and society major, one of 55-and-counting programs in which Purdue offers a Degree-in-3 track.
Purdue's Degree-in-3 programs allow students to complete their degree in three years, saving up to $19,000 in tuition and living expenses. Students can complete the three-year option with or without Advanced Placement or summer session credits.
It was that same advisor who gave Simon a list of law schools after she had expressed interest in career paths relating to criminal justice. Simon considered other universities, but Purdue was the only school on her list that had three-year programs.
That was the first time I actually realized that law school could be a real opportunity for me.

McKaya Simon
Senior, law and society
"The Degree-in-3 program was very interesting to me, especially if I was going to attend three years of law school," she says. Simon applied to Purdue as a law and society major, and she was admitted in spring 2019.
Purdue was the most affordable option on Simon's list. "Graduating with nearly zero debt is a big stress reliever," she says. If she opted to pay off her "very, very small" loan now, she would join the nearly 60% of Purdue students who graduate completely debt-free.
Simon didn't have to compromise on value to keep costs down. The Wall Street Journal/Times Higher Education ranks Purdue No. 7 on the list of best value universities in the United States. "I'm getting a great college experience," Simon says.
Today's small steps
Now in her third and final year, Simon serves as president of Big Brothers Big Sisters at Purdue. She is passionate about her work and looks forward to attending meetings every week.
"I've realized how much I enjoy giving back to the at-risk youth and how at one point in my life, that was me," Simon says.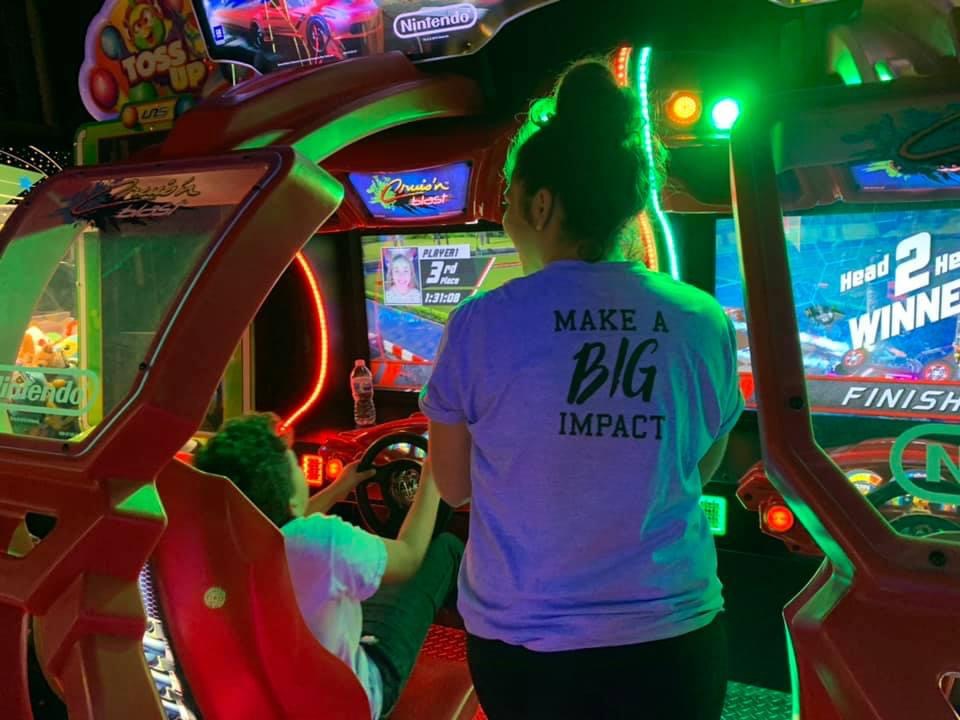 She also works as a restaurant server part time to cover her living expenses. She says her time-management skills are her biggest asset as she balances working, extracurriculars and taking a full course load. She's used to the work, even as she dives into challenging, major-specific courses.
"The courses make me excited to become an attorney one day," she says. Though she currently sees herself pursuing family law and child advocacy on a nonprofit legal team, she is open to exploring any paths that pique her interest.
"I'm putting off law school for a bit to give back and to mentor kids who might be first-generation college students when they get older," Simon says. "Right now, while I'm young and fresh out of college, this is a great time to mentor kids and show them that their childhood doesn't have to define them."
Advice to future students
Simon says there are many things she wished she would have known before starting the college search and application process, and she is grateful for the guidance she was able to receive from counselors from Purdue's Office of Admissions and Division of Financial Aid.
"Being a first-generation student, I had to do all the admissions and financial aid things by myself. My mom didn't know how it all worked," Simon says.
Simon wants first-generation college students to know that they are not alone.
"You will get recognized for being a first-generation student," she says. "What you're doing is important. You're paving the way for generations to come. You are not a lesser student just because your parents didn't go to school. You belong just as much as someone who is a legacy student, whose parents and grandparents went to Purdue. Being the first person here, you're starting that legacy on your own, and it's something to be proud of."
To future Purdue students who are considering Degree-in-3 programs, Simon says, "You need to know early if that's a route you're going to do. Although it's not necessarily a strict degree plan, it is a very planned-out degree plan. You need to decide by the end of your freshman year, maybe earlier. Don't be scared of it. Even though it sounds like a lot, the benefits outweigh the amount of work it is, and you will have a bachelor's degree done in three years, which is really cool. You will have saved some money, and you can start your career early or go into grad school."
And to future college students who have no idea how they are going to pay for college? Simon says, "Apply, no matter what. You can get in and decide not to go, but if you don't get in because you don't apply, then you don't have that option. Look into financial aid, file your financial aid forms and FAFSA, and look into scholarships."
Explore your financial aid options at Purdue by visiting the Division of Financial Aid website.