Back To Top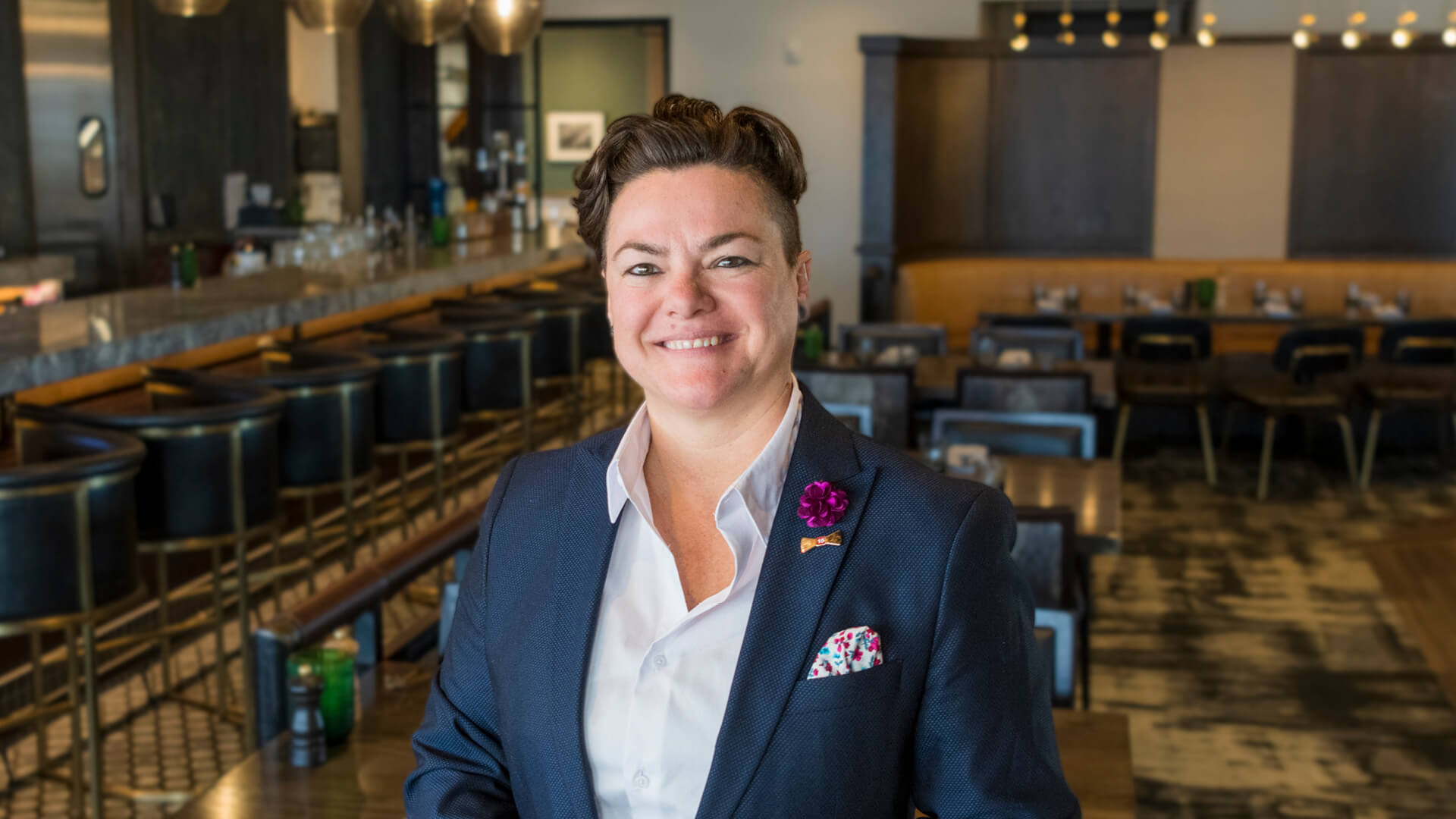 Huse Culinary VP is learning how to build an even stronger company culture
When asked to describe Leanna Chroman, her Huse Culinary co-workers tend to use similar words.
Thoughtful. Caring. Passionate. Servant. Leader.
Perhaps those qualities were always part of Chroman's makeup, but she knows exactly why they are so abundant today. She grew up watching her late father, Ronnie, share whatever he had with those in need, learning early on about the joy and fulfillment one can get from caring about others' well-being.
"We were pretty poor," Chroman says. "I can't tell you how many times I went to the refrigerator, opened it up and there was literally nothing in there but condiments: mustard, ketchup, probably not even mayo. That was it.
"But I can remember my dad taking his last $5 – McDonald's used to have these 19-cent hamburgers on Wednesdays – and we would buy $5 worth of burgers and go pass them out to the homeless neighbors on the street. My dad would bring these old blankets that he had from his Army days and would cover them up sitting on the benches. I think back on this service attitude that my dad always showed to everyone, and I didn't even realize how much I was truly like him until I was much older."
Leanna's genuine care for people, all people – whether it's our guests, her co-workers or anyone that she comes across – is simply so evident.

Craig Huse
CEO, Huse Culinary
Indeed, that giving spirit defines Chroman. Whether in her position as Huse Culinary's vice president of culture and learning or in her pursuit of online bachelor and master's degrees in industrial/organizational psychology through Purdue Global, Chroman consistently lives out the values learned from her father.
"Her genuine care for people, all people – whether it's our guests, her co-workers or anyone that she comes across – is simply so evident," says Craig Huse, CEO of Huse Culinary, the Indianapolis-based restaurant and retail food group that features four restaurant brands: Harry & Izzy's, HC Tavern + Kitchen, 1933 Lounge and the legendary St. Elmo Steak House. "Leanna's superpower is her ability to quickly convert her genuine care into actionable support."
The superpower Huse describes is what motivated Chroman to enroll at Purdue Global in 2021. She saw a need at Huse Culinary to modernize how it trains, develops and supports the organization's talent, and she recognized that Purdue Global could prepare her to do this effectively.
Chroman joined the company as a server 15 years ago, shortly after Huse Culinary opened its first Harry & Izzy's location in downtown Indianapolis. Although she didn't have a college degree, her dynamic personality and leadership skills helped her advance from serving and bartending to the executive role she occupies today.
That's a somewhat unusual path for someone in Chroman's current position, but it's among the many reasons why the job fits her so well.
"There isn't a project that our company takes on where we don't involve Leanna," says Jason Benish, Huse Culinary's vice president of operations, who graduated from Purdue's West Lafayette campus in 2004 with a degree in hospitality and tourism management. "She's held so many different positions and titles in our organization and excelled at them all, so her perspective on it is so unique. She actually has more real-world experience in a lot of these different elements than many of us whose expertise is focused on one area or another."
As Chroman sees it, she simply applies the same level of care to her current work that she once did on the restaurant floor.
"As a server, it was important for me to connect with the person to find out what they really wanted. I'm not doing anything different now. My guests are just different," Chroman says. "My guests are my employees now, and I'm trying to find out what they really need, what they want, what I can provide for them that lets them feel satisfied when they leave work."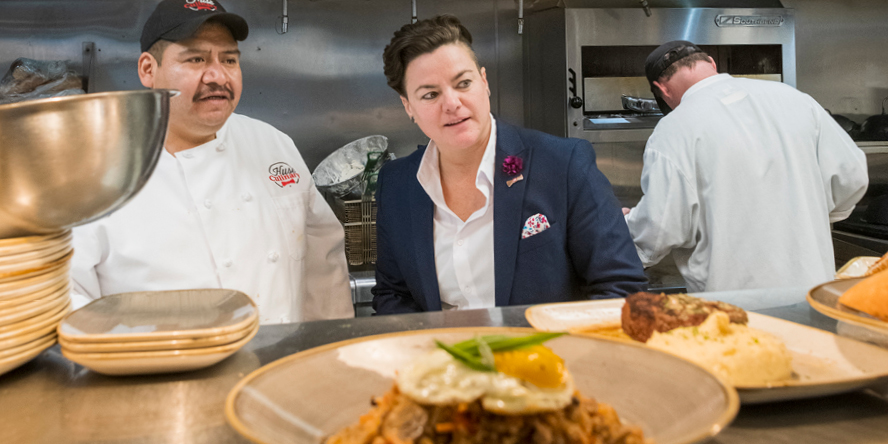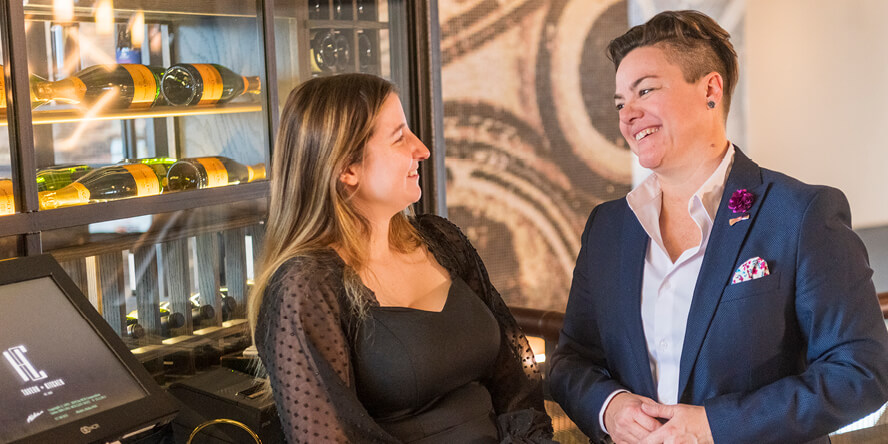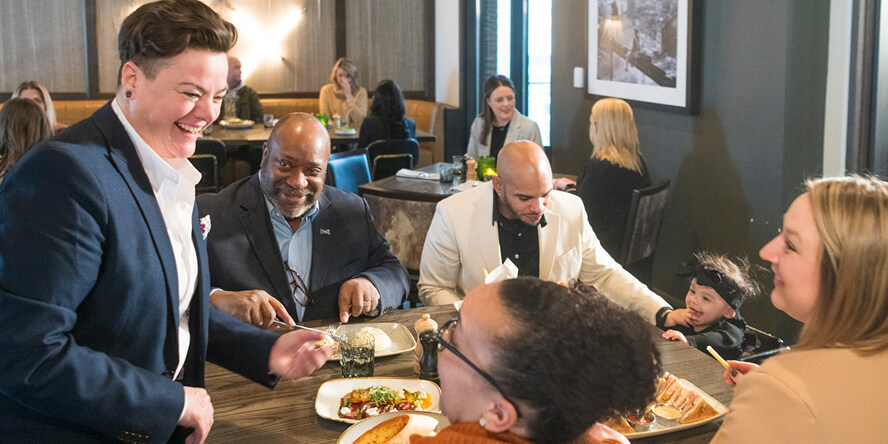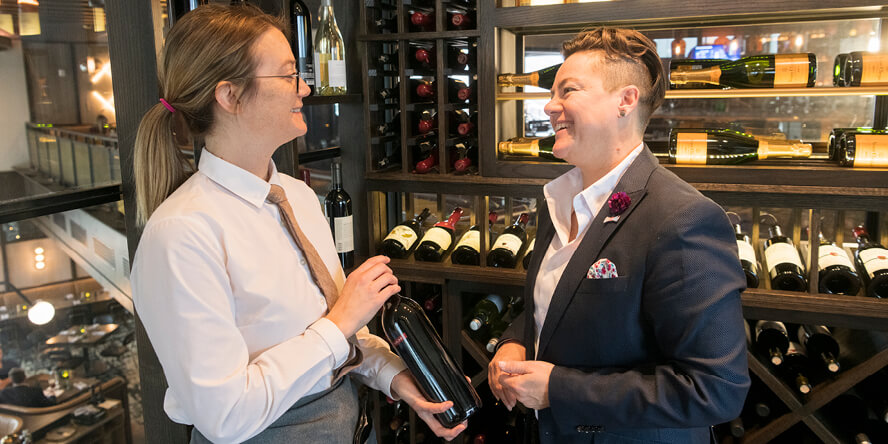 People-first culture
Chroman originally moved to Indianapolis with plans of becoming a police detective. Unfortunately for her – and fortunately for Huse Culinary – her move coincided with an economic downturn that forced the Indianapolis police department to institute a hiring freeze.
She started working at Harry & Izzy's, expecting it to be a temporary gig that would help her get by until the economy improved. Then she could once again pursue her dreams in law enforcement.
Almost immediately, however, Chroman's bosses envisioned a different career path, should she choose to accept it.
"Leanna is the type of person that makes herself known and sticks out from the crowd," Huse says. "She's a leader amongst her peers, and I could tell – we all could tell – that she was born to be in the hospitality industry, and we were blessed to have her on our team."
They presented her with opportunities to become a trainer, helping co-workers learn how to connect with restaurant guests and provide the positive dining experiences that create loyal customers. Initially, she turned down every offer.
"I said, 'Nope. I don't want to do anything else. I'm going to be a detective. I've got my eye on the prize,'" Chroman recalls. "That was my story for a little over a year. That was my focus."
Chroman recalls the exact moment when her attitude changed. When she inquired about why a popular Riesling wine was no longer on the Harry & Izzy's menu, she learned that the owner of the wine's distribution company had recently passed away. Huse Culinary vowed to the owner's wife that it would remain a loyal customer, so when the popular Riesling moved to a different distributor, Huse replaced it with a different label off the original distributor's wine list.
"That was a huge moment for me because it matched my same values," Chroman says. "I realized that these are the kind of people that I want to be a part of. There was something compelling about that kindness and that generosity and that promise. I literally went home and did some thinking. And the next time they asked, 'Hey, do you want to do more in the company?' I said, 'Actually, I do.'"
Once she began training new employees – and later creating and managing Huse Culinary's training programs – she was no longer just an employee who occasionally gets emotional about the company's people-first culture. She was helping to shape it, nudging the company in directions that it needed to go to fulfill its promise to its customers and 800-plus employees.
"I've never met anyone that advocates more passionately than Leanna for our front-line staff members," Huse says. "Leanna expresses a high degree of empathy and will work harder than anyone to solve their problems. She will never forget that she was an hourly employee herself, and her decisions are based in that historical perspective. What leader wouldn't want someone driving culture through that type of lens?"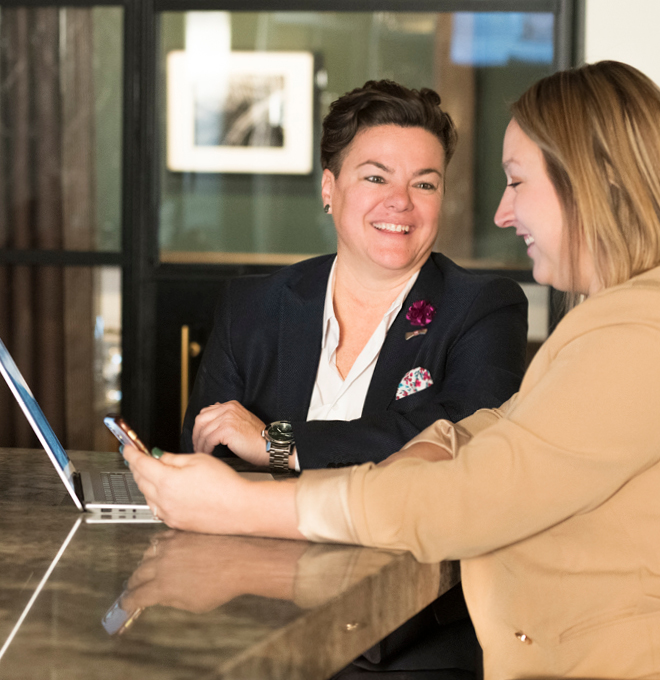 Purdue Global experience
There is more to building a healthy workplace culture than simply treating workers well. It also involves the structure of work.
Recently, Chroman observed that Huse Culinary's training methods were becoming outdated. Today's restaurant workers are more comfortable using mobile devices for testing and training than reading the information out of thick, printed manuals and taking written exams. She knew things needed to change.
"I want it to be digital and interactive and have these learning modules, and then have input from people that are doing the training on the ground," Chroman says. "I want to be able to have that input because I think it's so important that we solicit feedback. If we think that we know it all, then we are crazy. You've got to ask the people. I need the 23-year-olds telling me what works for them. If I'm not willing to listen to them, then I'm outdated, I'm irrelevant, and they're going to go work somewhere else."
That's where Purdue Global comes in, helping her learn how to optimize the company's training and testing processes after shifting to modern digital applications.
When Chroman chose to enroll, she understood that what she learned would benefit her company. But it was also a decision she made for herself. She believes her degrees will allow her to speak with more authority among industry peers. She also sees great value in graduating from an institution within the Purdue portfolio, as Benish and many other co-workers did.
"When it was an opportunity from Purdue, I snatched it so quick," Chroman says. "I just woke up one day and said, 'I'm tired of wanting to do this. This is a need in my company. I'm going to make this happen. We need this. This is important.'"
What Chroman may not have expected was the level of satisfaction that would accompany her success as a Purdue Global student. She dropped out of traditional high school and began working to help her family stay afloat when her father was diagnosed with a terminal illness. She later completed a GED and enrolled in college a couple of times, but her work schedule always interfered, and her educational goals remained unfulfilled until she learned about Purdue Global.
The flexibility of Purdue Global's online platform made it possible for Chroman to complete coursework on her own schedule. Starting with the very first class, she observed that the subject matter applied to situations she faced at work, and she quickly appreciated her program's intentional course progression, where one class frequently complements another.
Chroman believes the program's course content – covering topics like coaching, organizational assessment, performance management and promoting a healthy work-life balance – resonates more powerfully for her as a working adult than it would have if she had taken the same classes in her early 20s.
"This is what I've been doing for 20-something years," she says. "When I'm writing papers, I'm pulling from experience, whereas if I'd tried to do this at 20, I wouldn't know what I'm talking about. At least for me, there was a huge impact of doing this later in my life versus before. And I am proud. I'm superproud of my grade-point average. I'm very proud of the whole experience in general. I never thought that I would have it and would be getting a degree."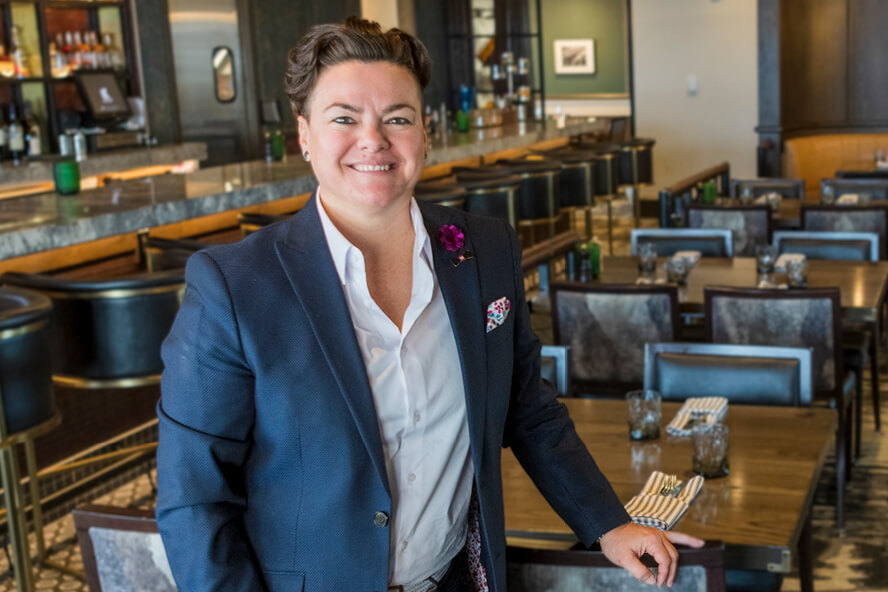 My dad taught me that even if you don't have much, you still give what you have. You share, even if it's a little. And I think that is probably why I found the hospitality world to feel like home.

Leanna Chroman

VP of learning and culture, Huse Culinary
Commitment paying off
When he first learned that she had enrolled at Purdue Global, Huse emphasized that this was not something she had to do.
He viewed it as a badge of honor and testament to her professional drive that she had advanced to an executive position without a college degree. But he also recognized that this decision was personal.
"Leanna is driven and wants to fulfill this dream and remove something that she perceives as an incomplete goal, and now she's turning it into an opportunity and taking it further as she pursues a graduate degree simultaneously," Huse says. "More importantly, Purdue Global will round out her knowledge gained from professional experience with strategically targeted institutional knowledge from some of the best educators in the world."
That can only pay off for all involved – and Benish says he's already seeing the impact.
As an example, he cites how Huse Culinary has occasionally hired personnel counselors and organizational guidance trainers to help the company understand how to navigate workplace issues. He sees Chroman building a knowledge base that could eliminate the need for such outside advisement.
"I think she's already seeing there are examples of her workload in school that are applicable to the actual problems that we're dealing with within the organization," Benish says. "And though she still wants to gain that knowledge from that professional, I think these are really resources that we won't have to outsource anymore because of her skill set."
And that's only the tip of the iceberg. Chroman still has so much more to learn before completing the program in 2025, with that knowledge creating a ripple effect that will positively impact so many lives in the years ahead.
Chroman has sought to make that kind of difference throughout her life, thanks in large part to the lessons her father taught her about helping others. She knows he would be thrilled to see the many ways he still influences her today.
"My dad taught me that even if you don't have much, you still give what you have. You share, even if it's a little," Chroman says. "And I think that is probably why I found the hospitality world to feel like home, because that's what you do in hospitality. You take care of each other. You give. You find ways to make the experience so unique and special for someone else. To put that smile on their face is such an incredible moment. It fills you up, and it fills others up.
"So, yeah, I have that same heart. I do that for my employees. I love, love my employees. I do. And we are such a family. And that's why I said when I felt like I was home, I truly feel like this is my home."