Back To Top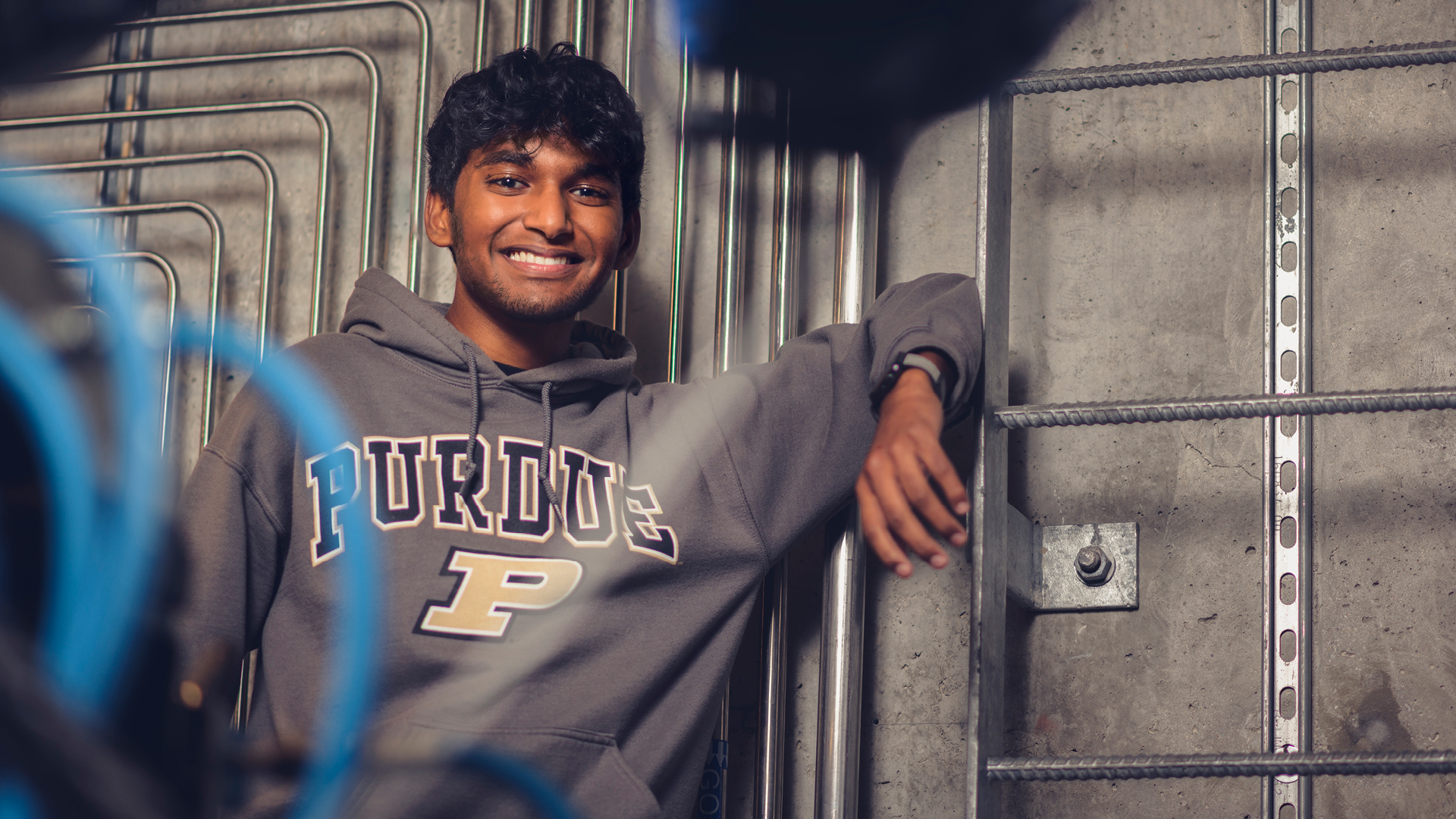 Tarun Prakash channels his creativity and experiences real-world research opportunities, preparing him for his first big career move: an internship at Tesla
A common thread of persistence and innovation ties all Boilermakers together, from the small steps of incoming freshmen to the giant leaps of successful alumni. Tarun Prakash, a sophomore studying mechanical engineering, is already well on his way to an exciting career filled with both small steps and giant leaps.
His latest giant leap is a summer internship at Tesla.
"I was really happy and excited when I got the offer. I didn't really expect to hear back from Tesla, of all companies," a humble Prakash says.
Hailing from the San Francisco Bay Area, Prakash was drawn to Purdue from the beginning of high school. "When it comes to engineering connections, resources and opportunities, there is no other school that has what Purdue has," he says.
When it comes to engineering connections, resources and opportunities, there is no other school that has what Purdue has.

tarun prakash
Class of 2024, mechanical engineering
Prakash has already built an impressive résumé, and it's only his fourth semester at Purdue. He laid the groundwork for achievement in college as a high school student. Now that he's a Boilermaker, he's preparing for career success with the help of his mentors at Purdue.
Scott Meyer, managing director of the Maurice J. Zucrow Laboratories and primary advisor to the Purdue Space Program, has inspired Prakash as a mentor, pushing him toward growth and discovery with each new endeavor.
Though Prakash is a mechanical engineering major, he has emphasized aerospace in his extracurricular involvement.
"Mechanical engineering is pretty broad, and it allows me to do a lot more than just aerospace-related work. I'm already involved in a lot of aero things, so when I applied for my mechanical design internship at Tesla, I thought, 'Why not try something different?'"
Prakash is learning he will never have to take a giant leap alone, no matter where his path leads.
Entrepreneurial instinct
Prakash started solving business problems when he was a high school sophomore. He and four of his peers noticed that their teachers were facing an avoidable challenge. When K-12 teachers take attendance, the whole process is a manual data-entry slog at the beginning of each class period.
"The teachers have to mark everything by hand in their system, and then that information goes to the district and the state," Prakash says.
Prakash and his peers conducted a survey among high school teachers and found that around 10% of class time is wasted because the teacher must complete administrative tasks, including taking attendance. "If all of those tasks are automated every single period of every single day, those couple of minutes add up to more time for true learning," Prakash says.
The five students built Nize Systems, a tech startup that aims to simplify and automate the attendance process at K-12 schools.
In most states, public school funding is granted partially based on enrollment and attendance. "My co-founders and I realized that if the attendance-taking system is more accurate, teachers won't miss any students, and schools will maximize their funding from the state," Prakash says.
The technology can help schools access up to $100,000 in additional funding each school year, a major difference for an underfunded public school.
Prakash brought his penchant for problem-solving to Purdue and threw himself into extracurricular opportunities that sparked his interest.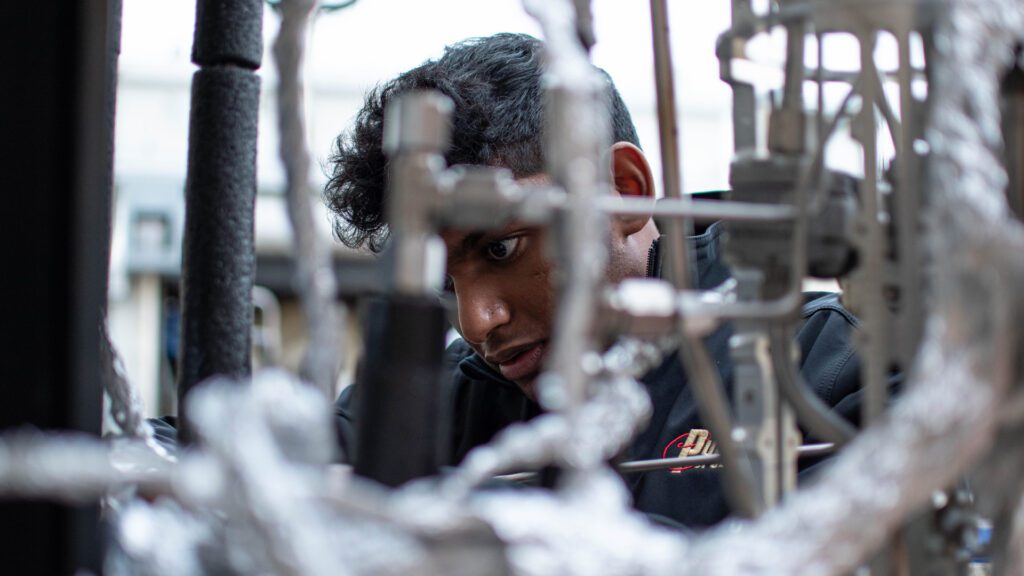 Extracurricular involvement
During his first month on campus, Prakash got involved with the Purdue Space Program, an interdisciplinary team of students within the national Students for the Exploration and Development of Space (SEDS-USA) organization. The Purdue Space Program leads with curiosity and aims to create innovative aerospace technology. The program offers students opportunities to design, build and fly experimental rockets while working with the guidance of more experienced mentors and faculty members, including Meyer, his primary advisor.
"The first time I met Tarun, he was part of an incredibly talented and driven group of undergrads working on rocket projects in the Purdue Space Program," Meyer says.
Prakash is one of 50 members of the liquid rocketry team within the Purdue Space Program. He started as an engineer and is now serving as the propulsion lead. The liquid rocketry team is competing in an event to launch a liquid oxygen and methane-powered rocket that aims to reach a height of 45,000 feet.
Prakash says he's learned as much from the team's failures as he has from their successes, if not more. His experience with Purdue Space Program will prime him for facing similar challenges during his career, no matter what he decides to pursue.
"One of the goals for our next rocket is to make sure we can pass down all of the design knowledge and heritage in the mistakes we've made," he says.
Prakash knows that mindset is key when solving complex engineering problems. "I view setbacks as learning opportunities," he says. "We learned we shouldn't stop at the most obvious cause of the issue and move on. We found we had to dig deeper. There's room for endless discovery."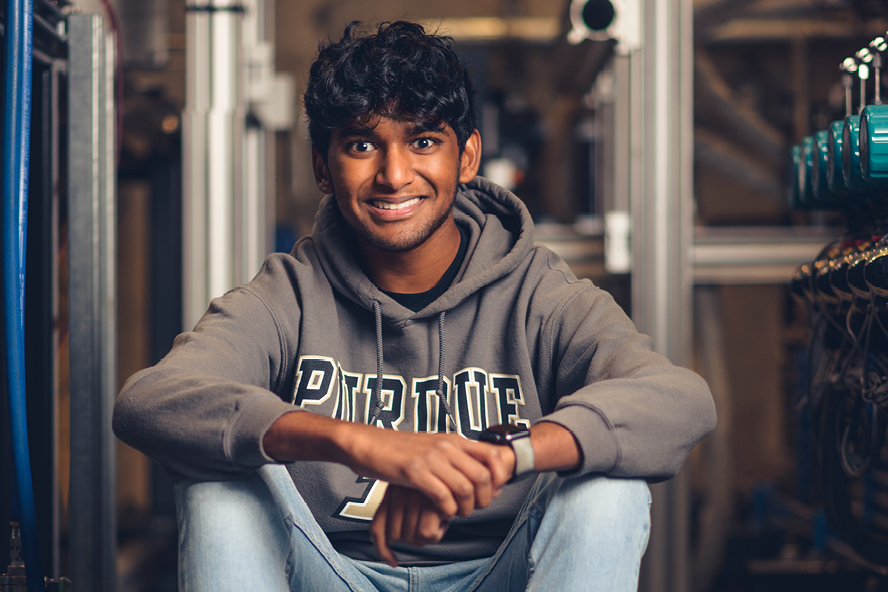 I view setbacks as learning opportunities. We learned we shouldn't stop at the most obvious cause of the issue and move on. We found we had to dig deeper. There's room for endless discovery

Tarun Prakash

Class of 2024, mechanical engineering
Zucrow Labs and mentorship
Prakash also found opportunity for discovery through his undergraduate research with Zucrow Labs. Since 2009, Meyer has served as the primary advisor to the Purdue Space Program and managing director at Zucrow Labs, the nation's largest university propulsion laboratory.
Current research capabilities include aerodynamics of turbo machinery, aeroacoustics, combustion, measurement and control, computational fluid mechanics, particle flow heat transfer, and atomization processes.
In addition to working closely with Meyer on the rocketry team, Prakash now serves under Meyer as an engineer at Zucrow.
"After I met Tarun through the Purdue Space Program, he took the initiative to send me his
résumé and apply to do research at Zucrow," Meyer says. "He is highly motivated and enthusiastic."
Of Meyer, Prakash says, "He knows how to guide people. He won't give you the answers, but he will give you all the tools that will help you figure it out and grow." Meyer's hands-on mentorship and personal guidance have made Prakash a better engineer.
Having a great mentor is key to knowing if your small steps are taking you in the right direction. Prakash engages in challenging, high-level work at Zucrow, and some of the problems he encounters require knowledge from courses Prakash has not yet taken. He is only a sophomore, after all.
"When undergraduate students come out to Zucrow Labs, most have not had any experience doing the kind of mechanical, hands-on work that's required in the lab," Meyer says. "Tarun is extremely thoughtful in his approach to the work. He's a quick learner, and he's gained a lot of confidence. He also always has a smile on his face."
Adds Prakash: "I had to develop the ability to learn things on the spot." Most of his team members at Zucrow are in graduate school or beyond. Working with older students helped expand Prakash's vision of what's possible.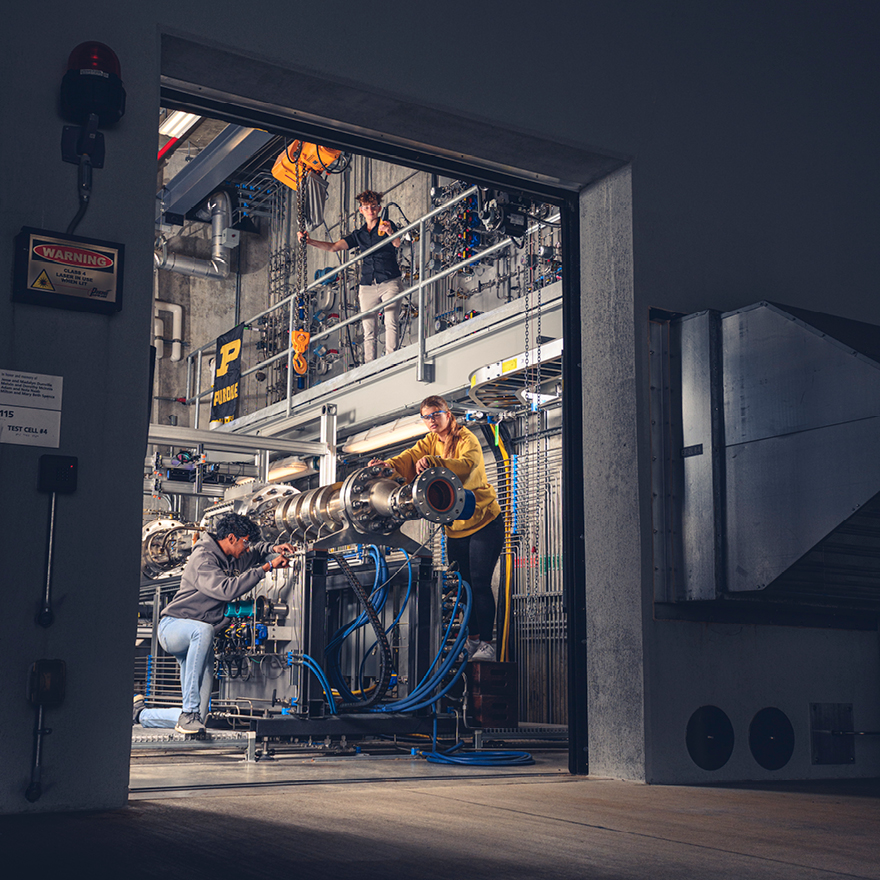 "It was hard at the beginning, but I eventually started picking things up and succeeding," Prakash says. "Having a strong team helps a lot. Without the people I worked with, I definitely couldn't have done what I did."
Meyer says that both undergraduate and graduate students who work at Zucrow are involved in the design of an experimental test setup and test apparatuses. "It's always interesting to see the evolution of their skills because they transfer when they are searching for their first job out of school," Meyer says.'
More small steps
Prakash plans to stay in aerospace or mechanical engineering as long as he can, and he hopes to enroll in a graduate program at Purdue after his senior year. He hasn't ruled out a step in the direction of big tech either. "Consumer psychology is fascinating to me," he says. "I like engineering a lot, so hopefully, I'll get to work as an engineer for a while and eventually transition into product management and leadership roles."
The real world and all of its uncertainty may seem daunting to some students, but Prakash feels ready for the challenge. "I'm going to be prepared when I leave. I think Purdue is really good about preparing students for the real world," he says. "The coursework here is difficult, sure, but more than that, we have to think creatively."
Prakash will spend the upcoming summer working on mechanical design at Tesla.
"The classes I have taken so far at Purdue are fundamental classes that I'll pull from at Tesla," Prakash says. "I'll use knowledge from classes like physics, statics and thermodynamics. Plus, there's the soft skills. I'm used to collaborating with classmates on technical projects. That, combined with the entrepreneurship classes I've been taking here, have helped me become a better teammate. I definitely feel prepared for the summer because of Purdue."
Purdue's Industrial Roundtable (IR) program helped Prakash prepare for the summer internship application and interview process. The three-day career fair attracts 400 companies each year. He says the IR helped him feel ready for conversations with recruiters.
"I learned what kinds of things catch recruiters' attention and what they would like hearing about from my background and résumé," Prakash says. "Once I started interviewing, I was able to target my responses based on what I learned at IR. I focused on how I could add value to their company and how I could fit in with their company culture. I discussed my interests and my background and why I would be a good fit for their opening."
To future Boilermakers, Prakash says, "Don't be afraid to reach out to people at Purdue. Everyone here is always willing to help, whether it be an upperclassman student or faculty or staff. Everyone is super nice and willing to help out however they can."
Prakash says it's never too early to start building your network at Purdue.
"Networking is huge — it's how I landed interviews with SpaceX, Tesla and Apple. Start building your network as soon as you can. It's all about opportunities to learn in the industry and making connections. There are a lot of companies out there who are recruiting Purdue students, like SpaceX, Tesla and Apple. Their internship programs are really great opportunities."