Back To Top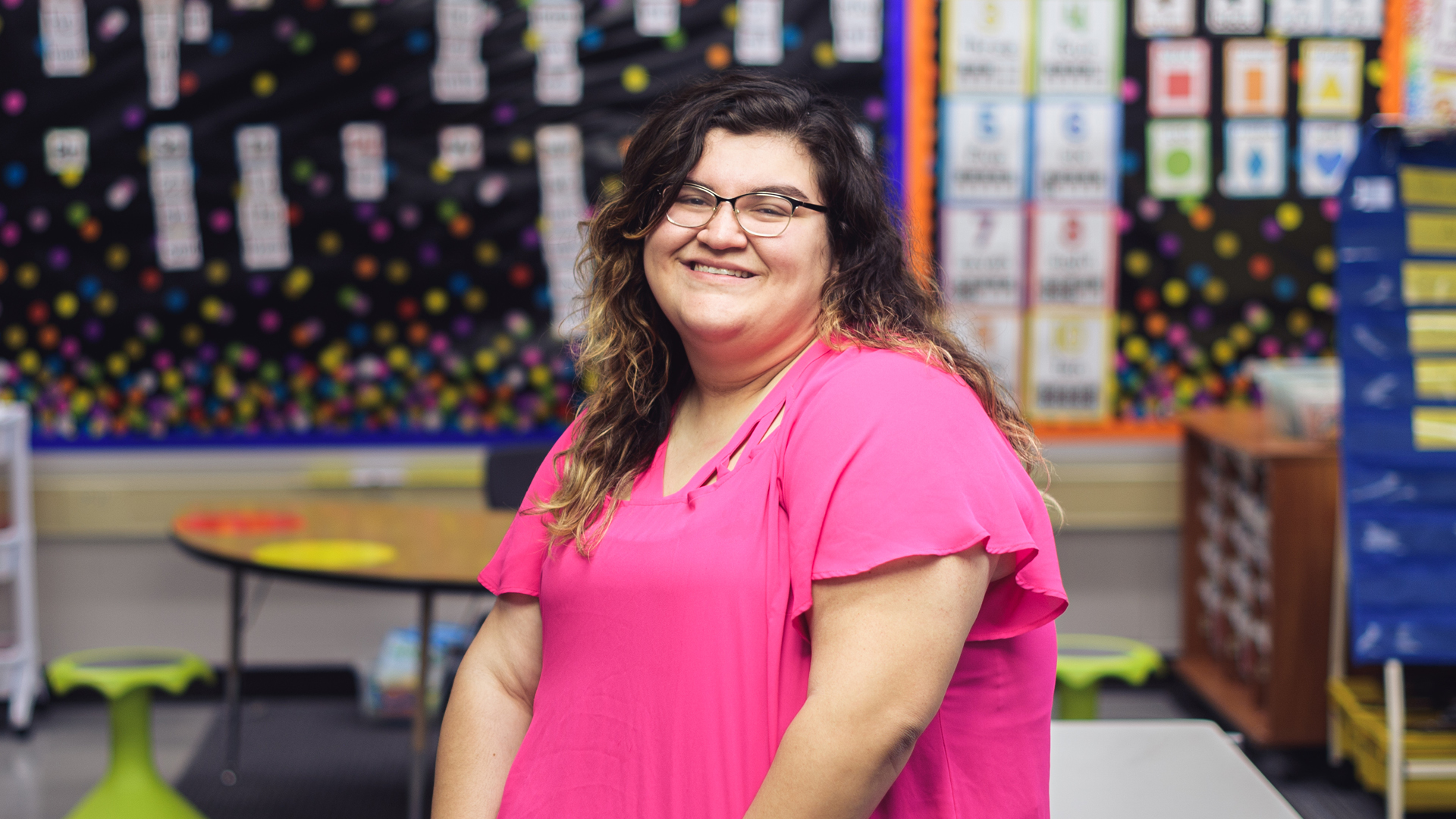 Joseline Aguilar's passion for teaching helps students and families take small steps together
When recent Purdue grad and kindergarten teacher Joseline Aguilar was in second grade, she knew she wanted to be a teacher. She felt called to connect with students for many reasons, but her own experience as a bilingual student influenced her most.
"My mom was born in the United States and is fluent in English, but my dad, to this day, cannot read or write or speak very well in English," Aguilar says. "He would tell me to do my homework, and he always supported and helped where he could, but there was only so much he could do. He couldn't attend parent-teacher conferences because he wouldn't be able to understand anyway. I wanted to become a teacher to help Hispanic families whose primary language is Spanish feel included."
Aguilar chose Purdue because of the hands-on experience she could get in real classrooms starting during her freshman year. Times Higher Education ranks Purdue as having the No. 8 most employable graduates, and employers in all industries value the skills Purdue graduates develop through field experiences, internships and opportunities for professional growth.
Purdue gave me so much experience in the classroom even before I started my student teaching.

Joseline Aguilar
Class of '20, elementary education
Thanks to her experience at Purdue, Aguilar was able to secure a teaching role immediately after graduating. She currently teaches in a kindergarten classroom at Laura Hose Elementary School in Crawfordsville, Indiana. By emphasizing communication, especially with Spanish-speaking families who have felt disconnected in the past, Aguilar ensures that all of her students and families feel engaged and included.
"My goal is to make sure Spanish-speaking families know they can support their child's education, even though it's in a different language than what they speak at home," Aguilar says. "That parent-teacher communication is a huge deal because parents feel more comfortable coming to me. They feel more motivated to help their kids with school because I can express thoughts and expectations to them in their language."
A Purdue education in education
Aguilar says her Purdue education set her up for success by putting her in real classrooms starting her second semester at Purdue.
"Purdue gave me so much experience in the classroom even before I started my student teaching," Aguilar says. "Before student teaching, I had already made lesson plans, worked with small groups and taught entire lessons in literacy. I felt confident and knew exactly what was expected of me in the classroom."
Another pivotal experience for Aguilar was studying abroad in Honduras through the education program during her freshman year. She and her peers spent a few weeks teaching in a classroom and another week reflecting on the experience.
"The students basically had to hike to and from school every day," Aguilar says. "One student lived up on a mountain. They couldn't drive up to their house. It put into perspective how lucky we are here in the U.S. to have buses and sidewalks."
Studying abroad and teaching in a bilingual classroom gave Aguilar even more motivation to make her future classroom a place that broke down language barriers, she says. And the strong foundation in literacy, lesson planning and classroom management that she built at Purdue has allowed her to focus on what matters most: connecting with students and families and making a difference.
Meaningful field experiences
"It's funny," Aguilar says. "When Purdue first put me into a kindergarten classroom for a field experience, I thought, 'I don't know if I could do this.' It takes a lot of patience and energy to be a kindergarten teacher."
The Purdue education program emphasizes real-world classroom experience from the beginning, which made Aguilar realize the program was a perfect fit for her needs.
"What attracted me to Purdue's education program was the amount of field experience," she says. "A lot of schools don't send you into the classroom until your third or fourth year. And at that point, you're kind of locked into a track, and it's hard to change to another grade-level focus."
Aguilar says she has colleagues who initially thought they wanted to work with younger children but shifted focus to middle school or high school after having a field experience that changed their perspective.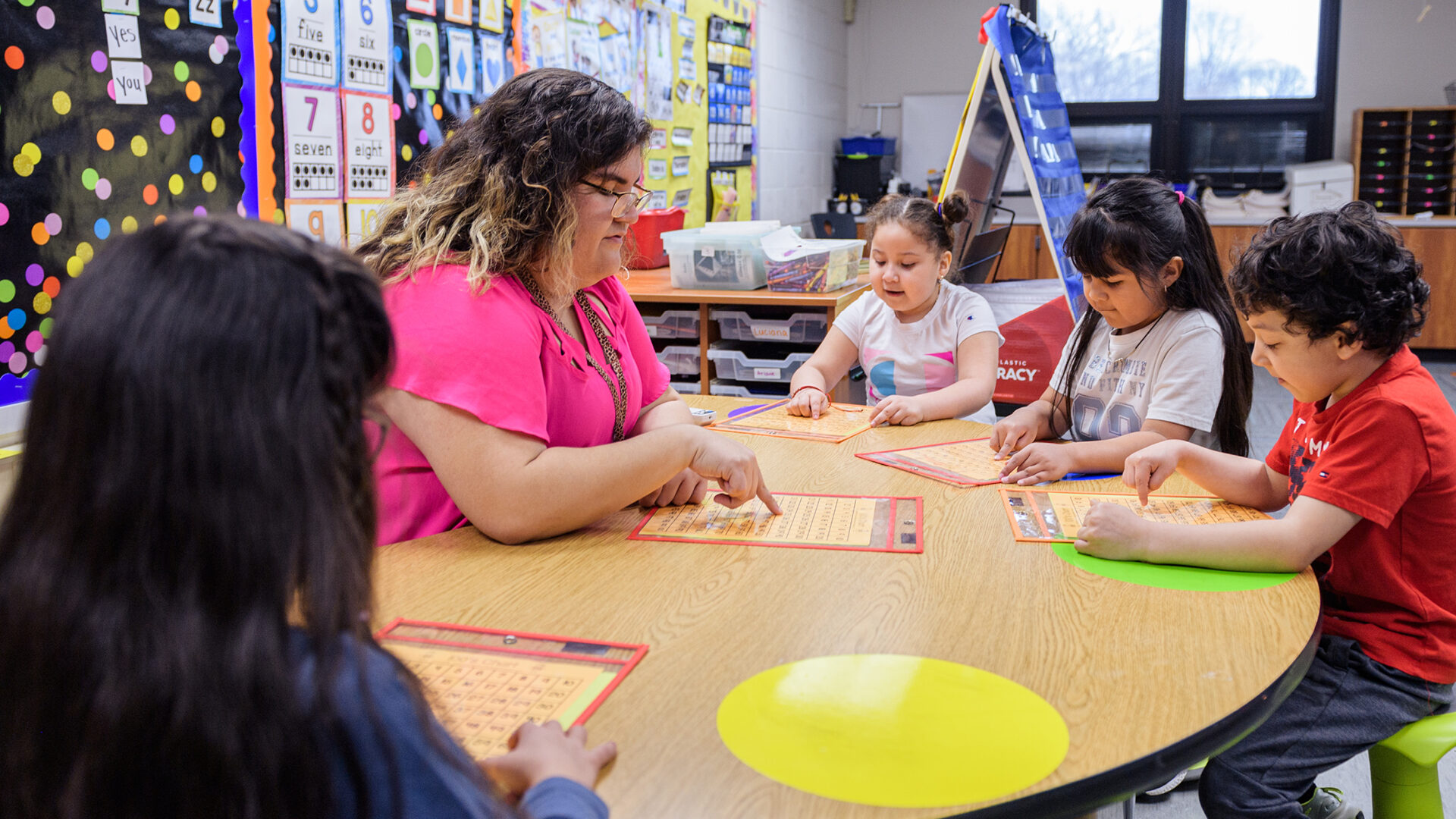 "I got to see teachers in action," Aguilar says. "They helped me understand why they do what they do and how class flows. They encouraged me to jump in and help out wherever I could. Having to adapt on the fly like that was a great experience because that's what I have to do now. I'll have one thing planned, and then I get to school, and I will not be able to continue with my plan. I'll have to wing it and say, 'OK, we're going to do this instead.'"
By the time she graduated, Aguilar had spent time in kindergarten, first-grade, second-grade, third-grade, fourth-grade, middle school and high school classrooms.
"I had basically every single grade," she says. "I was able to see which environment would help me do my best work. My mind was always set on working with younger kids. Being in the classroom with all different ages helped me confirm: 'Yes, I do want this.'"
The kindergarten classroom
Aguilar graduated during the midst of the COVID-19 pandemic. She experienced the rapid rate at which education changed from both the student and teacher perspective because she was student teaching when the pandemic first hit.
"It was scary because I was in the middle of my student teaching when everything hit," Aguilar says. "Student teaching happens during your last semester, and you're in the classroom teaching full time. Suddenly, we were having a two-week spring break instead of one, and then we just never came back."
Learning to adapt to a distance-learning environment prepared Aguilar even more for her first full-time role after graduation: a position as a long-term sub for a second-grade teacher who was out on maternity leave. While she was there, the school opened a role in a kindergarten classroom because another teacher retired. "I applied and I got it, and I love it so much. I don't know if I would ever want to teach any other grade," she says. "At first, I was kind of skeptical about teaching kindergarteners. I was like, 'They are really little and really dependent on you.' But now that I'm here, I wouldn't change a thing. This is exactly where I belong."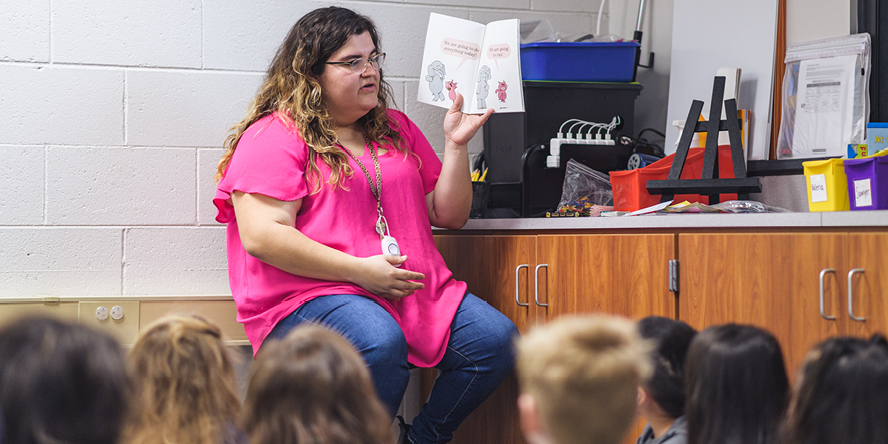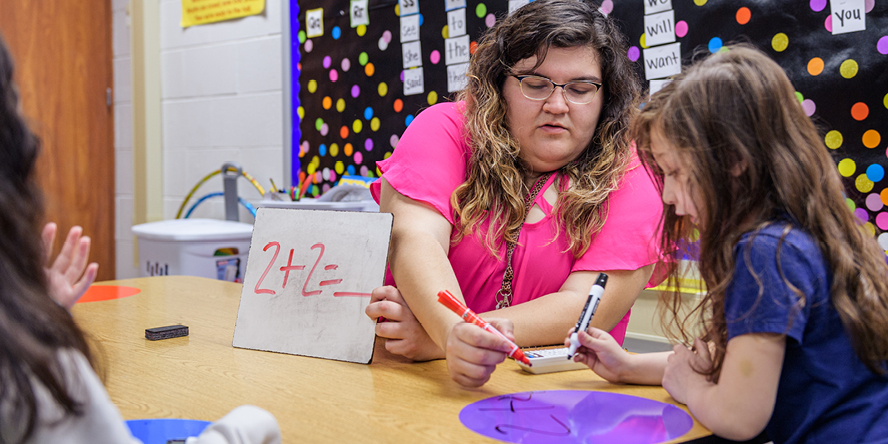 Aguilar says that kindergarten is the year of school where she sees the most growth – socially, emotionally and academically.
"Things just click," she says. "Seeing the growth between the beginning of the year and the end is amazing."
Aguilar notes exponential growth in some of her English language learner (ELL) students, in particular.
"The other day, I sat down with one of my students who didn't know any English at the beginning of the year," she says. "He counted to 89, in English, all by himself. I just started crying. I was so proud of him. I thought, 'This is why I do what I do.' It was a great reminder, especially during this year, where everything feels stressful and pressured. Seeing that progress is really rewarding."
Teaching ELL students
Aguilar frequently finds herself running around her school translating for ELL students and parents whenever she can. And with her own students, she teaches in both English and Spanish.
"Although it's not formally considered to be a bilingual classroom, I teach in English and then translate to Spanish for my lower-level English speakers," Aguilar says. "I've had kids come in knowing no English at all, and they sometimes surpass my English speakers. Some of the English speakers are even learning Spanish. My students love it. They love hearing and speaking both languages."
One student joined Aguilar's class in the middle of the year after moving to the United States from a Spanish-speaking country. Aguilar noticed she was behind, so she made every effort to get her caught up.
"I made videos for the student and her family to introduce them to the classroom and the language," Aguilar says. "The whole family was completely new to English. They didn't even have the experience of hearing the language in grocery stores because they had just moved here. But now, the student is one of my top English language learner readers. She's able to read on her own. That parent communication, plus working with the students in a bilingual room, makes a huge difference."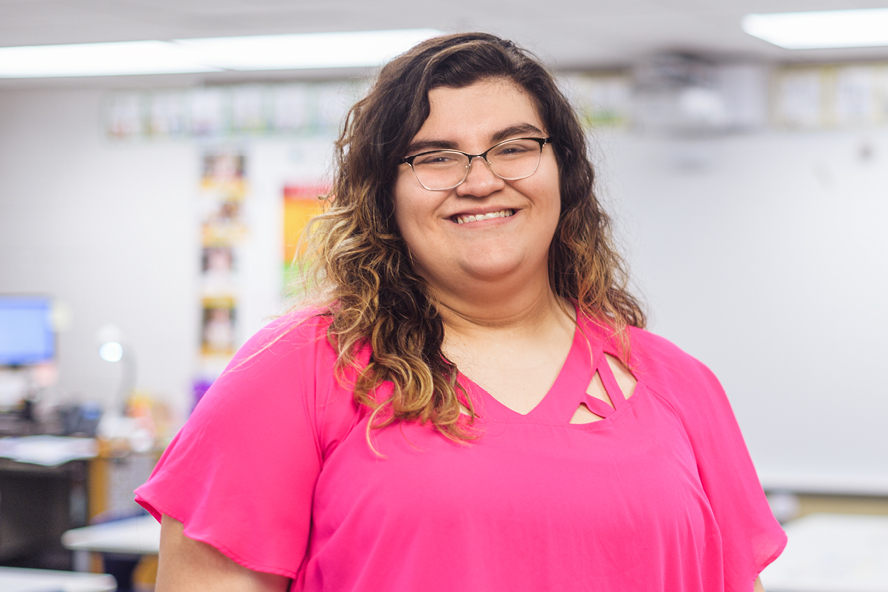 Don't let the media or the world in general scare you away from education… It is so rewarding once you get into the classroom and see the difference that you make in the lives of your students.

Joseline Aguilar

Class of '20, elementary education
Advice to future teachers
Aguilar has a piece of advice for future teachers: Be fearless!
"Don't let the media or the world in general scare you away from education," she says. "I know it's really scary right now. There are so many different negatives in education right now, but it is so rewarding once you get into the classroom and see the difference that you make in the lives of your students."
For some students, school is an escape from other challenges, and Aguilar prides herself on making her classroom a place where students look forward to coming every day.
"Seeing kids who come from broken homes come into the safe space of my classroom, seeing them get excited to come to school – even if it's just because they know they will get a hug from their teacher, something to eat or the chance to learn something new – is so important to me."
On tough days, Aguilar remembers why she wanted to be a teacher in the first place.
"I think it's hard to remember the 'why' when we have so much discussion on social media and in the news about problems in education," she says. "If I was in high school today, I would probably be scared to be a teacher. However, from where I am now, I can't think of anything else I would love to do more. It's all about what's in your heart."