Back To Top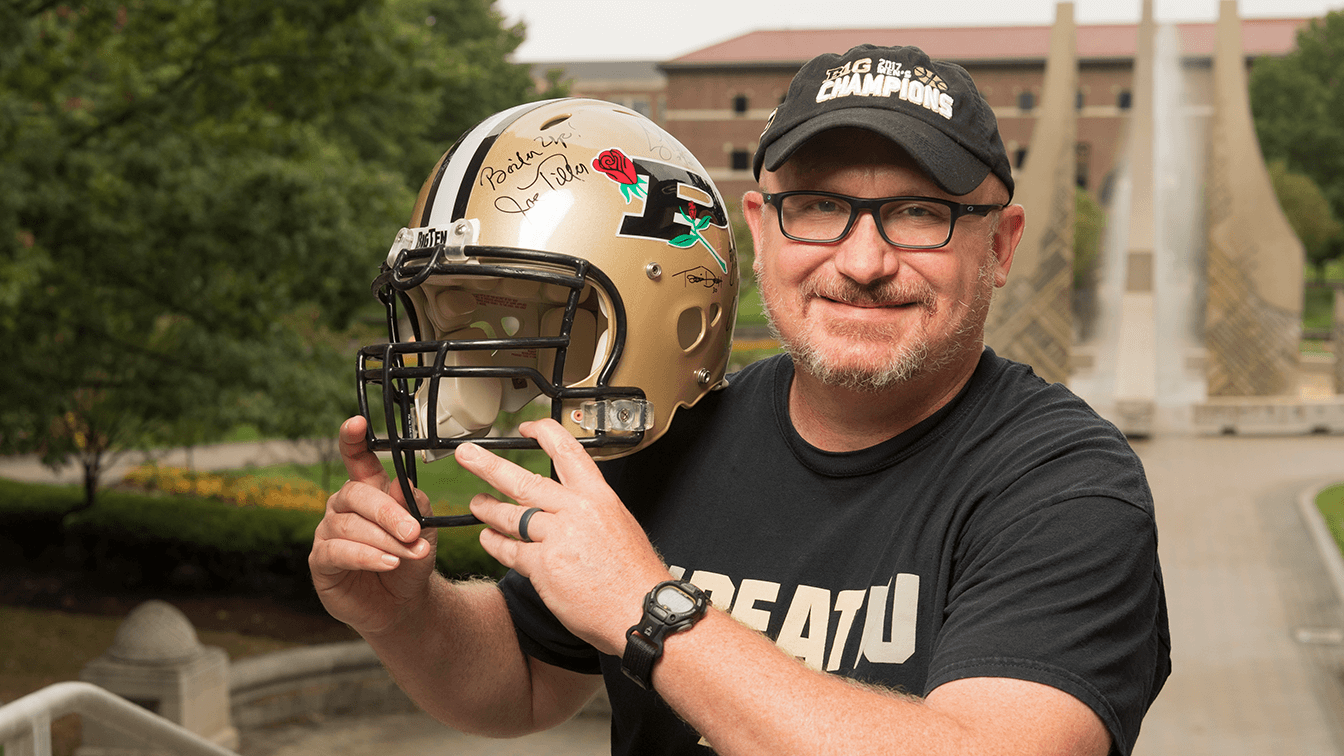 Purdue super fan Eddie Keister shares some of his favorite pieces of Purdue sports memorabilia
In the mid-90s, Eddie Keister kept himself entertained while working at Bruno's Pizza by looking at the enormous amount of Purdue memorabilia in Big O's Sports Room. He credits Big O himself, Orlando Itin, son of founder Bruno Itin and one of the restaurant's current owners, for starting him down the path of collecting Purdue memorabilia.
Eddie has always been a memorabilia buff. He began as a kid, collecting Kenner Starting Lineup baseball cards. After moving to West Lafayette in 1996, he put his education on pause to start a career in the Army and Indiana Army National Guard, which he finished in 2020. He's now back at Purdue, working on a bachelor's degree in history.
Even though he hasn't been a student for the majority of his time in West Lafayette, he loved attending Purdue athletics events. "Since I was a big sports fan, it made sense to go and see the affordable and fun sporting events," he says. "It just lent itself to having that kind of access to those athletes."
Eddie's favorite piece in his collection is an ongoing project: a game-used Purdue football helmet from the 2001 Rose Bowl. Ever since he purchased it from Purdue at the 10th anniversary of the game, he has been gathering signatures from players who competed for Purdue in the Rose Bowl. So far, he's gotten autographs from Bob Griese, Leroy Keyes, Drew Brees, John Standeford, Travis Dorsch, Stuart Schweigert, former coach Joe Tiller and more.
He has another game-used football helmet that he uses to collect signatures from the current year's graduating seniors. He says this one is different because, "At Purdue, sometimes our best players don't make it to their senior year." Some of the Purdue talent that have signed this helmet include Kawann Short, Zander Horvath, Akeem Hunt, Raheem Mostert, Ja'Whaun Bentley, Markus Bailey and many more. He says, "It's gotten to the point now where some of the players have recognized it over the years and are excited to sign it as seniors."
In addition to his helmets, Eddie owns several jerseys, signed baseball bats, seatbacks from baseball stadiums and over 250 signed baseballs. "I try and get pieces that I can get multiple players to sign because I can only display so much, so I have to consolidate" he says.
Eddie believes that the chase is the best part of collecting: "Trying to find that one item that no one else has, or is difficult to get, or to get that autograph."
Sometimes it can feel weird chasing down famous Boilermakers like Drew Brees or Bob Griese, but living in West Lafayette for 25 years has allowed him to make friends who support his collection in one way or another. "I keep my ear to the ground. When I know players are in town, I find out where they're going to be or talk to someone who they're going to be hanging out with. And I can usually get a good autograph out of it."
Read about other Purdue Super Fans