Back To Top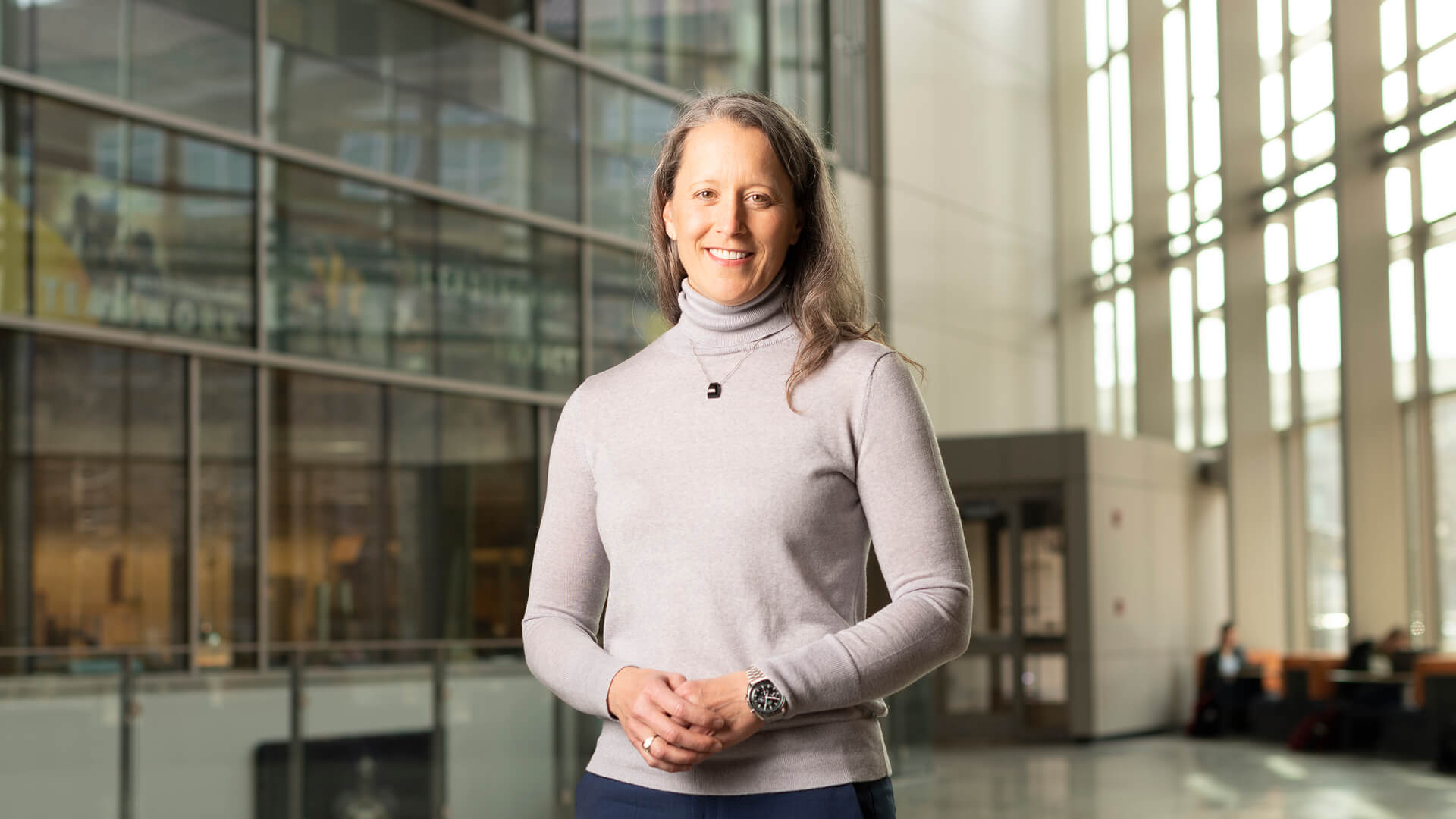 AAE graduate, a VP at Blue Origin, traveled with actor William Shatner aboard the company's New Shepard voyage
Audrey Powers needs a moment.
It's more than two months since realizing a dream she thought had been dashed — flying to space and becoming an astronaut — but when Powers is asked about the result of that accomplishment, being added to Purdue University's Cradle of Astronauts, she breaks from her articulate nature.
"Well, um, it's very …" Powers starts. And stops.
A breath.
"I'm very emotional about it," says the alumna of Purdue's School of Aeronautics and Astronautics. "To think that my name would be spoken in the same sentence as these other astronauts that graduated from Purdue is just … I absolutely do not feel like I am their equivalent. I've worked in this industry my entire career. I'm not downplaying the contributions I've made or the hard work I've put in to help the commercial aspects of this industry get up and running, but it's overwhelming to me that I would be compared to these people."
And yet, Powers is now in an exclusive group.
She didn't simply go up and come down on Blue Origin's New Shepard during the company's second human flight on Oct. 13, 2021. Powers conducted vital work for the company's engineering team by performing a mix of customer experience, human integration and emergency system checkouts. She tested the emergency breathing system, which had never been tested in flight, by deploying the emergency breathing mask and donning it to breathe the forced oxygen during the flight's highest G-loading, during re-entry. She was able to verify the system worked "great."
With that work, Powers (BSAAE '99) became the third commercial astronaut in the Cradle, which stands at 27 Purdue alumni.
"I'm really overwhelmed that something I thought about for so long and worked so hard to do that I'm now considered to be a peer of these amazing people. It's quite overwhelming for me," she said.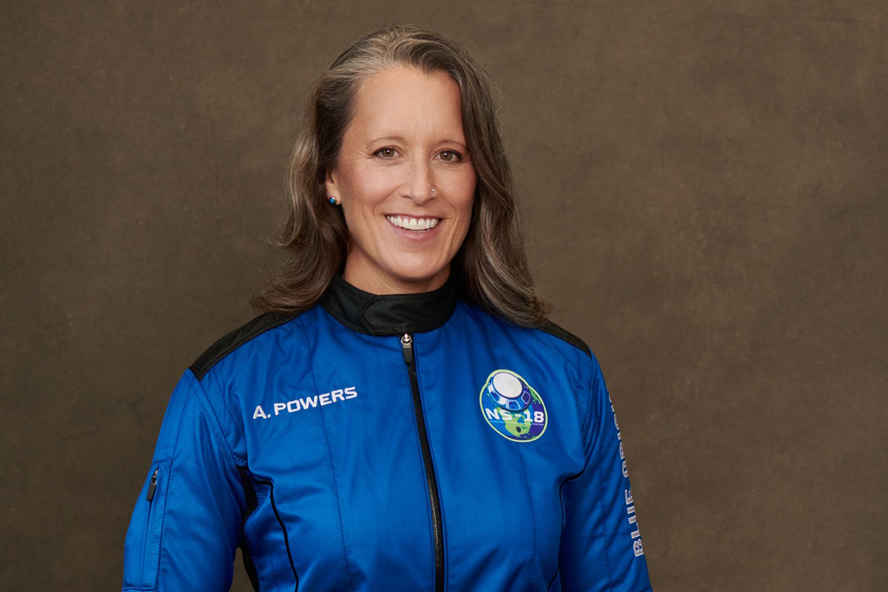 I'm really overwhelmed that something I thought about for so long and worked so hard to do that I'm now considered to be a peer of these amazing people.

Audrey Powers (BS AAE '99)

on joining Purdue's Cradle of Astronauts
Finding the path
Powers can't exactly pinpoint when her fascination with space began.
Maybe it was peering through a telescope at distant stars and planets.
Maybe it was watching space shuttle launches on a TV wheeled into grade-school classrooms.
Maybe it was during the countless trips to the Smithsonian's National Air and Space Museum.
Maybe it was wide-eyed viewing of NASA TV's coverage of space walks, enthralled that people could actually live in that environment.
All she knows is she was young, and she became determined. Parents Kevin and Linda bought in, fostering every curiosity, feeding the growing interest, encouraging her love for math and prowess in science, exposing her to opportunities to broaden her knowledge of space and everything that flew.
By the time Powers was ready to attend college, she was single-mindedly focused on becoming an astronaut. She figured she'd wind up at a military academy because so many astronauts had been military pilots. She loved flying and assumed that was the route to her dream. She knew there were other avenues, being a scientist, a mission specialist, etc., but then it still was very much the path of a traditional, professional NASA astronaut.
Powers grew up in Maryland, close to the Naval Academy. She visited the Air Force Academy. She considered engineering schools, as well, including nearby University of Maryland.
But then she stumbled across a pile of college brochures from her older sister Tracey's search of veterinary schools, collecting dust in the house. There was one from a university in Indiana that Powers had never heard of, but it had an insert that caught her attention.
"I started looking at it and was like, 'My god, there's this school that all of these amazing astronauts graduated from,' so I started looking into the engineering programs there," Powers said.
The more investigating she did, the more Purdue checked boxes. It had its own airport, meaning she could start working on obtaining her pilot's license right away. It had a relationship with NASA and the human spaceflight community. It had an impressive engineering program, specifically in aeronautical and astronautical engineering.
"It was kind of no competition," Powers said.
At Purdue, Powers quickly learned the importance of working on a team. While forming relationships with classmates during late nights studying together in the lab, she saw how other people learned and explained things in different ways and knew that was so critical to success to work on projects with others. That was useful immediately in her career: Her first job out of Purdue was at NASA on the International Space Station program, and there may not be a stronger team environment than mission control. The lessons continue to pay dividends to this day, as she leads New Shepard's Mission and Flight Operations team at Blue Origin.
"It's hard for me to describe how right the decision to go to Purdue was for me in my career," she said. "You meet those big life decisions and wonder, 'Did I make the right decision? Twenty years from now, in hindsight, will I think … ?' There was no other place for me to go than Purdue. I was made to go to that school."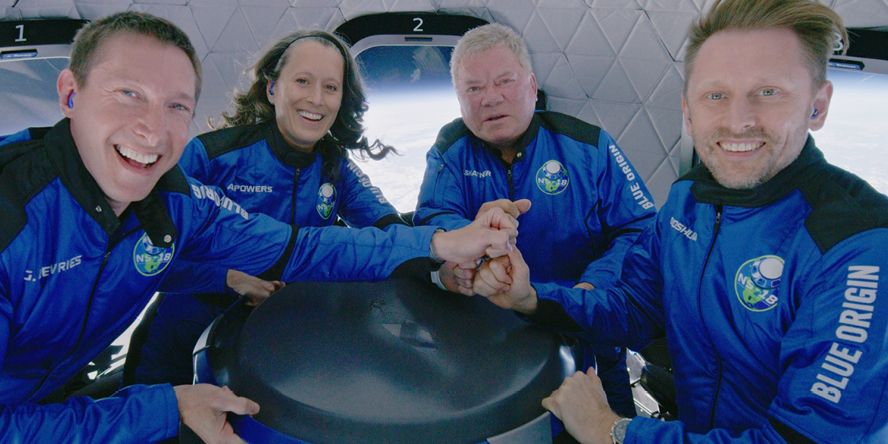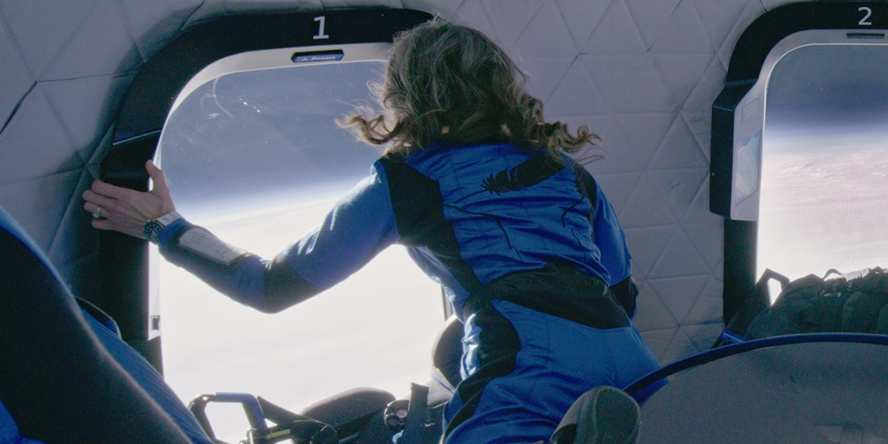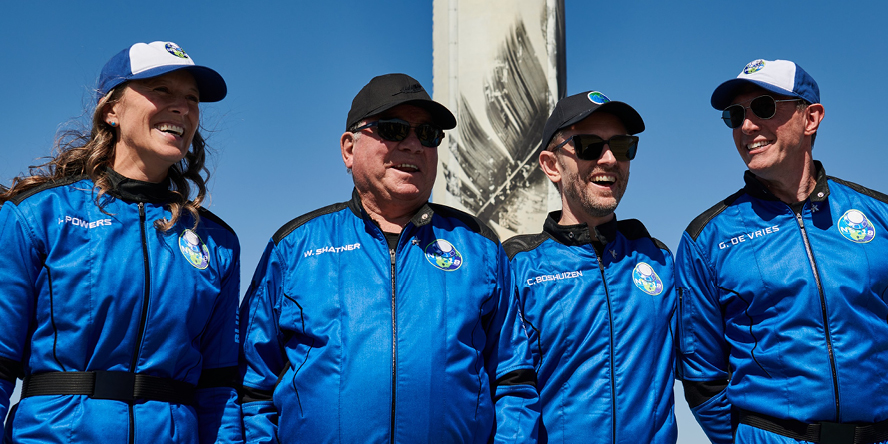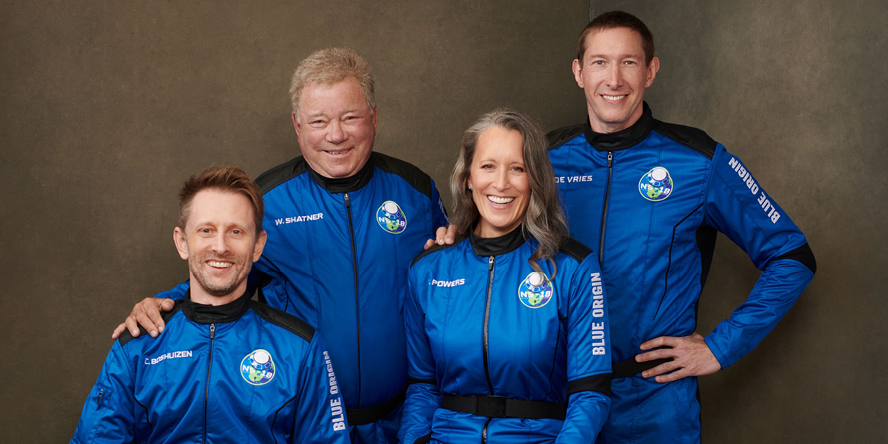 The selection
Audrey Powers insists she was fulfilled.
At Blue Origin, which she joined in 2013, she had learned to enjoy playing a lead role in the multiyear process to certify New Shepard for human spaceflight and helping humanity in getting to space.
She'd reconciled she would not be one of them — the ones who strap in, feel the rush of the Mach level increasing and then experience the brilliant, overwhelming contrast of the consuming darkness of space with the light of Earth's glow, absorbing the beauty of its curve.
But she was fine — really — relinquishing her grip on her ultimate dream of becoming an astronaut. Blue Origin and its vision — enabling a future where millions of people are living and working in space for the benefit of Earth — resonated with her as she'd gotten older.
Maybe that made what happened in October 2021 that much more special.
Blue Origin's standard approach is not to fly employees, Powers said, but a unique opportunity presented itself to represent Team Blue.
"I was stunned," she said. "Like speechless stunned."
Powers is happy to report that even in the months since the experience, the feelings generated and memories engrained haven't faded.
Multiple days a week there are moments that trigger flashbacks to the 11-minute flight. At a recent hockey game when the announcer told the crowd there was "one minute remaining," it sparked a memory to the moment in the cabin when CapCom reminded the crew the same thing.
"I flashed back to what I was doing at the time, looking out the window at this amazing view of the Earth," Powers said. "I was like, 'I hope this always happens to me.' I hope that I remember this feeling and carry it with me."
I would not be here without Purdue. I feel very strongly about that.

Audrey Powers (BS AAE '99)
Purdue's 27th astronaut
The future
There would seem to be a good chance of keeping the feeling alive considering how often Powers is asked to recall the events of her flight.
Like the two female commercial astronauts before her in the Cradle — Virgin Galactic's Beth Moses and Sirisha Bandla, both fellow School of Aeronautics and Astronautics alumnae — Powers' life has changed since she became an astronaut. Even though she was an incredibly accomplished engineer well before that. (So much so, she was selected as an Outstanding Aerospace Engineer in 2021, the highest honor given to an alum of the School of Aeronautics and Astronautics, before the astronaut designation.)
Since the flight, the requests for her time have dramatically increased, whether it's speaking to a group of Girl Scouts, a college class, a professional society or a research lab. She doesn't want to say "no" but admits it's a bit overwhelming, almost like a second full-time job. But Powers realizes it's also an opportunity to continue to share what the commercial space industry is doing — something she's passionate about and spent a year as the chair of the Commercial Spaceflight Federation — and, more specifically, Blue Origin's mission, which is broad and deep.
Powers is involved with the company's Club for the Future, a nonprofit whose mission is to inspire future generations to pursue careers in STEM and to help invent the future of life in space.
The fully reusable New Shepard will continue to add flights, giving customers and guests the experience of space travel but also allowing researchers to fly payloads to test technology in microgravity.
Blue Origin and Sierra Space have announced plans for Orbital Reef, a commercially developed, owned and operated space station to be built in low-Earth orbit. (A project in which Purdue is connected, as it has a spot on the Orbital Reef University Advisory Council.)
The company continues to develop New Glenn, a single-configuration, heavy-lift orbital launch vehicle capable of carrying people and payloads to Earth orbit and beyond.
"A few folks had asked me, 'What are you going to do now?'" Powers said with a laugh. "This era of commercial spaceflight is fulfilling to me in so many ways. I'm so looking forward to some of these larger programs that Blue has on the horizon, including a space station program and obviously our orbital vehicle program. I cannot wait to help more and more and more people access space, which is what the commercial industry is about. I talk to my nieces, and they no longer have this impression that you have to be a professional astronaut that dedicates their entire life to a long-duration spaceflight. That's not the model of an astronaut necessarily going forward.
"I'm very happy I've been able to play a part in that, and I can't wait for some of these bigger projects we're working on."
No matter what's next, Purdue always will be close to her heart.
She credits the university for starting this remarkable career — and it's why she took a Purdue pennant to space, which she ultimately gifted back to the School of Aeronautics and Astronautics.
"I couldn't possibly fly to space without bringing something from Purdue," she said. "The reason I went (to Purdue) was to do something like this. It absolutely happened. I would not be here without Purdue. I feel very strongly about that."
Story by: Stacy Clardie, sclardie@purdue.edu