Back To Top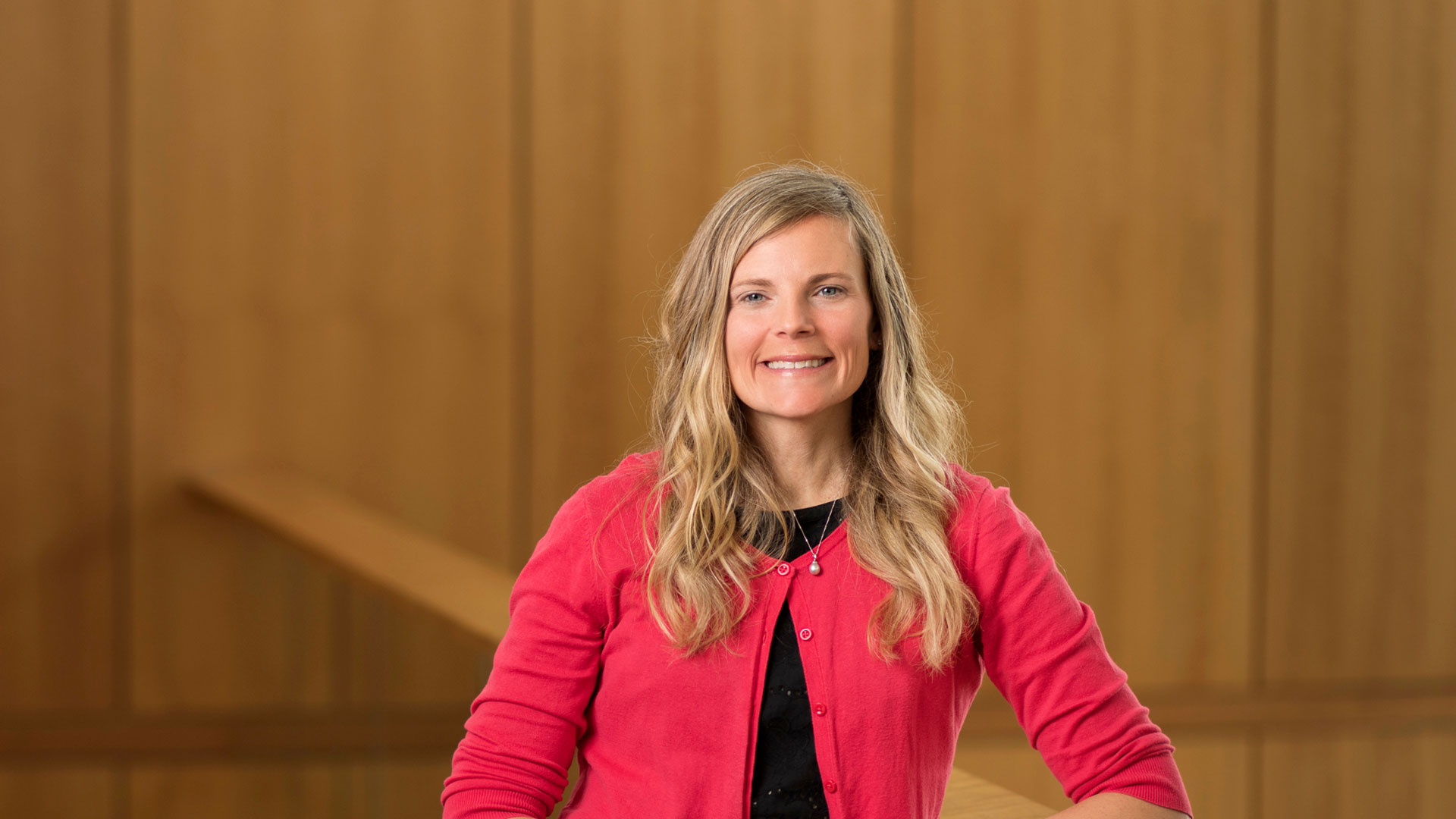 Karcher strives to give students opportunities, experiences to 'help them find their passions'
To Elizabeth Karcher, an associate professor of animal sciences at Purdue University, teaching is a family affair.
Her mother, Kimberley, was a longtime teacher in the New Jersey public school system. Her husband, Darrin, is a faculty colleague in Purdue's Department of Animal Sciences, and the two met during Elizabeth's graduate studies as a Boilermaker.
And when and where possible, the five Karcher children, ages 6-13, are included in their mother's learning and social activities at work. So, of course, her entire family was there in her Creighton Hall classroom for the March 14 announcement that she had won a 2022 Outstanding Undergraduate Teaching Award in Memory of Charles B. Murphy.
As a teacher in New Jersey's K-12 system, Karcher's mother would include her young daughter in many school activities, especially after-school programs her mother funded through small grants. Continuing that model, Elizabeth Karcher involves her children, particularly in social activities put on by her department in the College of Agriculture. Her oldest daughter joined mom in a Purdue study abroad program in Italy a few years ago. "I've had students, particularly our female students at Purdue, say things like, 'You know, Professor Karcher, I see you can balance career and family.' And that's important to them," she says. "You don't even realize your students are watching these things until they mention it. But I think it sends a terrific message to our students that work-life satisfaction is possible."
Karcher, who also serves as undergraduate programs coordinator for the department, has taught over 2,000 students in more than 50 course offerings since 2008. Returning to Purdue in 2016 after earning her master's degree here, she now teaches a variety of courses and has developed study abroad programs on animal production and environmental challenges in Italy and Vietnam.
"Every little step and decision I make about my career have led me to where I am today," she says.
Student-centered learning culture
A passion for engaging students is evident in Karcher's approach to scholarship, amplifying the impact she's able to make on her students, colleagues and educators in the K-12 system. She taps evidence-based pedagogies and self-reflection to guide her teaching. With collaborative case studies and hands-on laboratory stations, her instruction promotes student-centered learning.
For her large Introduction to Animal Agriculture course, she shifted to a format – known as inquiry-based learning – that emphasized the students' role in the learning process. Yet, Karcher struggled to identify a textbook that met the course's objectives and aligned with her teaching philosophy. So, she worked with Great River Learning publishing company to develop an interactive, digital textbook. Piloted in Fall 2021, the textbook lets her move closer to a flipped classroom model. And she and the publisher hope to market the textbook to other institutions. A Purdue Teaching Academy member, Karcher was invited in 2021 to help pilot the Inclusive Excellence Initiative (IEI), a program focused on inclusive excellence, equity-mindedness and anti-bias practices. After completing IEI, she updated her course to create a more inclusive and learner-centered syllabus. Now, she looks for ways to reflect and gain a deeper understanding of issues related to diversity, equity and inclusion.
"I examined how even a syllabus can impact students' feeling of belonging in a course. That was eye-opening, because there are small changes I can make in my classroom that can have an enormous impact from a diversity, equity and inclusion standpoint," she says.
I've had students, particularly our female students at Purdue, say things like, 'You know, Professor Karcher, I see you can balance career and family.' And that's important to them.

Elizabeth Karcher,
associate professor, animal sciences
Karcher has submitted a U.S. Department of Agriculture proposal to establish a multicultural scholars program in animal sciences.
"If funded, we will be able to engage with diverse populations of underrepresented students from across Indiana, welcome them to Purdue, and offer a program that encompasses experiential learning, structure and mentoring for the four years they're here," she says.
Such challenges in the college classroom go beyond race, Karcher adds, noting that while her Purdue department's undergraduate population is 85% female, animal sciences remains a male-dominated industry. "Discrimination is present, even in academics. It encompasses both gender and ethnicity. We need to actively continue the dialogue surrounding how we can engage with people that are diverse from oneself and listen to our students' experiences on campus," she says. "It's really important for instructors to recognize that and engage in those conversations. We need to create an environment in which all students can thrive."
Mentoring and the classroom
When she was charting career choices, Karcher initially wanted to study to be a small-animal veterinarian when she enrolled at Penn State University, just a few hours from her eastern Pennsylvania home.
She changed her mind after working in a dairy nutrition lab, discovering the beauty of teaching, research and the value of a mentor, Dr. Gabriella Varga. Varga was encouraging, always available and pointed to her potential – traits that Karcher has tried to carry forward in her interactions with the Purdue students in her animal sciences classes.
"I think if students feel like we are there for them, that we care about them and their personal life and their success in the classroom, that's huge," Karcher says. "I believe it's my goal to engage students and give them opportunities and experiences that can help them find their passions."
That's Karcher's goal today – to motivate students and challenge them with new concepts and learning experiences. Paying forward the role as mentor, she makes every effort to walk with her students through the process of developing a research project and presenting at national meetings.
To date, 12 of her undergraduate students have presented abstracts at national meetings. She also has mentored seven master's students and one PhD student, along with serving on the advisory committee of 13 other students. Since joining Purdue six years ago, she has published 23 teaching manuscripts; another two are submitted and in review.
Karcher was humbled by the Murphy Award recognition, explaining that the occasional tough days in her animal sciences classrooms make those enjoyable moments with the students all the more rewarding, motivating and fulfilling. "I do what I do because I love it. As in any job, there are moments that require addressing those matters that need to be addressed," Karcher says. "However, I genuinely enjoy being in the classroom with the students and engaging with them. Those are all the things that make my job as exciting as it is – enjoying what I do and wanting to keep coming back every day."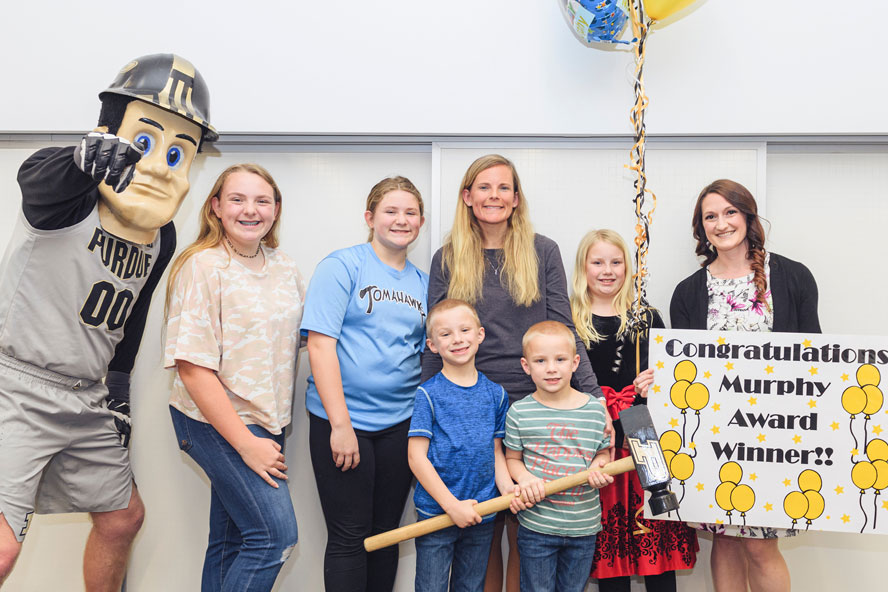 If students feel we are there for them, that we care about them and their personal life and their success in the classroom, that's huge. It's my goal to engage students and give them opportunities and experiences that can help them find their passions.

Elizabeth Karcher

Associate professor of animal sciences