Back To Top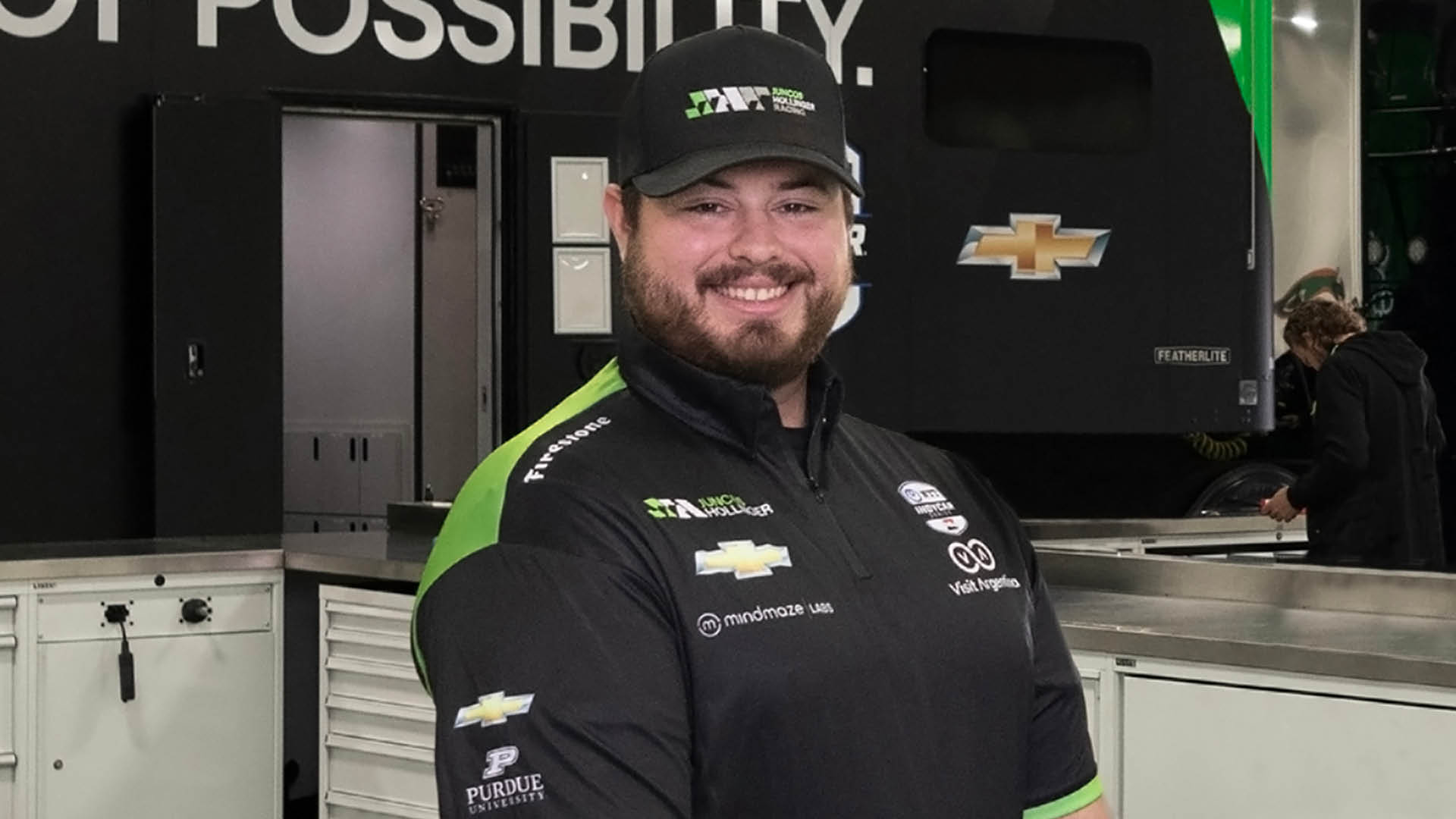 Mechanical engineering senior Zachary Nelson's pursuit of a career in motorsports
Not every internship showcases your work at 200 miles per hour on national television. For Purdue mechanical engineering student Zachary Nelson, an internship with IndyCar team Juncos Hollinger Racing is making his motorsports dreams come true.
Growing up in Brentwood, Tennessee, as the son of a mechanical engineer, Nelson knew exactly what he wanted to do from an early age. And sometimes it drove his family nuts.
"My motorsports career really started when I got kicked out of the house for building so much stuff in their garage," he jokes.
Nelson found a neighbor who was racing a TA2 car in the Trans Am Road Racing Series, and joined their team as a tech.
"I helped them change engines, replace windshields, clean wheels, spot at the tracks," he remembers. "I learned to do a little bit of everything."
Later he had the chance to work for another team, ACI Motorsports, racing sportscars in the Porsche Carrera Cup. Nelson was hooked.
"I always thought racing was cool," he says. "But it was at this point that I thought having a career could really be possible. I have my foot in the door. Let's chase it and see where it goes."
In the meantime, he had enrolled in Purdue University as a mechanical engineering student.
"It's been a match made in heaven," he says. "I love classes like fluid mechanics, because everything I learn there about aerodynamics is applicable to racing!"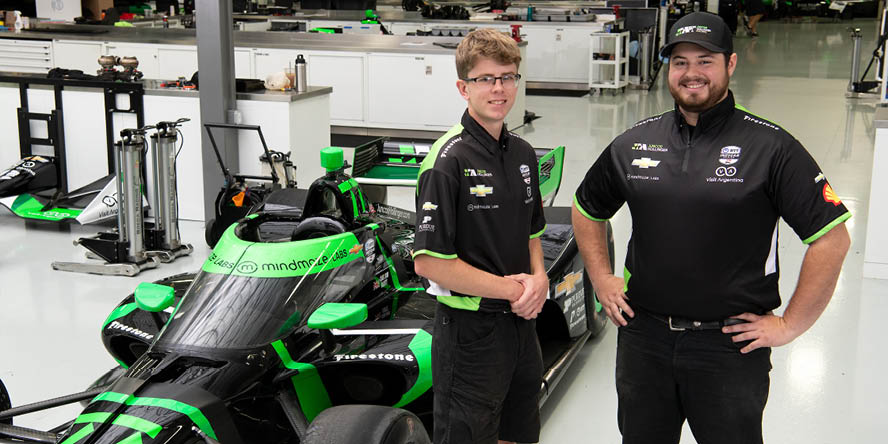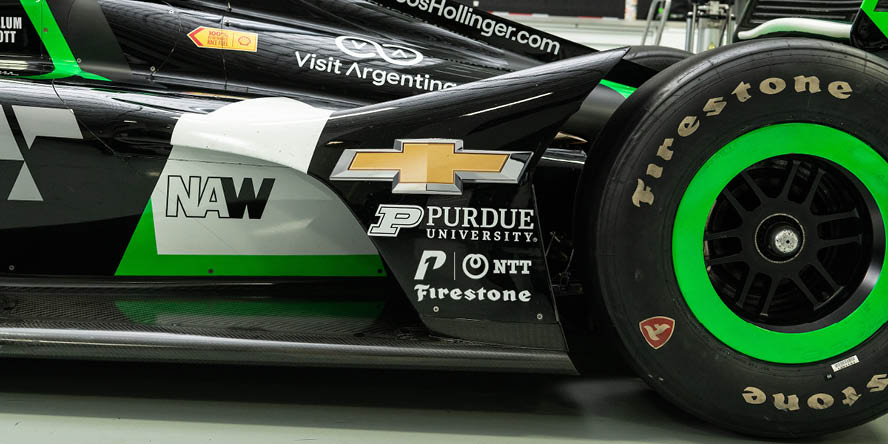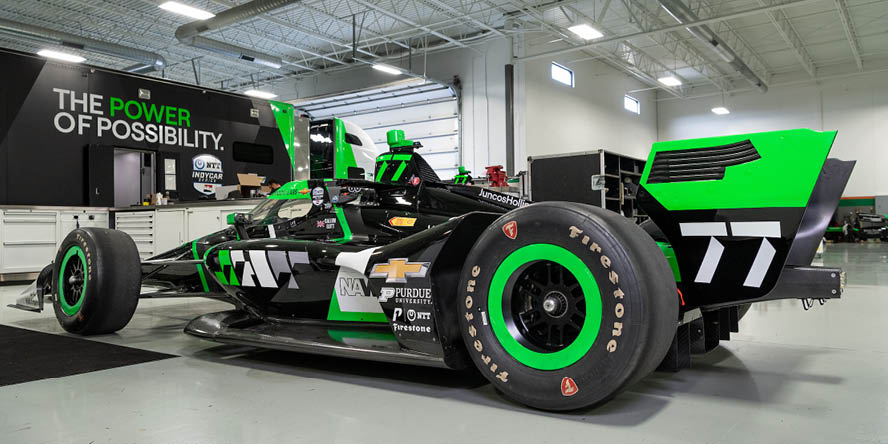 Green flag
Soon, Nelson would receive an even bigger opportunity. In 2021, Purdue formed a partnership with Indianapolis-based Juncos Hollinger Racing, who were planning to field their very first full-time IndyCar team. And what they needed most was people.
"When you see a race on television, you only see the driver, four tire-changers, and a fueler, and that's it," says Keith Stein, operations manager for Juncos Hollinger Racing. "That's just a small fraction of the number of people required to get the car on the track every week. We have mechanics. We have truck drivers. We have strategists. We have people who handle the business side, the legal side, accounting, graphic design, hospitality. Like any business, there are so many moving parts to having a successful team."
In 2022, Juncos Hollinger welcomed six Purdue students as interns — two mechanical engineering students, and four from Purdue Polytechnic Institute. And of course, they had to start at the bottom.
"At the beginning, they had to get to know us," Nelson says. "It's like that in every shop — they put you through the grunt work to see if you've got what it takes, because racing can sometimes be more grueling than glamorous. In my case, I've mainly worked with stock cars, so in terms of precision and scope, IndyCar is definitely a huge step up from that."
But the Purdue interns proved themselves, and soon began taking on more and more duties.
Motorsports has always been the tool that auto manufacturers use to develop what's coming next. To be on the cutting edge of that is really awesome.

Zachary Nelson
Senior, mechanical engineering
"They call me a DAG — Data Analysis Guy," Nelson says. "I pore through all the raw data and look for trends, like when do cautions come out at certain tracks, and how long do they last? There's a difference between watching a race and analyzing a race, and you can learn a lot through this data analysis."
"I read his report, and I thought, 'That's pretty impressive!'" Stein says. "For someone who hasn't been at this level of racing, and isn't yet a full engineer, to put together that level of analysis was very impressive."
The Purdue students also get hands-on with the cars, especially with the team's Indy Pro 2000 cars (a lower-level open-wheel racing series). During their season-opener in St. Petersburg, Florida, driver Enaam Ahmed crashed his car against a wall. Repairing the car was a mighty task.
"We had to go through the entire car," Nelson reflects. "The gearbox was cracked, axles were broken, it needed new suspension on both sides. It was a mess. But we were there, in the thick of it. Jake [another Purdue student] would come down to Indy on Monday to work on it, and then Rob would take over the next day, and then I would come in after that. We have a group text where we keep each other updated on exactly what we do, and what the crew needs next, in order to get the job done."
"Having the Purdue guys here has been a great experience," Stein says. "They've done everything we've asked them to do, and their work is fantastic. I have to beat them off with a stick, because they are constantly looking for things to do at the shop! As a brand-new team, we are always looking for sponsors and other business opportunities, but having the Purdue guys in the shop is something we can always rely on."
It's still early in the season, but Zach sees big things for Juncos Hollinger Racing.
"Absolutely, I think they've got what it takes to succeed," he says. "Seeing behind the scenes, I know how much it takes to have success in IndyCar, and this team is putting together the right pieces to make it happen."
Work ethic
"The biggest thing Purdue gives me is work ethic," Nelson says. "It takes a lot of work to get through the ME curriculum, and slugging it out with my classes is great preparation for how much work it takes in the shop to put these cars together."
Todd Nelson, managing director of Purdue Motorsports, sees motorsports as the perfect gateway to a more robust education.
"Almost everything we learn in mechanical engineering applies to success in motorsports," he says. "And vice versa — there are so many things you learn in a race shop that can help you succeed later on in your career. Not only do you learn the technical side, but you also master the soft skills of teamwork, leadership and communication that are so important in any field."
Zachary Nelson agrees. "Motorsports has always been the tool that auto manufacturers use to develop what's coming next," he says. "To be on the cutting edge of that is really awesome."
Written by: Jared Pike, jaredpike@purdue.edu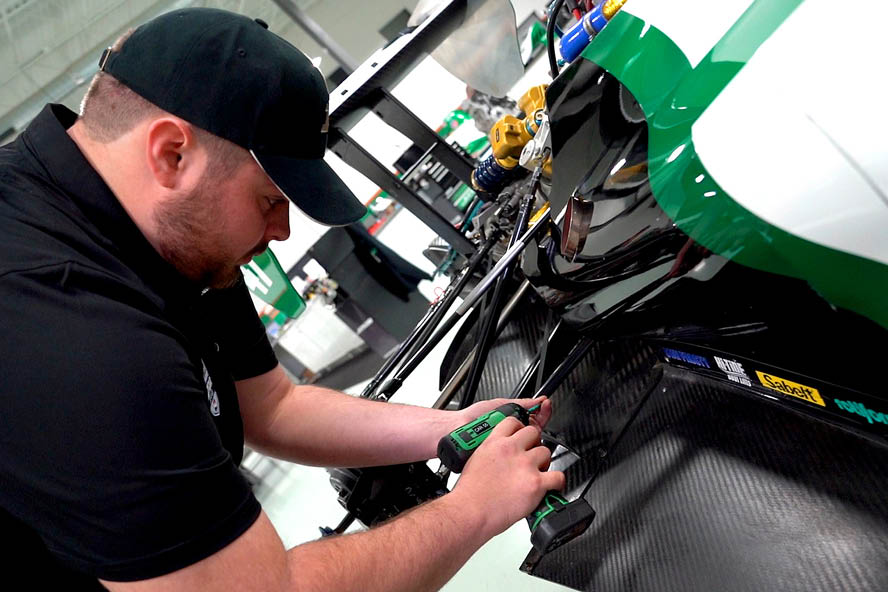 There's a difference between watching a race and analyzing a race, and you can learn a lot through this data analysis.

Zachary Nelson

Senior, mechanical engineering