Back To Top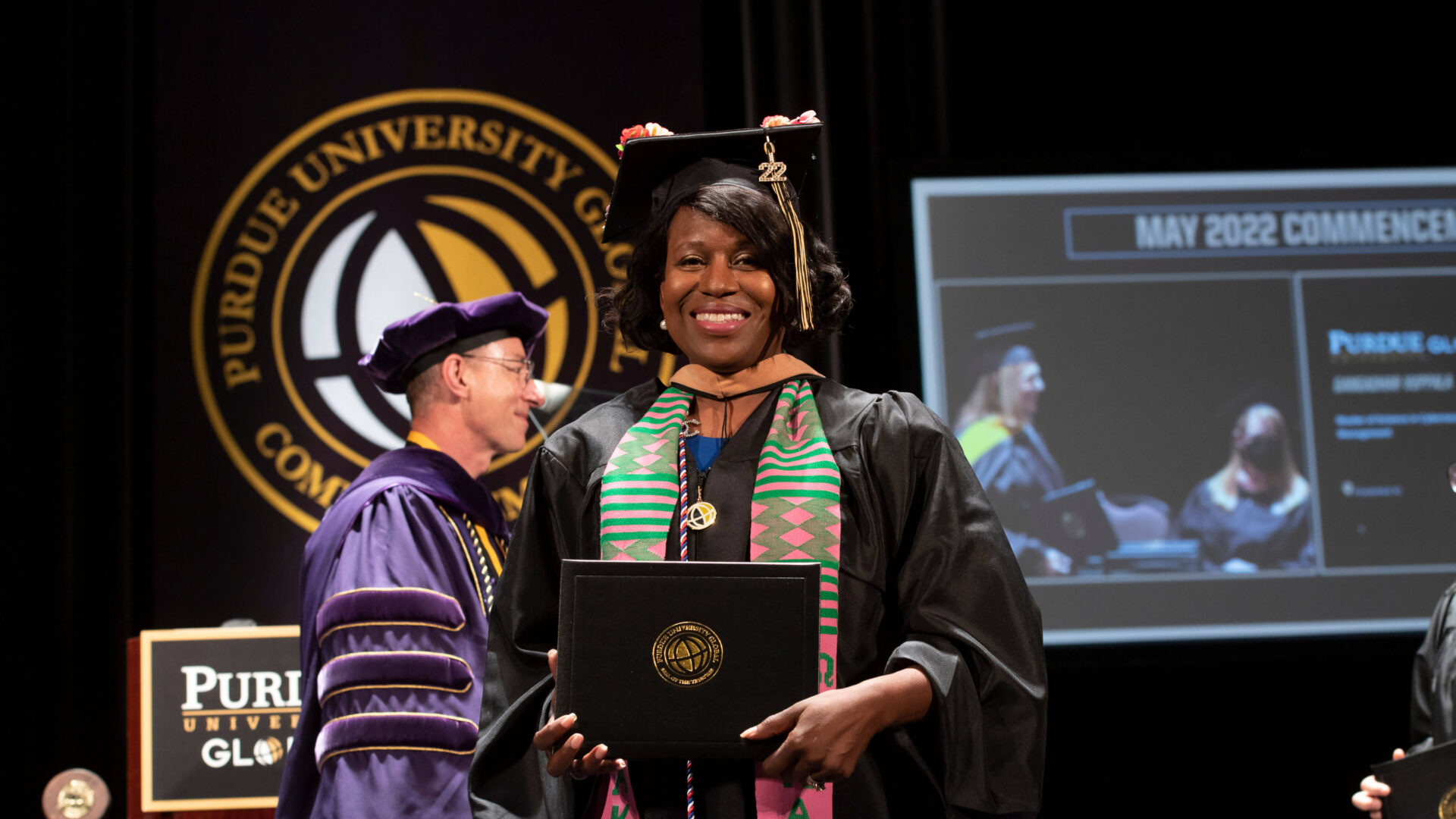 Cancer couldn't stop this Army veteran from pursuing a Purdue Global degree
Once Sheila Taylor set her mind on completing a graduate degree, nothing was going to stand in her way.
Not when she was diagnosed with breast cancer for the third time just before starting classes, nor when she contracted COVID-19 between chemotherapy and radiation treatments.
The certified public accountant started a graduate program several years ago but couldn't find the time to see it through. This time, she wanted to teach her daughter, McKenzie, a lesson about dedication, even when she knew it would be a tremendous challenge.
"When I got the diagnosis that I had breast cancer for the third time, I was like, 'Man, I just signed up for school. I've got to do chemotherapy. I've got to do radiation. Maybe I should just give up,'" Taylor says. "And it was like this voice that said, 'No, because it's never going to be the right time. You've been trying to go back, and you can do this.'
"I will say it was tough. I was tired a lot and I was sick from chemotherapy, but I thought, 'I've just got to push through it.' I had to show my child that when you make a commitment, you see it through to the end."
The Army veteran didn't simply complete the master's degree she set out to obtain. She did so while earning straight A's in her accounting and taxation curriculum. And she did it while juggling a seemingly endless array of commitments outside of schoolwork.
Taylor is a senior tax manager and also manages her own CPA firm. She is involved with multiple breast cancer organizations, including "Sock it to Cancer," a foundation she started in 2015 to provide comfort items to women in treatment for breast cancer. She is a member of numerous civic boards and commissions in Lewisville, Texas – where her family has lived for the last 19 years – and was recently elected to the school board for the Lewisville Independent School District.
"I'm just a glutton for punishment, doing all this stuff," Taylor says with a laugh.
But in truth, there was a secondary purpose for participating in all of those activities beyond serving her community.
"If I didn't have those things, I would have been very depressed," Taylor says. "There were always things I was working on, and I had to do it, so I didn't have time to think, 'You might not make it.' That was a blessing. I didn't have time to be sick. I had to get all these things done."
Taylor had just begun chemotherapy treatment when she started classes in May 2020. Those treatments lasted into September of that year, and she had undergone only one radiation treatment when she tested positive for COVID-19 in October.
Thankfully, it was a manageable case and Taylor was able to complete her treatments after a short delay. Her doctors determined in February 2021 that the cancer was in remission.
"I still have to go like every three months to be checked out, but things have been fine," she says. "All you can do is keep praying and living life. What I tell people is when you've had cancer multiple times, a lot of people wait for the other shoe to drop. I don't think like that. I just take every day as it is and get the most out of life while I can."
That includes steadily working toward a graduate degree – without taking any time off during treatment – that could help expand her CPA business and might allow her to someday pursue a teaching position.
"I probably should have taken some time off, but I had it in my mind, 'You're going to graduate on this day,' and that's what I was focused on," says Taylor, who participated in Purdue Global's commencement exercises on May 21 in Indianapolis. "I just worked hard and got through all that stuff and made it through. I'm so excited to have graduated from Purdue Global."
I will say it was tough. I was tired a lot and I was sick from chemotherapy, but I thought, 'I've just got to push through it.' I had to show my child that when you make a commitment, you see it through to the end.

Sheila Taylor
Three-time breast cancer survivor and Purdue Global alumna