Back To Top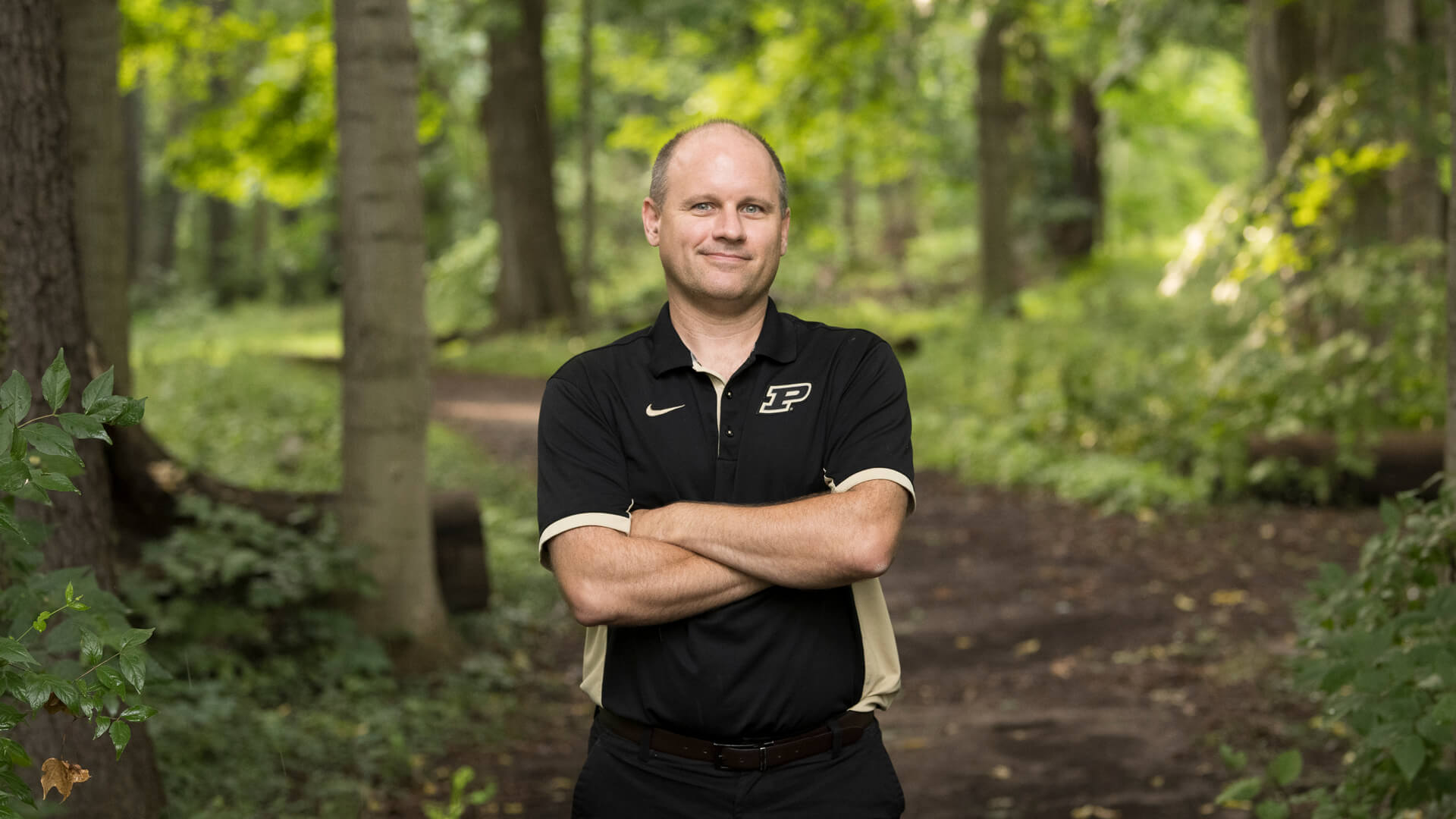 Andrew Whelton's network of experts helps communities recover from long-lasting wildfire effects
Andrew Whelton hadn't been on the ground in Maui, Hawaii, for long before his cellphone began blowing up with messages.
Ding. It's the former town manager in Paradise, California. Buzz. It's the director of public works in Louisville, Colorado. Ding. It's the deputy director of water and sewer in Santa Rosa, California. Buzz. Now it's the former public works director of Superior, Colorado.
On and on it went, with a collection of public servants and utility leaders reaching out to Whelton, a Purdue professor of civil engineering and environmental and ecological engineering, who had previously assisted them after their communities were devastated by wildfires. Now that network of leaders, connected by awful circumstances that left them with a highly specialized knowledge base, wanted to pay it forward as Maui dealt with the aftermath of the deadliest U.S. wildfire in a century.
"My phone lit up," Whelton recalls. "The day that I flew in and said I'm in Maui, it was just message after message: 'What do you know?' 'Do they need help?' 'What do they need help with?'"
Once he had the lay of the land, Whelton described the conditions after four wildfires that started Aug. 8 scorched more than 10 square miles in Maui, doing an estimated $16 billion in damage — not to mention the ongoing, catastrophic impact on an economy reliant on tourist dollars.
And then he made a considerable request of those previous contacts. He asked them to come to Hawaii to help him encourage citizens and local, state and federal agencies to take the correct steps during one of the most important stages in their recovery: testing for and removing the toxic chemicals in their water supply that the fires left behind.
Not only did four town leaders — three from Louisville and one from Paradise — take Whelton up on his request, but they provided a powerful testimony to folks who needed to hear about their experiences. Facilitated by Robby Seeger, founder of the Maui-based nonprofit Water People Collective, they also met with native Hawaiian households.
Those who could not travel volunteered to share their experience from afar, including Purdue professors Amisha Shah and Caitlin Proctor and Manhattan College professor Juneseok Lee, as well as other leaders from Santa Rosa, Superior and Paradise.
You bring the world with you to help people in any way you can.

Andrew Whelton
Professor of civil engineering and
environmental and ecological engineering
"It was really impactful for the water distribution director and the people in Lahaina to have insight from experts with previous experience," says Paula Coelho, a PhD student in environmental and ecological engineering who accompanied Whelton to Lahaina. "We had a meeting with the community where people could just ask whatever questions they had: about water quality, about health, about insurance problems. Those people had experience with all of these topics, and I believe it was really helpful for the people in Lahaina to hear from them."
That's exactly why Whelton wanted them there.
Maui was far from the first disaster site he visited in his career, and he is well acquainted with the conflicting guidance that can arise as communities seek information to get back on their feet. Those leaders from California and Colorado, who helped their towns rebuild after the Camp Fire in 2018 and the Marshall Fire in 2021, understand the value of asking the right questions and following sound scientific advice while rebuilding.
"It trumps everything when they say, 'My system was destroyed, and I fixed it this way,'" Whelton says. "It was a really positive experience. We all provided critical insights. You bring the world with you to help people in any way you can. And it worked."
Four key questions
Over time, Whelton has built a reputation as a go-to recovery expert after his efforts at a growing list of disaster sites, including the aforementioned fires in California and Colorado; the 2017 Tubbs Fire in California; and fires in Oregon, New Mexico and British Columbia.
Frequently, he is invited by a local agency or university — he went to Lahaina and Kula at the University of Hawaii's behest — and meets with local leaders who are willing to hear what he has to say. He typically brings along Purdue students who assist him with testing at local businesses and residences, checking for the presence of toxic materials.
In Maui, they conducted a rapid household survey to assess drinking water needs. Whelton also spent a day helping Hawaii's state veterinarian inspect drinking water systems on livestock and crop farms.
When he meets with local emergency management officials, Whelton tells them four basic questions should guide their initial recovery efforts:
What chemicals should they look for?
Where did the chemicals go?
How do you return the buildings and infrastructure to safe use?
What are the chemical exposures?
When it comes to drinking water safety, "if you're not answering those four questions, then you're wasting your time," Whelton says. "The quickest way out of a disaster is finding and removing the contamination to minimize the health impacts and allow businesses to recover."
Unique, hands-on experience
During these site visits, Whelton's students go through a life, and learning, experience that is nothing short of invaluable. Not only are they able to help people who are in need, but they are able to see, up close and in person, why their work matters.
"Above all, the students recognize the importance of empathy. They listen and share knowledge," Whelton says. "They learn about experiences no one should ever face and are looked to by families about drinking water safety. They are sometimes inspecting areas where one home out of hundreds is left standing."
Caroline Jankowski (MS environmental and ecological engineering '22), who accompanied Whelton to Colorado in 2022, agrees with that assessment.
"It was definitely a very emotional time, just to hear people's stories and seeing it firsthand," she says. "It definitely has given me a different perspective on the importance of the work we do and how much it affects people in the real world."
It's a growth opportunity as well.
Whelton particularly enjoys sharing about the time he called on graduate student Kris Isaacson to answer a Navy admiral's questions during a 2021 emergency response project. Isaacson had been quietly listening to their exchange, never expecting that he soon would be asked to share his expertise about how long it should take a gas chromatography-mass spectrometer instrument to run tests and return useful data.
"Something I think grad students struggle with is imposter syndrome, and I'm no exception. You don't really understand how much you know," Isaacson says. "But I think that experience kind of helped. In the moment, it was kind of terrifying, and I give Andy a hard time about that all the time. But then I realized I guess I am the expert in this room on this specific instrument. So it was a confidence booster in a weird kind of way for the next time we went out to a disaster response."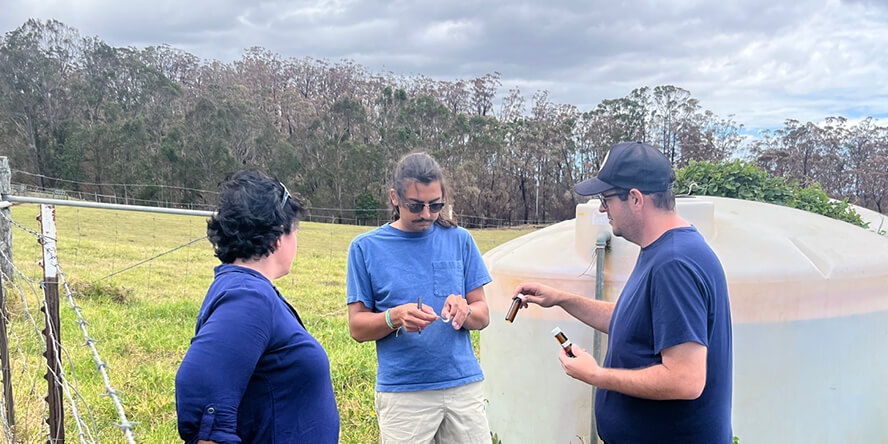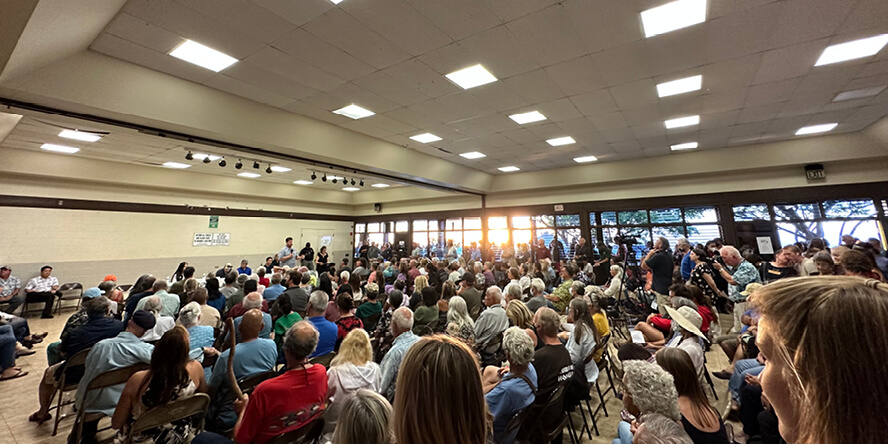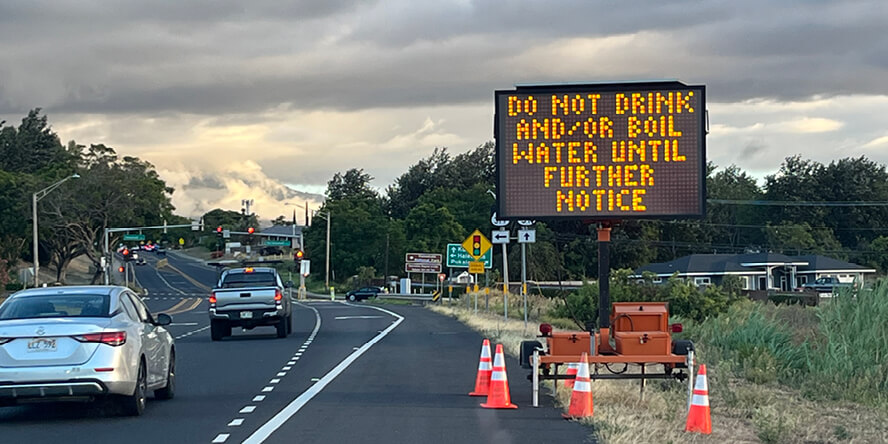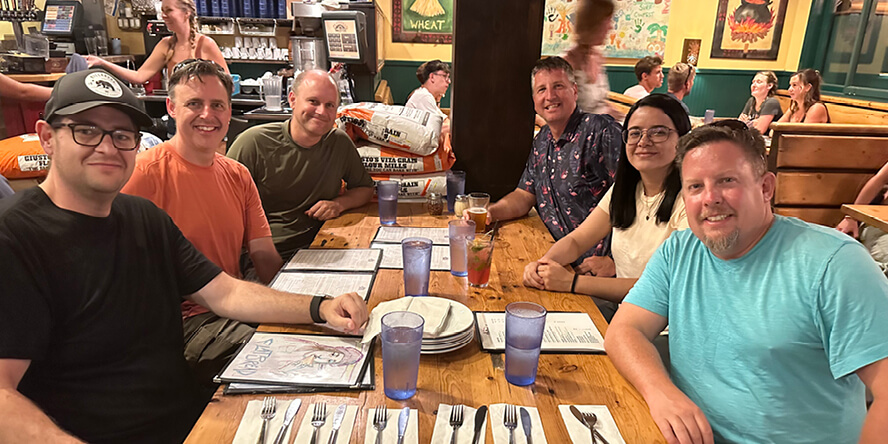 Recognizing a need
Reflecting on that interaction between Isaacson and the Navy commander, Whelton says, "The military taught me to empower your lieutenants so that they recognize the value of their strengths and how to communicate."
It was during his own experience as a civilian engineer with the U.S. Army's Medical Command Center for Health Promotion and Preventive Medicine (CHPPM) that Whelton first recognized the need for experts with his very particular set of skills.
After completing a master's degree in environmental engineering at Virginia Tech in 2001, Whelton accepted a position with the CHPPM. There, he traveled the United States and the world assessing water infrastructure and security issues. He began to recognize knowledge gaps and systemic inefficiencies where not enough had been done to establish the correct steps to follow in the wake of a disaster.
This was an area of dire societal need, and Whelton decided to take on the responsibility to help fill in these gaps. He returned to Virginia Tech to complete a PhD and examine how water utilities and communities can respond to and recover from disasters.
"After disasters, officials often directed communities to decontaminate their water systems, but it turns out that there was basically no science for that until we got involved," Whelton says. "I found a sense of purpose helping communities better understand chemical fate in water systems. Student contributions have ultimately helped officials minimize health risks and more quickly return their systems to safe use."
And when disaster strikes, Whelton stands ready to help the impacted communities recover.
"I'm younger than Andy, but I struggled to keep up with him when we were in disaster mode. The man just doesn't stop," says Isaacson, who also accompanied Whelton on the trip to Colorado after the Marshall Fire. "I'm always impressed just seeing how much time and how much effort he wants to give to help. Because that's really what it is. Not all of the work he does is going to necessarily be published. Sometimes it's just helping the community and trying to help them feel confident that their water is OK and that it's safe to drink."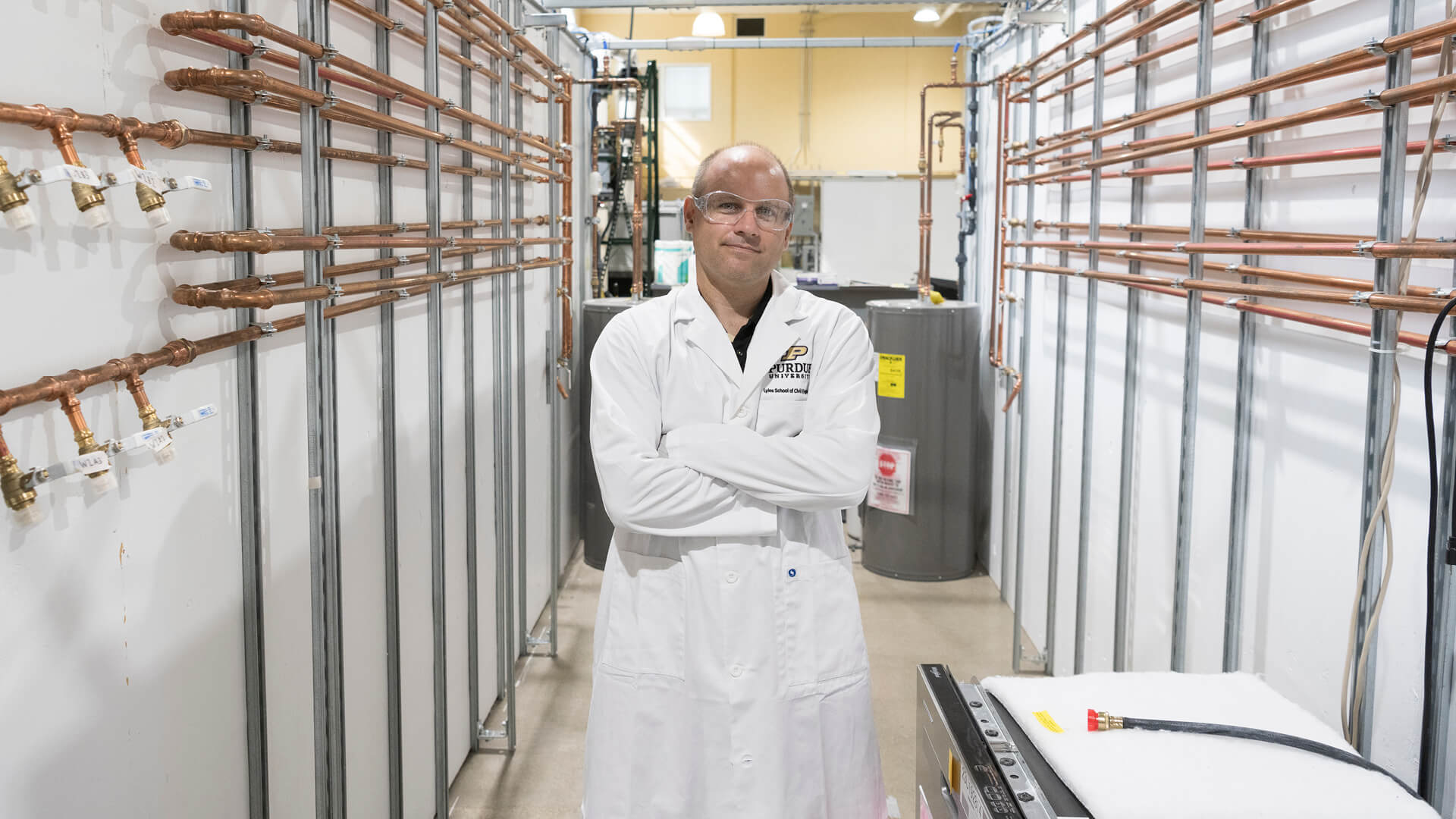 Expanding his network
The sense of purpose that inspired Whelton to pursue a PhD still pushes him to disaster sites today, even when he knows the work might be frustrating and his guidance will not always be followed.
He goes anyway, knowing all too well about the wildfire risks that many U.S. communities face. According to the U.S. Forest Service, roughly a quarter of the contiguous U.S. is at risk of severe wildfire. And research from Boise State University reveals that the number of Americans directly exposed to wildfires more than doubled between 2000 and 2019.
With these statistics in mind, Whelton designed a disasters and emergencies course (CE 597) where he teaches Purdue's engineers in training about catastrophic situations they might encounter someday.
"We need people to collectively know what to do, whether they're affected by a disaster or they decide to help in some way," he says.
For largely the same reason, he stays in touch with the folks he helped in Colorado, California and other communities. By expanding the network of experts who speak the same disaster-related language, Whelton won't have to be the guy who shows up to test and share advice on best practices for impacted communities to follow. He will have built a system where more people are educated about what might happen after a disaster, the scientific steps they should follow, and the decisions they must make to minimize harm and remove contamination.
The leaders from California and Colorado have firsthand understanding of the need for such a network and are "truly exceptional people who helped lead their own communities back from disaster," Whelton says.
"You see that it starts to build a system of helping people, where it was, 'In California, we had this experience, and then Colorado took this expertise and repeated the things that were correct and did some things better,'" Coelho observes. "I think the people from California and Colorado came to Lahaina and said, 'OK, now let's join both of our expertise and let's help you to recover faster than both of us.'"
For Whelton, helping is what it has always been about. If his work can chip away at the existing knowledge gaps and get important scientific information into the hands of public officials who need it, perhaps he can help the disaster recovery process become more efficient.
"After a disaster, it's heartening and inspiring to see communities self-organize, develop new friendships and come together," Whelton says. "The world is a better place when people help one another."
After a disaster, it's heartening and inspiring to see communities self-organize, develop new friendships and come together. The world is a better place when people help one another.

Andrew Whelton

Professor of civil engineering and environmental and ecological engineering