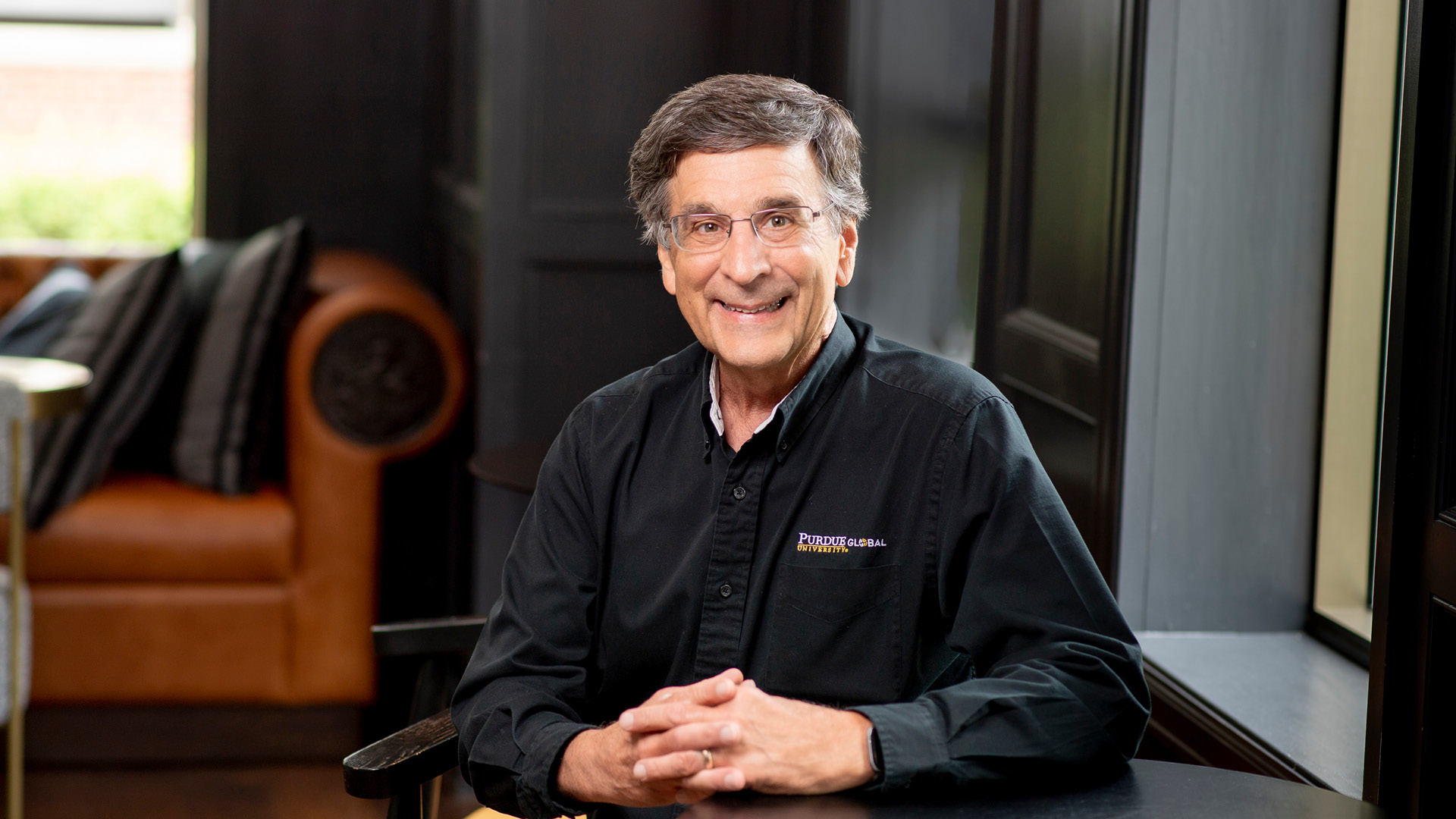 In this episode of "This Is Purdue," we're talking to Frank Dooley, chancellor of Purdue Global.
Purdue Global is Purdue's accredited and affordable online solution designed for the working adult with life experience, and often some college credit – but no degree. Chancellor Dooley's experiences have prepared him to lead Purdue Global and oversee academics for more than 36,000 students.
Listen as Chancellor Dooley shares impactful stories from graduates that fuel the enthusiasm for his work and inspire him to keep expanding opportunities for students of all backgrounds.
Plus, he explains Purdue Global's mission and the ways it promotes Purdue University's values and goals. If you're interested in the remarkable rise of online learning, you don't want to miss this episode!
Full Podcast Episode Transcript
Kate: Hi, I'm Kate Young and you are listening to, This Is Purdue, the official podcast for Purdue University as a Purdue alum and Indiana native. I know firsthand about the family of students and professors who are in it together. Persistently pursuing and relentlessly rethinking, who are the next game changers difference makers, ceiling breakers, innovators, who are these Boilermakers join me as we feature students, faculty, and alumni taking small steps toward their giant leaps and inspiring others to do the same.
Frank Dooley: So many of my students are parents like 65% have kids and over and over again, they tell me it's so important. One of the reasons they're doing it, I want to be a role model for my children. I want to set an example.
Kate: In this episode of this is Purdue. You are going to learn more about Purdue Global and the experienced and passion leader behind this online institution with over 153 years of making top tier education accessible to all Purdue University's accredited and affordable online solution per global is designed for the working adult with life experience and often some college credit, but no.
Purdue Global chancellor, Frank Dooley oversees academics for these 36,000 Purdue Global students. Frank has a big Midwesterner heart. And as you'll hear throughout the episode, he truly cares about Purdue Global's mission and is passionate about his students. He is exactly who you would want to have as your chancellor and champion.
Kate: Frank. Thank you so much for joining us on this is Purdue. We're so happy to have you and feature Purdue Global.
Frank Dooley: Well, Kate, I'm just delighted to be invited. You guys are doing such great work. Glad to be a part of it.
Kate: Oh, thank you. So growing up, were you always interested in education? Where did this kind of passion come from?
Frank Dooley: I always liked school. And I mean, I was a good student. I loved to read, I loved learning, but I never thought as a kid that I would work at a college, I had no idea that there were jobs at colleges. I mean, it, I didn't even know if I would go to college and it just happened. I mean, thanks. You know, there's a scholarship.
I had people encouraged me to apply to college and I went and I got in scholarships helped and that set it in motion.
Kate: And you're not from Indiana, right?
Frank Dooley: No. I grew up in North Dakota, just outside of Fargo and it was a great place to grow up and we go back in summer.
Kate: And how did you find out about Purdue? What was your initial reaction of Purdue University?
Frank Dooley: Well, I mean, probably like a lot of listeners. My first recollection of Purdue is Bob greasy playing in the rose bowl and things like that. So sports and you heard the Purdue name and Fargo's just outside Minneapolis. So you hear the golfers and stuff like that.
Playing the Boilermakers. Then when I was in grad school, You quickly heard about how great the agricultural economics department at Purdue was. And that's when I really became, oh, there, this is something.
Kate: Frank shares some of his mentors who impacted his life from his journey, growing up in North Dakota to today as the chancellor of Purdue Global in West Lafayette.
Frank Dooley: There's lots of people who have touched my life. I mean, I have lived an incredibly blessed life. I think, as I go through life, different points in time, there's different people influence you when I was in high school, my best friend's dad was the head of English in the Farwell public schools. His name was Dallas Shrock and Dallas treated Mike and I like we're adults. And he said, you guys need to read this book. What do you think of the, he challenged us on the, the issues of the day. He challenged us to be responsible. He, but he also gave us an incredible amount of support and freedom. He probably set the tone for people. And I probably have sought people like that out over the years, and there's almost too many to mention, but Wally Tyner was the first department head when I came here, Wally passed a couple years ago, but Wally was the best leader I've ever seen.
What made him such a good leader? I think Wally was what I'm going to call as a Purdue leader. A Purdue leader in my mind has two characteristics. They tend to be personally humble, but they have an iron. Wally always knew the direction that we are trying to go. Wally believed that you build off of string.
The other thing I loved about Wally as a leader, he always made decisions very informed, but it didn't take him a long time to make decisions and allowed you to move forward.
Kate: Do you hear what I mean? If you could bottle up that Midwestern spirit and just pure delightfulness it would be Frank doo. Frank first came to Purdue University as a professor in the department of agricultural economics in 1998.
What was it like moving your family, transitioning to West Lafayette in that community?
Frank Dooley: Every year there's a lot of people who transition into Purdue. My daughters at the time were four and nine to a certain extent. You're so excited because Purdue has such a great reputation. The people I was going to work with in ag econ.
I mean, that's what drew me here at names. You probably heard of Jay Akridge, right? Of course, uh, Dave Downey, Mike bulge, and a host of other people, just the opportunity to come that made it really, really exciting, but you're also nervous because you know how high the expectations are.
Kate: Throughout the past 25 years, Frank served as a professor of agricultural economics associate head of the department, provost fellow associate vice provost for undergraduate academic affairs and vice provost per teaching and learning in that last role.
Frank provided leadership for undergraduate education, academic planning, program evaluation, and general academic policy development and implementation. During Frank's time in the provost office produced four year graduation rate climbed from 46% to more than 60%. He's also received numerous awards for teaching research and service and was inducted into produce teaching academy in 2002 and into the university's book of great teachers in 2014.
It's no surprise that Purdue's leadership wanted Frank to play a big role in Purdue. Global Frank takes us through his journey of being part of the Purdue team that secured regulatory approvals and helped launch Purdue Global in 2017,
Frank Dooley: I spent a decade almost in the provost office. Most of my work is with undergrad programs on campus.
In 2017, it was in early May. They came to me, President Daniels and a couple others. And they had already announced that they bought Kaplan University and were going to pull it in to Purdue. They needed me in the first year to really focus on one thing. We had to get a bunch of approvals. Department of education, the higher learning commission, who was our creditor and then the Indiana commission for our higher education.
That was part of my job. The second part of my job was to socialize what this meant for Purdue west Lafayette. Those are the two things that I started with that year. And it was a crazy year but we got it all done.
Kate: Why do you think President Daniels came to you?
Frank Dooley: Well, there's a couple reasons that the provost at the time was Deda and he left on June one to go become the chancellor at Rutgers.
Uh, so it might have been his job had he stayed, but the other thing is I. There was a recognition that I got things done. And I think that this was a very, very big initiative and they were looking for somebody who had a track record of being able to pull stuff through.
Kate: Why was this pursuit so important to you?And what did it mean to you that President Daniels came to you and tasked you with this huge initiative?
Frank Dooley: I think about that a lot. I think part of it it's personal in a way. So I'm a first gen student. You go back and you're asking about my first impressions of col you know, my first impressions of college.
I didn't know much about college. I go back to Dallas Shrock he talked to me probably when I was 15 and 16. It's not, are you going to go to college? It says, when you go to college, it becomes this mindset. And one of the things. So I studied an awful lot about Purdue Global, as we help make the case to the Indiana commission, fryer ed, et cetera.
And when you study it and then you start to get to know the people you go, oh my goodness, this is really important work that you're doing. I think that's what made it relevant to me. And then the ability to explain it to others. And if they pick up on my enthusiasm for it, then it says, okay, they get a two.
All right. So maybe I'm on to something here.
Kate: Okay. So Purdue Global was born. Now, what, how did President Daniels Frank and the rest of this Purdue team incorporate that Purdue into Purdue Global? Well, Frank admits this isn't something that happened immediately.
Frank Dooley: You know, I don't know that the "Purdue-ness" came on day one.
So I think Purdue, this is probably something that we're really developing now day one. I think the important part, if you went back, President Daniels made a presentation to the Senate the day after this was announced, or a couple days after, and basically said three things. Why did we do it? You know, and, and that was equipped.
Why are you doing this? Well, number one, President Daniel says there are 35 million Americans working adults, some college, no degree. And we feel an obligation that Purdue needs to serve this population of students. That was one number two, Purdue had studied. How do we get into online? And there had been a couple commissions or study committees that looked at.
One about 2014, another, I think 2016, they both came back and made reports to the board. And in both cases, the board says that's a pretty modest proposal. And if you notice anything about Purdue and what we do right now, we're really doing stuff big at scale making large impacts. And I think the boards is it's not that what you didn't present.
Isn't important. But we don't think it's of a scale. That is what we want to accomplish. And then the third real reason that they acquired Kaplan University, instead of building it, it allowed us to get to a large scale size overnight.
Kate: After serving as a key leader of this Purdue team that helped launch Purdue Global Frank was appointed to chancellor in 2020 as President Mitch Daniels said, quote, "Frank has been closely connected to Purdue Global since it's launch and is ideally qualified to assume the role of chancellor.
He is widely respected on our residential campuses and well suited to building new collaborations across the entire Purdue family of schools."
Kate: You know, you were named chancellor in May, 2020. What was that like? You know, I'm sure you were honored. Were you a little nervous to take over that rule?
Frank Dooley: Well, if you weren't nervous, you shouldn't be in the job, right? Keep in mind you go back may 20, 20 we're about two months into COVID and moreover, in the provost office, the night before those 60, 70 days we had been working probably from about 6:00 AM to about 11 every day, just trying to help the campus. What can we do help to do this? How are you going to do final.
Went from that then may one. Oh, I have a new job. And normally I think when you have a new job, you have some time to transition. And I just kind of literally went from one to another, just like Mong is going to do incoming as a President. I took the first few months to listen. I listened to an awful lot.
I listened to people from Purdue people who knew what global was, what it. I listened to people who worked at Purdue Global, my new team, my new faculty people, I didn't know. I listened to other people in higher education just to try to find out. So what does this mean to ACE? Or what does this mean? You know, and then I started to formulate, where do we want to go?
What do we want to be? How do we want to do it?
Kate: Frank discusses what his initial goals were for Purdue Global. When he started as chancellor.
Frank Dooley: I can come back to your "Purdue-ness" now. I think out of the gate, the way this had been set up is Purdue Global had been set up as a separate entity owned and controlled by Purdue west Lafayette.
And we have others. I mean, athletics technically is, is a separate entity PRF. I mean, it goes on and on. So that's not unusual on campus. Uh, but to a certain extent, when we started, we said, well, Purdue Global has their own accreditation, their own degrees, their own faculty. They're they're over here west Lafayette's over here.
As I started to look at it and started to understand it. One of the things in the first few months that it, I, I looked at the separation and it didn't make much sense to me and I working with President Daniels and the board. I says, I really think that if the name Purdue is on. We need to infuse Purdue Global with more of what it means to be Purdue.
I think by far what we've done at President Daniels has mentioned this and several of the recent board, the reason we're here is to serve students. The reason we're here is to help these individuals that much of higher ed is overlooking, help them get meaningful degrees that are going to help them in their.
By far, that is our driving mission. So student success and do a better job with that. And, and that was a lot what I did in the provost office when I was there. So that in ways just easily transferred over and it goes on and on and on Purdue, as you know, is just this sometimes really hard to put it into words.
But when you use the word, it means something to you. If you understand.
Kate: Did you know that 40 million people in the us have some college credit and valuable life experience, but no college degree? Well, that's where Purdue Global comes in. So let's get down to it. Let's dive deeper into how Purdue Global serves its students and how it's growing.
Purdue's commitment to top tier education for all. Today more than 36,000 students are pursuing their degree with Purdue Global, across 175 plus programs, including nursing technology, business law, and more Frank breaks it all down for us
Frank Dooley: You probably had friends who started and didn't finish. And sometimes it was, they didn't see, I relevance.
They didn't know what they wanted to study. Sometimes it might have been financial. Sometimes it might be life got in the way is the way that people talk about it. I have about 30% of my students are military 5,000 active duty that 18 year olds went into the army. And guess what? They're in the army. And they're also taking courses with me, because the army saying we need smart soldier.
So they're getting a degree while they're going through their progression of specializations within the army, the students, to me, you use the word traditional, and that's really an important word because higher education in many respects is a very tradition, bound institution across society. Yet I think the world has changed and the world we live in, you know, Thing called the internet of things.
It means that people are in their thirties and forties need a level of data literacy and sophistication in working with technology that wasn't there even 10 years ago.
Kate: Right. Even when I was in school, some of these things I never learned, I don't know how to do some of these things.
Frank Dooley: So, how were you supposed to have a meaningful career?
If you don't have that opportunity. And let me go back to my students, this is a fairly typical student. About 60% of them are coming from what I call an a to B partnership, academic to business partnership. So they working somewhere you're working and someone says, Hey, Kate, you are a great worker. You do a great job, but you know what?
I can't give you a promotion because you don't have a degree, but. I have so much faith in you. And I see so much potential in you. I'm willing to pay for you to go back to school. Now, when you come back and let's say you're 30, and you might have kids, you have a job, you might have kids. You might have other things in life.
You're coming to school with a very different mindset than people coming at. So it means my education is built a little bit different. My education model, and a lot of people are familiar what it means to come as 18 and both et cetera. For me, almost all my students are part-time, they're taking one or two, but on the other hand, most of 'em go year round.
They don't take summer off. They just go, they just go. Another real difference. My students get about 50% of their credits because they were in school before or for life experience. We have a bunch of students with us. Who've done Walmart store manager training. You start looking at the training and guess what, you know a lot about HR, you know, a lot about giving annual event.
And we look at that, we take our faculty, we look at training programs, we say, oh, they did seven hours of this training. Well, that's exactly what we would cover in this particular course. And wherever we can find that you've already learned something. And moreover, if an employer like Walmart, And we think this training's pretty good.
I mean, we give people promotions because of this. We're saying, okay, we're going to give you credit for it. And that allows people to speed through a little bit, because you're going year round. Most of them get done in two years or a little over two years.
Kate: So that's appealing to a lot of people who have a lot going on…
Frank Dooley: And also they want to get on with life.
They come to us incredibly focused. There's two models. One is you're going to be the full-time parent, help your children do their homework and stuff, put 'em to bed, and then you stay up till 1:00 AM or whatever, or you get up early. There's other cases though, where parents talk about doing homework at the same table with their kids, trying to be this role model.
Kate: Frank also discusses how Purdue Global's credit hours work and why that's especially important when it comes to Purdue Global's student population.
Frank Dooley: I'll just give you one fact toy. I mean, it's always nice to have at least one fact toy to walk away with. So at west Lafayette, in a typical year, students, the undergrad students take about a million credit hours and they also get credit for about 150,000 hours of transfer credit.
But almost all of that is. So, you know, million to 150,000, my students take 1.2 million credit hours about the same. They get a million hours of transfer credit. And of that about a fourth of it is for those, you know, the folks at Walmart who did managerial training and things like that, and were awarding credit for life experience.
It's a different, my students, aren't looking to take free electives. They know what they want to do. Also they're 30 instead of 18, a big part of being 18. You have many options and you kind of need to narrow it to pick a major. I bet you had to go through that. Sure. My people have discovered they're very purpose driven.
They know I want to get a degree in nursing and I want to be able to move into this position in 18 months. I think it's having that drive really allows them to move forward. I'll just give you a couple other stats. There's a measure of being poor and we don't like to call it that, but that's really what it's called pill.
And PE is given to low income people at Purdue and most of the big 10 it's about 17, 18% of the students. I'm 60%. Another measure is first generation Purdue west Lafayette. It's about 20%. I'm 58%. A lot of my students come to school, they don't have that guide. They don't know how to navigate. And that's why it's so important for us to do all these things that we're starting to do to help them understand directionally, you need to do this.
If you want to get here, they're certainly smart enough and bright enough to get there. What they really need is a guide to help them understand the path.
Kate: I asked Frank, how Purdue Global promotes Purdue's land grant mission to extend education, to. He shares more about this land grant mission, which dates back to the moral act in 1862.
Frank Dooley: The land grant mission in Purdue and, and places like Ohio State and a lot of Big Ten schools talked about being land grants. What land grant means. You're an institution whose mission is to provide opportunity. You go back to the origins of the moral act, 1862 middle of the civil war and, and here's Congress and President Lincoln. You know where society is today. We need more people who have been taught in agriculture, military tactics, and the mechanic arts, along with the rest of a, of a classical education.
Now, why were they doing that in the 1860s? We're at the start of the industrial revolution and mechanization and people coming from a pure liberal arts program, really weren't equipped to fill in society's roles. Let's fast forward, 150, 160 years. What do we need today in society? And we went back, we were to talk about how do you work today?
If you're not data literate technology literate, the world has changed the expectations of opportunity. I say it is an extension as a land grant Purdues responsibility is to provide educational opportunity to those seeking, to work, to meet what society needs. That's what we're doing. That's what we're serving.
I would say that I don't serve. I have about 34,000 students. There's only about a hundred of them who are like 18 or traditional students.
Kate: The rise of online higher education, which Frank says can partly be attributed to the COVID 19 pandemic. Isn't slowing down anytime. What sets Purdue Global apart from other online institutions?
Frank Dooley: A lot of schools overnight became online institutions and some of them are really fine institutions.
I think there's one difference with Purdue Global relative to most of the other Purdue Global can say it's part Purdue. I can give you one good example is, is we're in conversations right now with a company who is here to hire Purdue engineers. Yay. All right. But when we were in the conversation, they talked about some of their other needs and guess what it is, they have a whole bunch of people who support the engineers who also need to have their skill set improved.
And when we started talk about some of the programs we had at Purdue Global, they got more excited about that, or as excited because they. We can build teams of both the engineer, along with the tech support team, that's going to go with them. And they said, we can't find that anywhere else. I think that's, what's going to set Purdue apart from everybody else in this space.
Kate: Purdue Global's community is filled with stories of persistence. Frank shares one of his favorite stories with us, just a fair warning, you may need to grab some tissues for this one.
Frank Dooley: My favorite stories are probably all around graduation. Two reasons. I mean, number one, graduation's always a time to celebrate and it's easy to have great memories about celebrations, but number two, that's one of the few times we actually convene and have people together.
Most of my time, you know, fully online. Most of my time, looking at people in a little box, we did our first live graduation a year ago, August two. Great memories of that. One. One is we use students to be the speakers. Or recent alum, like they might have graduated the term before they come to us and they can speak to the, our other student body with an authenticity that no one else could.
Christopher Fairbank was the speaker last August. And he talked about some of the challenges in his life. He had a lot of challenges in his life, but throughout his whole life, the thing is, dad kept saying to Christopher, what are you going to do about it? I walked away from that and I look at the challenges.
Art students have challenges. One of the things we're now asking ourselves as university, what are we going to do about it? And guess what, when you challenge people, they respond to it. So that is a fabulous memory of that. And the other one was the emotion of graduation. And I've told this story in a number of settings, some of you have heard it, but there was a woman coming up on the stage.
And I didn't know if she was going to faint and follow up. She was just crumbling. Finally, she inches her way towards me and I said, are you okay? Because I thought she might pass out or something. She says. Very, uh, you know, she was just trembling. Other words says, I never thought I would graduate from college.
And then I said to her, because we're in DC. And the auditorium says, you have anyone here with, you says my, my sister, my mother and my daughter. And it says point up to me and she points up and then just heard this tiny little voices. That's my mama. And then there were tears cascading. You know, so many of my students are parents, like 65% have kids over and over again.
They tell me it's so important. One of the reasons they're doing it, I want to be a role model for my children. I want to set an example, those stories, they touch you. Oh man. Yeah. You're almost crying there.
Kate: Oh man. I don't have any kids yet, but I can only imagine how that would feel to hear your little girl yell.
If you'd like to check out more Purdue, global stories, head over to stories.purdue.edu, and click on the Purdue Global section. I asked Frank what he's looking forward to when it comes to the future of Purdue Global.
Frank Dooley: I don't know if you've been following, but the board has done some great things for Purdue Global.
Kate: We just talked to Shawn Taylor …
Frank Dooley: Oh yeah! Here are some of the things I'm most excited about. The board is really positioning global to. A greater part of Purdue. And, and I can give you three quick examples. Purdue online led by Gary Bertoline. We meet all the time on things we can do together.
The office of industry partnerships is led by a person by the name of Nathan Utz. The office of O I P is the part of Purdue that makes contracts with different companies and the government, historically, they've done a lot around research contracts. Well, now one of the things companies say, what do you guys have educationally online?
Nathan is supporting me there.
Kate: So, are those like those Walmart examples?
Frank Dooley: Exactly. And then third is there's this office led by a guy by the name of Ethan. Braden. so Ethan, Purdue marketing. Ethan is my chief marketing officer. At this point, Ethan comes to the room with an energy and an enthusiasm and a belief and produce.
So when you're at global and my staff and my faculty, my leadership team. All of a sudden, we've seen how much Purdue is coming to us and saying, Hey, we can help you with this. We can help you with this. It is just opening eyes and we are so excited about that. And then put on top of that, come January one, we're going to have a new President.
So there's lots coming in the next few months blessed to be excited about. Yes, absolutely.
Kate: It should be very clear to everyone by now how deeply Frank cares for his students.
I can tell you're passionate about these students. Not at all. No. Yeah, yeah. I'm sure everyone can tell. Yes. What do you want them to see with you as their chancellor?
Like what do you stand for and want your students to know about Purdue, Purdue, global, how you care for them, how you're passionate about them?
Frank Dooley: Well, you just answered your own question in many ways. I mean, all the things that you said, I think at the core. For people who may start college at 1819, didn't finish now.
You're, let's say close to 30. Sometimes you think life got by you and you're looking at what you need to move your life forward. This notion about getting another opportunity is really important, but a lot of them come, especially in the first term, incredibly nervous. I didn't do it before. Can I do it now?
So out of the gate, I think the most important thing we can show them is we really care about their success, supporting you with tutoring programs and coaching and things like that to help you move through. I think once they see that and once they experience it, then they start to take it on themselves and, you know, pay it forward kind of the mentality
Kate: Frank's enthusiasm for his work is truly inspiring. We know how important his students are to. But what role has this Purdue community played in Frank's life over the past 25 years?
Frank Dooley: There's a spirit at Purdue. Number one, one of the things that President Daniels had with Purdue Global it's it's like, go bigger, go.
That's true. As you go across campus on. The work that faculty do and their research teams and their projects and things like discovery park would be a good example. Right. And I worked with some of the most incredible people in the world. So you're with these brilliant people, great grad students, wonderful staff, but you're also working on some of the most meaningful problems of the.
To me, part of the appeal of Purdue is we've always been here trying to solve the problems facing us. So there's a relevance, I guess, to me, that allows me to get excited, especially when you start to see that you're answering the questions. Well, you know, I've been here 25 years. I think it might go both ways.
I think Purdue attracts a certain type of person and I found with Purdue a. That allowed me to push myself that supported me when I did that, believe it or not is open to failing at some things, but was still supportive. And the other thing is that Purdue, as a faculty member and academic, when you said you were from Purdue, you could always get important doors open to you.
Because we have that much respect around the. It never felt like work. Cause it was just so much fun. No, it is. It, it was just so much fun to be with the people we were with.
Kate: I asked Frank who he thinks of when he thinks of Purdue University and his answer. Well, it just sums up who Frank Dooley really is as a person.
Who do you think of when you think of Purdue? Is there any person that sticks out?
Frank Dooley: Oh, I don't know that there's any one person. I think it's actually. I would start with students. The love that students have for this place. You quickly see, I would say it's staff like the people, their advisors, success coaches.
I have one of my former students, his daughter is going to start here. She sent me a picture when she made her decision about where she's going to go to school. She had baked cupcakes said Purdue, all right.
So that, and then the faculty, you know, the faculty care deeply about this place as well. And can you forget the alum? It just goes on and on, but it's not any one person. I think that if it was only one person, it feel a little shallow, wouldn't it? Or it feel like you had a secret and you weren't letting people in on this place.
Doesn't need to be a secret this place. We need to be telling everyone.
Kate: The last question I usually ask our This Is Purdue guests is simply, is there anything else you'd like to share with our listeners? It's a straightforward question. I'm just ensuring I didn't miss anything throughout our conversation that they might want to discuss, but again, and again, and again, this question initiates some of the best stories from our guests.
Here's the very end of Frank's interview.
Frank Dooley: I'm going to make you tear up again. If I can do that…
Kate: Usually it's me making other people tear up really.
Frank Dooley: I'm really pretty tough to tear up. there was one other person who deserves a lot of credit for Purdue Global, and that was Morgan Burke. So a lot of your listeners are going to recognize Morgan as the former athletic.
Morgan, what some people don't know before he came back to be the ad at Purdue, ran HR at inland steel for a number of years. When Morgan started at inland steel, they had 30 some thousand employees when he left, they had about 8,000. What Morgan said doing HR at inland at that time basically meant every week you're giving out another a hundred pink slips.
Morgan worked a lot with me that first year he wanted this because Morgan said my job at inland steel, would've been so much better. If I could have gone and says, Kate, you don't have a job within inland steel, but if we're going to pay for your college to go to a place like Purdue, Morgan is one of the people who really persuaded me, that I should take the two chancellor role and do that.
And Morgan and I talked every day about what it is, what we should be doing, how he support people, how he build teams. He always ended the call. A lot of his phone calls goes as COVID at this time, he'd say I'm always here for you. And then unfortunately in June 15th, the 2020, I'd been here for six weeks.
His wife, Kate calls me, Morgan died this morning. If there's anything that drives me is serving his memory as well. It's people like that who just give their entirety to a cause is why we're going to be a great success.
Kate: And what do you think he'd say to you today?
Frank Dooley: I'm always here for you then he, where at.
Boiler up hammer down.
Kate: Boiler up, hammer down! We can't thank Frank enough for telling our listeners more about Purdue Global and sharing these special stories with us. If you'd like to watch our full video interview with Frank Dooley, head over to youtube.com/purdue. And if you'd like to learn more about Purdue Global, check out PurdueGlobal.edu.
Thanks for listening to this is Purdue. For more information on this episode, visit our website purdue.edu/podcast. There you can head over to your favorite podcast app to subscribe and leave us a review and as always boiler up.