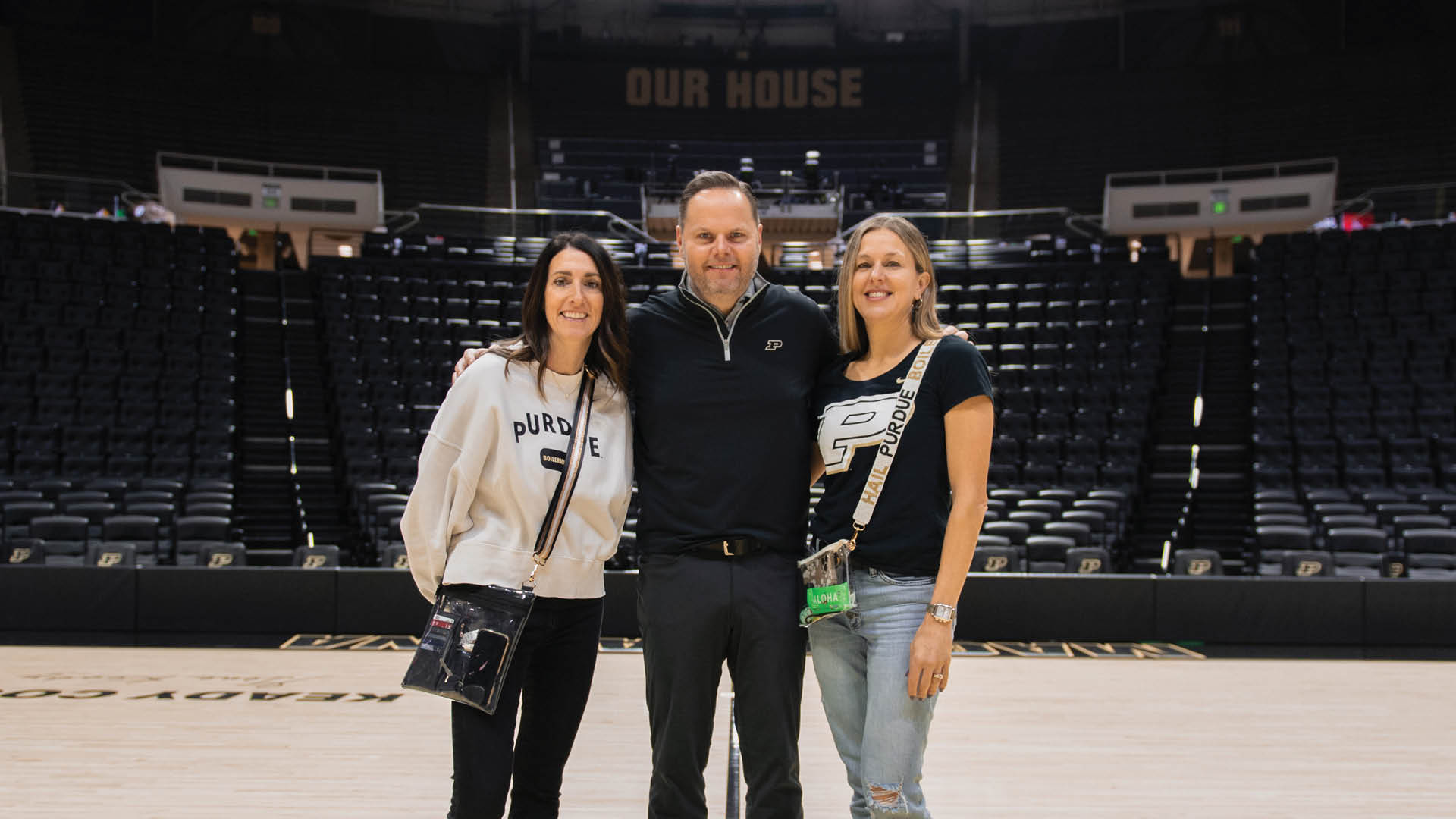 In this episode of "This Is Purdue," we're celebrating this historic Purdue men's basketball season with Ginny Smith, freshman starting guard Braden Smith's mom, and Gary and Lotus Furst, sophomore starting forward Caleb Furst's parents.
Join us for this special kickoff-to-March Madness episode as Ginny, Gary and Lotus discuss when they first noticed their sons' basketball talent, their favorite memories from the past season (hint: kicking off the season at the Phil Knight Invitational is on the list) and what coach Matt Painter's leadership means to them.
Plus, we go behind the scenes with the person behind the tweets, news releases, statistics and more. Chris Forman, Purdue men's basketball associate strategic communications director, discusses what it's like leading communications efforts for a top-ranked, elite basketball program and how he grew the popular Boiler Ball social media channels over the past decade.
This team has persistence, grit and spirit. As we celebrate their achievements this season, don't miss this episode to get a taste of a day in the life of a Purdue basketball parent.
Full Podcast Episode Transcript
Ginny Smith:
This is Ginny Smith and you are listening to This Is Purdue.
Gary and Lout Furst:
This is the Fursts
And you are listening to This Is Purdue.
Chris Foreman:
This is Chris Forman and you're listening to This Is Purdue.
Kate Young:
Hi, I'm Kate Young and you are listening to This Is Purdue, the official podcast for Purdue University. As a Purdue alum and Indiana native, I know firsthand about the family of students and professors who are in it together, persistently pursuing and relentlessly rethinking. Who are the next game changers, difference makers, ceiling breakers, innovators? Who are these Boilermakers? Join me as we feature students, faculty and alumni taking small steps toward their giant leaps and inspiring others to do the same.
What a ride it's been for the Purdue men's basketball team this season. From losing star player Jaden Ivey to the NBA to a rumored quote unquote, "rebuilding year," to being ranked in the top five in the AP poll for 13 weeks straight, it's been quite the journey. And who better to discuss this historic season with than the people who have stood by this team all along? In this episode of This Is Purdue, we're talking to several guests who know these players better than anyone, their parents. Ginny Smith, freshman starting guard Braden Smith's mom, and Gary and Lotus Furst, sophomore starting forward, Caleb Furst's parents joined us for this special kickoff to March Madness episode. Our podcast team had the opportunity to talk to Ginny, Gary, and Lotus right inside Mackey Arena before the Ohio State home game on Sunday, February 19th, where the Boilermakers celebrated an 82 to 55 win against the Buckeyes.
These three parents are so incredibly kind, gracious and supportive of not only their sons, but the entire Boilermaker community. You can tell this family within this Purdue basketball community means so much to them. You'll hear these three discuss when they first really noticed their son's basketball talent. They kick off to this 2022, 2023 season at the Phil Knight Legacy Basketball Tournament in Portland where if you don't remember, Purdue was unranked and beat Duke to win this tourney. And of course, Coach Matt Painter's leadership and what it means to them. Plus Ginny admits Purdue wasn't actually her first choice for Braden. You'll hear more about that interesting story.
And it wouldn't be a good interview if we didn't ask about Caleb's time starring as Buddy the Elf to encourage fans to bring non-perishable food items to a game to promote a food drive in December 2022. This team has persistence. They have grit and they have spirit, but they're also just downright fun to watch. As we celebrate this historic team and their achievements this season, we hope you enjoy this interview with the parents of the consecutive Mr. Basketballs for the state of Indiana.
Welcome to This Is Purdue, we have very special guests here today. If you don't mind just all introducing yourselves.
Ginny Smith:
My name is Ginny Smith, I'm the mother of Braden Smith.
Lotus Furst:
My name is Lotus Furst. I'm the mother of Caleb Furst.
Gary Furst:
I'm Gary Furst, Caleb's dad.
Kate Young:
Awesome. Okay, so we'll take it way back. Kick things off with how did your sons both start their basketball journeys?
Ginny Smith:
So braden started playing basketball in second grade and it just has evolved over the years. I wouldn't say that it was a glamorous start by any stretch, but certainly as he got older, enjoyed the game more and more. His dad and I both really hoped that he would love basketball as we loved it. I don't know that it was instant love for him, but he certainly grew into it and he just has been playing ever since.
Lotus Furst:
Caleb also started in second grade. He was playing flag football when a basketball coach in Fort Wayne noticed him and noticed his height, because he was at that time substantially taller than all the other kids. Actually approached Justin, wanted him to play with his travel team and we were like, "Well," we responded, "We're a baseball family." We had no desire for that, but it just went from there. Really bad when he started. Really bad.
Kate Young:
So what was the moment when you both were like, "Oh wow, he's really caught on to something here?"
Lotus Furst:
That took a few years. At first, I remember going to the tournaments and stuff and they would yell, "Make him, dribble", because he was just tall. That was all he had going for him. Probably maybe about fifth grade he started to get a little better and then by seventh grade he was doing pretty well.
Kate Young:
What about Braden? When was that moment for you?
Ginny Smith:
I think initially his dad and I could see that he had really great court awareness early on. It was just his lack of strength and size that concerned us maybe more than anything else. So he, like I said, struggled early to have success because of those things. But I would say again, much like Caleb, probably by sixth grade-ish really started to set himself apart. He got quick enough that the size wasn't as big of a factor. So by sixth grade I think it was pretty clear that he had a gift of sorts. We weren't sure how that would truly come to fruition.
Kate Young:
So fast-forward to college, when did you all know and when did your sons know, "I want to play basketball in college?".
Gary Furst:
So I'll take this on behalf of Caleb. Probably about the seventh or eighth grade is when he really thought that he would have the ability to play at the next level. Just to dovetail on what Lotus said, probably one of the best things he had size, but he started getting skill and I just remember his AAU coach and high school coach had indicated the good thing about him is he teachable because he didn't have a lot of skill necessarily growing up and he would just soak it up and be a sponge and that really helped him move to the next level.
Kate Young:
What about for Braden?
Ginny Smith:
I would definitely say by middle school he had decided that it was his love. Probably much like Caleb, Braden played football and baseball as a younger kid, and I think as you start to play the game of basketball, you have to commit to it almost year round now.
Kate Young:
Right.
Ginny Smith:
So he had to make some decisions, "Do I want to keep playing travel baseball? Do I want to do football in the fall and have all of those workouts or do I just want to kind of start committing myself to this?" I think he made that decision and we really didn't look back from that point on. So he stopped the baseball, stopped the football, and here we are.
Kate Young:
Okay. So Purdue, was it always your son's dreams to come play here? What was that decision making process like?
Lotus Furst:
So we were both from Michigan, but he grew up in the state of Indiana, so we never really pointed him towards any particular school. Purdue was Caleb's first offer and Painter came and watched him a lot. I would say I noticed him kind of gravitating towards Purdue when we come here on visits and he just had a different look on his face when he would be here and watch open gym or sit in Mackey especially and watch the games. There was just more of a look like, "I really liked this place."
Ginny Smith:
I think for Braden it was really different. He didn't have that kind of interest early on and so Purdue happened very fast, I'm going to call it a short courtship and it was very hard for our family. This was not my choice for him. It was all about fit for me. My husband and I both played in college and so we understood the value of it being the right fit more than the biggest offer, if you will.
Kate Young:
Sure.
Ginny Smith:
I had no idea how Braden's game would transfer at this level. So for me, I loved Belmont. We had a great relationship with Coach Alexander. That staff is phenomenal and they recruited him for a long time. So for us, for me it was personal. Even whenever Braden committed to Purdue, obviously I was proud for him and happy for him, but when we called Belmont to say, "We're not coming," I got emotional. I cried because I felt like that was probably the best fit. But obviously now that we're here and we're in the system and in the program and the more we've gotten to know the coaching staff, I couldn't pick a better place. Not to say that he couldn't have done well other places, but it certainly has been a good fit.
Kate Young:
Everything happens for a reason.
Ginny Smith:
For sure.
Kate Young:
Where did you and your husband play?
Ginny Smith:
We played at Arkansas Tech. So I'm from Arkansas.
Kate Young:
Okay.
Ginny Smith:
I guess I'm a transplant here.
Kate Young:
Then did you two go to any Big Ten schools in Michigan?
Lotus Furst:
No.
Kate Young:
No? Okay. So no rivalries going on?
Lotus Furst:
None. Not at all.
Kate Young:
You got your Purdue gear on, we're all good.
Lotus Furst:
Oh, yeah. No, we are very much a Purdue family now.
Kate Young:
That's wonderful.
Lotus Furst:
We actually didn't even … We had nobody we supported because of where we went so this is our school now.
Kate Young:
Wonderful. We love to hear that. Do you all have any pre-game rituals? Maybe it carried over from high school?
Gary Furst:
I don't, but Lotus really loves shoes and so she's very tactical about the shoes she wears for games. I'm probably going to get elbowed here for saying that, but it's true.
Kate Young:
Okay, so we've got this golden black pair. Do you have a couple others?
Lotus Furst:
I have a few. And let's just say I have a gold pair that was my favorite and I thought they were my lucky shoes. You will not see those again because I wore those to the IU game and Maryland. So they're done for the year.
Kate Young:
Okay. Maybe in the tournament bring them back?
Lotus Furst:
Nope.
Kate Young:
Nope?
Lotus Furst:
Nope.
Kate Young:
Okay.
Lotus Furst:
Next year. We'll try again next year.
Kate Young:
What about you all?
Ginny Smith:
We don't have any either. And I actually have just, I enjoy Lotus's shoe thing too. And so I made sure today when we were coming across, I looked at her shoes first thing and I'm like, "I'm glad we don't have on the other shoes".
Kate Young:
Now I'm scared because I have gold sparkly shoes.
So how do you support your sons? It's the rigorous Purdue academics, friends, family, playing basketball on this elite stage. How do you guys help support them?
Ginny Smith:
We're very faith-based, so I would say through prayer. I mean we pray for him a lot and tell him that we're praying for him a lot and just tell him that his main focus should just be playing for an audience of one and honoring the Lord.
Gary Furst:
I just try to encourage Caleb. The last thing I think he probably needs, well I know it's the last thing he needs is another basketball coach. So if anything I just try to encourage him and just like Lotus said, just remind him that basketball is what he does, but that's not who he is. And that doesn't mean he shouldn't play any harder. In fact, it should add purpose to everything he does and that he should do it with excellence and grit and resilient. And the thing that I think I probably tried to instill in him more than anything is just to persevere and just to play with the joy. He gets to play a game that less than 1% of high school kids will ever get to play at this level. So don't take anything for granted and just keep your eye on the things that matter most.
Kate Young:
That's awesome. What about you all for Braden?
Ginny Smith:
More than anything else I think we just tell them to stay in the moment. Just to be present always. It's like they've said, to piggyback off that, these kids are so fortunate and what a blessing, right? Through the good and the bad I always remind Braden there's thousands and thousands of kids even on these bad days that would kill to be in your shoes. Don't ever forget that. And we encourage him just to stay off social media. The people that you need to be concerned about are the people that are surrounding you. And so just drown out the noise and just again stay present.
It's hard and I ask a lot of questions. We've gotten to know Lotus really well actually. I feel like I ask a lot, not just where to eat before games at places, but what about this for the boys, what about that?
Kate Young:
Sure.
Ginny Smith:
Just because as a mom I do feel disconnected. I'm not needed like I once was. And so that's a big adjustment and so I lean on her some just because she's really one of the only upperclassman parents I've gotten to know. So I seek advice also there. So it's been nice to watch these two and watch how they handle Caleb and we try to mimic some of that also. I think they do a great job with him. He's a great kid.
Kate Young:
Yeah, it's like a basketball community.
Ginny Smith:
Yeah. It's been great for us.
Kate Young:
What is a favorite memory so far from this season?
Ginny Smith:
Well, I guess I'd have to say Portland. How do you not say Portland?
Lotus Furst:
Absolutely. No one expected anything from our team. Nothing. I mean they didn't expect us to go out there and sweep it and it was just unreal. That was an unreal experience.
Ginny Smith:
From a basketball world to experience what we got to experience and for us being rookies, that's the first experience we had here I'm like, "This is awesome". So it was great on a lot of levels. For the boys, just from being able to be around the families and really getting to meet them for the first time, for us that was awesome. So that maybe this year has been the most memorable thing, but I'm sure we're going to make a lot more memories.
Kate Young:
So along those lines, it's been a historic season, we've been ranked number one. You said we were the underdogs going into this. How has that felt as you support your sons, as you have this basketball community within all the parents?
Lotus Furst:
The whole thing's been special. I remember it was probably sometime in December when we first got ranked number one and I was talking to Caleb on the phone and he was just talking to me about what a special year it's already been and just how when they graduate and they move on and the ball stops bouncing in life, they're going to remember this team and just what they have accomplished.
Kate Young:
What's it like going to these away games versus being in Mackey?
Ginny Smith:
Being the rookie parent here, having no idea what to expect. Again, Lotus and Gary are like, "Hey, just brace yourself for some moments along the way". I'll say this, now that we've been many places, Mackey is special in a lot of ways and Mackey is very loud. And I think in your questions that you sent, you know put the infamous Mackey. And maybe it's infamous because it's loud, but what I think makes it unique and special is our fans truly are here to support our kids. And what I'm seeing at other places, I feel sometimes the student sections or the fans are there more to just root against us versus for their team. And so I feel it truly is a special place. I don't know that I hear fans… Do they yell at the other team? Yes. Are they heckling them to some degree? Of course they are, that's what they're supposed to do. But I never felt like it's ugly or personal.
Kate Young:
Nasty?
Ginny Smith:
Yeah. And I feel like where we've been on the road, I feel like it's nasty. And so it's been a weird takeaway for me.
Gary Furst:
I don't go on the road near as much as Lotus does just in terms of our life situation, but I would agree with what Ginny had to say. It is personal at times, but I think what happens at Mackey is really a testament to the leadership and Coach Painter setting the right thing. He'll never talk down or bad about any other team. Every team has just NBA talent on them at one way or the other and they're all just top notch coaches. So he respects and reveres everyone and I think that's a good example Coach Paint has set for really the Big Ten as a whole.
Kate Young:
Speaking on Coach Painter, you said you were a little bit hesitant for Braden to come here.
Ginny Smith:
Yeah.
Kate Young:
What has Coach Painter's leadership meant to you all as a family?
Ginny Smith:
So I think as a parent you're sending your kid away to be with someone who they're going to spend an enormous amount of time with, right?
Kate Young:
Right.
Ginny Smith:
So you want them to be instilling great things into your kid. And obviously this has been short so far, but what we've experienced is honesty, transparency, accountability, and me coming from a coaching world and being around sports our whole lives, those are the things that you hope your kid finds. And I think he pours into those kids. He really does believe in them. If you watch Paint's, his press conferences post game, when we're asked about shooting slumps or we're asked about turnovers or asked about just poor decisions, my son specifically, made down the stretch Paint never falters in his belief in the kids and how he pours into them in that way. And that's not lost on our kids at all. I think that when your coach has that level of confidence in you, how can you not believe in yourself? And so from that regard, it's been really special and the assistants do an awesome job too.
Kate Young:
Speaking of Coach Painter, if you haven't checked out or This Is Purdue interview with him, head over to purdue.edu/podcast and be sure to listen or watch.
It's safe to say Coach Painter is a one of a kind college basketball coach. There's been plenty of features written on him and his success this season, including a story by the Athletic titled 'Is The Beautiful Mind of Purdue's Matt Painter what College Basketball Needs?'.
Coach also won his 400th game in January 2023. But what does Coach Painter's leadership mean to his players and what does it in turn mean to their families?
For Caleb's dad, Gary, Coach Painter's, steadfast mentorship brought up some emotions. See Caleb's high school basketball Coach Mark Davidson was close to Coach Painter and ultimately encouraged Caleb's path to go on to play for Purdue. Coach Davidson led Blackhawk Christian Boys basketball team from 2014 through 2022 and is the program's all-time winningest coach. During his time as coach, the team won the Class 1A state title in 2019 and the Class 2A state title in 2021.
Sadly, Coach Davidson was diagnosed with cancer and lost his battle in May 2022. You'll hear Gary's emotion as he discusses Coach Davidson and Coach Painter's relationship with Caleb and what it continues to mean to the first family.
Two years of Coach Painter and his team, for you all what does that leadership mean to you?
Gary Furst:
Just like what Ginny said, he's been very consistent throughout the entire recruiting process. What we saw is what we got. He was very honest that everything was going to be earned. And after a while just through our recruiting process, everybody started to sound the same because they would often tell you what you wanted to hear.
Kate Young:
Right.
Gary Furst:
And I think the thing that was really instrumental in Caleb's recruitment was not only did he get to know Coach Paint and some of the assistants, and we had a revolving door of assistance because he's really great at boomeranging talent. Well hopefully boomerang them and maybe they'll come back to him. But he learned a lot from the guys. He would walk away from here and there was a theme of consistency amongst all the guys that he got to know that who Coach Paint says he is really who he is. I'm confident that Caleb will take this relationship to the next level. For us personally too, Caleb's high school Coach Mark Davidson knew Coach Paint.
Sorry, got a little emotional.
Kate Young:
Tell us about his high school relationship with his coach.
Gary Furst:
[Inaudible 00:18:11].
Lotus Furst:
So Painter and Mark knew each other because they played overseas in some tournament one summer together. Mark was just a huge influence on Caleb. He's passed away last year, but just really not even in the game of basketball, between the lines, but just how to live as a man off the court and just really huge in directing his recruitment. There was coaches he steered us towards and coaches he may have steered us a little bit away from because he played at Illinois, so this was not a new thing to him the whole recruitment thing.
And then just going back to what you had asked about Coach Painter, I will say a lot of people have asked me after Caleb's here at Purdue about if what we heard during recruitment actually held true, did we get what we thought we were getting? And I have told everybody, we have gotten exactly what we were told. Painter never made any promises and was always upfront and direct and everything that he said has been what it has been.
Kate Young:
We appreciate Gary and Lotus opening up to us about Mark Davidson who was a deeply beloved coach who impacted so many people in his community.
I asked this group if there were any traditions or spots where they like to celebrate team wins. And their answer is more about the who and less about the where.
Gary Furst:
I would just say wherever the parents are.
Kate Young:
Yeah.
Gary Furst:
Where the Purdue parents are.
Kate Young:
Yeah.
Gary Furst:
We're really thankful and I look back on it, just some of the parents that invested us, the Stefanovic's showed us the way largely and there were a number of other parents as well, but just wherever the parents are.
Kate Young:
I want to touch on that too. I can tell that parent community means a lot to you all as parents of these players. What would you say the Boilermakers' spirit and community, whether it's in Mackey or in Portland or at Michigan State or at IU, what does that mean to you all when you're watching that and experiencing that firsthand?
Gary Furst:
I think this team in particular has each other's backs. They're there to support each other, they're there to push each other up. There's a brotherhood there, there's a sense of family. That's through thick and thin and there's been a lot of peak moments that we've talked about, but there's been valley moments too.
Kate Young:
Right.
Gary Furst:
And you don't have peaks without valleys is one of the things I often say. And it's just great to see the guys have each other's backs and just continue to encourage each other because it's just a matter of time before you're in a ditch and then maybe you're going to be on a valley. But I think they get it, they truly care about each other, they play for a bigger purpose. I think our stats show it's an unselfish team overall too, which is great to see.
Lotus Furst:
Yeah. And I will say, because I do go on more of the road trips, it's really neat how many Purdue fans show up at various locations and how loud they are. I mean there have been some moments where they've been extremely loud.
Ginny Smith:
I would say obviously the parents on that front, it's a part of the experience for us too. You know how special it is that the parents do enjoy each other and do want to be around one another and we're all in this together. And to piggyback off what Gary said, there's no doubt that the chemistry that this team has is unique and especially at this level. Everyone is special, everyone has gifts, everyone is uber talented and that's a testament to Paint too. For him to be able to put together this group of boys where it meshes and it works and they all are out there playing for one another. I think it makes it so much more enjoyable for the boys and for the parents. So it has been unique in that regard for sure.
Kate Young:
Braden was Westfield High School's all-time leader in points and assists and the first division one recruit in their boys' basketball history. I also found out through this interview that Ginny works for Westfield High School as the assistant athletic director and was also their girls' basketball head coach for seven seasons. In 2022, Ginny was chosen as a Bob King Coach of the Year and she was voted HCC Coach of the Year twice. She was also the 1997 Miss basketball in Arkansas by the way. So clearly basketball is an all in the family sport for the Smith's.
Anyways Braden recently had his basketball jersey number retired at Westfield High School. I asked Ginny what it meant to her family to celebrate Braden within their Westfield community.
Braden recently had his number retired at Westfield High School. You told me earlier you work at Westfield.
Ginny Smith:
I do.
Kate Young:
What did that mean to you all as a family?
Ginny Smith:
So I don't know if you know about Westfield. Westfield boys basketball has not always been the pinnacle of basketball. So they've never won a sectional title ever, they never had an Indiana All Star. So I've been at Westfield for 14 years. I was the girls' coach and I'm an athletic director there. So sports is just what we do. It's all day. We smell like the school I always say, that is our house smell.
So to watch our community and our school support, not just Braden, but those boys in the way that they did was special. And I think there are a lot of people who win sectionals all the time and not to say that it doesn't mean anything or that it's not as special, but when you do something for the very first time that has not been done before in a place, I think that says something about you, what you've done and the people that are around you.
And so it was a really great group of kids, much like this team here. They all liked each other, they cared about each other, there were no individuals, and they just did something really special. And so when Shane the coach, decided that was something that he wanted to do, I initially said that I felt it was excessive, that it wasn't necessary, but he just shared, "You know Ginny, Braden has set a standard for kids here now".
Kate Young:
Yeah.
Ginny Smith:
So our hope is that there are many more Indiana All-Stars to come, many more Mr. Basketballs. I know I've got an 11 year old that don't worry guys I mean he's going to break every record Braden never had because he's already better than Braden, just ask him.
Kate Young:
Of course. He better come to Purdue though.
Ginny Smith:
Yeah, so it's been really fun to watch just the community and the little kids and just what it has done for them and the excitement that is now around boys' basketball. So for nothing else other than just raising the excitement level, it truly has been special.
Kate Young:
And like I said at the beginning of this episode, we can't talk to Caleb's parents without mentioning his stint as Buddy the Elf in December 2022. To raise awareness for Food Finders of Lafayette, Caleb starred in a series of Elf themed commercials featuring none other than Coach Painter himself and Purdue Athletics Director, Mike Bobinski. Here's a quick taste in case you missed it.
Caleb:
Purdue basketball, what's your favorite color?
Coach Painter:
Purdue basketball, Coach Painter speaking.
Speaker 8:
Good morning Mr. Babinski.
Caleb:
Oh Babinski, that's fun to say. Babinski. Babinski. Babinski.
Kate Young:
Head over to the BoilerBall YouTube channel to watch all of these in action.
Caleb's parents share more on what they thought about this unique marketing activation.
We have to talk about Buddy the Elf. That got national media attention. It was so fun. All the Purdue fans were so into it. How was it experiencing that through your guys' eyes?
Lotus Furst:
Well, first of all, Purdue Creative did a phenomenal job with that.
Kate Young:
For sure.
Lotus Furst:
They were amazing. It was just fun. I mean every week having them drip those out and just looking forward to, "Oh, what is the next one going to be?", because Caleb would not tell us, he would not share with us.
Kate Young:
Oh, okay. So you got to see it as everyone else did?
Lotus Furst:
Oh, yeah.
Kate Young:
Okay.
Lotus Furst:
We had no idea what the scenes were going to be. So that was super fun and I made sure to get a couple posters. I framed them, they were coming out every Christmas. I'm going to give one to him when he gets married someday for his wife to put out every… I mean he will never live it down. And he would tell me that as he was walking across campus, he would have people yelling, "Buddy, Buddy". So it was fun.
Gary Furst:
I think it was just really, like Lotus said, Purdue Creative did a great job of just putting him in a… I guess I should stop talking, right? Just in a great role that he could excel at for me as a dad, it was just good for kids to get to see him not on the basketball court.
Kate Young:
Right.
Gary Furst:
And he wasn't so wrapped up or too separated not to just have fun. That really is who Caleb is. He's a pretty fun-loving kid, so I'm glad that the world, so to speak, got to see that side of Caleb.
Kate Young:
Yeah. He looks like he was having fun, which was what made it fun, right?
Oh, and by the way, the best part is Purdue collected more than 14,000 pounds of non-perishable canned goods thanks to Caleb's special Buddy the Elf campaign.
My last question for Ginny, Lotus, and Gary was surrounding the behind the scenes day-to-day life of being a parent of a Purdue men's basketball player. What's it like come Game Day?
For all of our listeners, people watching on YouTube, what's a typical day in the life? We're here before the Ohio State game, what's it like to be the mom of a player game day?
Ginny Smith:
It's exciting, it's fun. We look forward to game day. I love getting up here. We try to come early if we can, grab a bite to eat somewhere and walk over. Obviously I'd be lying if I said I wasn't nervous. There's always going to be that level of, "Gosh, I just hope he does well", and I think sometimes people forget they are just kids. And when they don't do well and they fail, I mean they're failing on national television, so you hope so much that they just do well and that they perform well. But more than anything else, it's just exciting. And again, just like we tell Braden, I try to stay present too. I want to soak it all up. I don't want to miss a moment of it.
Kate Young:
That's awesome.
Lotus Furst:
I would just agree with everything Ginny said. He said, less than 1%, well as parents we're also getting that blessing of, "Wow, this is really special". Our kid is getting to do his dream and we get to be along for the ride and very present. So we try not to miss anything. Sometimes when I wake up in the morning I'm tired, I think it was like last week I woke up and I was tired, but I was like, "Oh, it's Game Day". That just adds a level of excitement.
Kate Young:
Absolutely. Any tournament predictions? We just found out we're a 1 seed. Are we not trying to jinx it?
Ginny Smith:
Go ahead Gary. You can take the mic, bud.
Gary Furst:
I just think we need to continue play one game at a time. Just focus upon the next team, the next opponent, and don't go beyond that next game because that will ultimately define any success we have. One game, one day at a time.
Lotus Furst:
That's what Painter would tell the boys, I'm sure what he is telling the boys. And that's what Caleb, if I have said anything about it to him, he will direct me towards that, that "One game at a time, Mom".
Kate Young:
That's good advice.
Ginny Smith:
Yep. Couldn't agree more. It is one day at a time.
Kate Young:
Anything else you want to share with our listeners about the Boilermaker community, this team, Coach Painter?
Ginny Smith:
As a parent, I do appreciate our fans. I do appreciate the support that they show the boys. Obviously they do it because they love just Purdue in general. I'm sure it's special to be able to be a part of it and I'm thankful that we get to be along for this journey also.
Lotus Furst:
I agree 100%. I mean it's a special team. It's a special place. And Mackey is super special.
Kate Young:
Absolutely. Well, we can't thank you enough for your time. Enjoy the game.
Lotus Furst:
Thank you.
Ginny Smith:
Thank you.
Kate Young:
One game at a time. Let's all listen to Gary first on this one, fans. Okay.
We really got a behind the scenes look into the Purdue men's basketball team during that interview and after we talked to those three, we had the opportunity to chat with the man behind the tweets, press releases, stats and more. Chris Forman is the associate strategic communications director for the Purdue men's basketball team and the Purdue men's golf team. And this year marks his 10th season with the Boilermakers.
Chris and his team have grown the official Purdue men's basketball social media accounts at BoilerBall if you don't follow them already, immensely over the past decade. In fact, they were recently listed as part of the top 12 college basketball programs generating the most social media interactions in the country. Beating our rival down in southern Indiana too, by the way. And in January 2023, they were listed as number five in the NCAA's men's basketball programs generating the most interactions on official team social accounts, beating out programs like Alabama, Michigan State, and Tennessee with 1.1 million interactions. So what's it like leading the communications efforts for an elite top ranked basketball program? Here's some more insight from Chris on what it's like to be a sports information director.
Chris Forman, thank you for joining us on This Is Purdue. We're so happy to have you.
Chris Foreman:
You're welcome. Thanks for having me.
Kate Young:
We're in Mackey, it's game day. What is it like to be a communications director for a top ranked basketball program?
Chris Foreman:
Obviously it's a lot of fun. We've had a great year and just going through this process with them has really opened my eyes about what it takes and how busy you are. I've told people it's awesome being 23 and four and rank number one in the country and all the success we've had, and it sure beats being five and 17 and not having the success. So just the attention that this team has gotten has been something that I haven't really been used to. It's definitely made my organization skills a lot more demanding and more difficult, but it's just been awesome. This ride that we've been on just with this entire team and this university and this fan base has been something that I'll remember for a long time.
Kate Young:
Walk us through a day in your life on Game Day. When are you up, what are you doing, do you have any rituals?
Chris Foreman:
Game Day is, it's not really that challenging until about two hours before the game.
Kate Young:
We're approaching that.
Chris Foreman:
Yeah. About seven o'clock game. So I'll get in about 9:00 AM just make sure I've got everything in line credentials, getting all that handled, all the handouts that we do. We do game notes, flip cards, all that stuff. Just make sure we're all prepared for that. Shoot around about five and a half hours before the game where the TV announcers usually come in and I just sit with them and talk with them about tonight's game. And then after that we have a pre-game meal and I relax for a couple hours. Either I get a workout in or I just sit in the team lounge watching basketball or doing whatever. So then about five o'clock for a seven o'clock game I'll get out here and talk to the media and do that and we'll watch the game. And then afterwards, I'm probably here for about two hours after the game.
So I'll get home about 11:00, 11:30 for a seven o'clock game. It's actually the days before that are more busy because you're sitting there preparing for the game and we do the thing called game notes. There are about 35 pages of notes that we send to the media, and I'm doing that a lot. That's probably takes up most of my time, but we're arranging interviews, we're doing all that. So it's just really very time-consuming from about October to March, April to August, September, it's not as consuming, but it definitely wears you down a little bit.
Kate Young:
What do you have to do after the game? Are you looking at all the stats? Are you posting on social media? Walk us through that.
Chris Foreman:
Yeah, we're doing the stats. We're updating the website. I've got a couple student helpers that really help me do a lot of that. We'll do the post-game press conference and then it's just preparing social media for the next few days, especially after a win. And then we'll… Just updating the website, doing stuff like that. So it's just a lot of busy work, but it's not really that difficult. It's just taking the time to get it done.
Kate Young:
You've been here over a decade, right?
Chris Foreman:
This is my 10th season, right here.
Kate Young:
Okay. So talk to us about back in the old days, there wouldn't be sellout games, right?
Chris Foreman:
Right. Yeah.
Kate Young:
Now we've sold out Mackey how many times?
Chris Foreman:
Through the end of the year it'll be 57 straight.
Kate Young:
Okay.
Chris Foreman:
Which is the fourth-longest streak in the country, which is really cool.
Kate Young:
Oh wow. What does that mean to you?
Chris Foreman:
It's pretty crazy to think about because my first year here, we finished last in the Big Ten. I came from the Naval Academy where basketball wasn't really much of a priority and we finished last in the conference for two straight years when I was there and I got here and I was like, "Man, is it me?", I was like, "I must be bad luck or something". But Coach Painter found the guys that he wanted to recruit and it started with Dakota Mathias and Vince Edwards and PJ Thompson and those guys and ever since then we've taken off. So he's really found the culture that fits his personality and that will help him succeed. And just coming here the last 10 years, it's just been unbelievable. It's coming here to a full arena every game, it's something that you shouldn't take for granted.
Kate Young:
Yeah.
Chris Foreman:
And playing games in Mackey is just a special event every time you're here.
Kate Young:
Why do you think Mackey is so special?
Chris Foreman:
I just think it… Well, one, if we're talking loudness and all that, it's just the way it's built. It's a cylinder, it's a perfect circle. There's a metal roof, so the sound just stays in here and vibrates. And then you have the paint crew on both ends, so the sound just goes to the middle of the floor all the time. So I think that's what makes it special. But besides that, it's just the fans make it what it is. It's so special seeing it sold out every game. And just the basketball knowledge that they have and the passion that they have for this university and the basketball team is something you don't really see everywhere. There's probably only a handful of schools where it's like this. So again, it's something you just shouldn't take for granted every time you come in here.
Kate Young:
What's it like going to these away games? What's the most challenging thing for you and the players?
Chris Foreman:
We've seen it the last few games, obviously just dealing with their crowd. We go to some really amazing venues, Indiana's obviously when we go down there pretty loud and rocking. Maryland the other night was probably as loud as I've ever heard that place. And Northwestern the other day was really good. So just trying to control your emotions and play your game there. It's hard to do when you have 15,000 people yelling at you and saying nasty things to you. So just trying to stay focused. I like going on road trips because I got to know a lot of the media there and we just have a good relationships with a lot of people. I have really good relationships with the other SIBs in the league.
Kate Young:
Yeah.
Chris Foreman:
I don't mind going on road trips. It actually helps me relax a little bit because I get stuff done and then the day of the game I can just lay around and not do a whole lot.
Kate Young:
You're not the one hosting it.
Chris Foreman:
No, I'm not the one hosting, so I can actually take a nap here and there and so it's not bad. But going on road games, it's just you picture it as your team, you're 15 guys against 15,000 and to win a road game and seeing people leave for the exits early and having them quiet is really a really good feeling.
Kate Young:
You talked about Coach Painter earlier. What has it meant to you to work for him? His leadership, his coaching style? He's incredible.
Chris Foreman:
Yeah, he's the best. The thing I love about Coach Painter is that he empowers other people to do their jobs. He doesn't get in their way. So about five years ago, he's made his assistant coaches his coordinators, he has an offensive coordinator, a defense coordinator, and he said, "I hire these coaches, why don't I trust them to do the things they're supposed to do?". That translates to everybody on the staff. He stays out of the way and he stays out of the way of me. I get a ton of interview requests for him and he trusts me to, "Well, this one's not really worth it. This one is one you need to do", that thing. Same with social media, he has really no say in anything that we do. So in that aspect, he's great to work for. He is so easy.
And then he is just a great person. He's one of the funniest guys I've ever met. When you just get him off the court and talking to him, he's absolutely hilarious. He's an encyclopedia about everything. Music, rap, music, basketball base… He's a huge Cubs baseball fan, so he knows everything about baseball. So he's a lot of fun to talk to and just be around.
Kate Young:
Okay, so 10 years with this Boilermaker team. What's a favorite memory, one that really sticks out to you?
Chris Foreman:
Oh man.
Kate Young:
Or two or three? That's fine.
Chris Foreman:
Yeah, narrowing it down to one would be really tough. Obviously the 2017 when we beat Indiana here for the Big Ten championship was pretty special. I had never been part of a championship program before that. In a sold out crowd, it was hot in here because it was about 70 degrees outside. And I'll just never forget the electricity in this building for that game and the ability to cut down the net after the game and all the stuff that came with that was something that I'll remember for a long time. And probably the NCAA tournament trips, going to the Sweet 16 is really memorable.
The 2019 down in Louisville was-
Kate Young:
Yes.
Chris Foreman:
Was the best. I know the result in the Elite Eight wasn't what we had hoped for, but just seeing about 17,000 Purdue fans in Louisville and the energy in that building and the game that was played was unbelievable. Was unbelievable to be a part of.
We all obviously wish it turned out differently, but when you look back at it and you have people saying it's the greatest March Madness Elite Eight game in in-state history, you're like, "It's pretty cool to be a part of that".
Hopefully we'll create better memories down the road this year, next year, whenever it may be. But I've always said I've wanted to work for a Final Four and that's been a career goal.
Kate Young:
Yeah.
Chris Foreman:
Work for a team that makes a career Final Four. Hopefully that's the year and hopefully that can replace the other memories that we have.
Kate Young:
What do you think going into this season, we were the underdogs, no one expected much and now here we are?
Chris Foreman:
I kept telling people I was hoping we could make the insane tournament 5, 6, 7 seed, just bridge the gap because we were a young team this year. We had… Well, everyone [inaudible 00:39:42] back next yeah if we except David Jenkins if we wanted him back. So I was hoping this is a bridge year to get to next year when, "I thought this could be an unbelievable season next year".
And then just the start that we had going out to Portland and beating West Virginia and Gonzaga and Duke and you're like, "Oh, this is real now". We're a pretty good team and the way Zach has developed and from last year to this year, he is a national player of the year, in my opinion. Fletcher and Braden coming in and the way they've played, it's been really surprising I think for a lot of people.
Now we've stumbled a bit here on the road, which it's hard to win in the road in Big Ten. But getting these guys, the experience that they've had, and I think a Final Four is definitely a possibility this year. It depends a lot on matchups, but just coming in the way we've surprised teams this year has been real… Those are the years that you love.
Kate Young:
Right.
Chris Foreman:
When not a whole lot's expected of you, and then you turn around and hopefully win a Big Ten championship and go far. Those are the years you really enjoy.
Kate Young:
I want to talk to you about marketing and communications. You've grown the BoilerBall channels immensely. You've been named one of the top 12 social media schools to follow within their basketball program. How did you do it, first of all, and what does that mean to you when you talk about your career and career highlights?
Chris Foreman:
Yeah, a lot of it comes from winning, honestly. People love to follow winners and interact with winners. So all the impressions and engagement that you get, winning definitely helps that. But we have a great team. We have unbelievable video and photo and graphics people and Purdue Creative, so just their role in doing that has really helped.
When I first got here, it was pretty much me and we'd be able to grab some photos here and there. We didn't have a huge graphics department, really no video department. So that area's just taken off. What they've done, we've given them the power to just do whatever they want to do. I have some ideas. I'm trying to not have as many ideas because this year's just been really busy in other aspects. So I've just told them like, "Hey, if you guys want to do something, go for it". And I tell them, "I just hit the buttons". I just push Tweet or post on Instagram, that's all I do. So they're the ones providing the content. We all have ideas. So it's just been a really good team to work with and they're very talented and I'm really looking forward to what we're going to produce in the next month here so.
Kate Young:
You trust your team and lean on them too?
Chris Foreman:
Yeah, it's what Coach Painter says, we hire these guys let them do their jobs. They know a whole lot more about it than I do, so I don't know the technical stuff, I know what's good and what's bad, but they do too, so they know what will work. And that's a lot of what social media is, it is just finding what works and rolling with it. So we've done a really good job with that and have really gotten to the emotion that fans love to see.
Kate Young:
Do you have a favorite promotion or story that you've really ran with throughout the past 10 years?
Chris Foreman:
Yeah, obviously the Elf one we did with Caleb first was really awesome. That was the creative genius of Scott Roth and marketing. He came up with that and pitched it to all his marketing people and Chris Peludat and his crew.
Kate Young:
Yeah.
Chris Foreman:
So we started that plan and then we got into the video aspect of it and it just kind of took off. I didn't really think it would be that successful and it clearly was. We got over, I think, a million views on social media platforms with it just from all the other people that picked it up and stuff. So that was pretty good. It was for a good cause. So I really like to see that. We've done that before with the Food Finders, with food drives, with movie posters and stuff. Never to this level. That was a really good one.
The other one I really liked in 2017 when we were pushing for Caleb Swanigan for Player of the Year.
Kate Young:
Yeah.
Chris Foreman:
We did about a 20-minute personal video on him, we created a website, we did all this stuff for him, and that was a really good team effort that really got his story out there and showed who he was. Just doing that for him was something that we take great pride in.
Kate Young:
So you've been here 10 years, you've been in immersed in this Purdue community, what is this Boilermaker spirit, this athletics family that you have here? What does that mean to you?
Chris Foreman:
Oh, it's unbelievable. Just the passion and the loyalty that people have. We don't get a whole lot of bandwagon fans, which if we got them we'd accept them with open arms. Obviously we want more fans, but Purdue fans don't leave you. They grow up as Purdue fans and they'll be Purdue fans until they're 90 years old probably. So that's great about it. You hear stories about, "Oh, my grandfather had tickets and he passed them down to my parents and now he's passing them down to me" and all that. And it's just such a good community. I think the community loves Purdue, Lafayette and West Lafayette, so just the passion and loyalty that everyone has towards Purdue is something that we should be very proud of. This is my second job in 20 years. I was at the Naval Academy for 10 years and then here for 10 years. So you get to be part of that family and it's just great to be a part of.
Kate Young:
Anything else you want to tell our listeners, faithful basketball fans out there?
Chris Foreman:
No, just thank them all for everything they've done, for all their support. Stick with us because I think right now we're entering the prime of Purdue basketball. You look at what we have this year and what's coming down the road and who's coming and who we're recruiting and all that. I think we're going to start becoming one of the elite teams in college basketball and I can't wait for that ride.
Kate Young:
I agree. Thank you so much, Chris.
Chris Foreman:
You're welcome, Kate. Thank you.
Kate Young:
What a fun episode to celebrate our Boilermakers as we head into March Madness. We so appreciate the chance to interview Ginny, Gary, Lotus, and Chris right on the court inside Mackey Arena and catch the Boilermakers win against Ohio State afterwards.
If you want to watch our full video interviews with Ginny, Lotus, Gary, and Chris, head over to our new podcast, YouTube page, youtube.com/@thisispurdue. And remember, follow us on your favorite podcast platform to never miss an episode.
This Is Purdue is hosted and written by me, Kate Young. Our podcast video lead is Ted Shellenberger in collaboration with John Garcia, Thad Boone, and Hamza Syad. At this special shoot in Mackey, we had assistance from Teresa Walker, Sophie Ritz, Pablo Vila, and Lexi Elie. Our social media marketing is led by Ashley Schreyer. Our lead podcast photographer is John Underwood. Our podcast design is led by Caitlin Freeville. Our podcast team project manager is Emily Jessolitis. Our podcast YouTube promotion is managed by Megan Hoskins and Kirsten Boris. And our podcast research is led by our This Is Purdue intern, Sophie Ritz.
Thanks for listening to This Is Purdue. For more information on this episode, visit our website at purdue.edu/podcast. There you can head over to your favorite podcast app to subscribe and leave us a review. And as always, Boiler up.