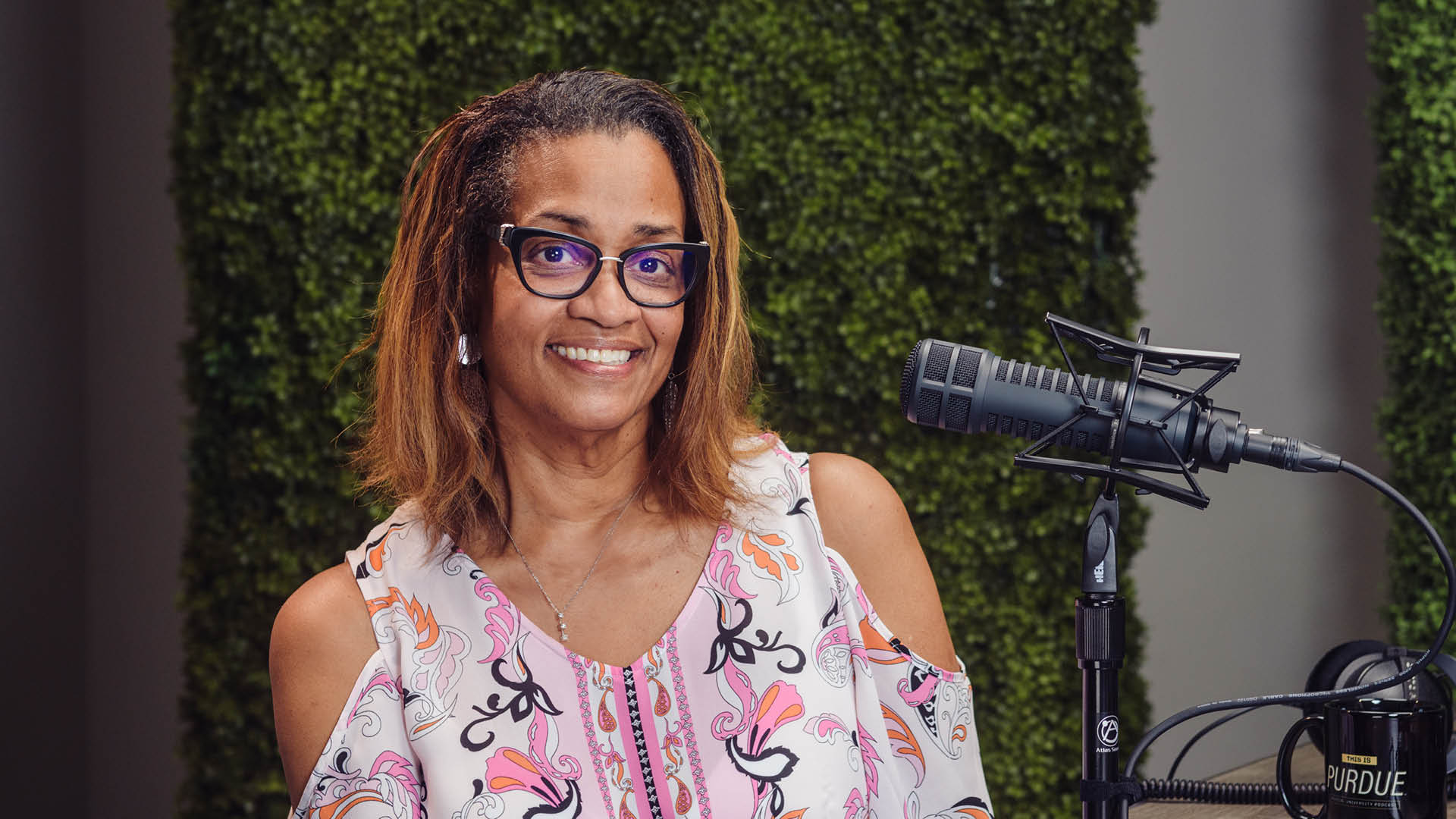 In this episode of "This Is Purdue," we're talking to Monica Keyes, wife of the late Purdue icon and former Boilermaker football player and coach Leroy Keyes.
Turns out, the couple met in a church bowling league in Philadelphia, Monica's hometown, when Leroy was an NFL player for the Eagles. Week after week they happened to keep showing up in the same-colored shirts.
"I was learning how to bowl … and he and I began to have little wagers," Monica reflects. "You know, 'I'll bet you a Coke.' And that's how our relationship grew."
Monica's introduction to Purdue came from a sweatshirt Leroy was wearing one day.
"I'm like, 'Purdue, what is that? Is it an Ivy League school?'"
Soon enough she would get to experience the Purdue community for herself. Leroy, who was a two-time All-American and Heisman Trophy candidate, took a job as a running backs coach with Purdue in 1995 under then-head football coach Jim Colletto.
At the time, Monica wouldn't have guessed it. But soon enough, Purdue started to feel like home. By the early 2000s, Monica became a Boilermaker herself as she enrolled in a nurse practitioner master's program at Purdue.
Tune in to hear Monica share what it was like relocating to the Midwest, raising kids in the Boilermaker community and how Leroy's legacy lives on.
Full Podcast Episode Transcript
Kate Young:
Hi, I'm Kate Young and you are listening to This is Purdue, the official podcast for Purdue University. As a Purdue alum and Indiana Native, I know firsthand about the family of students and professors who are in it together persistently pursuing and relentlessly rethinking. Who are the next game changers, difference makers, ceiling breakers, innovators, who are these boilermakers? Join me as we feature students, faculty, and alumni taking small steps toward their giant leaps and inspiring others to do the same.
Monica Keyes:
I often describe it as, it's the dance that brings me. If there had not been a Purdue, there wouldn't have been a Leroy Keyes, and there certainly wouldn't have been a Monica, Courtland, and Colin Keyes. So Purdue means a great deal to us, ever faithful, ever true, it's our own Purdue.
Speaker 3:
This man is a champion, he is one of the most versatile and exciting players to come on the college football scene in many years. Number 23 is Leroy Keyes, the All-American everything from Purdue, Keyes has boosted the Boilermakers to the top of the national ranking. On the next two plays, Leroy Keyes gets the kind of blocking that coaches and runners dream about. Another Purdue touchdown is just icing on the cake as the Boilermakers with a fantastic Leroy Keyes leading the way chalk up a lob side at 43 to six victory over Northwestern to remain at the top of the college football ranking.
Kate Young:
In this episode of This is Purdue, we're talking to Monica Keyes, wife of the late Purdue football icon, Leroy Keyes. Now, even if you aren't a Purdue Athletic super fan, I'm guessing you've heard the name Leroy Keyes before. See, Leroy wasn't just celebrated as one of the best Boilermaker athletes of all time, he was celebrated for his character and who he was as a person. His outreach stretched far and wide, and his family, friends and the organizations that knew him best remember him as a great football player, of course, but an even greater person.
And if you are a long time This is Purdue listener, you know Leroy has been mentioned in a few of our previous episodes, so we were incredibly grateful for the opportunity to speak to his wife Monica at the annual President's Council weekend in Naples, Florida. Monica shares more about how she and Leroy met in her hometown of Philadelphia as Leroy was playing in the NFL for the Eagles, why their family moved back to West Lafayette, how she became a Boilermaker herself after getting her master's in nursing at Purdue, and how Leroy's legacy continues to live on today. Monica kicks off our conversation with the story of how she met her beloved late husband, and this story involves a church bowling league.
Monica Keyes:
Leroy and I met in Philadelphia, as many of your listeners will know or recall, Leroy was a third round draft pick to the Philadelphia Eagles. His home was Newport News, Virginia and when he went to Philadelphia, he decided to make that his home. When I met Leroy, I had joined his bowling league, he had been bowling for years as a league bowler, I knew nothing about him and a senior citizen from my church asked me, "would you be willing to bowl?"
So I started bowling and Leroy and I, the first night of league bowling we're wearing the same color shirt, I can't recall the colors verbatim, but let's say it was orange the first Monday night. The following Monday night, he had on a magenta shirt, I had on a magenta shirt. The following Monday night, he had on a chartreuce, really an unusual color for a man, but he had that on and so did I. And so we created a conversation for he and I and then he's, of course, asking me now, "well, how's your average?" And different things like that, so we're talking each week around this same outfit.
The fourth week, he was late and because I'm looking for my twin, if you will, in the bowling alley, and I said, "why are you late?" And he says, "I'm late for bowling tonight because I was in a golf outing." So he was the first African-American male that I knew that golfed with the regularity that he golfed and he was just so confident in who he was and what he was sharing with me. So that's where we met, was in the bowling alley, and then it was a very competitive, fun, I was learning how to bowl, but a very good learner and was doing very well with my team. And so he and I began to have little small wagers, "I'll bet you a Coke," and that's how our relationship grew. The senior citizen, when we announced that we were going to get married, she said, "I knew you all were in love before you all did," and it was the cutest thing.
Kate Young:
She gets the credit there.
Monica Keyes:
She gets the credit. Yes, Chris Tucker, what a sweet lady.
Kate Young:
Big kudos to Chris Tucker for that introduction. After playing four seasons with the Philadelphia Eagles, Leroy played one season with the Kansas City Chiefs before retiring from his professional football career due to injuries. Following his time in the NFL, he served as a desegregation specialist for the City of Philadelphia School District for 16 years and then he had an opportunity to come back home to Purdue. In 1995, Leroy and Monica made the move to West Lafayette after he received an offer as a running backs coach under then head football coach Jim Colletto.
Monica Keyes:
We made that move back in 1995, Leroy was given an opportunity by former athletic director Morgan Burke to come back to the university, his beloved alma mater, where he would be able to coach the running backs. As most listeners would recall, Leroy was a stellar running back as well as a defensive back, and so to have the privilege to work with these student athletes, I would rank that, next to marrying me, the highlight of his life. No, he really truly loved these student athletes, and so when Morgan offered him the opportunity, it was a wonderful experience.
He coached, his first year, Mike Alstott, who was one to actually break his record. So he had longstanding records from the mid-sixties right on up to 1995 and that was a joy for him, he was thrilled for Mike because Mike was doing something and bringing some real positive energy and attention to the university. And so he was really proud of him that he was the young man that broke his record, they certainly had a nice friendship even beyond Mike's undergraduate career.
Kate Young:
And so you weren't from Indiana?
Monica Keyes:
No, ma'am, I am absolutely 100% a Philadelphian, would not have moved, probably left the Philadelphia area had it not been for Leroy, but what a wonderful decision it was for us to move here.
Kate Young:
What did it feel like moving into this community not knowing that much about Purdue, right?
Monica Keyes:
No, I didn't, in fact, when I first met Leroy as we're getting to know one another, he's wearing a Purdue sweatshirt one day and I'm like, "Purdue, what is that?" So he said, "that's my alma mater." I said, "well, is it an Ivy League school?" So I fell in just like so many people around the country not realizing that it's quite an awesome Big 10 school, a great place to be educated and a great place to be from, so it's really cool.
Kate Young:
Monica reminisces on the first time she ventured to Indiana with Leroy.
Monica Keyes:
The first memory that I have with Leroy was actually my first time coming to Indiana, which would've been in, I want to say it was probably '94, excuse me, it would've been in fall of '94. And when we came, I had never been to a Big 10 school, I went to a historical back college, Hampton Institute, and it was also a land grant college like Purdue University. So when I got here and could see all that was going on at Purdue, 1869, I believe is the year that Purdue began, 1868 is when Hampton opened and I remember thinking, this is where you went to school, how awesome. But just the campus, the reception that we received, the honor that it was being bestowed upon him as a hall of fame inaugural inductee, it was quite an experience and very different than what we had experienced in Philadelphia.
He had been, as I said before, a number three draft pick to the Eagles. And unfortunately, Leroy had an achilles tendon injury that kept him from having quite the career that he had here in college. So the way we were sometimes received in Philadelphia is very different than coming home to a place where you've left quite a footprint. For me to see that was one of the first big happy experiences that I certainly had here on Purdue's campus. But many events, many occasions, Purdue family and community has been good for us and was good for us, a great place for us to raise our children, many opportunities that I'm not too sure we would've had we stayed in Philadelphia and raised our family.
Kate Young:
As you heard, Monica was a bit skeptical about this huge move and rightfully so as she was a Philadelphian at heart. But Monica's persistence led her to her next giant leap in her career at the time, going back to school to become a nurse practitioner and joined Leroy as a Boilermaker.
Monica Keyes:
After coming here, they have a school of nursing here, and so I inquired about an opportunity in master's level work to see if there was something for me to do, and at that time, they did not have a master's program. A few years later, I would say 2001 or '02, the then head of the department, Julie Novak, had partnered with Purdue Northwest to bring a nurse practitioner program to campus. And so fortunately, I was able to join that first cohort and so I finished in 2005 as an adult nurse practitioner, so it was a wonderful thing.
Kate Young:
Congrats, that's awesome.
Monica Keyes:
Thank you. And so the experience was awesome, it's different to go back to graduate school as a wife and a mom of two toddlers, which made studying very interesting, I studied a lot in the middle of the night or very, very early morning. And fortunately, and at the time, I might not have seen it as such a fortunate thing that Leroy was not coaching directly anymore, his affiliation with the athletic department was super important, but thank goodness he wasn't coaching because the discipline of coaching seems to require 12 to 16 hours a day, the amount of energy that the coaches are putting in to make sure that their teams are prepared and their opponents are studied so well. It's probably a very fortunate thing for us as a family, my husband helped me a great deal with the babies and the children as they were growing up, it was awesome.
Kate Young:
Are you a fan of Purdue basketball? Make sure to check out the BoilerBall Podcast, whether it's interviews with current or former players, catching up with the current team or hearing from big names in the world of college basketball, the BoilerBall Podcast has you covered, subscribe wherever you get your podcasts.
Following his time as a running back's coach, Leroy served as an administrative assistant for the Purdue Football Program under Joe Tiller from 1997 to 1999, and then was a member of the John Purdue Club staff until his retirement in 2011. I asked Monica what it means to her and her family that she had stayed in the Purdue community and continued to live in the West Lafayette area even after Leroy retired from the university.
Monica Keyes:
It's funny, when we first came, I thought, we'll work here for a few years and then he'll take another coaching job and we'll keep moving along and coaching and hopefully get to where the person that coached the running back's before where he did ended up going to the NFL and having a very long coaching career in the NFL. And so this was what I was thinking, that this would be how it would play out for us, so maybe three or five years, and that's not what happened at all.
And I do call this home, and it's surprising to me that I did because initially, I didn't really want it to be home. But my family moved here, my mother and father came to help us with the children and they were both retired and felt like this would be a great place to be. And then shortly thereafter, my brother moved here and then my sister moved here, so my brother is married to a Virginia Booth Womack who is the director of minority engineering, and then my sister, as I said, came. And so I don't have family close family in Philadelphia anymore, I have a few cousins like that, so this is home.
Kate Young:
That's special, you made your own family community within the Purdue community.
Monica Keyes:
Absolutely. I practice nursing here in town, my fourth season, I actually sold real estate in town for about 10 years, and that was a wonderful time period for me. And so because of that, I established quite a few relationships on my own, I have a good friend, Joy Matson, who is a line eye alum who is very faithful in her support of Purdue universities, libraries, the vet school, and also Purdue Athletics. But she and I became friends and she likes to tell people, "I am a friend of Monica's, not because of Leroy, I met her first." And so I have tried to establish a bit of a relationship here in that community, I think it's pretty good.
Kate Young:
Monica shares more about her family, her two bonus children, Raymond and Jacqueline and two sons Colin and Courtland, she said her grandson, Perez, Jacqueline's son is following in his grandpa Leroy's footsteps and is very involved with athletics. I asked Monica if Colin and Courtland followed in their dad's footsteps and played football?
Monica Keyes:
My first nursing job was at the Thomas Jefferson University Hospital in downtown Philadelphia and I worked on a trauma unit. Working on that unit, I saw an awful lot of head injuries and I also saw a lot of fractures, so hip and below fractures and so that was my patient population. And as a result, I found it very difficult to encourage my sons to participate in football. I was willing for them to participate in sports, and so our sons did play some intramural basketball, my oldest son played a little bit of football, but that was more on the middle school level, and that was very challenging for me for him to do that, but they enjoy athletics and they enjoyed it with their dad. So they did watch basketball, did watch football, Leroy being a golfer, and my son, the oldest boy getting his golf club the year he's born, his very first golf club, he and his father and his younger brother Courtland and Colin began to golf regularly with their dad.
Sports were a key part of the Keyes household, absolutely. In fact, Colin got his father interested in, of all things, auto racing, so NASCAR as well as Grand Prix, so it was very, very interesting to live in our home and athletics be so important, sports be so important.
Kate Young:
One of your sons is a golf pro now?
Monica Keyes:
Yes. So our oldest son Courtland is living in Savannah, Georgia, and he's working as an assistant golf pro, and he's having a good time enjoying exactly what he's doing. One of Leroy's last road trips was with Court to interview down south looking for an opportunity like this, he was very involved with our children, our family, just wanting to see their lives take flight. And so he attended or traveled with Court while he looked for a job down south, and fortunately, he lived long enough to realize his son doing that, and so that was a thrill for our family.
Kate Young:
And speaking of golf, Monica shares more about a golf story that morphed into a decades long friendship between Leroy and a local physician.
Monica Keyes:
When I had Courtland, this is in 1997, my husband had had a eye surgery August of '96. And so we had Cortland May of '97, and a gentleman that I met in the hospital in 1996, Leroy, he had a giant retinal tear, so he had to have eye surgery and it was a physician, he asked me, "what are you doing here?" I worked at the hospital, so we had seen each other in passing, I said, "well, my husband's in the operating room, they're trying to salvage his vision." And he says, "is there anything I can do for you?" I said, "absolutely, do you play golf?" He says, "yes, I do." I said, "well, if you play golf and he can see, would you golf with him?" And he started golfing with Leroy as soon as Leroy was able the following season, which started in March of '98, they started golfing together and have forged an awesome friendship.
Kate Young:
Monica said this doctor and his wife attend John Purdue clubs, Mollenkopf-Keyes golf outing in Naples each year, thanks to this friendship and connection with Leroy that was formed on a golf course. She explains more about this annual golf outing and what it meant to Leroy.
Monica Keyes:
It's been a wonderful community that supports the Mollenkopf-Keyes outing. We've come for years, when they added Leroy's name, it certainly was very exciting for us and I think exciting for the community at large. Those that had worked with Leroy on campus, those that had experienced Leroy, perhaps in an alumni club or other golf outings, having an opportunity to golf with him here in Naples in February was a short treat. And so many people requested to play with him, that it was a pleasure for him, he truly enjoyed getting to meet the alums and so many of the donors, so many of the professors and folks that would be down here at this time of year, he really enjoyed that.
Kate Young:
Would he get competitive or did he?
Monica Keyes:
He is a competitor, he did not have a non-competitive bone in his body. He definitely wanted his teams to do well, they wanted his, since it's a best ball format, you want to use typically somebody's shot for everything, whether it's pudding or driving or coming out of the fairway, so he wanted to make sure everyone had an opportunity to do those things. And so often, that was the difficult part to finesse because of the varying skill levels, but he enjoyed it tremendously.
This is a special place for us, so to be able to come to Naples is very, very special. The golf outing, the comradery, the 19th whole story, all of that is a great pleasure for him and was a great pleasure for him. And so it's just spilled over to myself and the boys as well, our children, it's become a family tradition.
Kate Young:
When it came to football, Leroy was nicknamed the Golden Mr. Do Everything, he was a two-time consensus All-American running back and one of the greatest football players in Purdue history. As a freshman, Leroy helped Purdue beat USC in the 1967 Rose Bowl, he was also a two-time Heisman Trophy candidate. Back in 1967, Sports Illustrated acknowledged Leroy's talent saying he "dominated" the Big 10 conference during his junior season and led the nation in points by scoring as a runner, receiver, passer, and kicker. Sports Illustrated also referenced the give the ball to Leroy cheer heard at Ross-Ade Stadium whenever something special was needed.
In 1990, Leroy was inducted into the College Football Hall of Fame and in 1994, he was named an inaugural member of the Purdue Intercollegiate Athletics Hall of Fame. But who was Leroy off the football field? Monica shares more about Leroy's commitment and passion when it came to fighting for civil rights. A lot of people know Leroy as a football legend, but there were a lot of things people probably didn't know or didn't realize. And when it comes to his involvement with Purdue after football, that community building that he had, what does that mean to you as you reflect back?
Monica Keyes:
Leroy enjoyed Purdue, Purdue was a home for him. So when we came back in 1995, this was like coming home, the community was very welcoming to us, he was very welcoming and receptive to receive what the community had to offer, the students, whether in football or basketball, or not only football or basketball, but he had an association with the student, the wrestlers, the volleyball team, the women's basketball coaches and teams. He had a very special way of being able to relate to each individual and to help each one of those student athletes or persons that he came in contact feel incredibly special. He had a way, his smile certainly made all of us feel welcome, and that consistency is one of the things that made our lives so wonderful here. But I think it also made the community feel comfortable with him.
And so he would speak at elementary schools, junior high, to the high school level trying to motivate the students to not only do well in their sports life, but to do very well in their academics. He felt that being prepared was critical, and to have someone like him to be a mentor for so many in the community was awesome. He, of course, grew up in the segregated South, Leroy's first opportunity at actually teaming or playing an opponent that was non African-American was when he was a freshman here at Purdue University. So for all of his life, he played sports in Newport News, North Newport News in a segregated space, which was a wonderful place for him because the community there loved him so. But he saw this opportunity coming here to Purdue and returning to Purdue as an opportunity to bring light to the problems related to race to heighten everyone's awareness and to be an advocate for change, an advocate for unity.
And so that was one of the things that he certainly worked with. So when he was a student, he, Eric McCaskill, Roger Blaylock, there were several students on campus when Leroy came to campus that were interested in a place for African-Americans to study. They wanted to see more African-Americans, they wanted to see more professors that looked like them, so they marched together to try to see some of those things happen. And there's certainly a story that's in the archives called Black Purdue, and if anyone has the opportunity to look at that, they would get a great deal of history around how the Black Cultural Center came about and how the university tried to hear their concerns in the sixties.
That was when I would say Leroy's advocacy in activism really did come to light, his leadership lending his celebrity to such a cause. And he was very committed to that cause, he wanted to see lots of good opportunities for not only athletes, but for the academic students as well.
Kate Young:
Monica also shares more about the balance of academics and athletics that Leroy valued so much. And I know Purdue, we talk a lot about the balance of the rigorous academics and then this amazing athletics program that we have, what did that mean to him as a student athlete and then coming back to help coach these student athletes?
Monica Keyes:
He enjoyed his experience as a student athlete at Purdue, he talked about his trip to the Rose Bowl, Purdue's initial trip to the Rose Bowl, and just the things that he was able to do, places they were able to go. He talked about a monastery is where they spent the night before the game, so that was a very special and unique experience for him, and of course, competing there against USC was another awesome experience. And then playing with a quarterback like Bob Greasy, he and Bob had a great friendship and they even here have shared great times here at the Mollenkopf-Keyes golf outing where they would certainly have a little side wager of just, "I got you this time, or you got me." But both of them were great golfers and certainly enjoyed the banter that could happen between the two of them.
But Leroy's experiences as an undergrad were very valuable and they certainly launched his life when you think about going to the NFL. So coming back to the university for him, the teams were doing okay following his teams were finishing in the top 15 of the AP polls and when he joined this team, they were not right. And so one of the things he really wanted to see happen was a resurrection of Purdue's presence in the Big 10, he was very, very much interested in seeing this program be incredibly successful. And I think if he were here today, I think he would be incredibly proud of this past season's student athletes and how well football did and has done over the past few years, I think he'd be very, very proud. But he was always proud to be a Boilermaker and he would encourage anyone that had committed to the university as a scholarship athlete to be ready and to hold that commitment, you've given your word, follow through and graduate.
Kate Young:
And what does this Boilermaker's spirit continue to mean to Monica and her family?
Monica Keyes:
For me, it means everything, just to see the student sections, the enthusiasm that Ross-Ade and both Mackay have at this point. A sellout of the women's game, my husband would've been on cloud nine to see women's sports accomplish that kind of a sellout and in record time. And of course, coach Katie Gearlds was a young student athlete when Leroy was working in administration and just one of those exciting players that he felt so strong and passionate about. So to see Katie having this kind of success as a head coach would just get him totally excited, he just would be thrilled.
When I'm in Mackay watching coach Painter and this year's team, all of the excitement and enthusiasm, it's outstanding and it's something that is good for our students athletes, but it's great for our students that are on the other side of campus. I look at the band and all of the creativity, but just imagine there's so much energy around Purdue Athletics and it's good, our student athletes are absolutely the best because they are very humble. But that's part of the Purdue spirit, I think that starts at your leadership and comes down from there.
Kate Young:
By the way, we have This is Purdue episodes featuring both of those Purdue Athletics icons and leaders that Monica just mentioned, so be sure to check those out. And speaking of past This is Purdue episodes, we interviewed former Purdue football players, Mike Phipps and Don Kiepert a few years ago, these two were not only teammates of Leroy's, but also great friends with this Boilermaker legend. I interviewed Don Kiepert and Mike Phipps last year, I have to send you that episode, it's fantastic, but there's a whole section of them talking about Leroy.
Monica Keyes:
Well, I would say that you just mentioned two of Leroy's faves, these were teammates that have been lifelong friends. They were gentlemen that I met over the course of these 20 odd years and just genuine men, these men are brothers, it's a brotherhood. And they didn't even call each other Mike and Leroy, it was number 15 and 23, and that's how they greeted one another. And of course, you heard in that interview or in your podcast that Don was the backup quarterback to Mike Phipps and what kind of friendship they have today even in such a competitive space. But that speaks to the integrity of these men, the persistence within these men, incredible relationships, Leroy was happy to be a part of this fraternity.
Kate Young:
They really focused on not who he was as an athlete, about his character, and so that was really special.
Monica Keyes:
Leroy had a natural leadership ability, but he also had the inability to follow, for example, following Mike being the field captain, the quarterback on that field. For them to have such a long-lasting friendship, it was incredible.
Kate Young:
Really, it's over 50 years.
Monica Keyes:
Absolutely. He had it with both of them, with Bob and with Mike, so that's really very, very special. But there's other teammates as well, I wish I could call everyone's name, my memory is different than Leroy's was, he could tell me about the 18th hole at X, Y, Z track, my memory isn't quite the same. But his classmates and teammates meant the world, those long-lasting relationships.
Kate Young:
Well, you can tell that he meant the world to them too when you talk to them. And speaking of people and relationships, Monica shares who she thinks of when she thinks of Purdue University.
Monica Keyes:
When I think of Purdue University, quite naturally right up here has to be a legend like a John Wooden in basketball that we're in that space. A Neil Armstrong, Drew Priest, I'm looking at Roosevelt Colvin, a student athlete that Leroy had established a relationship with and here he's having his daughter, his son.
Kate Young:
Yes.
Monica Keyes:
This is great family, and so I have a huge sense of that here on campus. So not necessarily one individual, but just the many awesome people that have come through the portals, there are so many stories and so many positive stories.
Kate Young:
And Monica touches on what persistence means to her and what it meant to Leroy. What does persistence mean to you? You went back to school as a mom, as a wife, like you said, I'm sure that wasn't easy or studying late at night, what does that word persistence mean to you?
Monica Keyes:
One of the things Leroy talked about with us a lot, our family, was preparation and opportunity and then performance. What that meant to him was that if you are going to be a part of something, you've got to prepare for it and you've got to be ready, so if that meant practice or if that meant study, whatever that meant, you need to be practicing and preparing waiting for the opportunity.
His opportunity to get on the field as a sophomore was quite by chance because the coach actually was calling in the gentleman that was standing next to him to go in when they were playing up at Notre Dame and he didn't go, he pushed Leroy and Leroy went out on the field and returned a fumble-
Kate Young:
My goodness.
Monica Keyes:
… For a touchdown, and from that, his career took off. Had he not been prepared and that opportunity presented itself, he probably wouldn't have been able to perform. So the persistence in whatever that vision or whatever that dream is, and even though you're going to hit bumps on the road and you're going to have some adversity, there's going to be slow periods and maybe periods of time where you're not even recognized. But all of that time is building your character, reaffirming your commitment, empowering or pushing that dream.
And so in terms of persistence, I see that in my oldest son and his quest to become a golf pro. I see that with my youngest son, his name means victory for the people, and Colin is very much dedicated to healthcare. I always thought it would actually be as a provider since that's what I did, but he has chosen a different path and he's working with the hospital system in Minnesota just on lean things, bringing new ideas, fresh ideas from a public health perspective into the arena of healthcare. So persistence is critical, it's a key component to our success and our character.
Kate Young:
And finally, what does Purdue mean to Monica and her family of Boilermakers?
Monica Keyes:
I often describe it as, it's the dance that brings me. If there had not been a Purdue, there wouldn't have been a Leroy Keyes, and there certainly wouldn't have been a Monica, Courtland, and Colin Keyes. So Purdue means a great deal to us, ever faithful, ever true, it's our own Purdue. We have a great loyalty to the university and owe them a debt of gratitude for how our lives have been able to sing as a result of having spent years here, not only as an undergrad and me as a graduate student and my sons just from being around to the community, it's been a good thing.
Kate Young:
Absolutely. Is there anything I missed? Anything else you want to tell our listeners?
Monica Keyes:
Boiler up.
Kate Young:
It was an absolute pleasure.
Monica Keyes:
Thank you.
Kate Young:
We can't thank Monica enough for sharing her incredible stories with us. Head over to our podcast YouTube page, youtube.com/@thisispurdue to watch our video clips from Monica's interview in Naples. And remember, follow us on your favorite podcast platform including YouTube to never miss an episode. This is Purdue is hosted and written by me, Kate Young, at this special podcast shoot during the annual President's Council weekend in Naples, Florida, our podcast team consisted of Ted Shellenberger, John Garcia, Becky Rubinos, and Trevor Peters. Our social media marketing is led by Ashlee Shroyer and Maria Welch. Our podcast design is led by Caitlin Freville, our podcast team project manager is Emily Jesulaitis. Our podcast YouTube promotion is managed by Megan Hoskins and Kirsten Bauman. Additional writing assistance is led by Joel Meredith and podcast research is led by Sophie Ritz.
Thanks for listening to This is Purdue, for more information on this episode, visit our website @purdue.edu/podcast, there you can head over to your favorite podcast app to subscribe and leave us a review. And as always, boiler up.