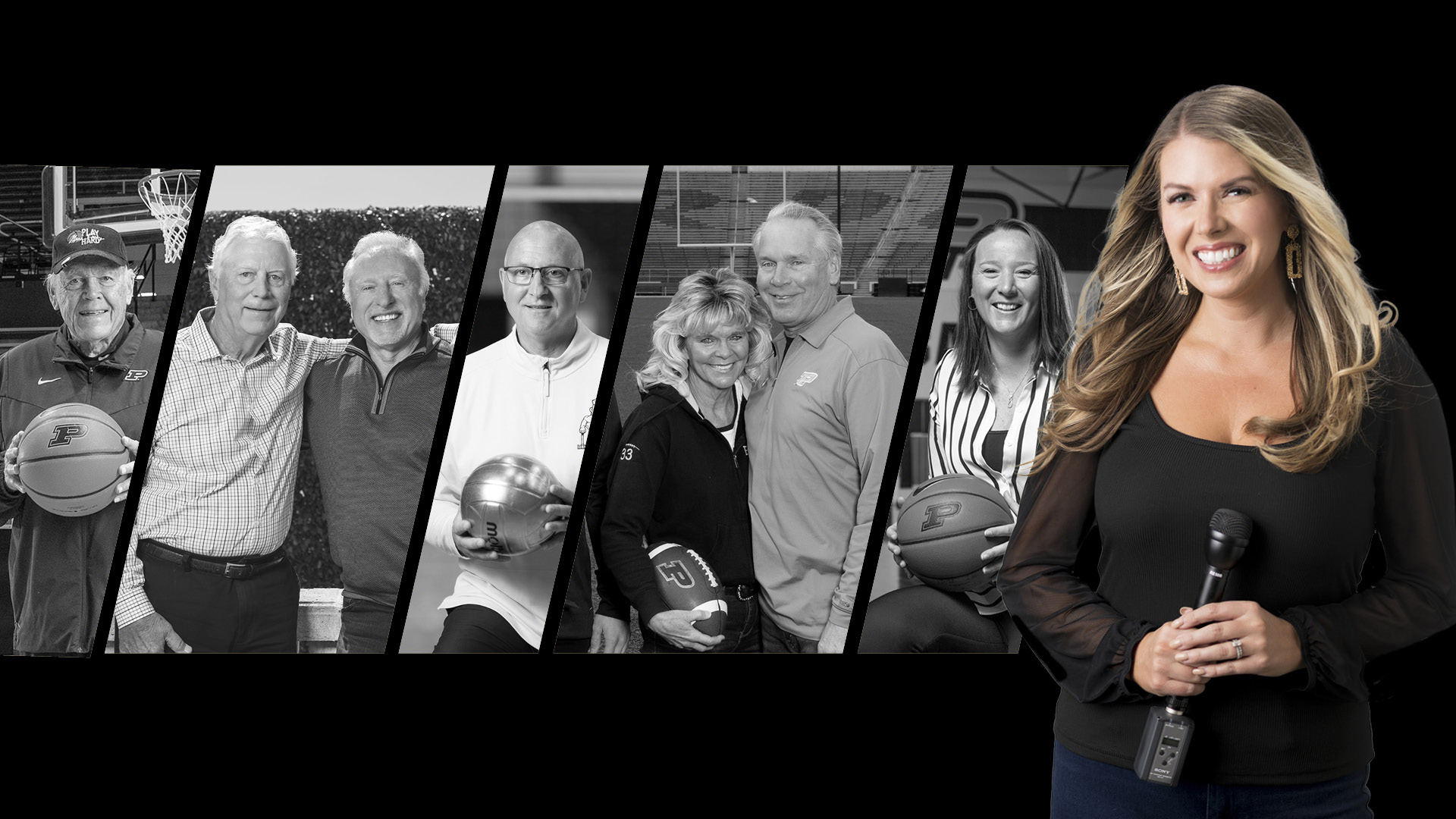 In this episode of "This Is Purdue," we're ringing in the new year with some of our most popular episodes from 2022.
Part 1 of our two-part "Greatest Hits of 2022" episode focuses on the incredible Boilermaker athletics guests we've had on the podcast during the past year.
Listen in as we share highlights from episodes with women's basketball coach Katie Gearlds; the iconic Gene Keady; Purdue athletics' legacy family, the Anthrops; former Boilermaker quarterbacks and best friends Mike Phipps and Don Kiepert; and women's volleyball coach Dave Shondell.
We'll dig into the Purdue spirit, community and traditions and why each and every one of these guests are proud Boilermakers.
You don't want to miss this spirited episode!
Full Podcast Episode Transcript
Gene Keady:
This is Coach Gene Keady, and thank you for listening This Is Purdue.
Dave Shondell:
This is Coach Shondell and you're listening to This Is Purdue.
Kate Young:
Hi, I'm Kate Young, and you're listening to, This Is Purdue, the official podcast for Purdue University. As a Purdue alum and Indiana Native, I know firsthand about the family of students and professors who are in it together, persistently pursuing and relentlessly rethinking, "Who are the next game changers, difference makers, ceiling breakers, innovators? Who are these Boilermakers?" Join me as we feature students, faculty and alumni, taking small steps toward their giant leaps, and inspiring others to do the same.
Gene Keady:
It's like me getting paid to be a coach.
Kate Young:
Exactly. Dream job.
Gene Keady:
Doing what you're like to do, and love to do.
Mike Phipps:
He's done well. I'm proud of him.
Don Kiepert:
Well, thank you. You have too. I'm proud of you. We've kept this great friendship. He's my best friend
John Anthrop:
When they go there and it gives them a sense of belonging, that group to belong to and form those friendships, and we're just fortunate that we were able to do it at one of the greatest universities in the country.
Dave Shondell:
I don't think there's a special sauce. There's a lot of hard work that goes into it.
Katie Gearlds:
There's just something different about the black and gold.
Kate Young:
Wow. It's hard to believe 2022 is coming to an end. It feels like just yesterday the podcast team was working on our Greatest Hits of 2021 episode. Now, we're highlighting some of our most popular episodes of 2022 to ring in the New Year. Part one of this two part Greatest Hits episode focuses on the incredible Boilermaker athletics guest we've had on This Is Purdue, during the past year. Purdue University is well known for many things.
We've frozen tuition for 11 years straight. We're also known for our ties to space and NASA, and Purdue has been selected as part of Fast Company's Brands That Matter, a list honoring companies and organizations for communicating their brand's mission and ideals with intention and authenticity, for two years in a row now. But, when people think of Purdue, I know another thing that comes to mind too, athletics.
So many alumni I've talked to on this podcast have said some of their favorite memories at Purdue, were attending various athletics games with friends and family, and it doesn't hurt that Purdue historically has successful athletics teams and produces top tier athletes like Drew Brees, Leroy Keyes, Glenn Robinson, David Boudia, Annie Drews, John Wooden, Jim Everett, Jaden Ivey, Kyle Orton, and so many more.
So, we're reflecting back on five of This Is Purdue's Athletics episodes of 2022. Let's start with the particularly popular episode this year with Purdue Women's basketball Coach Katie Gearlds in September of 2021, Katie Gearlds, Miss Indiana Basketball 2003, and a former Purdue basketball player herself, was named the head coach of the Purdue Women's Basketball Program. Coach Gearlds had a legendary college career. She was named the 2004 Big Ten Freshman of the year, and as a senior, she set the Purdue Single game record with 41 points at Wisconsin in 2007. She was also drafted into the WNBA as the seventh overall pick, the highest selection ever from Purdue, and the 10th top 10 pick in Big Ten history. Now, she's in the midst of her second season as head coach of the Boilermakers women's team.
We were fortunate enough to talk to Coach Gearlds at the beginning of 2022 about her experience leading the women's program so far. Let me tell you, if you love Purdue, you will love Coach Gearlds. Coach Gearlds tells us about her recruiting effort. When you think about recruiting the right teammates, the right fit at Purdue, what is the right fit for you and your team here today?
Katie Gearlds:
We're going to be blue collar. We're going to work our tails off every single day. I want a group of young women who bleed black and gold. Who knows what it means to have Purdue on your chest. What does that mean? It means that I'm going to do things the right way. It means I'm going to show up on time. It means I'm going to go to class every day. I'm going to do what's right in the weight room. I'm going to take care of what I put in my body. I'm going to be a great outstanding citizen in our community. I'm going to reach out in the community and I'm going to help young people, help inspire our youth, and never cut a corner. We're never cheating here, we're we're always going to do things the right way here at Purdue, and then when you do win championships and you do have individual accolades, it just makes it that much more meaningful because you know you've done it the right way.
Kate Young:
That quote coach shared right there remains one of my favorites. But, another one of my favorite memories from this interview was…
Katie Gearlds:
I like your shoes too, gold.
Kate Young:
Thanks. Well, I want to talk to you about shoes.
Katie Gearlds:
Okay.
Kate Young:
Coach Gearlds has a passion for shoes. I knew going into this interview, Coach Gearlds loves a good pair of Purdue themed shoes. So, naturally I put on one of my favorite pairs with gold sparkles. Coach Gearlds says shoes can help her, in a way, relate to her players.
I know, or I heard that you have an extensive shoe collection.
Katie Gearlds:
I do. Yes.
Kate Young:
Tell us more about that.
Katie Gearlds:
Well, my mom and dad get… Well, my mom especially. You don't need to buy anymore shoes. Touche, touche. They'll have a lot of space in my house. I've always liked them, right? Honestly, it's one of the first things I do when I see people, I always look at their shoes because, "Ooh, do I need those pair?" Right? "Do they match the black and gold?" But, I just feel like, especially nowadays, shoes really resonate with young recruits. So, you just got a Purdue shirt and maybe some sweats or some casual pants on, then it makes it easy to throw on a pair of Jay's. At any time I see a black and gold pair, I'm most likely going to find a way to get my hands on them.
Kate Young:
Do you have a favorite pair?
Katie Gearlds:
Yeah, my mid ones. The shoes I wore against Indiana, the Jordan ones, they're just middle high, but the gold really, really pops there.
Kate Young:
If you follow Coach Gearlds on Twitter, @katiegearlds4, you can catch some of her favorite black and gold pairs. It was so fun getting to know Coach Gearlds on a more personal level during this interview. When it comes to that Boilermaker spirit Coach Gearlds exudes, she explains to us why there's no place in the world like Purdue University.
Katie Gearlds:
The Boilermaker spirit is everything. Every time I walk down the tunnel, the chills I get, every time I turn on Northwestern to see Mackey Arena, the chills I get, the environment at Ross-Ade, the crowd at Holloway, the 14,000 strong at men's games. There's just something different about the black and gold. But, like I said, once you're in it and you become a part of that family, you know that you are in it for the rest of your life, and really there's nothing better than being a Boilermaker. I'm so thankful for the support and I know that we're not a few years away, it's right here in front of us, and we're going to get this place back.
Kate Young:
If you want to hear Coach Gearlds' full interview, check it out on Apple Podcast, Spotify, YouTube, or wherever you listen to your podcast. Next up is another, This Is Purdue basketball feature, and this name is synonymous with Purdue basketball. Gene Keady. Nearly two decades after retiring as the head coach for the men's basketball team, the legendary Coach Keady still relishes his time at Purdue. He was the face of Purdue basketball for 25 years and his story isn't a typical one. Coach Keady made his way up the ranks, from coaching at the high school level, then to junior college, and then to a college assistant. He actually spent more than 20 years coaching at these different levels before finally landing at Purdue. So, in early March of 2022, we had the incredible opportunity to sit down with Coach Keady inside Mackey Arena, right on his namesake court.
Coach, thank you so much for joining us.
Gene Keady:
Thank you for having me.
Kate Young:
How does it feel to be back on your court in Mackey Arena?
Gene Keady:
Well, I don't think about that much, but it's always a pleasure that somebody would think enough of me to name a court after me. So, I really appreciate that.
Kate Young:
If you listen to our This Is Purdue interview with Purdue men's basketball coach Matt Painter, back in October of 2021, you know how much of an influence Coach Keady had and still has on his life, and on his coaching. Basketball fans, you may remember this moment from the 2021, 2022 season when Coach Painter was having a press conference after the Purdue-IU game back in January.
Matt Painter:
Then obviously Trayce Jackson-Davis didn't play a lot in the game because of the foul trouble, so that kind of helped us, but kind of hurt us also. It's like one of those things where it opened it up, especially in the first half for other people. So, you guys want to talk to Coach Keady? He'll have a lot, he'd love to answer your questions.
Kate Young:
So, it's definitely safe to say that all of these years later, Coach Keady is certainly still involved with this program. Coach Keady tells us about his relationship with Coach Painter.
Tell us about your relationship with Coach Painter and what makes him so special.
Gene Keady:
Well, he listens and he's coachable and he was a good player, smart player. When he first got here, he told his dad that, "I don't know if Coach Keady even knows what the heck he's doing." and his dad is a lawyer over Mancini, and he said, "Hey, go back, do what he says, and be quiet." And he did and now he's the head coach.
Kate Young:
So, you had a role in kind of giving him this head coach position. Why did you choose Coach Painter?
Gene Keady:
Because I thought he was a Purdue guy through and through, and would have the right goals in life and could teach properly, and coaches had to be teachers, Coach Wooden taught us that. So, it's one of those things where he's a good teacher.
Kate Young:
It wouldn't be a Greatest Hits episode without highlighting our favorite rivalry with a certain Big Ten school in southern Indiana. Coach Keady and former IU coach Bob Knight's friendship is still going strong. In fact, a few days after our interview, Coach Keady and his wife, Kathleen, headed down to Bloomington to see Coach Knight and his wife, Karen. Here's what coach had to say about this iconic rivalry.
Gene Keady:
We've had a lot of games like that where we didn't win. It's always been a great rivalry, and it's always been something that we always look forward to, all of us.
Kate Young:
Yeah. Why do you think that rivalry is so special?
Gene Keady:
Because we're both very competitive at both schools, and we all love all sports, not just basketball. I think it's a sporting state where if you play any sort of team sport, women's and men's both, and people are for you,
Kate Young:
It was so special that we were able to meet Coach Keady in person. There's so much behind the scenes work that goes into these big video productions, and our podcast team led by Ted Shellenberger, with Jon Garcia, Thad Boone and Matt Kirkoff has absolutely propelled This Is Purdue to greater heights this year. One of my favorite moments from this Coach Keady interview was…
Gene Keady:
You have a tremendous job. Are you a graduate?
Kate Young:
I am. I graduated in 2012.
Gene Keady:
Good, good, good. You get paid for this job?
Kate Young:
I get paid to do this. How cool is this?
Gene Keady:
Oh, wow. That's like me getting paid to be a coach.
Kate Young:
Exactly. Dream job.
Gene Keady:
Doing what you're like to do and love to do.
Kate Young:
Remember, you can check out all of our podcast video interviews like this one in Mackey Arena with Coach Keady, on YouTube, youtube.com/purdueuniversity.
Gene Keady:
This is Coach Gene Keady, Go Boilers.
Kate Young:
This next episode was one of our most top listened to episodes of 2022. If you are a Purdue Athletics fan, you've probably heard the name Anthrop, and our listeners could not get enough of this episode featuring the Anthrop family. Here's a quick breakdown of this family's athletics legacy. John and Jana Anthrop both went to Purdue. John played both basketball and baseball here, and he actually played on Purdue's 1980 final four team. This Boilermaker couple had four sons who all attended Central Catholic and Lafayette, and surprise, all played sports. While the oldest Anthrop brother, Jade, didn't attend Purdue, he was a college athlete as well. Jade played both basketball and baseball at St. Joseph's College. Then there's Drew Anthrop who played basketball at Purdue, and Danny and Jackson Anthrop who both played football at Purdue. Here's Jackson. Your dad was a super successful athlete at Purdue, but was there ever a moment where you guys were like, "I don't think I want to play sports," or it was just ingrained in you guys?
Jackson Anthrop:
I don't think that ever crossed our minds. Not one bit. Yeah, I knew just from being in the family and hearing stories of my dad, my brothers, I always wanted to play at Purdue, one way or the other, whether it was basketball, baseball, or football.
Kate Young:
In 2021, Jackson helped take the Boilermakers to their first trip to a post-season bowl game since 2018. After an intense game, including overtime, the Boilermakers defeated Tennessee 48-45 on December 30th, before a crowd of nearly 70,000 people at Nissan Stadium in Nashville. Jackson was recently drafted to the XFL Arlington Renegades. The XFL is a professional American football minor league consisting of eight teams located across the US. Meanwhile, Drew is also working within the professional sports world. He works for a little team called the Los Angeles Lakers. You may have heard of them. Here's Drew.
Drew Anthrop:
In graduation day, the ball stops bouncing for everybody at some point, and for me, I just knew I wanted to stick in basketball some way. So, I've been in LA for the past two seasons and that's where I'm at still. It's just one of those things that it's a combination of everything from my parents to Purdue to coach Paint, to just friends and mentors all along the way, that help you. At the end of the day, it's still basketball, it's for me and so it's still fun, but it's all about preparation and having solutions and being available and just work really hard and be a good person and things tend to work out for you.
Kate Young:
As for Danny, he was sworn in as a patrol officer with the Lafayette Police Department in 2017. How did Purdue prepare Danny for a life off the football field?
Danny Anthrop:
Purdue prepared me for my career after sports, and one of the biggest things I learned at the university is if you walk down campus, if you walk from Cary Quad all the way down to the fountain, you're going to see so many different people from every corner of the earth, and being able to communicate with these people and experiencing different people's backgrounds and what motivates people.
Kate Young:
Okay, so was there any competition with four incredibly athletic boys growing up in the same house? Here's Jana.
Jana Anthrop:
Do we want to talk about that, really? Yeah, this house is pretty competitive. It was never me, but they're pretty competitive no matter what we're playing, ping pong or whatever.
Kate Young:
Here's Jackson.
Jackson Anthrop:
Oh, it was very competitive. I remember we'd always do Ds versus Js, Danny and Drew versus Jay and Jackson. It was hard early on because I was the youngest, so I couldn't really do as much as everybody else could, and I always wanted to win, always wanted to win, whether it was in the basement playing Nerf baseball or just playing basketball down there or outside playing basketball or in the yard playing Wiffle ball. It didn't matter, we were always going at it with one another. But, I think that was one thing that kind of molded us into who we were, didn't matter the circumstances, whoever won, they had the bragging rights for the rest of the day, or at least until we played the next game.
Kate Young:
So, what does this Purdue community mean to a family who has been so immersed in the Boilermaker athletics world for so many years? Drew discusses that Purdue spirit he experiences thousands of miles away in LA.
Drew Anthrop:
To me, there are no just random fans of Purdue. Like everybody has a personal connection to the university, and that's what makes it special is even for me in LA, I walk around with my Purdue hat on and somebody will see it and they're like, "Hey, Boiler Up. When did you graduate? Where'd you go to school?" "Oh, okay. Do you know that they watched a football games at this bar on this time?" Just instant connection with people. I don't see that with other places. So, that's something that I thought was special and just always the continued support, all of the programs have seen. I think that's something that's pretty unique.
Kate Young:
John and Jana share their love for the this Boilermaker maker community and the lifelong relationships the family has created through Purdue Athletics.
John Anthrop:
We're just truly blessed as a family to have these opportunities for myself and Jana and all the boys to participate at Purdue. I always thought it was important, no matter where the boys decided to go to school, that they'd be fortunate enough to be on a team of some type, baseball, football, basketball, whatever the case might be, just when they go there, it gives them a sense of belonging and a group to belong to, and form those friendships, and we're just fortunate that we were able to do it at one of the greatest universities in the country, and to be 10 minutes from our house. It's just amazing that it's all worked out the way it has.
Jana Anthrop:
It's our favorite thing is to go to sporting events, so…
Kate Young:
This special family's Boilermaker spirit thrives whether they're on campus or across the country. If you'd like to listen to the full episode with the Anthrop family, head to purdue.edu/podcast. Next up is an interview we did during the President's Council weekend in Naples, Florida back in February. It's definitely one of our most fun and engaging episodes from 2022. It's not every day we get to interview two Boilermakers who have been best friends for more than 50 years. Mike Phipps and Don Kiepert played for the 1960's Purdue football teams under Jack Mollenkopf, and they were teammates on the 1967 Big Ten championship football team. This episode was a story about football, but it was so much more than that. It was a story about true friendship rooted in Boilermaker culture, persistence and perseverance. See, after the Boilermakers won the Rose Bowl over USC in 1967, they needed to replace All-American quarterback, Bob Griese. A little background here, not only were Mike and Don teammates at Purdue, they were both quarterbacks. That's right, they were both vying for that coveted starting QB position.
Don Kiepert:
We showed up on campus, there were five quarterbacks that were on scholarship. One of them was going to become the replacement for Bob Griese. So, I met him on the practice field competing with him, and if you're a quarterback, you always think you're the best. You have to think that. We just competed, really competed. Through the competition, we got to know each other really well, because when you compete with someone, you know about them, you know about who they are, you know about what their character is, you know about what their values are, and out of that, we just became, even though we were competing, great friends, so we've been friends since the freshman year.
Mike Phipps:
Yeah, it seems strange that that would happen. He wanted the position, I wanted the position, so did two or three other guys. But, as it developed on itself, we all accepted the role. We were a team, that's what made us different. Everybody had a role to play, once it was defined, then it was all about winning football games for Purdue. This guy could have played for any other Big Ten school, and just happened that he picked Purdue, and I was fortunate enough to get the position, but he came in many times when I was nicked up. He saved us a few times.
Kate Young:
Both of these Boilermakers have nothing but fond and downright emotional memories of their beloved coach. The late Jack Mollenkopf who served as the head football coach at Purdue from 1956 to 1969.
Don Kiepert:
A lot of people wondered why Coach Mollenkopf was such a great coach, and this story I think tells the story about why he was. He was tough as now, really tough, diminutive guy, but when he spoke, everybody listen. So, we're playing Indiana, it was our senior year, we're in the locker room. Jack had cancer at the time, and he was at Lafayette Home Hospital. He decided against medical authority that he was going to put his robe on and come over to the locker room and meet all the players.
So, he comes in and he's the normal gruffy, yeah he is, and starts hugging every player. He said how much he loves you, and still cry when I think about it. But, that's why he was such a great coach because he demanded a lot, but you knew he really cared about you. Needless to say, that's not the best way to get ready for a big game. Here comes Mollenkopf, and [inaudible 00:20:09] he's hugging everybody. But, we did go out and beat them, and pretty soundly, but the initial move on the field was we were all thinking about Jack's welfare and unfortunately the cancer did do him in.
Mike Phipps:
Let me add to that one too. I do remember that. I hadn't thought about that one until you brought it up. Well, I was in the room of course, and I still remember them raising the gate. There was… Remember the chains climbing?
Don Kiepert:
Yeah.
Mike Phipps:
There he was. When it got to the point that I saw my offensive lineman on the floor crying, I mean it's, believe me, it was going on. I had to get out of there. I mean, I left because I had to keep cool, because we had a game coming up here. So, I got out of there. I mean, it was very, very emotional. You could tell we still feel it. Then we kicked off to them, we left our most in the locker room, they ran the ball back, remember? Almost 90 yards. But, they didn't score, but we regrouped. That was a great game, I remember that one.
Don Kiepert:
Yeah.
Mike Phipps:
Yeah.
Don Kiepert:
It was a good win for us. A lot of Coach Mollenkopf stories, I won't go into all of them, but he was a great, great coach, and he left a mark on me and Mike, I'm sure, and the rest of the teammates.
Kate Young:
Mike Phipps is a Purdue football legend. He received the Big Ten Medal of Honor in 1970 and was the recipient of one of the most prestigious international scholarships, the Rhode Scholarship. He was also the Heisman Trophy runner-up in 1969. Mike told us a story about seeing an old Boilermaker football photo resurface at one of the Naples weekend events, which featured his late teammate, Leroy Keith, and some special NASA astronauts.
Don Kiepert:
Mr. Purdue Football, that's what I would call.
Mike Phipps:
Yesterday, that he did that video of Leroy at the brunch, and there was one picture of Leroy, myself, Neil Armstrong, and I think it was Gene Cernan. Cernan? Yeah.
Don Kiepert:
Cernan, yeah.
Mike Phipps:
And Coach Mollenkopf. This was after the game, Texas A&M. We won 24 to 20. It was my first game was college, and I think back then, there I am shaking the hands with the first man that landed on the moon. I mean, really. That was a real special moment for me, and I had completely forgot about it.
Kate Young:
Mike turned down the chance to study at University of Oxford in the UK through the Rhode Scholarship and was selected by the Cleveland Browns with the third overall pick in the 1970 NFL draft. He went on to play 12 seasons in the NFL with the Browns from 1970 to 1976. Then with the Chicago Bears from 1977 to 1981. He ended his career with 10,506 passing yards, with 55 touchdown passes. Mike shares the pressures of being an NFL quarterback.
Mike Phipps:
Professional football is not what everyone thinks it is. They think it's a very glamorous position. You'd be the envy of everyone else. I can tell you that it's not that way. It's very pressure filled, it's hard work, and it's funny too because this has popped into my mind, when I retired, and I did it on my own because I just had lost the passion for it. You always get that question, you hear, "Do you miss it?" You know? It's like, "Do you miss it?" And somebody asked me that and I said, "You know?I was as happy or happier the day I retired than the day I first got drafted." And it's like he looked at me and said, "How can that be?" It's like, "You don't understand professional football, and the pressure that we are under," particularly the quarterback, I mean, it's like everybody sees what you do.
Kate Young:
As for Don, while he didn't go on to play professional football, he found distinguished meaningful success off the field with his Purdue pharmacy degree and later went on to create 12 healthcare companies. How did his Purdue education prepare him for life after graduation?
Don Kiepert:
I would talk about two things. Number one, being on a championship football team, probably that prepared me more for business than anything. Even more than my educational work. I mean, you, below the commitment, the preparation, the teamwork, all of those things are inherent to running a successful company. Knowing how to pull people together, develop the right strategy, not give up. As an entrepreneur, you can't give up. All of that gave me a foundation that was really important. Then the pharmacy school, and to this day it's still top five, I think. They instilled such a professionalism, an ethical commitment, because I've run a couple pharmaceutical companies and the ethics has always been there, and then the commitment to patient care.
So, with those two, I feel so committed to doing whatever I can to support Purdue, because they gave me the foundation for me to build a career off those, which has been great. I think I did talk about the foundation, championship team, and pharmacy school, I've been able to springboard those, leverage that, and been a successful entrepreneur in healthcare, and importantly, work on therapies and technology that really helps promote patient care, I mean, save lives. So, that basis has given me that skillset to be able to go out and make that happen.
Kate Young:
This interview was so memorable for myself and our This Is Purdue team, but I think my favorite part of this interview was watching these two friends rave about each other's successes. Mike and Don's friendship is simply friendship goals.
Mike Phipps:
Yeah, I mean, what can you say? Our experience at Purdue, both of us, it's hard to describe the results. What makes Purdue special? I think it attracts the people with a lot of character, and good people, when they walk away, they're much better, they're more developed, their enthusiastic tack of career here and there. This guy's done phenomenal. It's funny because he starts talking to me about the projects that he's doing and he gets into the scientific mode and he starts describing things to me. I think he's speaking in tongues as far as I'm concerned, but it's amazing. He's done well, I'm proud of him.
Don Kiepert:
Yeah, I was so proud of him. I mean, I really was proud of him, and I would go to some of the games with his wife, Carol would go with me, and it was an exciting thing to do. We've kept this great friendship. He's my best friend. We love each other and…
Mike Phipps:
You're going to make me cry.
Kate Young:
If you'd like to watch our full video interview with Mike and Don in Naples, head over to youtube.com/purdue. Trust me, you don't want to miss out on watching these two in action. Finally, we have Purdue University's Art and Connie Euler Women's Volleyball head coach, Dave Shondell. We were fortunate enough to go in depth with this longtime Purdue coach ahead of the 2022 volleyball season. Volleyball is truly an all in the family passion for the Shondells. Coach's dad, Don Shondell, coached the men's volleyball team at Ball State University for 34 years, and played a huge role in promoting the sport and developing coaches across the country. Both of Coach Shondell's brothers, Steve and John, and his son Kyle, also coach volleyball.
Coach Shondell, a two time Big Ten Coach of the Year, discussed his childhood, growing up immersed in the sport of volleyball, how it felt to coach an Olympic gold medalist, and what Boilermaker traits and training take his teams to victory, again and again and again. Coach Shondell joined the Boilermaker athletics family back in 2003. He reflects on his Purdue journey.
Dave Shondell:
It is a dream come true to be here at Purdue, to be from this state. Our family and so many of the friends that I have in the sport of volleyball have worked so hard to create something special in this state. We came here, my brother and Cathy Jewell and myself came here with the idea we were going to change that, and we're going to put Purdue where it belongs, and where a school, in this state where I'm from, really needs to be. With the help of a lot of high school coaches and club coaches in this state and the surrounding states, we've been able to do pretty well.
Kate Young:
Coach also shared how his first 10 years of coaching at Purdue University were different from the past 10 years.
Dave Shondell:
I think our name brand has improved dramatically, and I don't mean just volleyball, certainly it has in volleyball. When we got here in 2003, Purdue had finished last in the Big Ten, two years in a row. So, people weren't jumping at the chance to come play at Purdue. It took some time to turn that corner. I think one of the reasons that I was hired was because I had a lot of connections in high school and club volleyball. I was certainly in Indiana, in the Midwest. But, what's funny, Kate, is that the further away you get sometimes from Purdue, the more respect people have for the university. That name brand is really impressive.
Further away, I think that here in the state there's some animosity between other schools and other places, and sometimes that brings down who you really are. It's such a great place and I just feel like, right now, the university… I give Mitch Daniels a lot of credit for, I think, being aggressive and being assertive in how he operates. I think, Mike Bobinski… Morgan Burke did a phenomenal job in so many ways, but Mike was the right guy at the right time to come in and take us to a new level, and I hope that people across the state and across America in the world see us a little bit differently now than they might have 10, 15 years ago.
Kate Young:
Annie Drews played volleyball for Purdue under Coach Shondell, and later went on to win a gold medal with Team USA, in the Tokyo 2020 Olympic Games. Coach Shondell opens up about what her Olympic gold medal win meant to him as a coach. How did you feel as a former coach of hers watching her on that Olympic stage?
Dave Shondell:
It was one of the greatest moments of my life. You work so hard to build a program that people can be proud of and respect, and to see the United States win their first gold medal in the sport of volleyball for women, and to have the player that led them to that championship, to that gold medal, be the person that trained in this gym, it was pretty special.
Kate Young:
That right there was one of my favorite moments from that interview. Why does Coach Shondell think Purdue was unique? For him, it's all about the people.
Dave Shondell:
It's unique in a lot of ways in comparison to a lot of the Big Ten schools. There aren't many Big Ten schools that don't have a state name. I think state name brings instant credibility, instant identification to a university. If you're Purdue, or Northwestern, or Rutgers, and I think are the three in our league that don't have a state name. First of all, you have to let people know where you are, and I think once they understand that, it's different. I think when we recruit players to Purdue, the one thing that is so impressive is, number one, our facilities are great here, but more impressed than that are the people. So, when we recruit people, we want them to meet as many people as they can on this campus, because it's different.
When I got here in 2003, been here for about three or four months, and you may be too young for this, I thought I was in Mayberry, and Mayberry for some of the youngsters out there is where The Andy Griffith Show was filmed, and everybody was just incredibly nice all the time, and was so laid back, and I just felt like that's where I was. I loved that culture. From where I was before raising a family and three or four different jobs, running all over the place and trying to be the best what I could, all those things, I came to a place where I had one job, and that was to build this program and everybody was trying the best they could to help that happen, and there was just this feeling around here, "Let's do whatever we can to help each other." And so I think that's also really unique.
Like you mentioned, Jeff Brohm cares about what goes on, he comes to these matches. Matt Painter comes to these matches, Katie Gearlds comes to these matches, Dan Ross comes to these matches, and we go watch their teams. I think that happens at other places, but I think that's what's unique. The people are what make Purdue different, and that's why I want to show them, our recruits, as many people as possible, and let them talk to the people here at Purdue. Myself, our staff, my family, we're all so happy that we're here at Purdue, I think you probably sensed that by now.
Kate Young:
Purdue is incredibly lucky to have such an experienced yet humble coach, like Dave Shondell. But, what is his secret to success? You've had two Elite Eight appearances the past two years, that's super exciting. What makes this team different, I guess, than previous teams? What's that special sauce?
Dave Shondell:
No special sauce, I don't think there's a special sauce. There's a lot of hard work that goes into it. In the case of the last couple of years, some great competitors. That's the one, if there's a special sauce, it's how do you find young women that want to compete like crazy, and want to commit themselves to a cause? They haven't all grown up that way. Some come from programs where that's been ingrained. Others come from programs where they've never even won, they've never been asked to work very hard, they've been such great athletes, they can do whatever they want to do, and then they come to a Big Ten, which is the best conference for college women in the world, for volleyball, and they can't be that same way.
Even if they came from a great program and they've learned how to work their tail off, and to be committed and dedicated and put the time in, it has to be better now, because when you're competing against Nebraska, Wisconsin, Penn State, Minnesota, on down the line, you have to do more. If you're at Purdue, you've got to do more, that's kind of been the theory. You go back to Joe Tiller, to Gene Keady, all the way back, that's what they discovered when they were here. They had to do it differently, and they had to do it better, and they had to do more, to get where they wanted to go.
Kate Young:
At the end of November, the Purdue volleyball team was ranked in the top 20 in the country. By the way, if you haven't seen Purdue's volleyball commercial featuring middle blocker Raven Colvin, you can check it out on Purdue's YouTube channel. It's a great story on persistence with a special appearance from Coach Shondell, and Raven's dad, Roosevelt Colvin, a Big Ten analyst, former Purdue football star, and Super Bowl champion.
Be sure to tune in to part two of our Greatest Hits of 2022 episode on Thursday, December 22nd. You'll hear from more Boilermakers like Indie 500 winner, Angela Ashmore, NASA flight director, Ronak Dave, and Purdue Board of Trustees member, Shawn Taylor. We want to hear from you what was your favorite This Is Purdue episode in the past year. Share a review on Apple Podcasts, or tag us on social media. @LifeAtPurdue. And use the #ThisIsPurdue.
Thanks for listening to This Is Purdue. For more information on this episode, visit our website at purdue.edu/podcast. There you can head over to your favorite podcast app to subscribe and leave us a review. As always, Boiler Up.