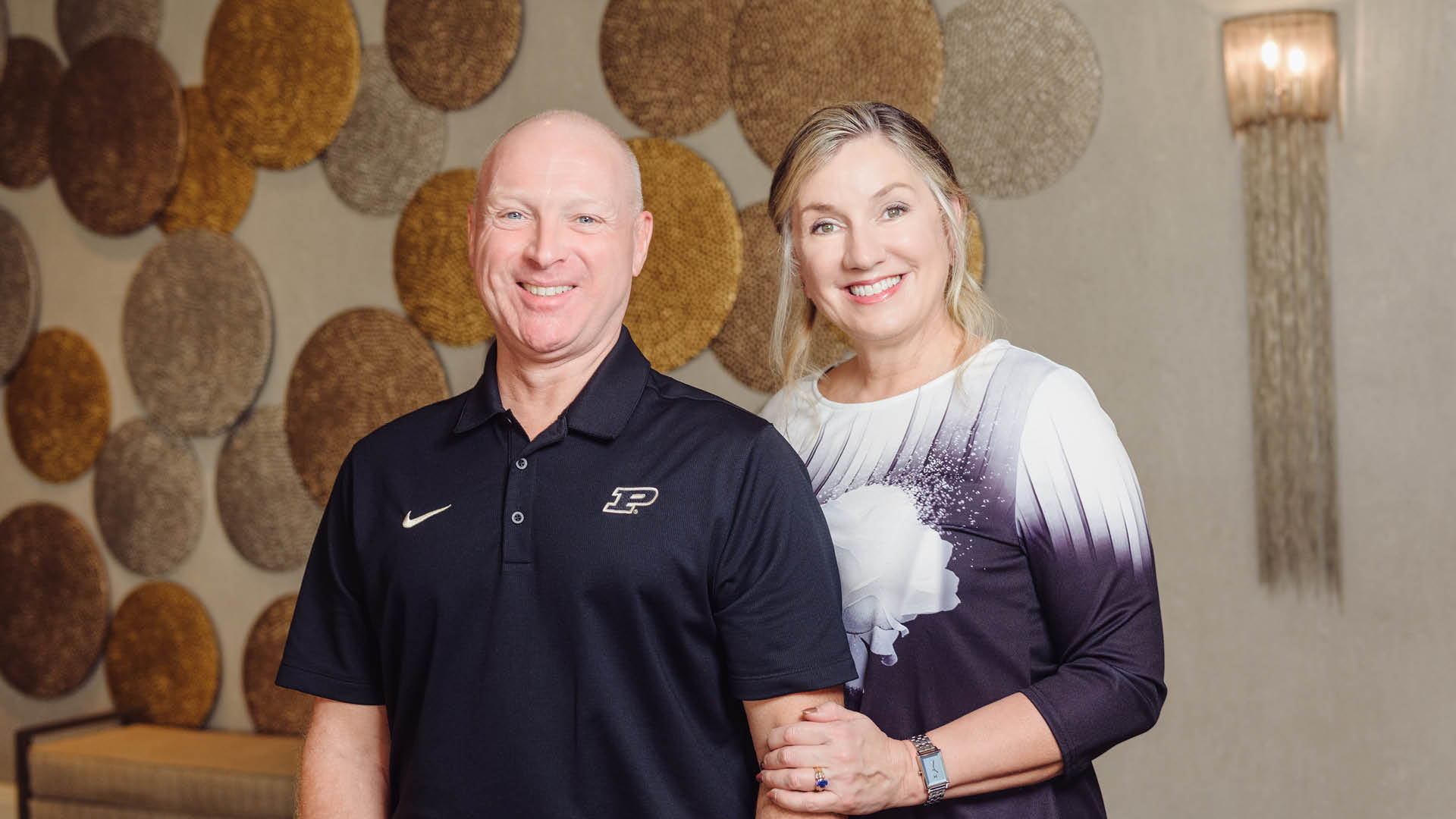 In this episode of "This Is Purdue," we're talking to Dave and Donna Beering, proud alumni and son and daughter-in-law of Dr. Steven C. Beering, former Purdue president.
If you're a Boilermaker, you've likely heard the name "Beering" or possibly taken a class or two inside Beering Hall. But in this special interview, you'll get to know the Beering family on a more personal level, including stories about Dr. Beering's time as a physician in the Air Force and how Dave, then a Purdue student, found out his dad was named the next university president. Dave (BS electrical engineering '85, MS electrical engineering '87) reminisces about his dad telling him, "The name 'Beering' will appear on your diploma twice."
Plus, Dave's wife, Donna (BS aviation technology '86), reflects on meeting Dave at the Purdue University Airport, performing as a Purduette through Purdue Musical Organizations, flying iconic Boilermakers like Gene Keady to games as an aviation student, and serving as a captain for United Airlines for more than 20 years.
You don't want to miss this episode full of Boilermaker spirit and nostalgia!
Full Podcast Episode Transcript
Kate Young:
Hi, I'm Kate Young, and you are listening to This is Purdue, the official podcast for Purdue University.
As a Purdue alum and Indiana native, I know firsthand about the family of students and professors who are in it together, persistently pursuing and relentlessly rethinking who are the next game-changers, difference-makers, ceiling-breakers, innovators? Who are these Boilermakers? Join me as we feature students, faculty and alumni taking small steps toward their giant leaps and inspiring others to do the same.
Dave Beering:
Purdue just wraps its arms around you and I don't think that has anything to do with our last name. I think it has to do with what Purdue's all about. My dad always used to refer to Purdue as a family and it feels like home.
Kate Young:
So if you are a Boilermaker, you've likely heard the name Beering or possibly taken a class or two inside Beering Hall, and in our latest This is Purdue episode, we're talking to Dave and Donna Beering, proud Purdue alumni and son and daughter-in-law of Dr. Steven C. Beering, former Purdue President.
Under the late President Beering's leadership, Purdue expanded its international efforts, grew its liberal arts programs, promoted diversity, greened and beautified the campus, added 20 major buildings, and took fundraising to new levels just to name a few things.
Dr. Beering called alumni, students, faculty, staff, and friends, "The Purdue family," a theme we've explored on this podcast again and again and again.
In this special episode, you'll hear personal stories about the Beering family, including how Dave, who was already a Purdue student at the time, found out his dad was named the next president of the university.
All right, so here we go. This episode is full of Boilermaker spirit and nostalgia.
Dave and Donna Beering, thank you so much for joining us on This is Purdue. We're so excited to talk to you both. Let's kick things off with your Purdue journeys. What is the earliest memory of Purdue for each of you?
Dave Beering:
My earliest memory was a friend of mine, a dear friend of the family, went to Purdue to study industrial management. He was in my older brother's class who was two years ahead of me, and I had an opportunity to visit the campus. At this point, I was a junior in high school.
Donna Beering:
Well, I would have to say my earliest memory and one of my fondest was the first day of class and the girls came back to the dorm and we were having conversations of what we did that day and I had my first lab class in the sky because I took flight lessons, and everyone else was talking about their classroom experiences and their teachers and I went flying over Purdue.
Kate Young:
So day one, you were already flying?
Donna Beering:
Day one.
Kate Young:
Wow.
Donna, who has worked for United Airlines for more than 34 years and has been a captain for the airline for over two decades, shares more about her Purdue journey and becoming a pilot.
Donna Beering:
Coming to Purdue was an easy choice for me. I was mostly raised in Richmond, Indiana, and it was good that we were in Indiana. I would've chosen Purdue in hindsight, if I could have chosen anywhere in the country, but I was limited to Indiana for finances and all. And so I felt very fortunate that Purdue existed in Indiana and I was able to come here for flight.
So the journey was pretty quick. I loved what I did. I loved I from the first day I flew, I stayed in it for four years, and the flight program is well-laid out, well-structured. We become flight instructors the second two years, so I had a chance to enjoy sharing the knowledge and teaching it back to others. The journey was very straightforward and it was very well-structured. Loved the life that I had there. And then went into flying. I got my first job at the Purdue Airport outside of graduation, was there for two years, and moved pretty quickly to the airlines at the age of 24.
Kate Young:
Similar to his wife, Dave has a passion for flying as well. The two walk us through the story of how they met.
Donna Beering:
Well, we almost met three times before we met, two Christmas shows and one fraternity party. We'll just leave that.
Dave Beering:
Yeah. Donna was in the Purduettes and I was in the bands and I had an opportunity to play in the Christmas Show Orchestra, PMO, a couple of times, and we were literally feet apart, never met. And the first time we met was at the Purdue Airport.
So during the summer between my two years of my graduate degree, I decided that it would be interesting to take flying lessons. I learned that Purdue's program opened up to non-majors in the summertime, so I talked to my parents into letting me take flying lessons. And it was my very first day at the airport and Donna was working next door for the fixed-base operator at the airport, and they provided all the fuel for Purdue's airplanes. So Donna would come over several times a day to bring fuel receipts-
Donna Beering:
Back when we used paper.
Dave Beering:
Yeah, back before those things would've been transmitted electronically, but so she came bubbling in and I was sitting there waiting for my flight instructor to show up and she-
Donna Beering:
He was not bubbly.
Dave Beering:
She was not bubbly.
Donna Beering:
Yeah, you were not bubbly.
Dave Beering:
Well, and she wasn't bubbly either, although she was absolutely exceptional. So Donna comes in and she sees me sitting there and I was reading the thing that people would read if they wanted to buy an airplane called a Trade-A-Plane, and she said, "Are you going to buy a plane?" And here I've got my very first log book and all of that stuff in my lap, just basically making fun of me.
Donna Beering:
And I got a date!
Kate Young:
So many Boilermakers have family ties to Purdue, but for Dave, well, his story is quite unique. As I mentioned earlier, when Dave was already a student here at Purdue, his dad, Dr. Steven Beering, was chosen by the Board of Trustees as the next president of the university. Dave Reminisces on the moment his parents told him the news.
Dave Beering:
Well, it's a really interesting story because I grew up in Indianapolis on the north side, went to Indianapolis Brebeuf Prep, and at the time I was in Indianapolis, my father was the Dean of Medicine at Indiana University. My older brother went to IU and there was cream and crimson everywhere in our family. I was very interested in music and an avid trumpet player. Had I gone to Indiana, my goal would've been to study music there. I got talked out of that by a music professor at Indiana who saw my SAT scores and said, "Dude, you ought to be studying engineering."
So in the freshman year, it was the fall of 1980, I started at Purdue as a freshman in electrical engineering. My father came up in '83. So what was fascinating about that was I was actually there three years before he was, so I get that question a lot. "Oh, well, did they make you go to Purdue?" No, actually I chose Purdue, and thankfully, Purdue chose him.
But it was an amazing experience. It was an environment full of inspiration. When I learned that he was going to come up to Purdue with my mom, I made the decision to move home. So I lived in Westwood for three years for the end of my undergrad and then two years into grad school. Everywhere you look, there was amazing stuff going on and I had a front-row seat to all of the passion and the excellence of Purdue, so it definitely rubbed off.
Kate Young:
Walk us through the moment that your parents said, "Hey, we're actually coming to Purdue."
Dave Beering:
That's actually another funny story. A lot of my friends know this story. I was living at Triangle Fraternity at the time, and my mom and dad had met with the trustees, and they had made the offer and he accepted. And they came to the fraternity house and my dad came into the front hallway, and he had a very dry sense of humor, and this was no exception to that. He reached out his hand, shook my hand and said, "The name Beering will appear on your diploma twice."
So that's how I found out. I knew he was under consideration and was sworn into secrecy on all of that of course, but it was a very exciting moment.
Kate Young:
Dr. Beering served as Purdue's President for 18 years from 1983 to 2000. He passed away in April of 2020 and was buried on Slater Hill next to his beloved wife, Jane Beering, who passed away in 2015.
As Purdue's First Lady, Dave's mother Jane was not only the university's hostess, but she also took photographs at almost every event at Westwood Manor and she had a true passion for music. According to several Purdue articles commemorating the Beering's time as president and First Lady, Dr. Beering said that on the day he arrived on campus to be announced as the next president, it was cold and cloudy, but as he and Jane were walking, the biggest rainbow they had ever seen appeared over Purdue. The couple took it as a good omen of what was to come.
Dave shares more about his parents who truly embodied the Boilermaker spirit.
Dave Beering:
The thing to talk about my mom and I felt very inspired by her music. Her father was a musician and was a concert cellist as a matter of fact. She was trained as a concert pianist. She could have gone into a career as a professional pianist. She elected to stay at home and raise three children. She was brilliant. She had all of the major piano works memorized, incredible musician, and a very thoughtful, artistic person.
A lot of people, as a matter of fact, I think it was my father's retirement was the first time that my mother ever played a keyboard in public. And she played at that ceremony. Everyone was looking around like, "Oh my gosh, I knew she played the piano," but she was a brilliant, brilliant musician.
I think for me, the inspiration of that rubbed off. She sort of drilled it into me early on, "This is a gift and you got the gift, don't waste it. You need to share it."
Donna Beering:
We're very pleased that when his parents decided to move into an apartment, the assisted living kind of thing, that they downsized and she had a 1973 7.5′ Steinway, and that is now in our home. And it's a beautiful instrument. We are very proud to have that at our house.
Dave Beering:
We've actually put that to pretty good use as well. We've partnered with Purdue Convos and we've done an event at the home already, and we want that instrument to be something that people share and that they appreciate and enjoy as well. That's probably the memory on my mom.
My dad, so many things to think about, but I think one of the key ones, and some of the people who were close to him knew some of these stories, but he read four newspapers every day. He was a voracious reader. There was always a stack of books and he read them all. He was a very fast reader and was able to accumulate information very rapidly. He gained a very strong sense of what was going on based on all of his reading. He had an immense vocabulary and could speak on anything extemporaneously, just absolutely, give him the topic, didn't need notes. Rarely used notes when he spoke in public.
I think for me, my memory of him is just how hard he worked. People could tell that he wasn't from the United States, but they couldn't peg his accent. He worked so hard to assimilate into the US culture and he didn't want to carry around an accent. That was a really, really big commitment on his part.
But the other thing that people might not know about him is he was a physician, he was in the Air Force, and he was based at Lackland Air Force Base in San Antonio. That's where I was born and my two brothers as well. He was one of the flight surgeons for the original seven astronauts. He knew them all personally, and he had stories about every single one of them. So sadly, we didn't get a lot of that documented before his health started to fail, but we have a lot of photographic documentation of that that's absolutely priceless for the family.
Kate Young:
Did any of those ties to NASA and the astronauts lead him to Purdue?
Dave Beering:
I think the ties to the astronauts didn't necessarily, but he was an internal medicine specialist. I think he had a really tough choice to make. In 1969, he was Lieutenant Colonel in the Air Force. He had been promoted way below the zone every single time. He was one of the youngest O-5s in the Air Force, and he absolutely was on track to be one of the most-senior Air Force people. And he decided to pursue a career in academic medicine and left the Air Force and came to Indiana as Assistant Dean of Medicine and Professor of Medicine at IU.
And I don't think he ever looked back. He had a remarkable career there. And literally as you look at his career, which has been very well-documented, but it was remarkable, everything about him.
Donna Beering:
And they're wonderful grandparents. They were wonderful grandparents. Our nephew put it best that when they named Beering Hall, they called it, "Grandpa Hall."
Kate Young:
Aw, that's so sweet.
And speaking of Grandpa Hall, Dr. Beering valued classical education and believes a well-rounded student should also embrace the arts, literature, and history. That's why he was especially proud to have the Beering Hall of Liberal Arts and Education named after him.
Okay, so for many people, it would probably be pretty intimidating to go hang out with your boyfriend's parents who also happened to be your university's President and First Lady. Well, for Donna, she had a little something up her sleeve that Dave didn't know about. This special story about Donna's relationship with the Beerings has quite the twist.
So Donna, was it intimidating for you to go over to Westwood and hang out?
Donna Beering:
Well, what most people don't realize-
Dave Beering:
This is a funny story.
Donna Beering:
… is that because I was in the Purduettes and flying as well, what we did our last two years in the aviation program was Purdue had a couple of King airplanes, twin turboprop airplanes, and the students would fly as copilots and we would fly the VIP of Purdue around the state, sometimes to Washington DC, sometimes up to O'Hare to catch a flight. So I flew Gene Keady around, which that was fun, but I also flew his mother and father. And the Purduettes went on tour with them down here to Naples for all of this my senior year.
So I toured with them and whenever the Beerings got on the bus with the Purduettes, he knew me because I flew him and he said, "Well, I'm going to sit next to my copilot." So we sat there and chatted and Commencement came, and little did I know, my father-in-law's signature is on my diploma.
And when we first met, I don't know where he got this kind of confidence, but before we went to see a movie, which our first date was Ferris Bueller's Day Off, which of course is iconic and everyone knows that movie, we were going to have dinner. And he just logically, "Well, mom and dad are cooking steaks on the grill. Why don't we just go?" So we went on our first date to his house to say hello to his mom and dad, and they said nothing about knowing me and I said nothing about knowing them. So when I walked in the door, it was hugs and, "How have you been?" And he just stared and looked at us, "What happened?"
Dave Beering:
What's going on?
Donna Beering:
So it was actually quite easy because I'd already known them for two years.
Kate Young:
What were you thinking when that exchange was happening?
Donna Beering:
He'd been played.
Dave Beering:
Yeah, it's life deals you funny situations and that was one of them. That reminds me, if I don't mention this, I think it'll probably not be brought up. One of my other favorite moments, speaking of us and my parents, this was after we had both graduated and were back in town and it's a football weekend I think, and for some reason, there wasn't a later event at Westwood. I think it was an early game, but it's about 10 o'clock at night or nine and o'clock and-
Donna Beering:
Oh, you're not going to go there. Oh.
Dave Beering:
Yeah, Donna and I-
Donna Beering:
I just realized what he's going to say.
Dave Beering:
Donna and I went and got our coats. We decided we were going to go over to Harry's. My dad looks-
Donna Beering:
Well, your brother joined us then, John.
Dave Beering:
Yeah, my younger brother was there. And, "Oh, where are you guys going?" "Oh, we're going to Harry's." "Oh, yeah, hold on. I'll get my coat."
And then my dad sees this commotion and says, "What are you guys doing? You guys look like you're all leaving. Where are you going?" "Oh, we're going to Harry's." "Oh, hold on, I'll get my coat." And then my mom, of course, joins in the fun.
And so the six of us saunter over to Harry's. I think that was the only time my dad was ever there, but it was like a Saturday night at 10 o'clock and he walks in with us and the whole place went dead silent.
Donna Beering:
You know how loud Harry's is?
Kate Young:
Yes!
Donna Beering:
And the whole place went, "He's here!"
Dave Beering:
"He's here!"
Donna Beering:
"He's here!"
Dave Beering:
Anyway, it was just one of those absolutely remarkable moments that could only happen in that setting.
Kate Young:
What did your dad do?
Dave Beering:
You know, he ended up talking to some students.
Donna Beering:
Some very drunk students.
Dave Beering:
Some very drunk students. My favorite recollection of that evening was a young man who was, I think he was a junior or senior in aeronautical and astronautical engineering, came up and introduced himself. "Hi, Dr. Beering, I'm so-and-so." My dad, without missing a beat, said, "So what do you do when you're not drunk?"
Kate Young:
Did it catch the kid off-guard?
Donna Beering:
No! He didn't miss a beat in anything he said.
Dave Beering:
No, he didn't miss a beat. He just went right in on himself.
Donna Beering:
"Well, I'm in aero engineering."
Kate Young:
That's incredible.
Wow. What a memory to look back on. See? When I told you we'd hear some personal stories about the former president of Purdue, I really meant it.
Between Dave's time as an electrical engineering student and Donna's time as an aviation student, plus all of their extracurricular activities, these two had to balance a lot during their Purdue careers. The two share more about how student organizations and their passion for music helped propel them through their student journeys.
Dave Beering:
Well, for me, my big activity outside of academics before aviation was really music. I played in the jazz program. I didn't march, but I was very involved with the bands so that was a big extracurricular for me. And then of course, the music brought a lot of additional opportunities like playing in the Christmas Show Orchestra, et cetera.
And then once aviation was a thing, it became a passion of mine and my flight instructor, who was very influential in my interest in aviation, suggested that I stay on in the program through the next year and go ahead and get the rest of my certificates. So on top of the second year of my master's degree, I got nearly an associate's degree in aviation all the way through the commercial instrument and multi-engine ratings. And so that was something that Donna and I had very strongly in common and was really, really helpful as far as being able to combine some of our interests.
Donna Beering:
And while at school, I was pretty much totally academics for the first year, first two years, and then I had the opportunity to join the Purduettes with PMO. And most people would think that with the schedule that we were holding where we were performing two to three weekends every single month, in rehearsals during the day, that that would take up a lot of time, which it did. But my GPA actually went up.
Kate Young:
Oh, wow!
Donna Beering:
So I don't think I put much thought into trying to organize and balance. I don't think many 17, 18, 19 year olds think about it. But the truth is, if you have that and you're doing what you love, procrastination falls to the wayside because you have to do what you have to do, especially if you want to stay in those groups and maintain a certain GPA. So you do what you have to do, and grades actually got better, friendships got better, everything got better once I was able to start doing something and find a reason to bleed black and gold.
Kate Young:
That's amazing.
And speaking of Purdue musical organizations, Donna says some of her favorite memories from her time at Purdue we're rehearsing and performing at the annual Purdue Christmas Show with the Purduettes,
Donna Beering:
Those moments where we were able to take the stress of finals week, which back then, we did not have dead week. And nowadays, Christmas Show happens and you have dead week and finals. Well, we were running six shows right up against the beginning of finals. One might think that that would be a little bit stressful. It was, but we were together. We had the release of singing beautiful music. We would study between our performances. The audience did not know most of us were up there with our backpacks and trying to study. But it just made that whole time seem a lot less stressful. You felt together, you had the release of the music, and then you went into finals week. And as I said before, my grades actually went up.
But I just loved being there at the Christmas Show, the families, the music, the time together. I'll never forget it.
Kate Young:
And if you're looking for some great holiday family entertainment, PMO is celebrating 90 years of the Purdue Christmas Show this year. Performances kickoff in early December and we'll include the link to learn more about this special Christmas Show in our episode show notes.
As for Dave, he said one of his favorite memories as a Purdue student was an inspiring turning point that happened after talking to a mechanical engineering graduate and NASA astronaut.
Dave Beering:
I think when you look back, I mean especially the time when my parents were here, it was just full of fascinating stories.
One of my favorite moments was with one of the Purdue astronauts, and I recount this occasionally. I have an opportunity to speak with groups of students. It's one of the things that I think was a very big impact in my life. This was Don Williams. He's passed now. He was a mechanical engineering graduate, was a shuttle astronaut, and he was, among other things, he was an Navy test pilot and certified the carrier landing system so he had 1,000 carrier landings or something like that, but really an inspirational person.
And I sat with him one day and I asked him, "If I wanted to be an astronaut, what would you suggest I do?" And he said, "Well, you've got the STEM degrees checked off." He said, "I'll tell you the same thing I tell students in high school or grade school even who ask me this question." He said, "Think about it. It sounds a little trite. Choose something you really want to do, be the best there is," and the corollary to that that I think about all the time is it's really hard to be lousy at something you love.
That was, I think, a turning point and one of the supercharging inspirational moments for me at Purdue. And of course, being in the midst of Purdue in those years was just constant inspiration.
Kate Young:
And how did Purdue tee up both Dave and Donna for success in their current careers?
Dave Beering:
I think first and foremost, you learn a work ethic at Purdue. One of the things that I think about synonymously with Purdue is Purdue people do their research and they show up and they follow up. It seems pretty simple, but there's a lot of that that's lacking in the real world. I think the work ethic and the show-up and follow-up were really the key things for me.
And of course, I'm just reminded of one of my other favorite Purdue moments, so if I can backtrack into that previous question. Freshman Day on campus, it was July of 1980, and I went to a high school where my entire high school was 600 people. So they put all the incoming freshman engineers in W129. You could fit my whole high school in this room, right? So a little intimidating. Professor Leroy Barany, who was an industrial engineering professor, was the one who was giving the intros and the welcome to the day.
And so part of that, he put a foil on the overhead projector that had this statistical distribution of all the SAT scores of incoming freshmen in engineering across the country. And there was a line at 1,100 and he said, "This is the average incoming freshmen in engineering at Purdue, 1,100." Then he looked down below and he said, "All these people here, they're the ones who made you look good in high school." And everybody chuckled. He looks up and he said, "They're not coming to Purdue." And everyone got really sober like, "Holy cow, we are in a gene pool that's unique."
So to be studying and immersed in that group of people and hearing all the time that Purdue's engineering programs and Purdue's science programs and agriculture and health and human sciences and all of the key areas that Purdue excels, they're increasing in their capability and they're increasing in the quality of the applicants, which is amazing. So that plays forward to today, and it's sort of hard to replace that.
Donna Beering:
And I would say moving outside of Purdue, graduating, one of the ways that I now know that Purdue prepared me was when people ask, "Where did you go to school," when you're flying and I said, "Purdue," and you see them… It's like you said, Harvard Med School, and they're going, "Oh." And that's all based on the alumni that came before me. There's been a legacy set up from Purdue, and I now know that I'm part of that legacy for others, but it has been outstanding to have instant respect and notoriety just for where you went to school.
But I do feel the responsibility of carrying that on as a professional now because I wouldn't want to do anything to mar that legacy.
Kate Young:
According to a 2023 statistic from Airways Magazine, only around 5% of commercial pilots in the United States are women and women captains are even more rare. I asked Donna what advice she gives aspiring female pilots in this male-dominated field.
Donna Beering:
Well, I try to make sure that people understand that I'm not blind to the discrimination or the male-dominated field. That being said, back to what Dave had mentioned before, the best thing that you can do is do something you love and be the best at it. You don't want to ever feel like you're relying on yourself as a woman to be getting the job. No one ever goes to a doctor because they're a woman. They go to a doctor because they're the best.
I am fine with being inspirational to young girls. I'm happy to be a mentor. I do that on a regular basis. I love doing that. That being said, when people who are my age are happy to have a woman pilot, I always remind them, you should be happier that your pilot's a Boilermaker.
Kate Young:
That's a quote right there.
Donna Beering:
Yes.
Kate Young:
Okay. That is one of the best quotes on This is Purdue yet. As for additional advice Dave and Donna would give current Purdue students?
Donna Beering:
Put the phone down, stop texting, and talk to people.
Kate Young:
That's the first time we've heard that answer and I love it.
Donna Beering:
Yeah. Purdue is a lot about relationships. I think being a good legacy, being an alumni, coming out as a student and being able to take advantage of that, it's about relationships and you've got to talk to people, especially if they're our age. We didn't grow up with the phone in our hands. We like to communicate with people. And if you want to get ahead, I think building those relationships one-to-one talking to people is the way to do it.
Dave Beering:
Just to piggyback on that, I think a lot of people might ask, "Well, how do I do that?" One of the things that I did and Donna was quite involved with, especially after we got married, I got involved with my local alumni club and ended up going through the chairs and was a leader in my local alumni club. Then I served on the Alumni Association's Board of Directors and then on the Purdue Alumni Foundation Board and that gave me immense opportunities to meet lots and lots of people.
And like Donna said, this is all high-intensity interaction. It's frequent. And through those interactions, we developed a lot of very high-trust relationships. And those relationships are hard to do through a text message or through Zoom or WebEx.
That's one of the things that I think is really tragic about what happened with the pandemic because it forced everyone into this mode where they weren't face-to-face. And it's one of the things that I'm currently doing as a member of the community. I host a happy hour every Tuesday night called the Hypersonic Happy Hour. And it started out with just five or six of us and started three years ago. It ran every week through the pandemic. And oftentimes, that was the only opportunity for the people who participated to see people face-to-face. And we didn't realize how important it was until we came out of the pandemic, and it's just accelerated.
Now our mailing list is like 65, 70 people. We host people from out of town all the time, from the government, from national laboratories, from companies that are looking to come to Purdue to put people… It's the power of relationships and people really enjoy that face-to-face interaction.
Kate Young:
Dave explains more about these Hypersonic Happy Hours.
Dave Beering:
So there's no structure to it, there's no real membership to it. It's basically a group of people who enjoy each other's company, and it's sort of self-selected. So if we find someone that we'd like to get to know or they get introduced to us by someone else, "Hey, why don't you come to the happy hour?" And sometimes people bounce off and, "Oh, that was interesting," maybe once. But sometimes you end up with these really intense relationships.
And one of the things that's come out of this is an interesting outcome. Like I said, there's no structure, but it gives you an opportunity to see, especially for people who come in from out of town. Sandia National Laboratories comes to Purdue, they're going to have a meeting on Wednesday, and they come to the happy hour on Tuesday night. All the people that they're going to meet on Wednesday, they already met the night before. So they've already broken the ice, and that allows them to have a much more productive conversation.
We've got collaborative research opportunities that have come out this, it's just crazy.
So the value of that community is meaningful, not just to the community, but to those who are looking at the community and want to engage.
Kate Young:
And speaking of being part of a community, what would Dave and Donna tell their younger selves looking back?
Donna Beering:
Get out of bed, go do something, participate. I came from a small-town environment. My parents went to seminary, so they were not really used to academia at large. So when I came to Purdue, I was overwhelmed initially, probably shouldn't have been as overwhelmed as I felt to just be there and to attend class. I didn't sign up or join the Purduettes until my junior year, but it was only because I didn't know that they existed and I didn't know what I didn't know. I didn't know to look for them.
So I would go back and try to tell my young self, especially when you go to a large university, you need to find that small group right away. And PMO was 250, 300 strong, and some people might not call that a small group, but the Purduettes were 40 and that is. And I think I would just, again, want to tell my younger self, "Make sure you find a way to bleed black and gold by the time you leave," because that's going to be your core.
Dave Beering:
And I agree with everything Donna just said. I think you've got to find a place that you feel comfortable and where you belong.
Donna Beering:
And happy.
Dave Beering:
Yeah, there are are 100… I don't know. More than 100. Thousands probably of organizations and places and clubs and things that you could get involved with. And I think just to do the research, figure out what you want to do and what's important to you, and what kinds of things you'd like to do in your spare time.
So as I look back at my 20-year-old self, I would say, "Get busy figuring that out," because I was sort of in the same boat she was in. Came to campus, didn't really know anything about anything. I didn't even know there was a jazz program. Here I am excited about playing the trumpet. I knew there was a marching band; I didn't know anything about the jazz program. So do a little research and figure that out.
Kate Young:
Now, many things on Purdue's campus have changed and grown throughout the past few decades, but what does the history behind some of these iconic Purdue buildings like Elliot Hall and the Bell Tower mean to Dave and Donna as alumni?
Dave also shares a story about the bricks from the former smokestack, which was an iconic piece of Purdue's campus from the 1920s to the early 1990s.
Donna Beering:
Elliott Hall is the building that one would think that it would be the airport, and there has been a lot of change. The airport has changed quite a bit, but Elliot Hall was where we started. Elliot Hall was where we tested. Elliot Hall is where we sang in the Christmas Show, and eventually, that's where we commenced. So Elliot Hall has that special place. I hope they never take that building down. But as you said, so much has changed, but that's exciting.
Dave Beering:
I think some of the iconic structures at Purdue, like the Bell Tower, before there was the Bell Tower, there was a smokestack, and that's-
Donna Beering:
That's how old we are.
Dave Beering:
Yes. We remember the smokestack. And one of the things that was really interesting and sort of bonded me to a lot of dear friends in the band organizations is one day I was walking around, they were knocking 10 feet off the top of the smokestack and retuckpointing it. I was talking to a couple friends of mine. I said, "What do you think they're doing with those bricks?" "We don't know."
So I went home and I talked to my dad. I said, "How do I find out what's going on with those bricks that they're taking off the smokestack?" He said, "Why do you care?" And I said, "I don't know. I think we should be able to use those for something. I mean, it's such an iconic structure."
Long and the short of it, they hooked me up with the Physical Facilities folks, and I figured out that we could grab all those bricks and worked with the Department of Bands, and we did a fundraiser where we had the bricks mounted on a little plaque with a placard that was a piece of John Mayfield's prose called, "The University," and we provided those as tokens for donations to the bands. We raised $40,000 for the Band Department and they bought new Sousaphones.
And so even the old icons, they were paying it forward, but the Clock Tower is a much more fitting icon than the smokestack, although I think a lot of people regretted when it came down because it had been there for so long.
The other interesting story I remember is when the trustees decided that they approved the building of the Material Sciences and Electrical Engineering building, and MSEE was, prior to that, that area, that spot where that building is, was the middle of the mall. And you drive down Northwestern Avenue and you could see Hovde, and it was a beautiful picture. It's a gorgeous mall. The alumni were up in arms. "What do you mean you're going to put a building? You're going to block the view of Hovde."
So they redesigned the building with the big atrium and all the glass. And so when you drive down Northwestern Avenue, you can look right through the building and see Hovde Hall, and that was in response to the fact that and in a recognition that that's an important view for everybody.
Kate Young:
Oh, those are amazing stories. Now, you said you talked to your dad about the bricks. Would you go to him often and say, "Hey, this is a problem. That's a problem"? Would your friends approach him? How did that work?
Dave Beering:
No, I think I was pretty careful to keep my asks within bounds of what would a student organizations ask for? But I do remember when he first came to Purdue, I was living at home and everything was brand new to him. He didn't know any student organizations. He didn't know housing units. He didn't know structures and directions and things. And so he and I got very close at that time because I spent a lot of time with him walking him around, talking to him about things. At dinner time, he'd come home and say, "Hey, I heard from the student organization. What do you know about them?"
And so I was a little bit of his recon for that first transition time, and just looking at every new president who came to campus went through that exact same process.
Kate Young:
Following Dr. Beering's retirement in 2000, Dave, Donna and the rest of the Beering family have carried on Boilermaker traditions, like going to see the Purdue Christmas Show each year and attending many Purdue Athletics games. And most of Steven and Jane Baron's grandchildren attended Purdue. In fact, Dave and Donna's son, also named Steve, followed in his parents' footsteps and graduated from Purdue in 2021 with an industrial engineering degree. So after all these years, what role has Purdue played in Dave and Donna's lives?
It's a big question.
Donna Beering:
What role has it not had?
Dave Beering:
Yeah, I think it's-
Donna Beering:
Is the shorter list.
Dave Beering:
Yeah. At this point, it's probably just woven into our DNA. It's hard to imagine a world… I mean, I just think about a world without Purdue in it would be a much less interesting place. We have been so affected by Purdue in so many ways that I think it's basically in our DNA.
Donna Beering:
One thing I would say that is sad, but it's not something everyone can do, is I had a second chance at Purdue. I went there as a student obviously. Joining Purdue, it's allowed me to have that opportunity to be an ambassador, which I think is also very important to come out as an alumni, being able to bleed the black and gold, but I had the opportunity to come back as a member of the Beering family and see a whole other side to Purdue.
I wish I could share that with more people who are a little bit more ambivalent about their relationship with their alma mater and to inspire them and excite them. It's something that I can't reproduce for others, but I do try, and I'm so grateful. First of all, I have a good husband and a good father for my children, but it was nice to have that family and that Purdue connection in my life again. I never would've had what I have today if it wasn't for that.
Dave Beering:
Purdue just wraps its arms around you, and I don't think that has anything to do with our last name. I think it has to do with what Purdue's all about.
Kate Young:
I asked Dave who he thinks of when he thinks of Purdue, but for Dave, it's not about the who; it's more about the feeling.
Dave Beering:
I think for me, it's a feeling. It's a sensation. It's not a person or even the place because Purdue touches so many things. I think from our vantage point, we've had a chance to see a lot of the dimensions of what makes a great university a great university. What's the difference between a great university and a college or a regular university? Purdue's got the essence of that. It's hard to point that to a single person.
I think if you asked my father, what do you think about your time at Purdue? "I made the most of what I did, what I could do while I was here, but I stood on other people's shoulders and I hope that they were standing on mine as well afterwards." So I don't think, for me, it's not a person. I mean, certainly the vantage point that we had was very unique and was magical and super inspirational, but it wasn't… I think for me, I just look at it, it's a sense of family. It's a sense of belonging and just a sensation that's very warm and happy.
Kate Young:
Dave and Donna share their next giant leaps.
Donna Beering:
One thing that I would, as I look at the future, I have to retire at 65. The best advice I think we have probably heard about heading towards retirement is make sure that if/when you retire, you retire to something not from. We need to figure out what that's going to be. We don't know where we're going to be as far as grandchildren or what, but we think we're happy where we are in Lafayette. We like four seasons. We like having the time to come down here to Florida. We're probably going to end up staying in Lafayette and trying to participate with the rest of our time and be good Boilermakers.
Dave Beering:
Yeah, I think that's right. From a career perspective, my career has probably a longer timer than Donna's. I think it's going to be tough for me to imagine retiring. I love what I do. It's one of those things that I think there's probably another pivot in my career that's left. I recently did a pivot and I own a small business that's a one-person company. Donna's a co-owner of the business, but based at the research park. What I love about being a one-person company is one day I dance the cha-cha, and another day I'm dancing the meringue, and it's just fine. I didn't impact tons of people when I made that pivot.
So I think I'm sort of leaving my options open for what's the next great giant leap? But I think our current giant leap of relocating back to West Lafayette has turned out to be very gratifying. My dad always used to refer to Purdue as a family, and it feels like home.
Kate Young:
We can't thank Dave and Donna enough for sharing their special stories with us. You can head over to our podcast YouTube page, youtube.com/@thisispurdue to watch some of our fun video clips with Dave and Donna. And remember, follow us on your favorite podcast platform, including YouTube, to never miss an episode.
This is Purdue is hosted and written by me, Kate Young. At this special podcast shoot during the annual President's Council Weekend in Naples, Florida, our podcast team consisted of Ted Shellenberger, John Garcia, Becky Rubinos, and Trevor Peters. Our social media marketing is led by Ashlee Shroyer and Maria Welch. Our podcast design is led by Caitlyn Freville. Our podcast team project manager is Emily Jesulaitis. Our podcast YouTube promotion is managed by Megan Hoskins and Kierstin Bauman. Additional writing assistance is led by Joel Meredith, and podcast research is led by Sophie Ritz.