Back To Top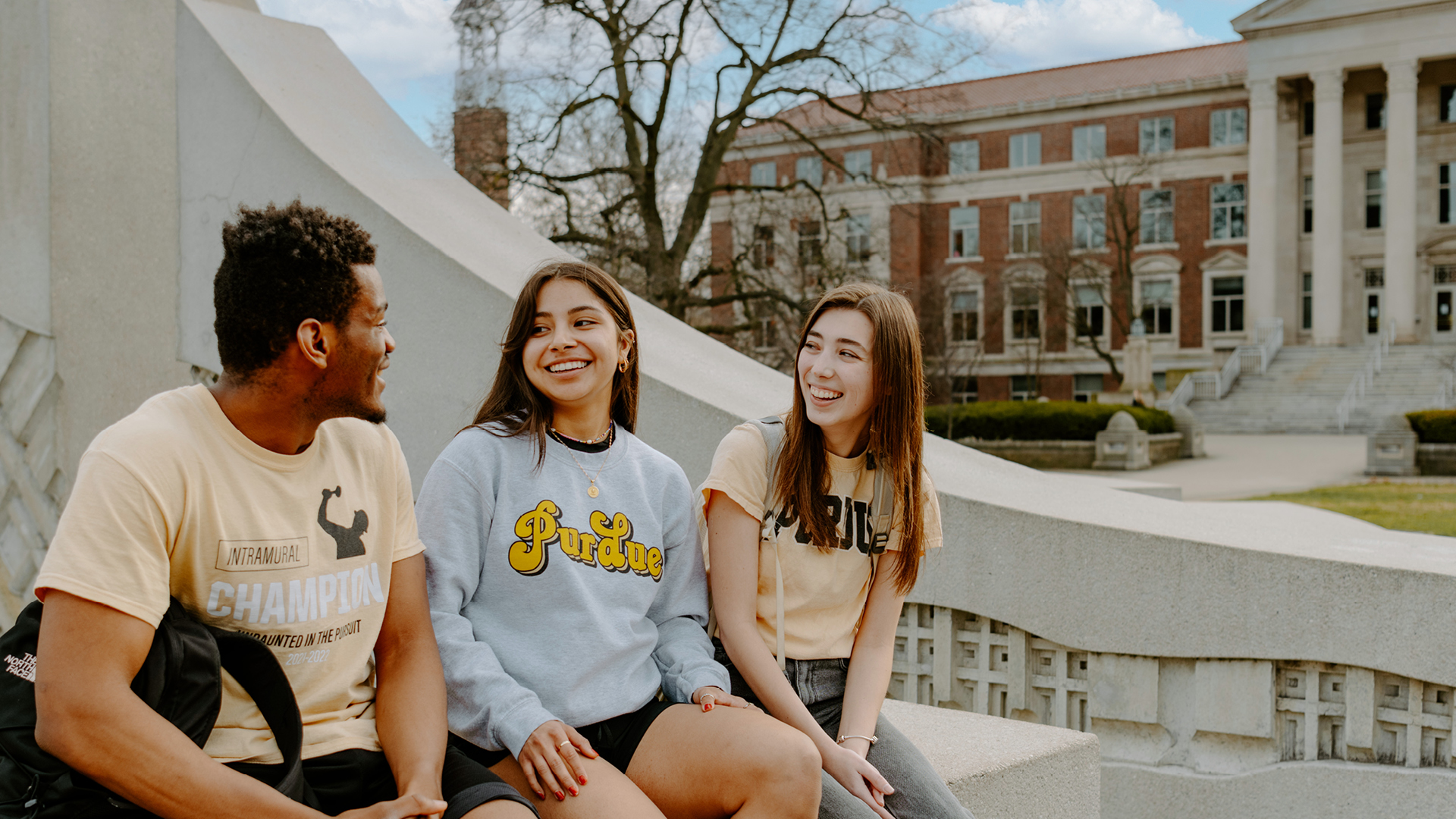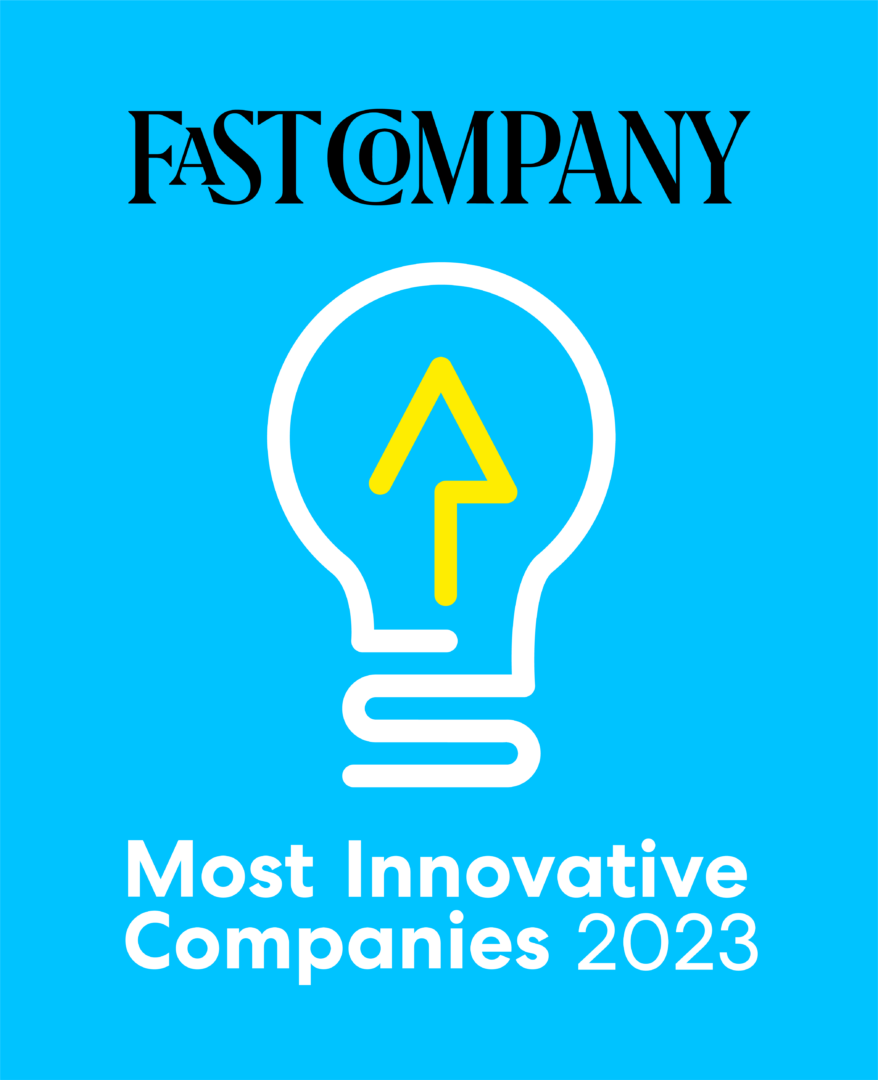 Purdue University has been named one of Fast Company's top 20 Most Innovative Companies of 2023, alongside companies like NASA and McDonald's.
The only higher education institution to make the list, Purdue is developing practical solutions for today's toughest challenges — like addressing the increasing demand for semiconductors and a trained chip-production workforce; developing pioneering cancer treatment methods; creating accessible pathways to a world-class education; prioritizing the diversity of its faculty, staff and student body; and more.
Recognizing Purdue's Innovation
Top
10
Most Innovative School in the U.S. 5 Years Running
U.S. News & World Report, 2023
#6
in the World for Utility Patents
U.S. Patent and Trademark Office, 2021
#3
Nationally in Startup Creation, Behind Only MIT and Columbia
IP Watchdog Institute, 2020
To confront the challenges our nation faces today, we need people who understand the intersection of economics, diplomacy, emerging technology and the sciences. We find these people at places like Purdue, which bring together academia and the private sector to ensure that we can remain the world's innovation leaders and standard setters.
Antony Blinken 
U.S. Secretary of State
The graduates from these programs – from PhDs to associate degree holders – will be at the forefront of innovation as we revitalize American manufacturing.
Gina M. Raimondo
U.S. Secretary of Commerce on Purdue's semiconductor degree programs
We're not just catching up; we're leading the way. Purdue has proven that over the years, through the technological advancements that they have discovered, created and shared with the world, and the world is a better place for it.
Eric Holcomb
Governor of Indiana September 2022 visit to Purdue University
Related Stories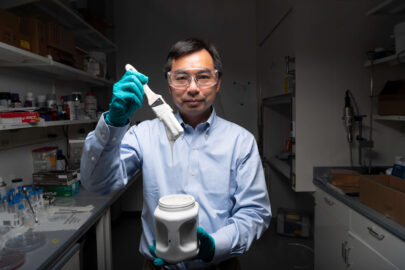 Purdue's 'world's whitest paint' wins 2023 SXSW Innovation Award
The world's whitest paint, developed by Purdue University researchers and recognized in Guinness World Records, has been named winner of the 2023 Innovation Award in the sustainability category by South by Southwest Conference & Festivals (SXSW).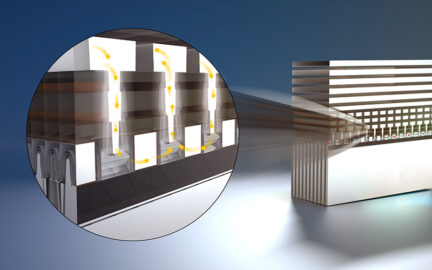 Transistors repurposed as microchip 'clock' address supply chain weakness
Microchip fab plants in the United States can cram billions of data processing transistors onto a tiny silicon chip, but a critical device, in essence a "clock," to time the operation of those transistors must be made separately – creating …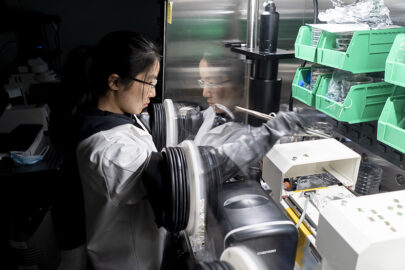 Purdue engineers improve solar cell efficiency, stability
Purdue University researchers have created new, multifunctional ligands that improve the charge transfer, power conversion capability and long-term stability of perovskite solar cells. Perovskite is a material that can be formed from different elements to have a variety of electrical, …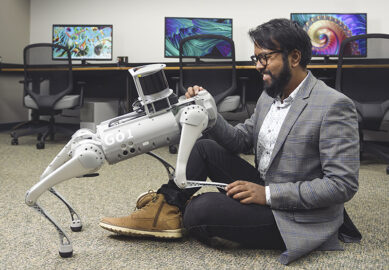 You've got to have heart: Computer scientist works to help AI comprehend human emotions
Bring up robot-human relations, and you're bound to conjure images of famous futuristic robots, from the Terminator to C-3PO. But, in fact, the robot invasion has already begun. Devices and programs, including digital voice assistants, predictive text and household appliances, …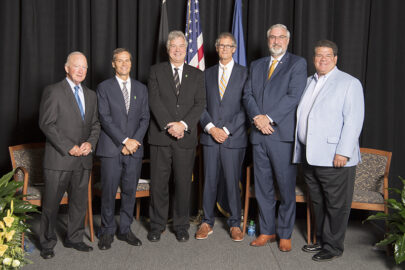 SkyWater Technology chooses Discovery Park District at Purdue for $1.8B semiconductor fabrication facility, to create 750 jobs in 5 years
The announcement Wednesday (July 20) by SkyWater Technology that it plans to open a $1.8 billion state-of-the-art semiconductor manufacturing facility in Discovery Park District at Purdue University marks a huge step forward for the American semiconductor industry, Purdue's thriving innovation …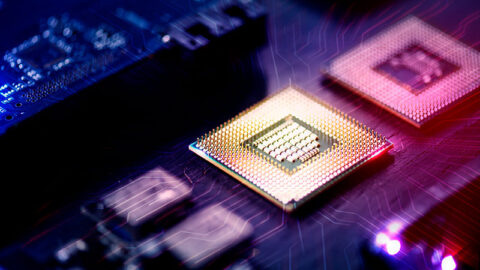 Purdue University partners with leading global chipmaker on semiconductor design center
Purdue University's College of Engineering is partnering with MediaTek Inc., a leading global fabless chipmaker, to open the company's first semiconductor chip design center in the Midwest, to be housed on Purdue's campus. Mung Chiang, Purdue's John A. Edwardson Dean …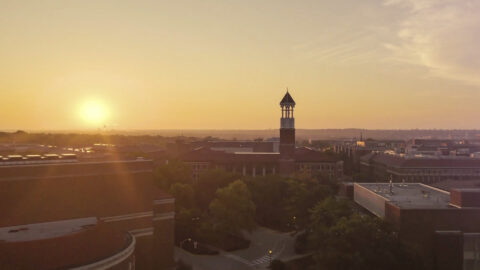 Purdue launches nation's first comprehensive Semiconductor Degrees Program
In the next five years, a minimum of 50,000 trained semiconductor engineers will be needed in the United States to meet the overwhelming and rapidly growing demand. Purdue University has answered that call, becoming the first in the country to …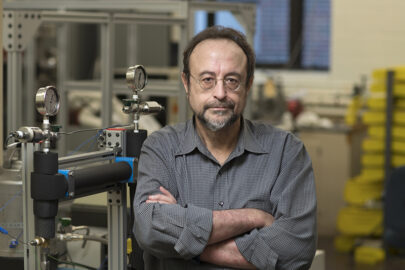 The moon is too hot and too cold; now it could be just right for humans, thanks to newly available science
With temperatures on the moon ranging from minus 410 to a scorching 250 degrees Fahrenheit, it's an understatement to say that humans will need habitats with heat and air conditioning to survive there long term. But heating and cooling systems won't …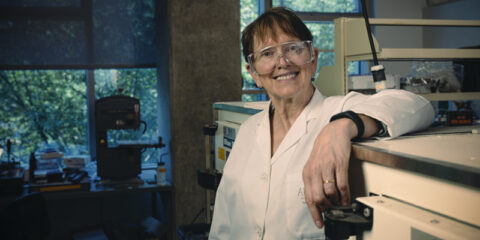 Microelectronics engineer helps 'get the lead out' of solder
Carol Handwerker's life's work is aimed at increasing reliability in everything from the largest Navy carrier to the family car. She does it by researching probably the most inconspicuous material: solder. Handwerker, the Reinhardt Schuhmann Jr. Professor of Materials Engineering …