Back To Top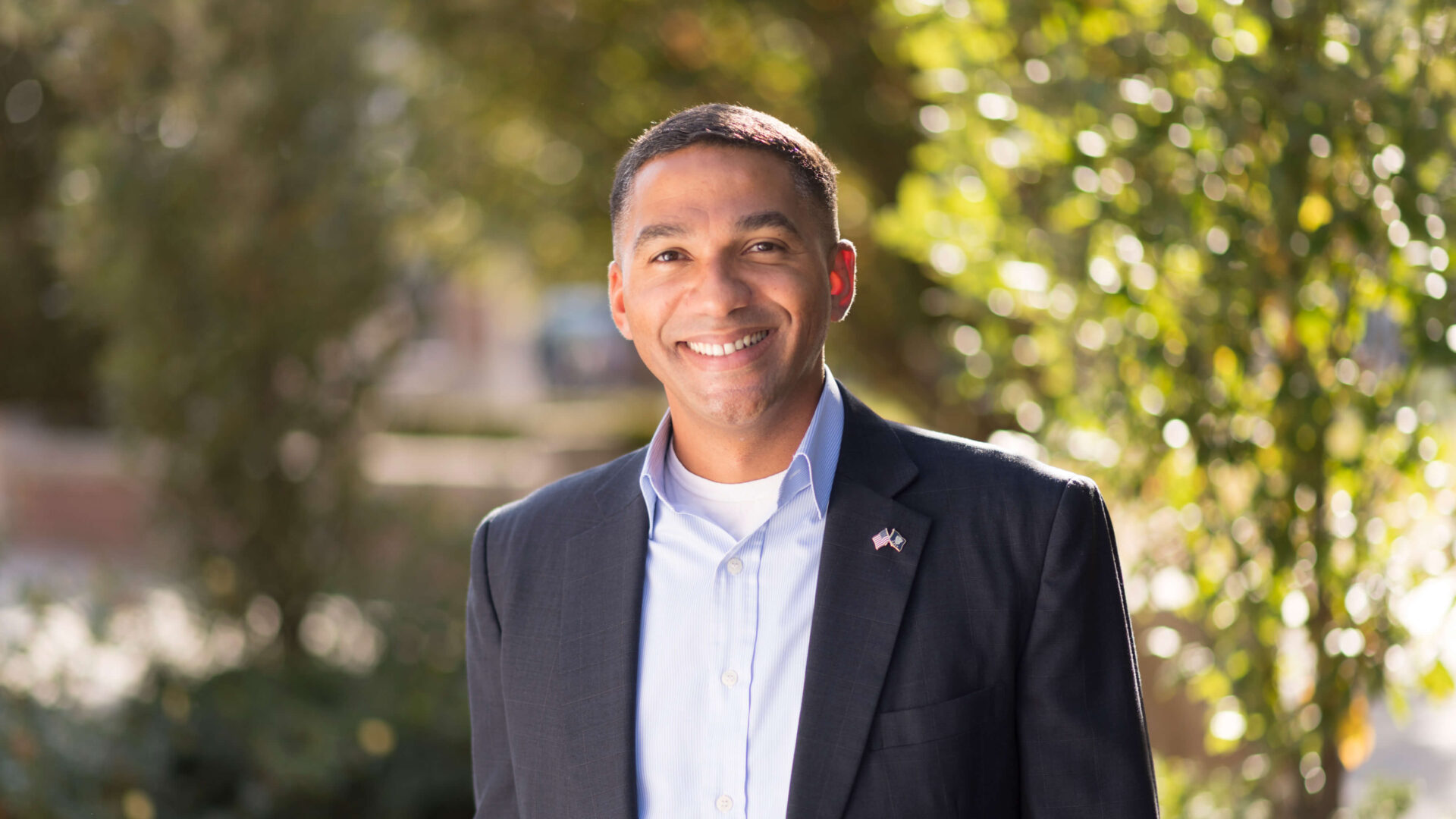 After tackling academic goals, Kelvin Gumbs is prepared for a new mission
As a chief warrant officer in the U.S. Navy, Kelvin Gumbs is accustomed to being addressed as "sir."
But at home, he's Mandy's husband and Gladys and Frankie's dad. He also was an occasional source of household entertainment during his pursuit of associate and bachelor's degrees from Purdue Global.
"I think it was a lot of fun for them, watching me beating my head against the counter as I'm trying to get this thing done," Gumbs recalls with a chuckle. "Of course, there were the jokes about me having to do homework, needing to show the highest ethical and moral fabric as I went through writing papers, and taking exams and needing to stay awake during seminars. But my wife, Mandy, really kept me in the fight, and my kids were so encouraging. My daughter would say, 'Dad, I'm really proud of you. Good job, Dad.' The support I got from my family was really, really special."
At times, he needed the encouragement.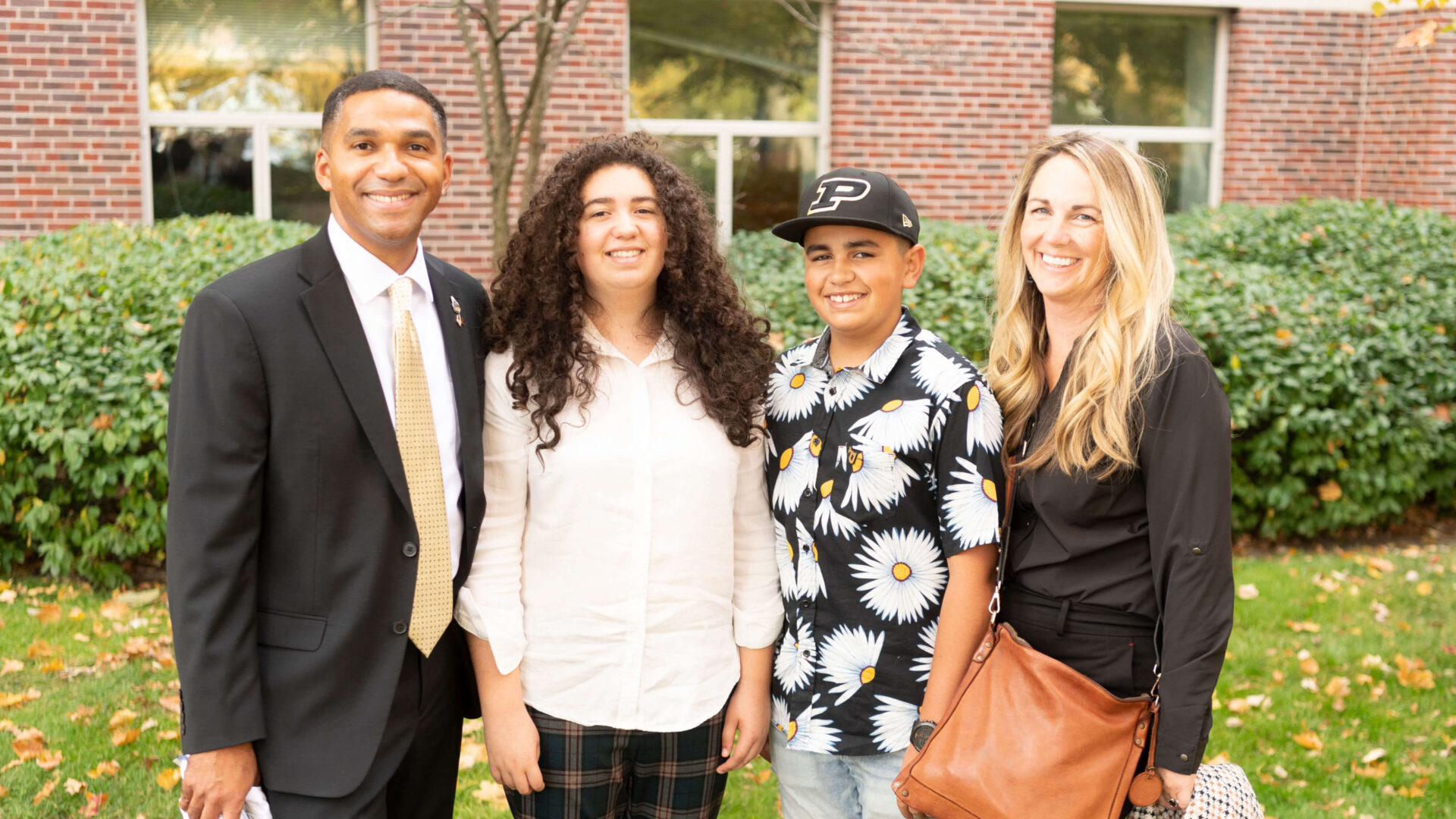 Gumbs figured he had solved his last algebra problem before he reencountered the subject as a 30-something Purdue Global student. He hadn't missed it. Nonetheless, he stuck it out, completing an associate of applied science degree in small group management in 2020, followed a year later by a bachelor's in professional studies.
"Getting those degrees was really important to set an example for my kids," says Gumbs, keynote speaker at Purdue Global's October 2022 commencement. "I wanted them to see that Dad's balancing a lot of different things here and really highlight the importance of getting an education. The stakes are different when you're an adult learner. You're setting an example not just for your family but for the sailors you lead or the people you lead. For me as a senior person in the organization, it was important to do right by it and to try to get the best grades I could."
Complementing his professional experience
Gumbs enlisted in the Navy after graduating from high school in Stillwater, Oklahoma, and steadily rose through the ranks during 22 years of military service. His naval career has taken him all over the world, including an early deployment aboard the USS Abraham Lincoln, a nuclear-powered aircraft carrier, during the first days of the "shock and awe" invasion of Iraq. Later, he held leadership and managerial positions over hundreds of people at a time.
Despite his accomplishments, Gumbs was plagued by feelings of inadequacy concerning a goal he had not yet tackled. He had earned college credits intermittently throughout his naval career but never completed a degree. He saw that as a "large, dark, long-lasting, looming cloud" that perpetually hovered over his career.
Gumbs finally decided to do something about it, in part due to persistent encouragement from Jeremy Rouse, a former workmate, or "shipmate" in Navy vernacular.
Gumbs looked into several known distance-learning options before stumbling across Purdue Global and its military outreach efforts in 2018.
"I said, 'Purdue University Global. This is kind of cool,'" he recalls. "I had already been using the Purdue OWL, the Online Writing Lab, for years. And I've always known Purdue had an awesome basketball program. If nothing else, I could follow Purdue basketball."
Once he embarked on his Purdue Global journey, Gumbs found a connection that was even deeper than sports. He discovered an unexpected crossover between his academic and work lives, and from that point it was full steam ahead.
While juggling his Purdue Global studies and leadership role at Naval Air Station Pensacola, Gumbs discovered he was working alongside two Purdue West Lafayette alumni — Capts. Ted Heflin (BSAAE '91) and Dan Testa (BA criminology and political science '97) — who were thrilled that he would soon join their ranks. The trio jokingly began referring to themselves as the "Purdue Mafia."
Gumbs' ties to the Purdue community deepened when he completed his studies and reached a pinnacle a year later when he accepted an invitation to speak at the October commencement in West Lafayette.
As a sailor, I've always wanted to connect to the mission and for it to have meaningful purpose. And I always felt in my heart that I wanted my academic journey to be the same.

Kelvin Gumbs
AAS small group management '20, BS professional studies '21
"I had earned numerous ranks in my career. I had the distinct pleasure of serving as a commissioned naval officer on a carrier as part of an embarked airwing. But this just had a different feeling because I finally felt like I was on an even playing field in my career and had a real sense of accomplishing something that was really academically prestigious," Gumbs says. "And then to have it come full circle and have the ability to deliver these remarks, it's humbling. It's incredibly touching, and you just fall more in love with Purdue and everything it stands for."
It almost certainly would have been easier for Gumbs to complete a degree from one of the five previous institutions where he earned some college credit but did not graduate. Gumbs stuck with Purdue Global, however, because he recognized the value of a degree from a respected name in higher education. And he wanted any degree he earned to signify a true accomplishment — to future employers and to himself.
"As a sailor, I've always wanted to connect to the mission and for it to have meaningful purpose," he says. "And I always felt in my heart that I wanted my academic journey to be the same. It took a while, but in the end, it all worked out."
Exploring new career options
It worked out so well, in fact, that Gumbs, 41, began to envision a future outside of the only career he has known.
He had a tough decision to make. Should he remain in the Navy for a full 34 years, retiring at age 55, or embrace the uncertainty of a new professional life away from naval ships, fighter squadrons and military bases?
"I was very conflicted about what the rest of my life looks like if that's all I do," Gumbs says. "Maybe it's an RV, and Mandy and I drive the country. But what about me getting to use a different part of my brain? What about getting to explore new and different spaces for me to see if all the things I've learned can really help another organization or another group of people?"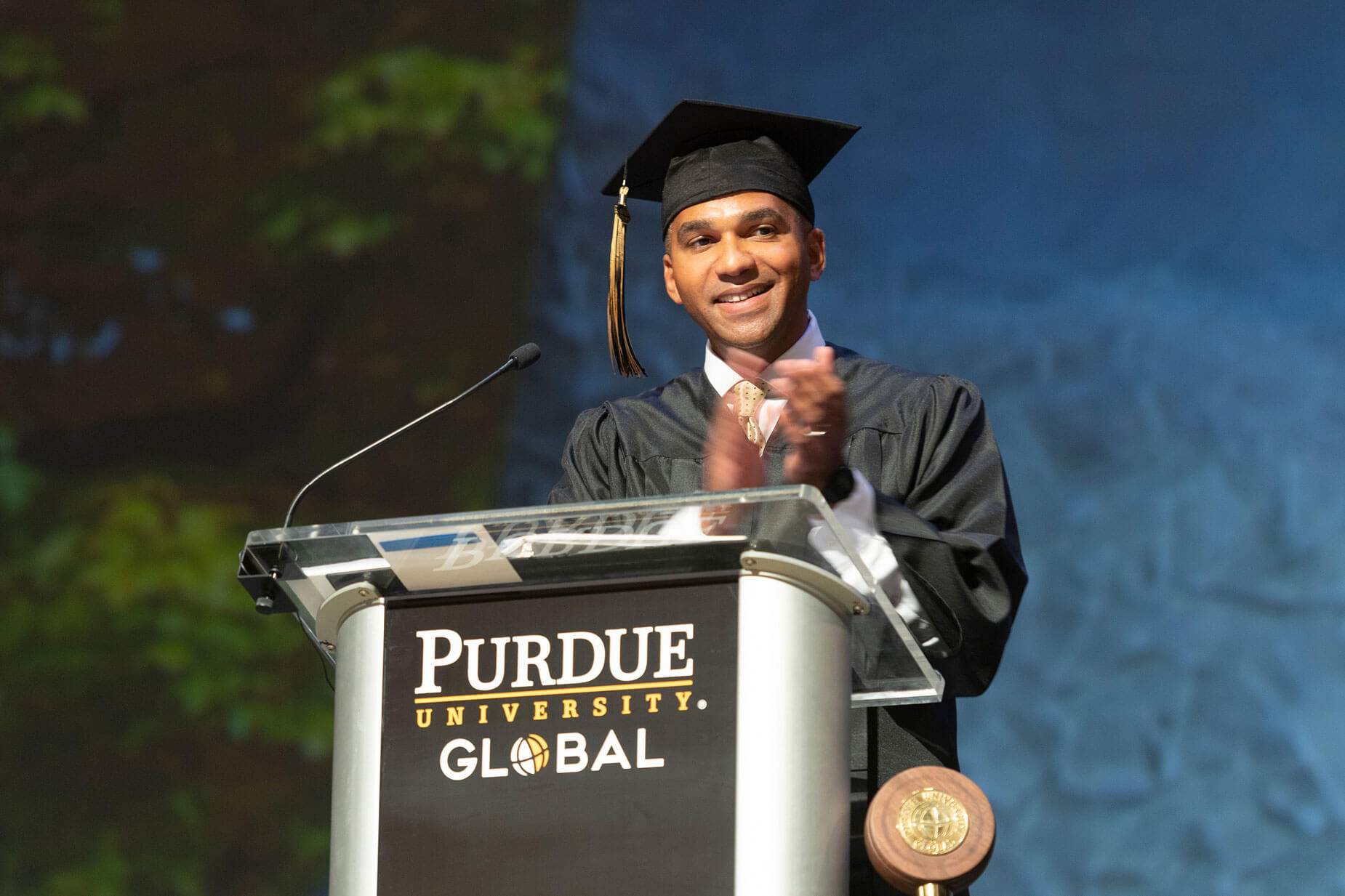 The decision to retire (from the Navy) was solidified as a result of having this education.

Kelvin Gumbs

AAS small group management '20, BS professional studies '21
He chose to start a new adventure, retiring from the Navy with a full military pension after more than two decades of service. And in October 2022, he accepted a position with CAVU International as a safety, performance and leadership coach.
"The decision to retire was solidified as a result of having this education. It's that clear," he says. "At the point that I made the decision, I said, 'I'm 40, highly accomplished as an officer in the Navy, and I now have this world-class education. Why not?' I believe the name recognition of the education, coupled with the military journey I've been on, have prepared me uniquely."