Back To Top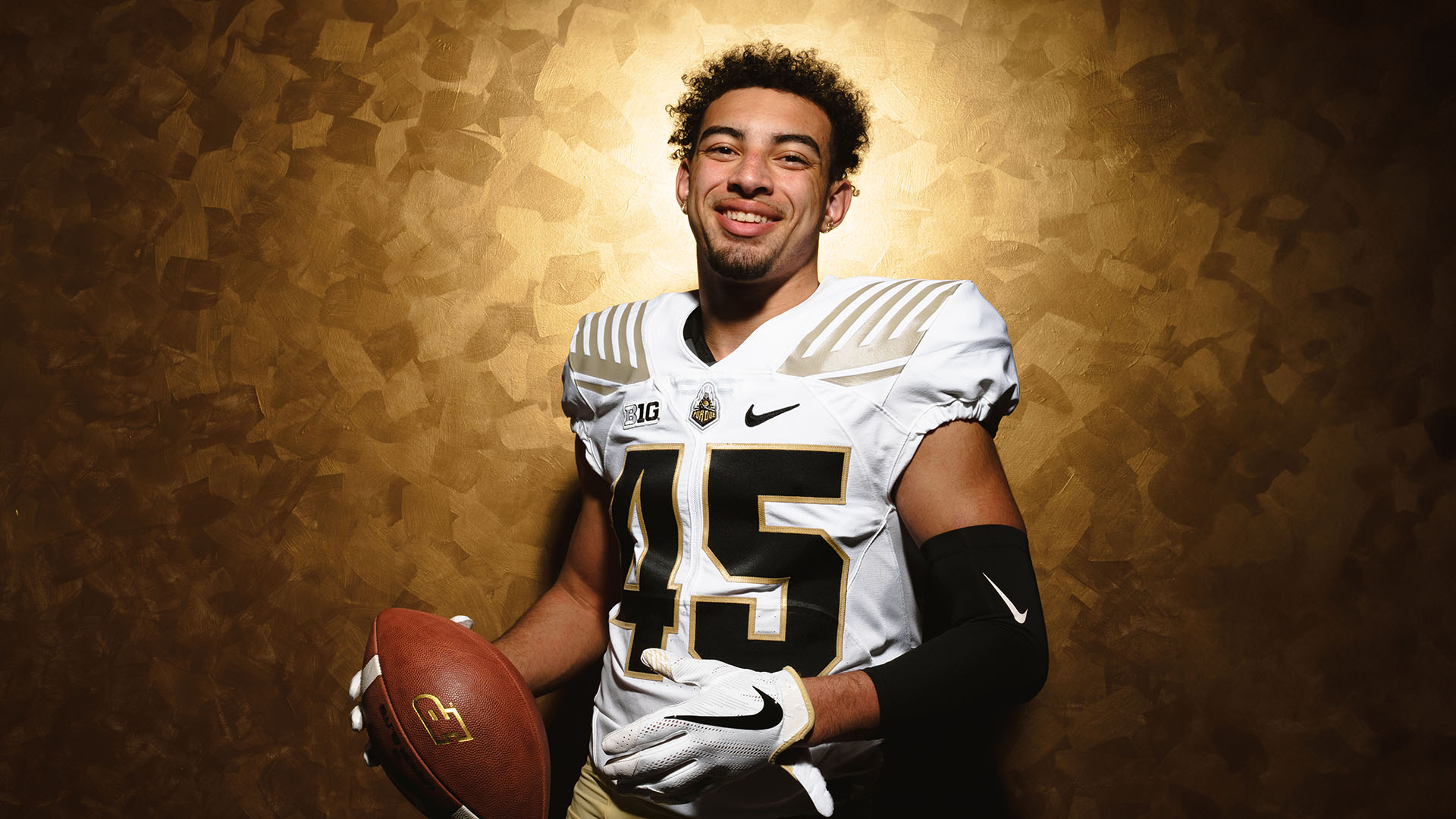 Running back's passion for mechanics and work ethic made Purdue a perfect home
Devin Mockobee is smiling as he turns the ignition of his car. 
The first thing you notice: It's loud. Really loud. As he presses on the accelerator, the engine revs and Mockobee's smile grows. It's a sweet ride. 
"Do you feel it in your chest?" Mockobee asks, straining to be heard. "Let's go!"
It's a beautiful day to go cruising in Boonville, Indiana.
Mockobee pulls away in a 1993 Fox body Mustang, the turbo V-8 roaring down First Street as he shifts through the five-speed stick shift. Over 300 cubic inches of American muscle vibrates under the hood of a car Mockobee calls "Blue."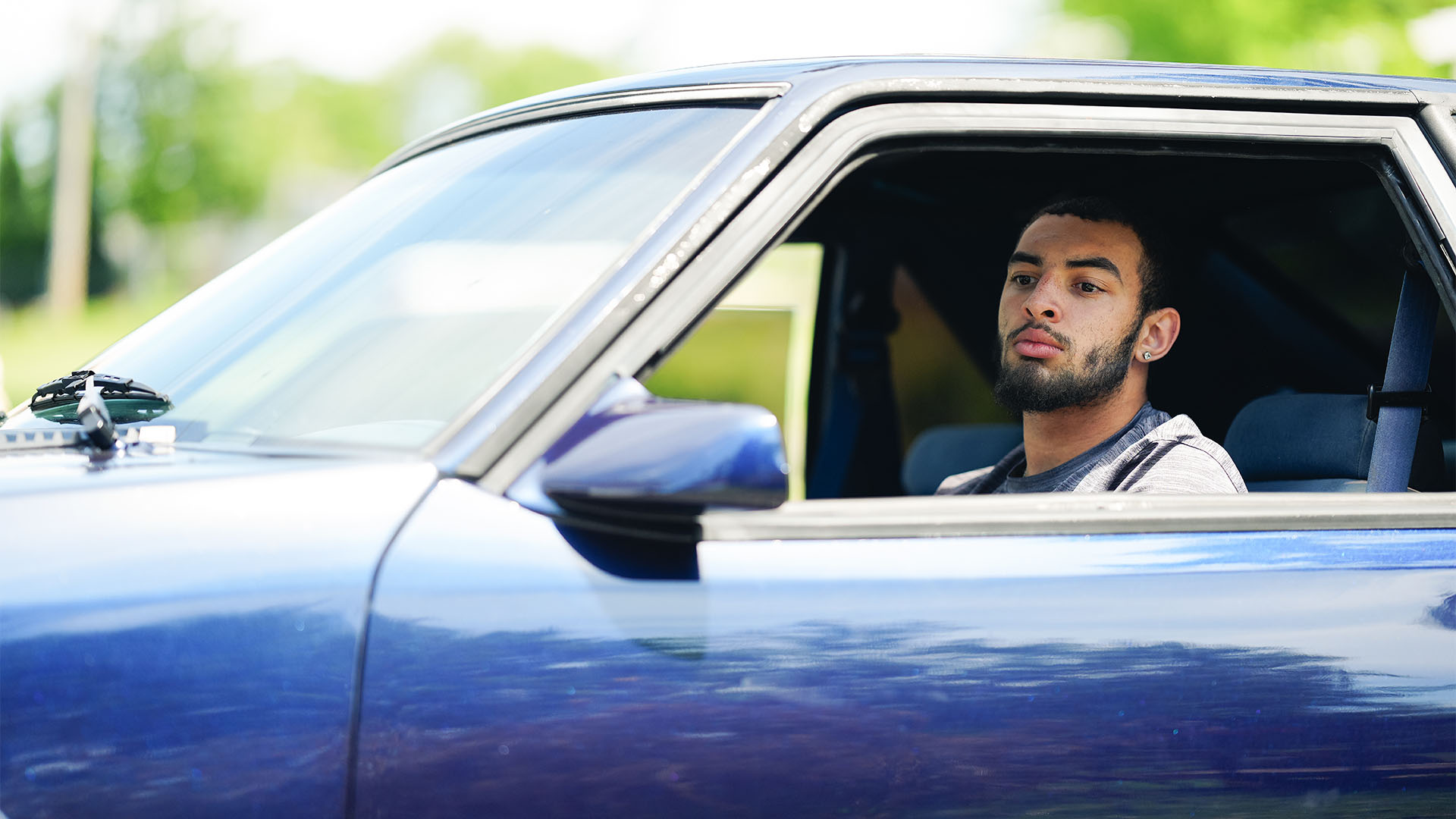 It's good to be Devin Mockobee. Life is going by pretty fast for Purdue's precocious running back. One minute he's a faceless walk-on awash in a sea of names on the Boilermaker roster. The next, he's a rising star whose No. 45 jerseys dot the Ross-Ade Stadium crowd on Saturday afternoons in the fall.
Now Mockobee finds himself primed to take the next step in an evolution that has him on scholarship and could see him become one of the top running backs in Purdue football history.
It's an unlikely story you wouldn't believe unless you met Mockobee. Come along for the ride. He's just getting started. It's going to be exciting.
Boonville roots
To know Mockobee, you have to know where he's from. Go ahead. Ask him. He'll proudly tell you about Boonville.
Tucked in the southwest corner of the state about 18 miles east of Evansville – a hop, skip and jump down State Road 61 from I-64 – Boonville is precisely what you might expect from a place called Boonville. It's a bucolic burg of roughly 6,500 proud people in Warrick County, which hugs the Ohio River.
"There's not a whole lot to do," Mockobee says, rubbing a scruffy beard. "But there's enough to do."
There's Dollar General, Chuckles gas station, LNB Community Bank, Una Pizza, Tractor Supply. And don't forget about TF (Tastee Freez) Ice Cream, which "creates smiles" in the heart of Boonville.
"You have to stop by there," Mockobee says. "Best ice cream in the world."
Ordering a sparkler sundae from Tastee Freez can wait. Mockobee has road to burn up on this Monday afternoon. He spent the morning working out at his high school, where he began to author his improbable story. 
Kevin Davis is a believer. He knows. He saw Mockobee's Bunyanesque feats with his very eyes as the athletic director at Boonville.
"This is where it happened," Davis says, pointing to a spot on Bennett Field, home of the Boonville Pioneers. "He ran for 419 yards against Gibson Southern."
It's true. Look it up. Oh, and get this: Boonville lost.
"That's because Brady Allen kept throwing the ball over our head," says Davis, referring to the Gibson Southern star quarterback who was Mockobee's Purdue teammate for the 2022 season.
Now ask Davis about the game at Mount Vernon.
"Devin scored on a fumble recovery, pick-six, punt return, and he ran one in, too," he says.
Davis smiles and shakes his head.
At one point during Mockobee's superhero senior season in 2020, he was leading the nation in touchdowns. Yes, Devin Mockobee from little old Boonville, Indiana, was No. 1 in America in hitting pay dirt.
"Then COVID messed up our season," Davis says.
Mockobee seems unimpressed when you recite his resume. Even when you mention his state championship in the long jump and second-place finish in the 110-meter high hurdles as a senior in 2021.
He shrugs his not-so-broad shoulders.
That's the thing about Mockobee: Physically, he's extraordinarily ordinary. He could be a freshman sitting next to you in COM 114.
He's an Everyman. Only this "Everyman" is the biggest thing to matriculate from Boonville since the drummer of heavy metal band Five Finger Death Punch, Jeremy Spencer (look him up).
Mockobee doesn't care. Remember, he's an accidental star Big Ten running back. He's not even supposed to be here.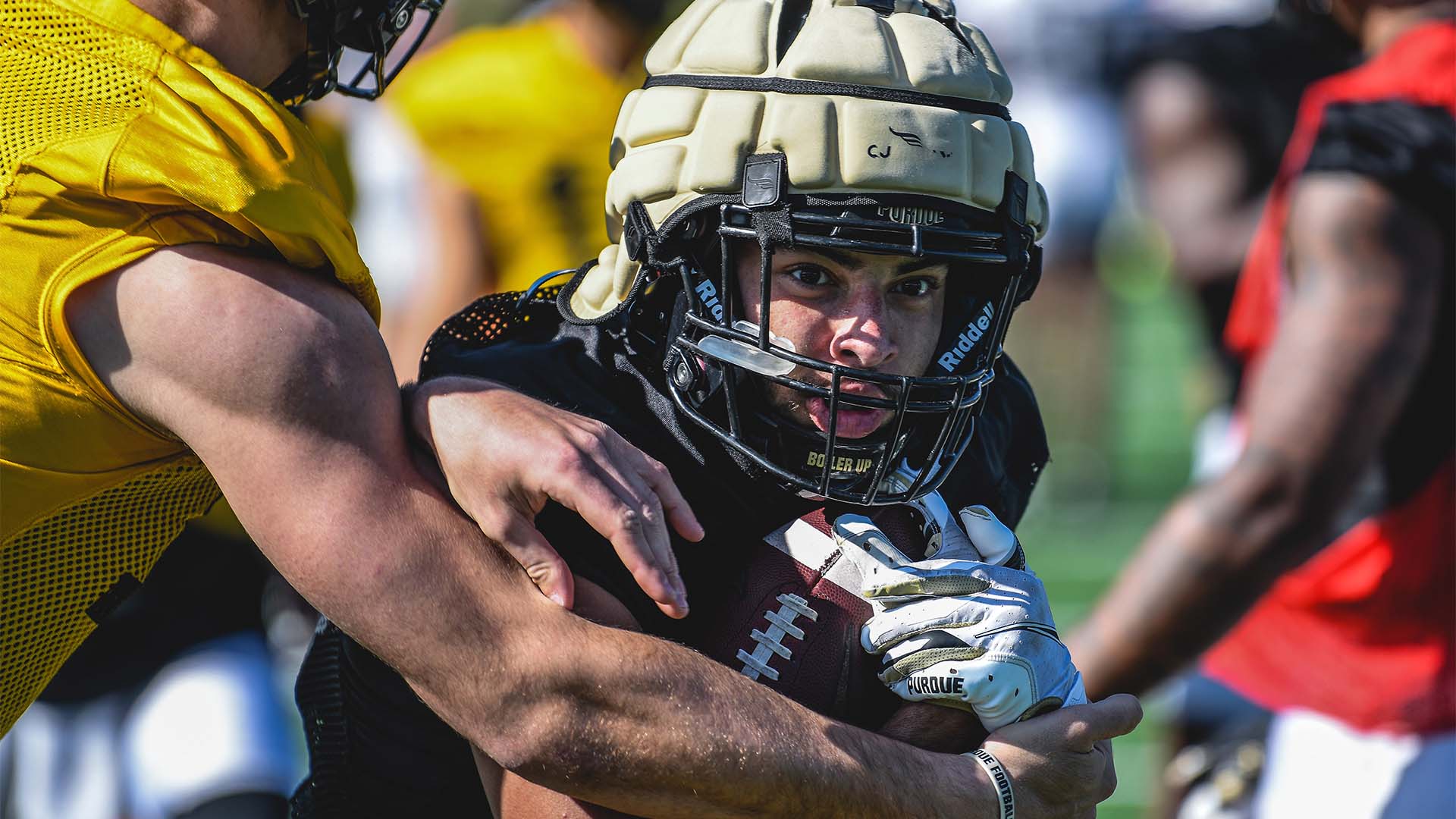 Mockobees and Mustangs
In his free time, Mockobee is off to his uncle Josh Castle's garage to tinker with cars. This is Mockobee's escape. This is his happy place, scrounging for needle-nose pliers amid WD-40 cans, engine lifts and spare tires.
Here, Mockobee can be Mockobee. Those 968 rushing yards he had a year ago set Purdue's single-season freshman record. Mockobee would rather tell you how to clean a gummed-up carburetor. Just hand him a ratchet wrench and a rag, please. 
"Devin likes to be out here," Castle says. "He grew up around cars and drag racing."
This is a full-blown love affair between the Mockobees, Mustangs and drag racing. Those who frequented area tracks like US 60 Dragway, Wagler Motorsports Park or the Ohio Valley Dragway know all about "Mockstang Racing."
"I loved the smell of gas and the noise," Mockobee says. "I'm addicted to cars. It started when I was 4 or 5 years old."
His uncle nods.
Nearby is a 1991 Mustang GT. The family calls it "Tow Rope." That's the car Devin resurrected as a senior as he earned a mechanic certification while attending a trade school in Evansville for half days during his last two years of high school.
"Got it running," Mockobee says. "It had been sitting for several years. I learned how to do it all. Now, when I am at Purdue, I work on the cars of teammates. If they buy the parts, I put them on for free."
He is probably the only running back in the nation that can rush for 121 yards on a Saturday afternoon against Northwestern and change the gaskets on his offensive tackle's Oldsmobile Cutlass later that night.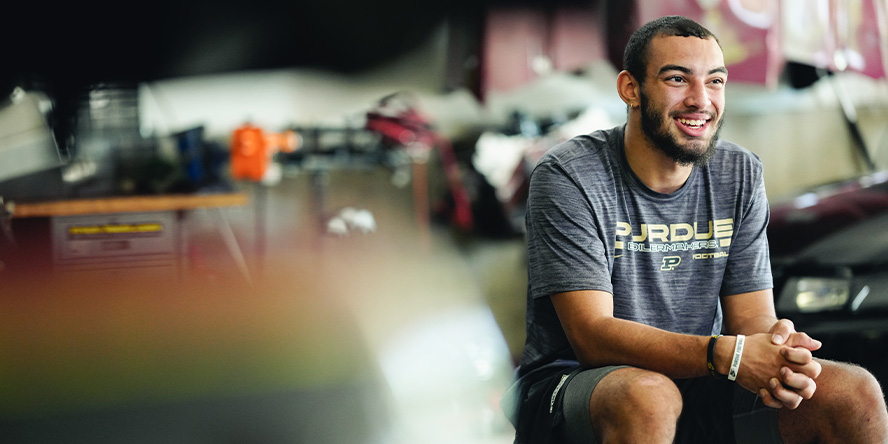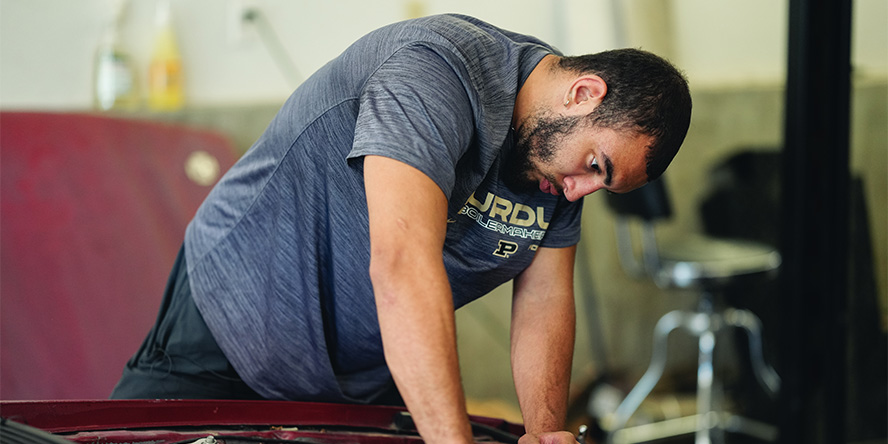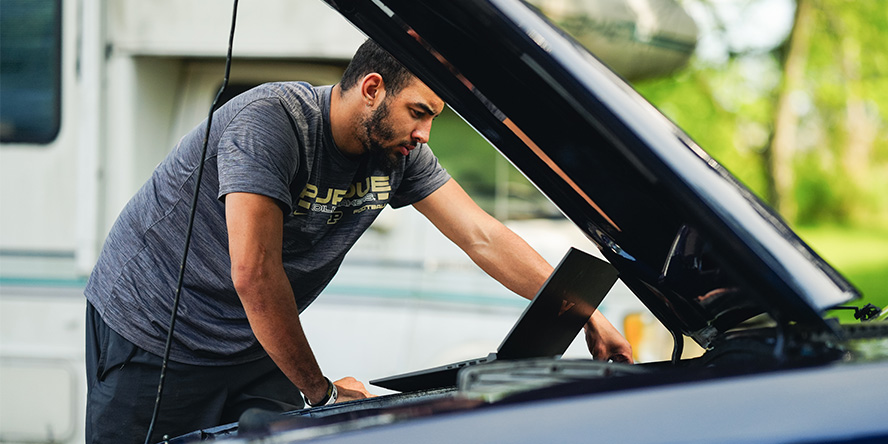 Important role in Boilermaker backfield
Mockobee will be asked to do a lot this fall. Purdue needs him to evolve. He will be a centerpiece of a new Air Raid-based offense installed by the staff of first-year head coach Ryan Walters, who was the Illinois defensive coordinator the last two seasons.
"I played against him, so I know exactly what he was capable of," says Walters, who saw Mockobee run for 106 yards and a touchdown against his Fighting Illini defense in a 31-24 Purdue win in Champaign last November. "He was hard to bring down, hard to tackle."
That's why one of the first things Walters did upon getting the Purdue job in December was to put Mockobee on scholarship.
"I'm like, 'Shoot, this guy needs a scholarship,' and I'm reminding myself like, 'Well, yeah, you're the head coach, so you can do that,'" Walters says.
"So I talked to (Purdue athletic director) Mike (Bobinski) about it, and he thought it would be a great idea, and I knew we were having a team meeting, and I thought, 'Why not, first order of business, do what's right?' and that's give Devin a scholarship."
It became a viral moment on social media. But it doesn't figure to change Mockobee.
He's got so much positive energy and juice; it's refreshing to see.

Lamar Conard
Purdue running backs coach
"Just because you have a scholarship, you cannot let it change you; you will always be a walk-on," says Purdue running backs coach Lamar Conard, who also was a walk-on at Purdue. "And you need to practice that way, you need to approach every day that way.
"This journey will be different from others. But when you're going toe to toe with people, you have a chip on your shoulder that they don't have. And I love that about the kid. He's got so much positive energy and juice; it's refreshing to see."
Earning an opportunity
All Mockobee ever wanted was a chance. He was headed to Navy in 2021 before Purdue swooped in with a summertime offer to walk on. Mockobee toiled anonymously as a true freshman in 2021, a forgotten name on a crowded Purdue roster buried on the depth chart. Was he even on the depth chart? Mockobee redshirted. No one knew. No one noticed.
That all changed last season.
An injury in the first game of the 2022 season to No. 1 back King Doerue opened the door for Mockobee. After not playing in the opener against Penn State, Mockobee ran for 78 yards and a touchdown against Indiana State. He had 22 yards rushing and a score at Syracuse and then 37 yards against Florida Atlantic. 
People noticed.
Then it happened. Mockobee bolted 68 yards in the fourth quarter to ice a 20-10 win at Minnesota, capping a day that saw him finish with 112 yards and a touchdown.
"That's the moment I knew," Mockobee says.
Two weeks later – Oct. 15 vs. Nebraska – Mockobee took over starting duties and didn't look back.
Now Mockobee looks poised to join Leroy Keyes, Otis Armstrong, Scott Dierking, Mike Alstott, Joey Harris and Kory Sheets as the only Purdue players to crest the 1,000-yard rushing mark in a season. Not bad for a guy who was No. 4 on the depth chart when last season started.
Sheets was the last Purdue running back to reach 1,000 yards, accomplishing the feat in 2008 when he ran for 1,131 yards on 234 attempts and scored 16 touchdowns.
"If you would have told me four years ago, my freshman year of high school, that I'd be where I am now, I'd tell you that you were lying," Mockobee says.
It's the truth.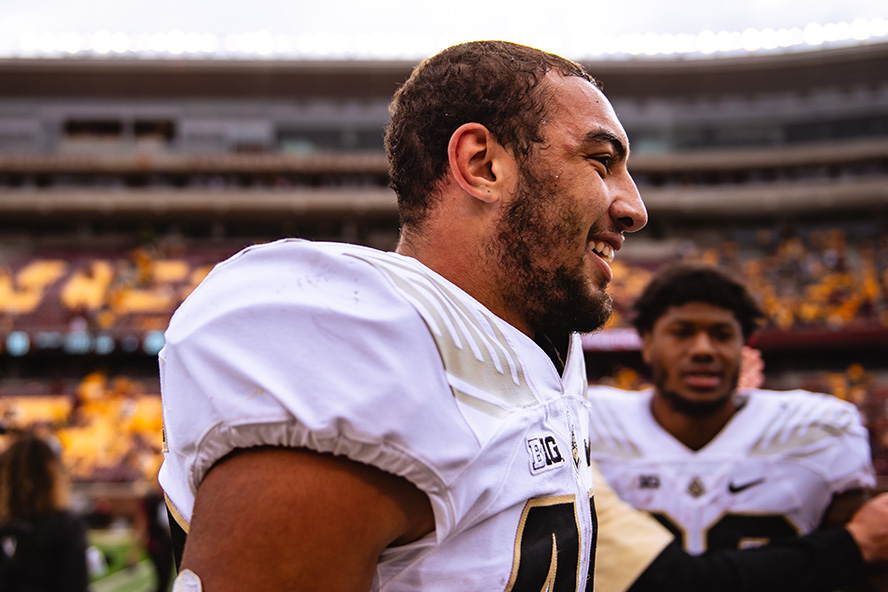 If you would have told me four years ago, my freshman year of high school, that I'd be where I am now, I'd tell you that you were lying.

Devin Mockobee

Purdue running back
Years in the making
Mockobee has a unique style, able to deftly cut back, change directions and break tackles. If there's a crease in the line, Mockobee will find it. His vision and ability to slip defenders, twist and contort show how dynamic and effective Mockobee can be. This is uncoachable stuff.
"I see it daily in practice," fellow Purdue running back Dylan Downing says. "I'm just glad he gets to put it on display for the whole country."
Mockobee's transformation has been years in the making. The Mockobee phenomenon was hatched through his hard work … and a well-orchestrated plan.
"Oh, we had a plan," says Devin's dad, Conrad Mockobee.
It was about creating a digital footprint that landed Devin Mockobee at Purdue. Mockobee went from being a way-off-the-radar Class 3A sensation to a recruitable player who drew interest … and offers.
"That was the goal," Conrad says.
Conrad Mockobee had navigated recruiting waters with his daughter, who ran track at IUPUI (now known as Purdue University in Indianapolis). But the marketing of Devin would be different.
"I knew I had to show people what Devin was about," Conrad says.
Devin had a lot to show. His evolution began after his sophomore season at Boonville High. He spent most of that season as a defensive back, waiting his turn to carry the ball. Finally. 
Mockobee got his chance as a junior in 2019. And it was impossible not to notice his 1,384 yards rushing and 17 touchdowns, which he piled up in 10 games.
By then, Conrad had started taking Devin to camps: Kentucky, Tennessee, Purdue, Notre Dame. Get in the car and drive.
"It was about trying to get him noticed," Conrad says.
Recruiting picks up
But the real key to spreading the word was creating a digital footprint.
"The best advice I ever got when we first started was if you had two athletes with the same height, same weight, same speed, they could bench-press the same and basically all the measurable numbers were the same, what would be the difference?" Conrad says. "It became pictures and videos."
So Conrad became a video expert. He bought a video camera and took photos with his phone. Heck, he sometimes mounted his phone on his camera to take photos when he was shooting video.
"You may be able to tell somebody, 'Hey, I was at that Notre Dame Sunday Night showcase.' But I'm gonna be able to show somebody," Conrad says. "So we started documenting. You can send a 2:20 video on Twitter. You learn how to do those things."
Conrad enlisted help from Evansville TV stations to augment his library of footage.
"They had good sideline video," he says.
Once video files were built, the tweets and direct messages went out. With help from family, the gridiron gospel of Devin Mockobee was spread via social media. Highlights, measurables, stats … there was interest from what Castle estimates were more than 2,000 DMs.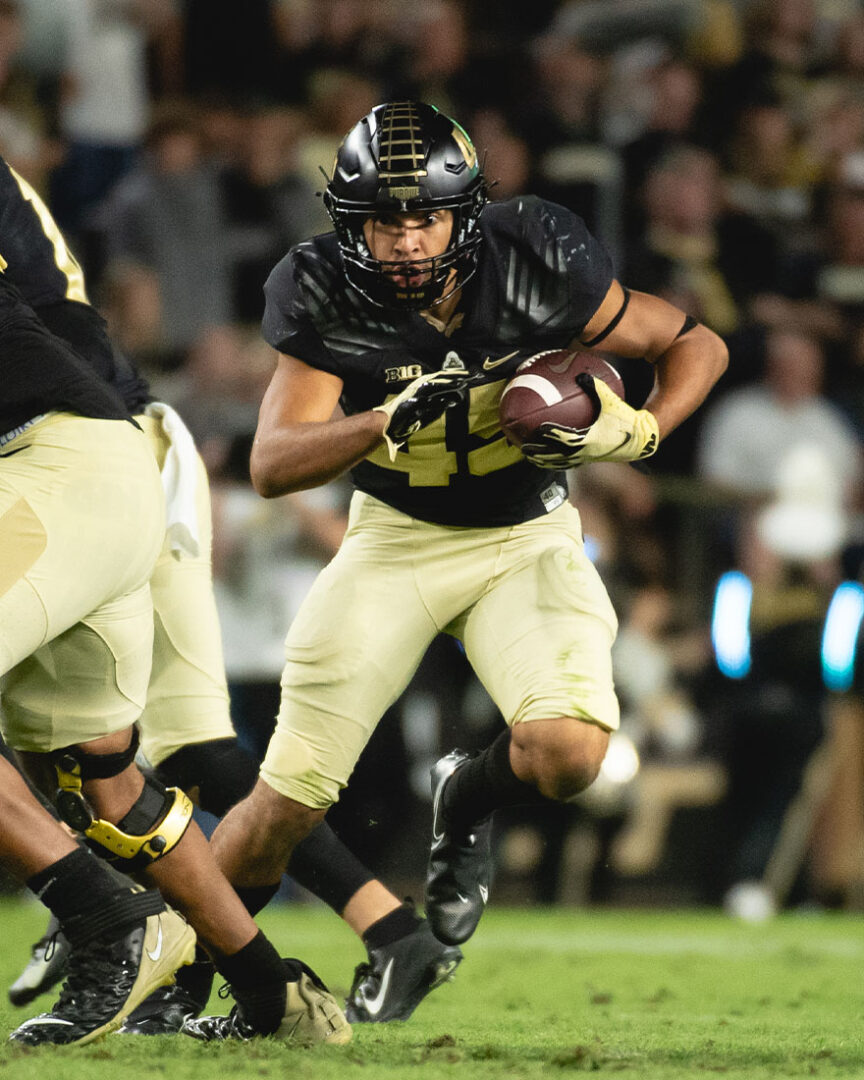 "If a coach had open DMs, he likely was getting one from me," Castle says. "I probably got about a 5% response rate."
If you Google "Devin Mockobee," you will find a treasure-trove of highlights and information.
"That was the plan," Conrad says.
The plan was working. Buzz was growing. Coaches were curious about Mockobee as small-school offers dribbled in. Staffs wondered: Are we missing out on something? Do we need to check him out? The Ivy League started kicking Mockobee's tires.
"Devin had his own recruiting service," Conrad says. "He knows it. You can do a lot of things to sell and position your kid."
Finally, an offer: Navy. Devin Mockobee wanted to jump on it, but his dad told him to wait, be patient. Now that one school had offered, others likely would, too.
Sure enough, Army and Air Force wanted info on Mockobee after the Navy offer. But the Mockobees couldn't convince any other major schools to offer. Some were close, but …
Proving himself at Purdue
Mockobee was packed for the Naval Academy in the summer of 2021. He would leave in two weeks. But then Purdue called. Could Devin come to campus to meet?
This was the opportunity Mockobee had been waiting for.
"Devin always wanted to prove himself," Conrad says. "This began when he started high school. We knew how much he needed to weigh each season, what he needed to work on, and focused on that. Devin proved himself on the field."
And Mockobee is doing just that at Purdue. He has a blue-collar mentality and work ethic that is endearing and relatable to the Boilermaker fan base. Mockobee is a high-knee runner – "Crazy Legs," some call him – who doesn't go down easily.
True to his hard-hat persona, there is no celebration when Mockobee scores a touchdown. He acts like he has been there before because he has. It's a mentality his dad calls "Mock Train," an apt label that embodies the family's give-no-quarter work ethic.
"It's all I know," Devin says. "I was raised like that."
Written by: Tom Dienhart, tdienhart@goldandblack.com