Back To Top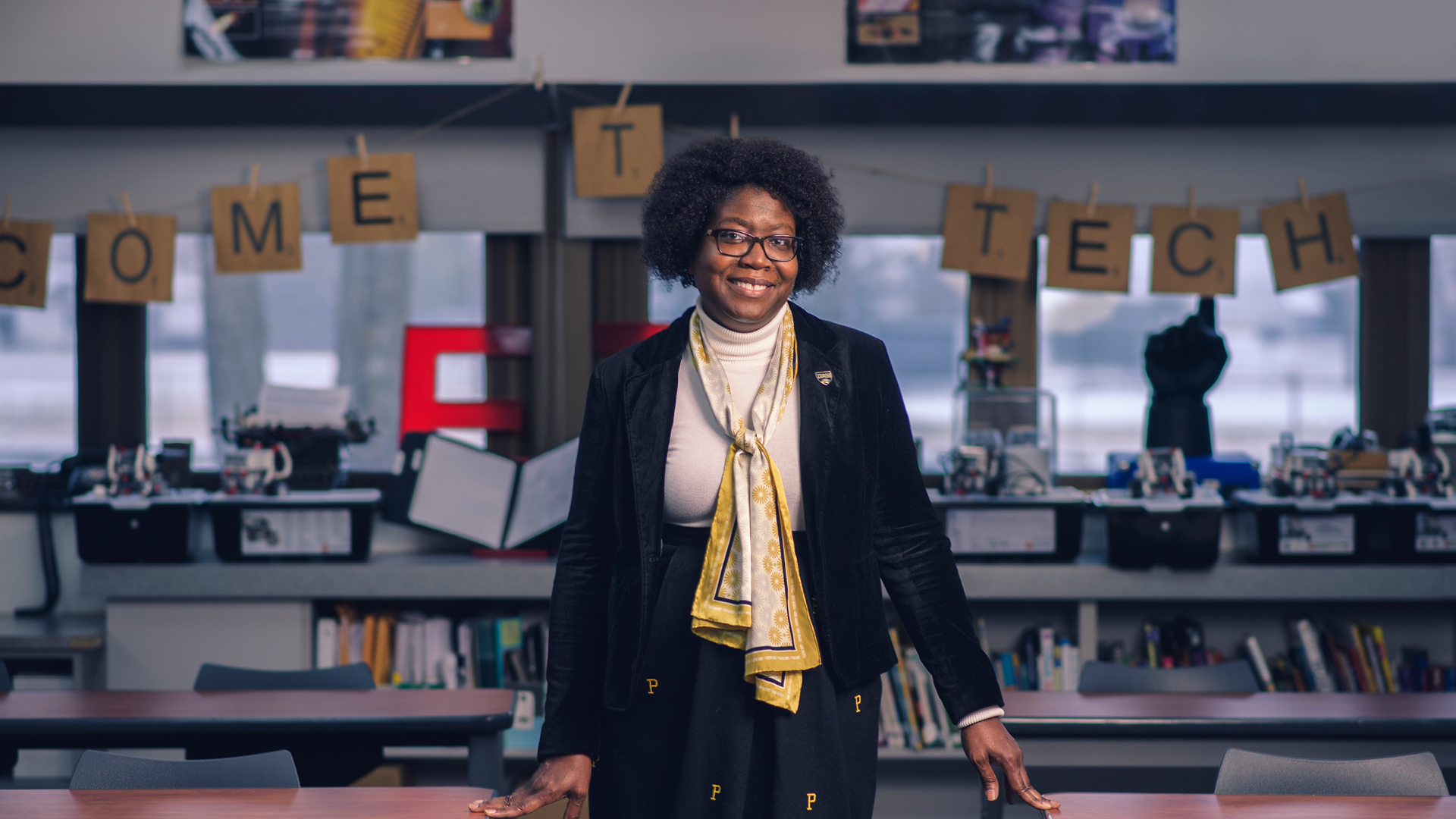 Purdue graduate, engineer and teacher inspires students to show up and be heard
Sharita Ware's seventh graders at East Tipp Middle School near Lafayette spend their class time designing prosthetic legs for Barbie dolls. Her eighth graders are building and programming robots. After school, she coaches the First Lego League robotics team and supervises a decked-out maker space for students.
Ware's colleagues have made her aware: What she offers her students is not normal.
Ware makes history daily, in large ways and small, as she innovates in the classroom and energizes the next generation of students, many of whom have infrequent encounters with minority women in leadership roles or in STEM. Ware's unconventional approaches and a genuine love for her students helped solidify her selection as Indiana's 2022 choice for Teacher of the Year.
Ware shuns the spotlight, but she's still a superstar.
We sat down with Ware to discuss her day-to-day life as a middle school industrial technology teacher, her Purdue experience (BASc industrial engineering technology '93, MS curriculum and instruction '13) and her transition into teaching. She gives her thoughts on Black History Month and minority representation in her profession, and her message to young Black students interested in STEM.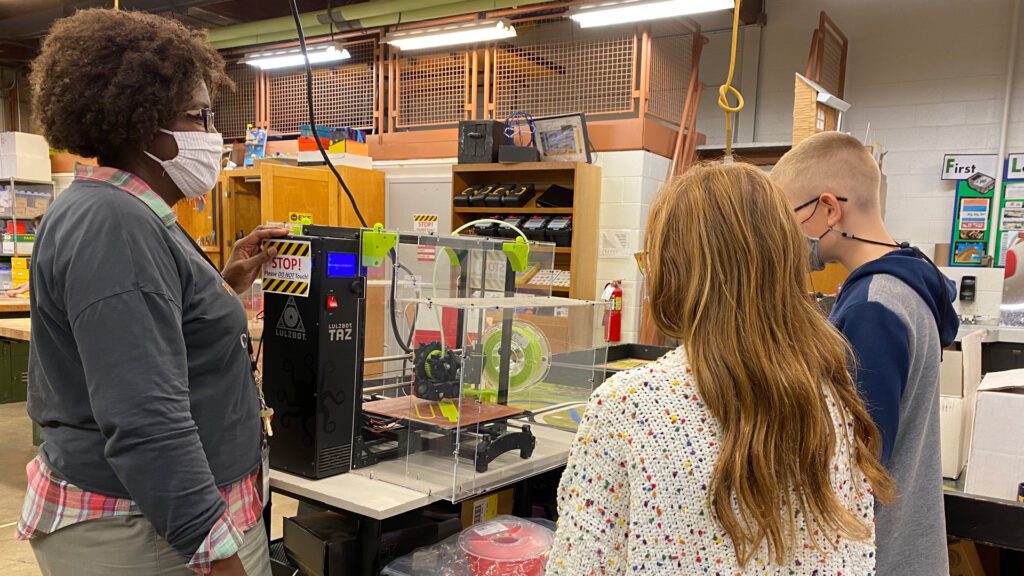 Q: You were recently honored as the 2022 Indiana Teacher of the Year during a ceremony at East Tipp. Looking back, what stands out about that day?
It's funny. I was very reluctant. I still feel very reluctant. It's hard to think that we have all these amazing teachers in Indiana, and they chose me. How did that happen? When my principal came in the room that day, I was like, "Nope." And he was like, "Yep."
I wanted to run in the opposite direction because I'm not a center-of-attention-type person. I love to work hard … in the background. I enjoy that place. I think every teacher wants to be acknowledged and respected for their effort. But this is a whole new level that I never expected.
I am grateful and honored to be Indiana's 2022 Teacher of the Year. It has taken me a few months to absorb this honor, to accept it. I have fought imposter syndrome. I do think that I am a good teacher who cares greatly about my students. I care about their futures, their hearts and their futures on Earth. I believe God has placed me here for a reason, and I don't want to miss this opportunity to be used by Him.
Q: Have you always wanted to teach?
Initially, I wanted to be a doctor, but then I realized that there were some aspects of it that my stomach could not take. After that, I didn't quite know that I wanted to be an engineer, but I knew what I liked to do, and I was eventually led in that direction. I ended up studying industrial engineering technology.
I really enjoyed my experience at Purdue. I lived in Windsor for all four years of undergrad, got involved in student government and student life, and I have some close friends from my time there to this day. Overall, it was a positive experience for me.
I went through the program and ended up working at Caterpillar, and then Gannett, and then I was a stay-at-home mom for 10 years. And then I transitioned into teaching.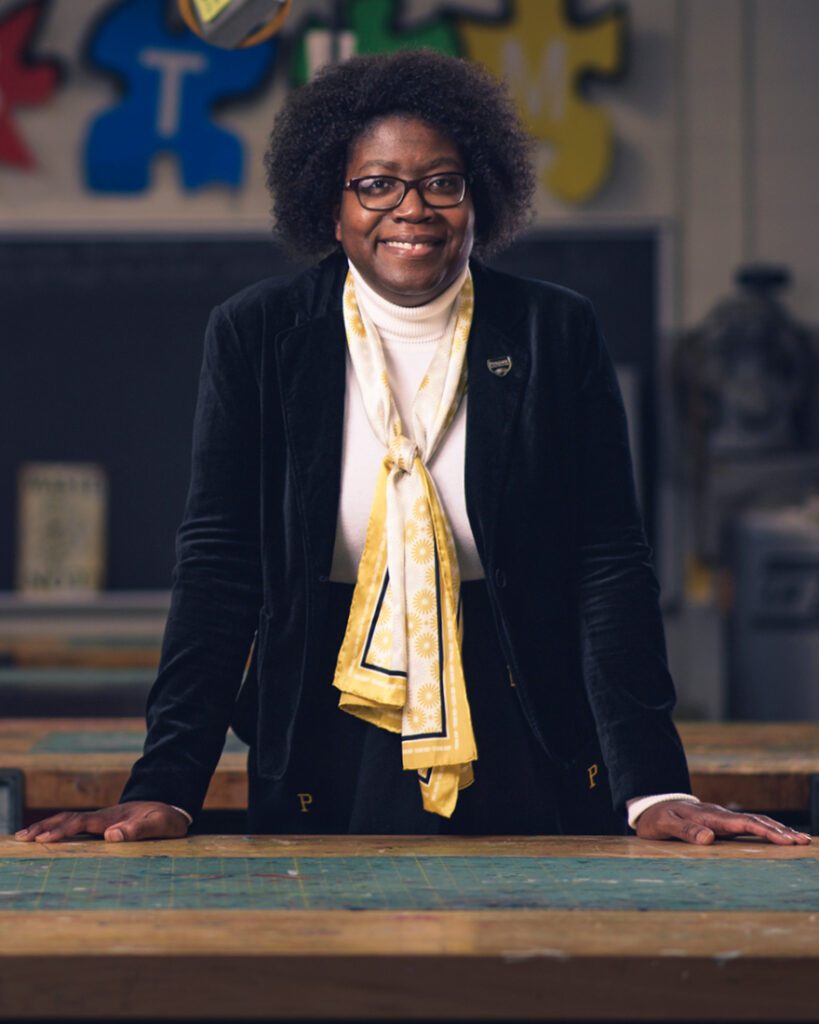 Q: What led you to transition into teaching and come back to Purdue?
It was through the Woodrow Wilson Foundation Teaching Fellowship. They were looking for people with STEM backgrounds to become teachers. I found it valuable to be in the industry, the real world, and then to come in and teach. It gave me a different perspective on what we're preparing kids for.
Purdue's program was called STEM Goes Rural. It was a year-long master's program, and then we spent almost a full year in the classroom, with the second semester of the second year being a full-time student teaching experience.
It was a very good experience. I learned classroom management, because I had the opportunity to be in the classroom for an extended amount of time before I student-taught every day. I got to ease my way into the experience of actually managing and running a classroom on my own. That is a challenge — the biggest challenge.
Q: During your time in industry and during your experiences in education, did you see yourself represented among your colleagues? How about in leadership roles?
Unfortunately, I did not. In school, in college, in industry, as well as in teaching, I have been a minority. There has not been a tremendous amount of respect given to me as a woman of color in my field. Earning a spot in the room has not necessarily earned me a voice in the room. It is hard to say sometimes whether it is my ethnicity or my gender, but the lack of respect has been there.
My quiet presence hasn't helped me, either. Some assume that the quiet, introverted person doesn't have anything to say, but that is not true. This is not a victim story, but it happens to be a true story. But I am a problem solver at heart. I have just had to learn how to be heard. I come prepared. I plan out my ideas. I come to the table with research, sketches, outcomes, the works. It's hard not to hear the voice of preparation and results.
Currently, as far as I know, I am the only adult minority in my school building, whether that be staff, custodian, certified teacher or administrator. It is a position I am used to holding, so most of the time, it does not bother me. Over the last year or so, I have felt it. But I consider myself a human first, so hopefully, we are all connected by more than our ethnicity or gender. My kindness, sense of humor, great sense of style, and contribution to the field far outweigh all that other stuff.
Q: What does Black History Month mean to you?
I might find myself in the hot seat for this, but I am Black all year long, so why am I — and we Black people — relegated to a celebration for one month out of the year? I get that it is a way to highlight or bring to light those who were not, are not, appreciated for their contributions to this world. Our contributions have not only furthered the Black race, but they have also furthered the human race, saved people's lives, sent people to the moon, stabilized markets and more. I get the need to have a month, but I am looking forward to the day we can be celebrated together as a human race. Separation divides us, causes unnecessary competition and wastes resources.
On the other hand, Black History Month gives me a sense of pride. When a colleague or a student is unaware of my Black brother or sister's contribution to this world, I am happy that they now know.
It has been important to me, as a Black woman raising two Black sons and a daughter, to embed in their minds that they are awesome. Don't be afraid. They have every right to be in the room. They have every right to believe they are beautiful. They have every responsibility to carry the torch for future generations. 
Q: As an engineer and now teacher (and also a mother), what message do you want young Black students interested in STEM to hear?
Don't be afraid to walk into the room. Don't be afraid to let your voice, your perspective be heard. It can be intimidating to walk into a room of people who don't look like you, sound like you, especially when you may have been reluctantly invited but not welcomed. Especially when you have to prove why you are in the room. Believe in your work and your purpose because, unfortunately, you may be the only one that does at first.
Work hard, do the work and be prepared when the door opens so imposter syndrome (or the jerk in the room) doesn't scare you away but makes you laugh. Find a mentor that believes in you and trust them through your journey. Those beacons, those angels come from the most unlikely places. They will be the ones who get you through when you don't believe in yourself.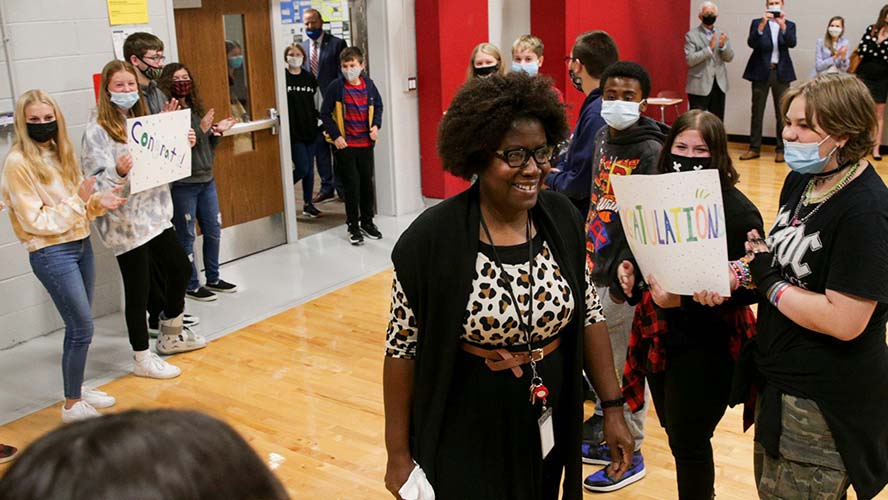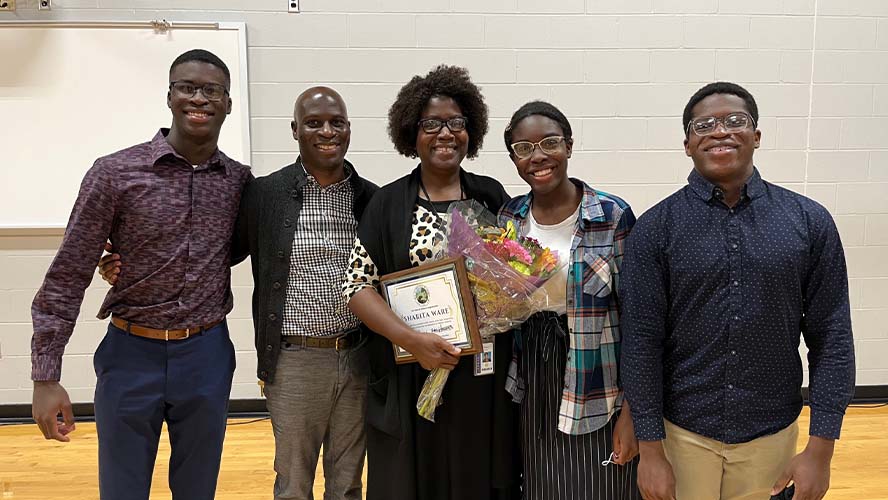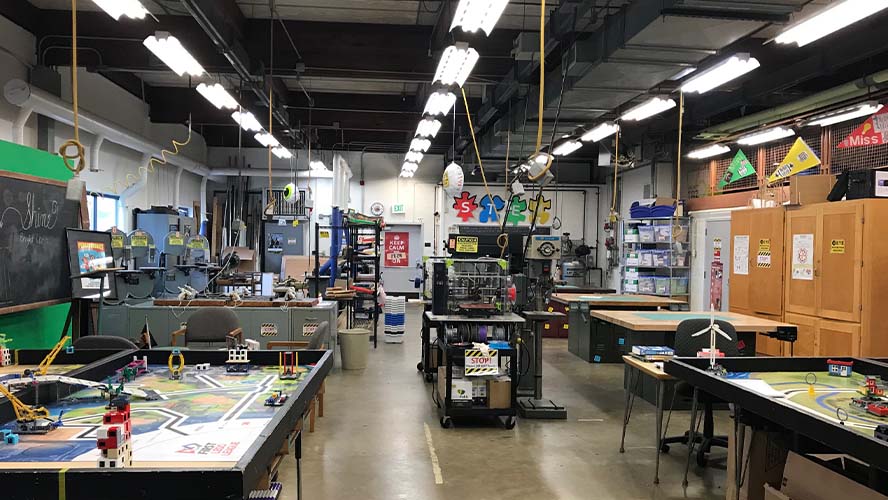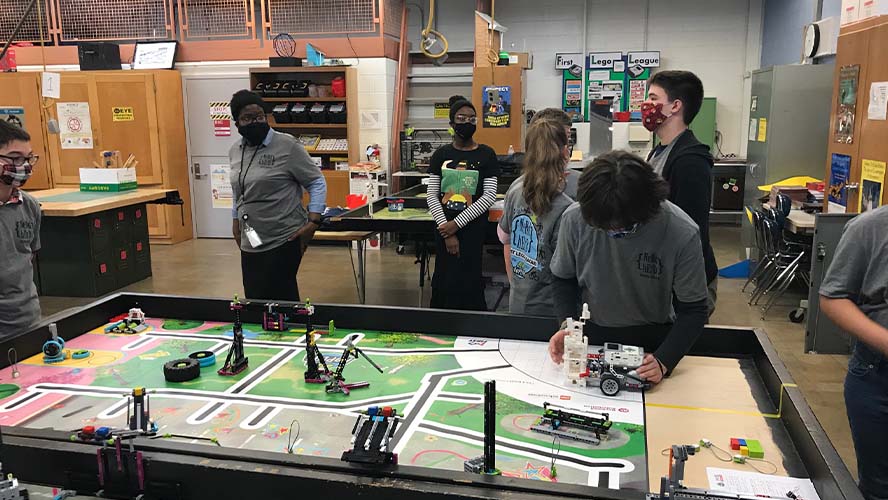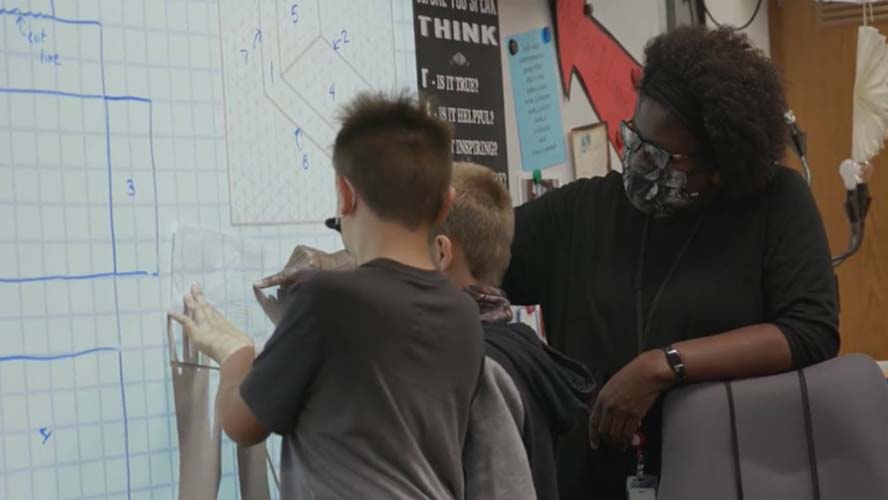 Q: You have been that beacon to so many children. When you recognize that a student does not have the support they need at home, what's your next move?
I try to alleviate the stress. I try to eliminate homework as much as possible. That works as long as the student stays in school. Quarantines (because of COVID-19) are thankfully shorter than last year. But for kids who get behind, you try to manage them completely and totally at school. Sometimes, emailing or calling home will not necessarily get you a connection or response. While it is challenging to get some parents involved, we do also have parents who are supportive and present in their children's education.
I really try to handle each student differently. For one, I might cut back on the work or change some of the parameters of the assignment. Just to get something from them. Just so they can have some level of success. We don't want everything coming at them to be negative. So many kids are in the spiral of "Well, I guess I'm bad at school." It's really unfortunate.
Q: It has not been an easy two years for teachers because of the COVID-19 pandemic. How do you stay optimistic through it all?
I have my periodic meltdown. My husband gets the brunt of that. God bless him. It builds up, and I don't lose my mind on everything that goes wrong. But then, after that 20th thing within a week, I'll go home and I'm like, "Ahhh!" Then I'm like, "OK, I'm all right!" That will keep me for another week or two.
I consider my relationship with God to be that grounding thing in my life. In the state that the world is in right now, there are so many things going on at the same time. If you spend too much time reading the news, you could literally lose your mind. Trusting in God, for my safety, for my health, for direction and for how to work with kids who are struggling. Families are broken and dealing with so many issues.
Q: You're also giving kids some really cool opportunities to explore their interests outside the classroom. Tell us about your maker space.
Our maker space gives kids freedom. You will have desired learning outcomes, but the way that they get to that learning outcome could be totally different from student to student and group to group. It is messy, and it's hard for some teachers to have it be that messy. Sometimes, you think, "Is anything happening here?" Kids will do projects completely different from each other, but they will learn the same thing. It's pretty awesome to watch — if your nerves can handle it.
I think it's becoming more and more common in schools. It's hard to get off the ground because there are no hard objectives. It's after school, and some teachers find it a little difficult because it's chaos. I'm used to that because I have lab classes where kids' projects are all over the place. I'm used to purely project-based engineering design classes.
Q: Sounds like there's room for creativity and a bit of failure along the way as kids learn and grow.
Something that we've gotten away from is letting kids fail. It seems like we've decided that it's not necessary. The one thing we forget is that we learn and grow through our mistakes and failures. Whether that's managing our time, materials or money, we learn from having the opportunity to make mistakes. If you always have somebody right there to catch you before you make a mistake every single time, you don't always learn. There's value in failing.