Back To Top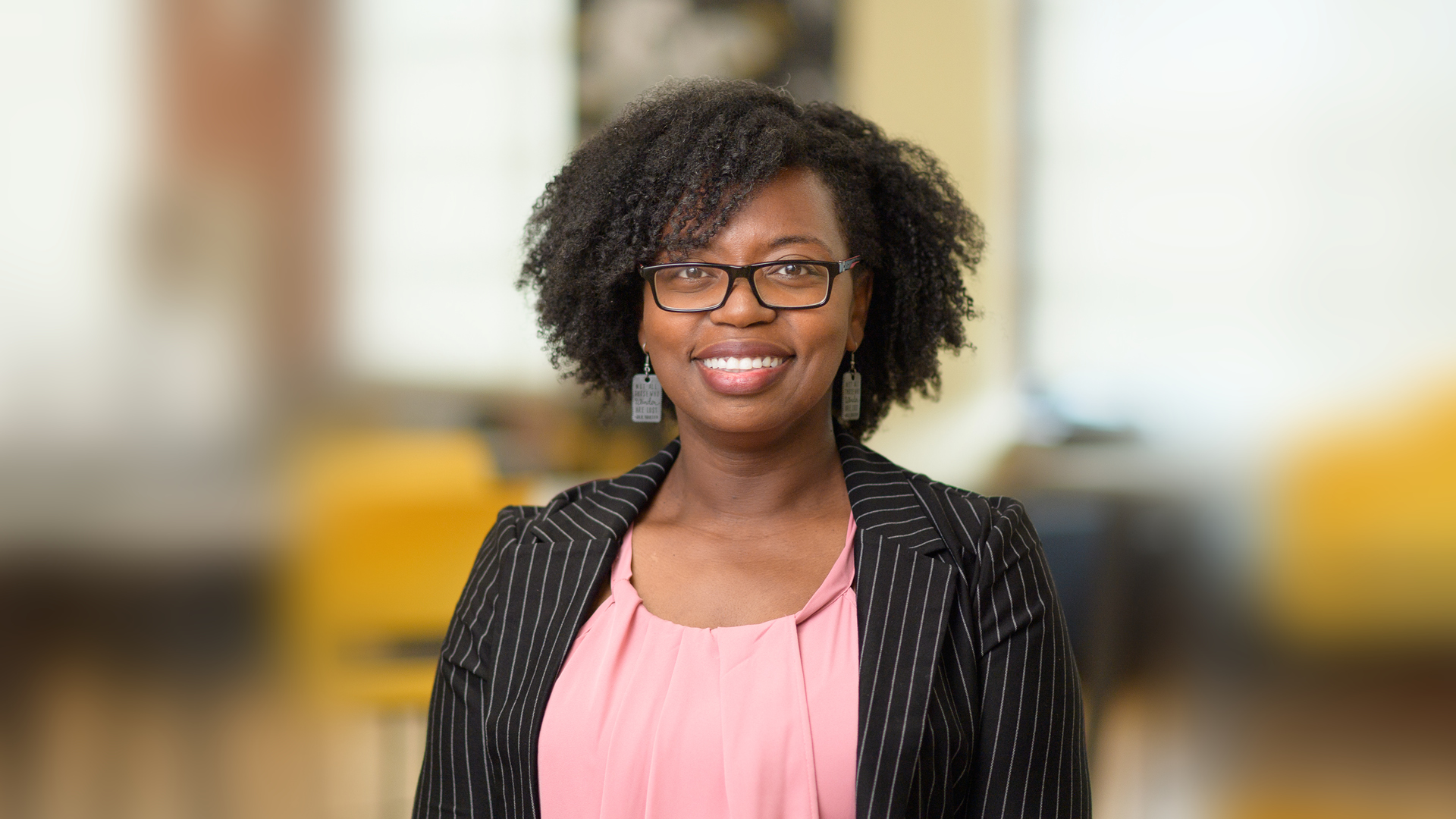 Purdue Polytechnic HS North's principal driven by students' own goals and dreams
Ronni Moore believes in her students.
And that belief pushes her students to succeed in taking the next giant leaps in their classwork, projects and pursuit of higher education.
Moore, principal of Purdue Polytechnic High School North in Indianapolis' Broad Ripple neighborhood, recently recalled working with a student who was not wanting to go to college. After several conversations telling him not to compare himself to others, he became excited with the prospect of going to college.
"He was so excited when he got his acceptance letter," she says. "He was a direct admit and ended up getting a scholarship. I kept telling him, 'You were made for it. You made it. You're doing better than I was at that age.' He was taken aback by that. He needed someone to believe in him. I'm glad we helped him with that process."
The road to teaching
Moore is in her first year as principal of PPHS North. She has been at PPHS for four years, starting as a college and career readiness manager, dean and then assistant principal. Keeanna Warren, previous principal at PPHS North, was appointed associate executive director for the PPHS network, which has another school in Indianapolis and one in South Bend.
But being a principal was not Moore's intended career goal.
After her college graduation, she left her hometown of Indianapolis with a dream of becoming a photojournalist. Completing a photojournalism internship in Scranton, Pennsylvania, she then worked as a photographer for two years for the Pottsville (Pennsylvania) Republican Herald.
Caught up in the tsunami of media job losses, Moore came back to Indianapolis looking for something more stable, but another detour happened as she was taking courses to prepare for dental school.
"I was tutoring students at Crispus Attucks Medical Magnet High School, and I loved it," Moore says. "One of the teachers encouraged me to apply to the Indianapolis Teaching Fellows program, and I was accepted."
After completing the program, Moore began as science instructor at The Excel Center in the Meadows neighborhood.
"Until that point, I never thought about teaching adults. I never thought about what happens to adults who don't graduate high school," Moore says.
After five years at The Excel Center, she found out about PPHS and was intrigued about the different model for high school students, which she felt was a way to keep more kids engaged and coming to school.
Purdue created PPHS to build new K-12 pathways that lead to Purdue, especially for Hoosier students who are underserved by traditional high schools and underrepresented in higher education.
Established in 2017, the growing, multischool PPHS system immerses students and their families in an innovative learning community. PPHS offers tuition-free, authentic, STEM (science, technology, engineering and mathematics)-focused experiences that prepare high school students for a successful future. These experiences include internships, industry projects, dual-credit courses and technical certifications. PPHS also offers its students a unique path to college; graduates who achieve Purdue's admission requirements are assured direct admission to several colleges at Purdue.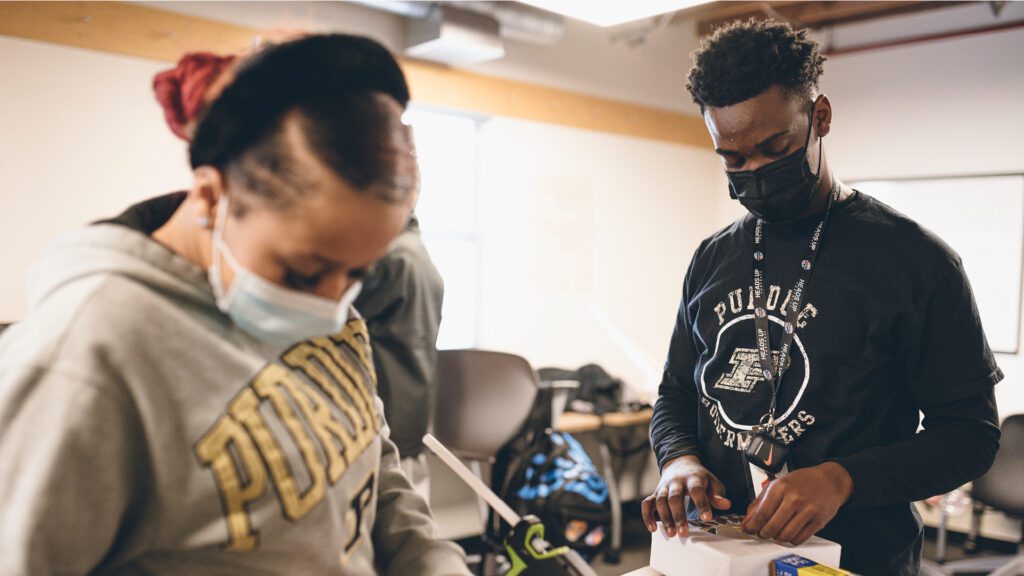 Moore appreciates what PPHS is doing for students and families. She grew up in Indianapolis' Brightwood neighborhood. Her mom wanted more choice in education and enrolled her in Lawrence Township schools.
And her mom's belief in quality education is what pushes her to believe in all 200 students she works with each day.
Vibrancy, passion and opportunities intertwined in Broad Ripple
PPHS North is located in an office building that some have described as a tech startup, which is appropriate as students are learning about STEM in every aspect of their days.
Moore loves the appeal of Broad Ripple – with its public art, open green spaces and special aspects of the community.
It is so inspiring to be in this area," Moore says.
The inspiration and dedication can be found also in the students and families, some of whom come from two blocks away in the area. Others drive in from other parts of Marion and Hamilton counties.
Although PPHS North doesn't have every sport or extracurricular activity, Moore and other coaches – what PPHS calls teachers – encourage the students to be proactive and open to building a team or program or even asking about issues in the community.
"You can see their thoughts and concerns every day." Moore says. "I would have never had the courage to approach the principal with ideas on building a new program. The students ask questions every day about issues in our school and community that we need to address and how we can fix them. That's our culture."
Another important part of the PPHS culture is the personal connections Moore makes with students and families.
She was checking on classes and chatting with students as they were working on their college applications. Moore is excited that the second official class of 17 students will graduate from the school this year. Last year, seven students were eligible to graduate and walked with their peers at PPHS Schweitzer Center at Englewood.
"It's really exciting to see students whom you have known since Day One meet their goal," Moore says. "It's really cool to think about who they were when they came here and who they are now. Recognizing there's been a shift, that growth, has been very beautiful. I think sometimes they don't recognize that growth."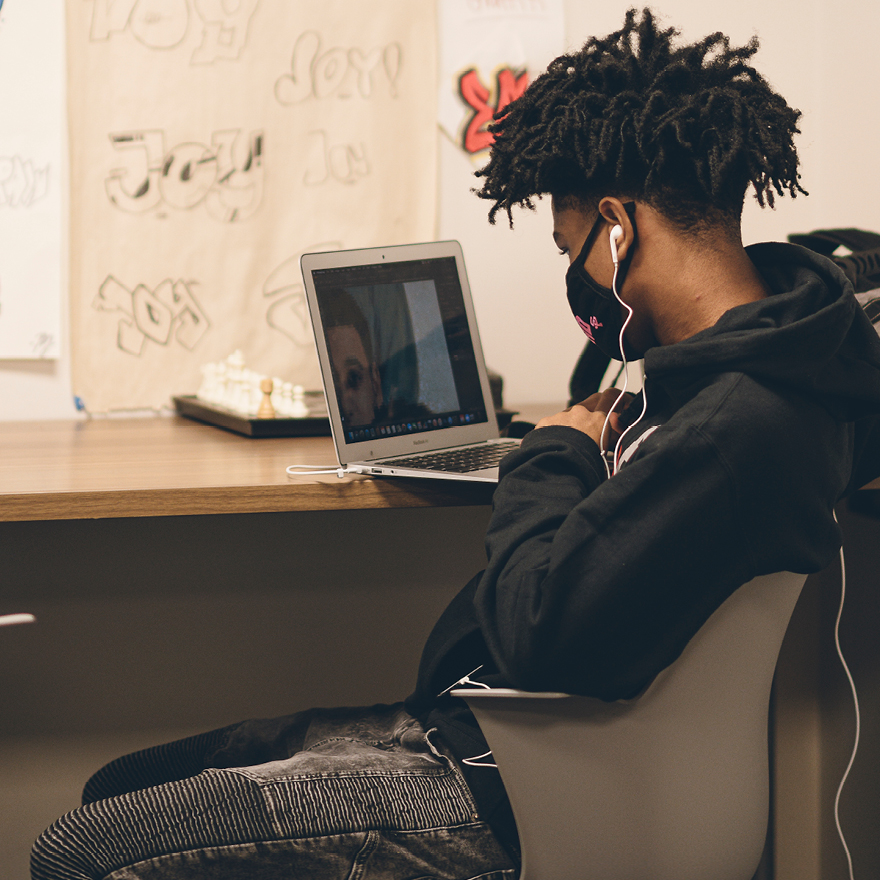 Leading and guiding from the center
Moore is always talking about the students and how everyone can face the challenges of the day – what they are doing, what they need to be successful and where they are going next.
"It's a privilege to serve as a principal and an educator and to serve these students, the families and our community," she says. "Knowing that not everyone gets a chance like this keeps me grounded and working hard."
"It's a privilege to serve as a principal and an educator and to serve these students, the families and our community. Knowing that not everyone gets a chance like this keeps me grounded and working hard.

Ronni Moore
Principal, Purdue Polytechnic High School North
And coming from Brightwood helps her connect with students and families in other ways.
"I know people look at Brightwood and say it's a tough neighborhood," Moore says. "A lot of the students here, to be quite honest with you, hear the way I speak, they see different things about me. They say, 'You're not from Brightwood.' I am from Brightwood.
"That perspective of growing up with not a lot of stuff, not a lot of family privilege, makes me appreciate more of those students and families who went through some of the same struggles that I did while growing up. I have a heart for those students, but it really makes me look out for things that I experienced while growing up, too."