Back To Top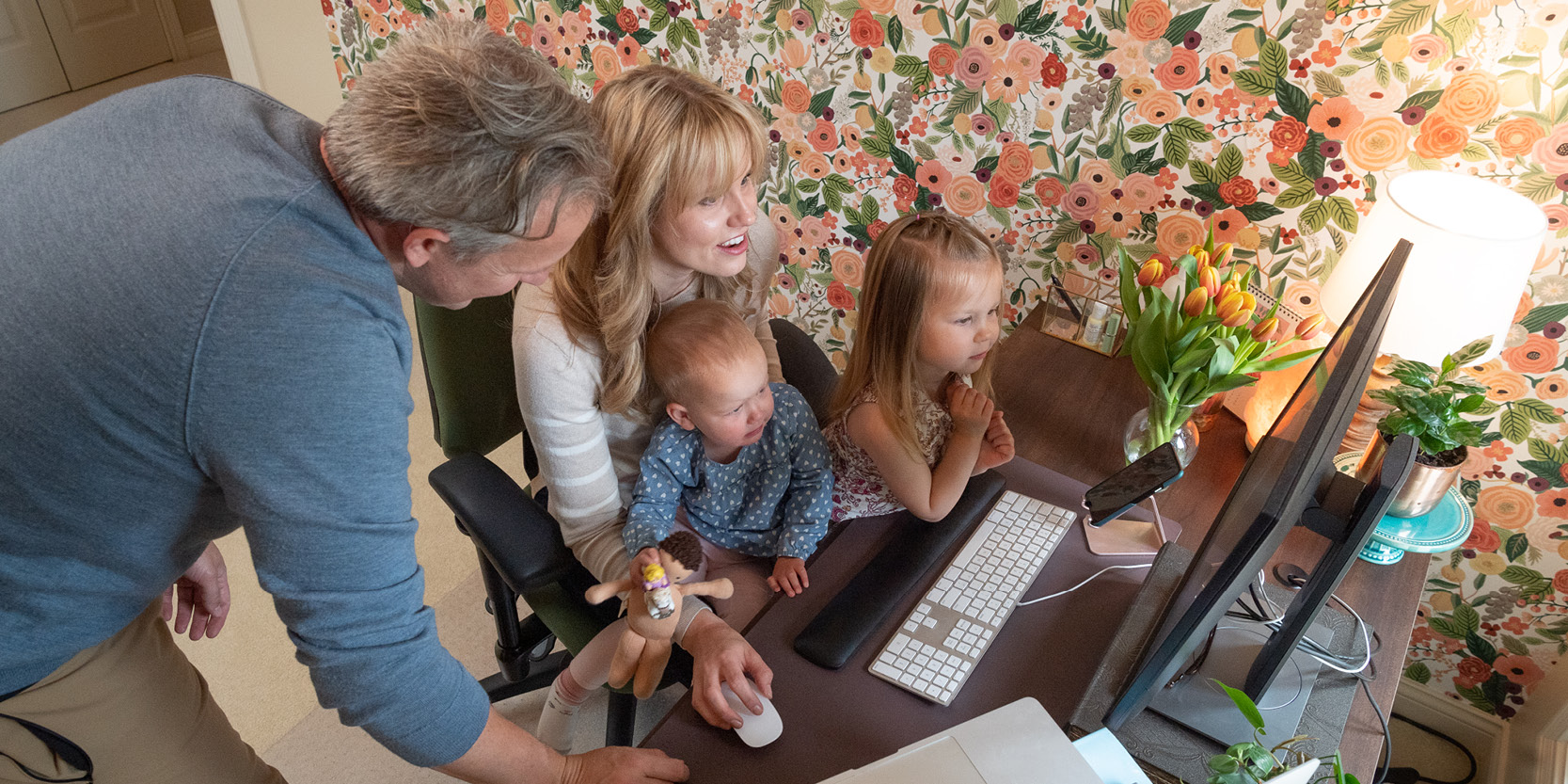 Efforts to optimize available space will benefit both Purdue and its employees
In a difficult year filled with busy workweeks, Johnna Dexter-Wiens found one way to instantly make her daily workload feel a bit lighter.
Whenever she left her home office during breaks from managing Purdue University's "Protect Purdue" COVID-19 communications efforts, she knew 1-year-old daughter Remy would soon arrive to greet her.
"Every time I open the office door, she's like, 'Mama!' We're a year into it, and it never gets old," says Dexter-Wiens, lead communications strategist for Purdue Marketing and Communications. "She's still always so excited to see me."
As was the case for millions of parents who juggled work and child-care duties at home during the pandemic, tending to Remy and 3-year-old sister Luca's needs was an ever-present concern for Johnna and husband Josh, the interim assistant director of academic and career advising in Purdue's College of Liberal Arts. They successfully navigated these conflicting responsibilities, with Josh typically looking after the girls during the day and then catching up on his advising workload in the evenings.
"We had two full-time careers and two full-time young kids, and that was tough," Johnna Dexter-Wiens acknowledges.
With their daughters back in Purdue daycare, the couple expects their work routines to more closely resemble pre-COVID norms, even if the location will not. Like many other Purdue employees who helped the University remain functional during the pandemic, they will enjoy the opportunity to work from home, for at least a couple days a week, for the foreseeable future.
"I desired work from home for many years and look forward to trying 'work from home' and not 'work from home with kids,'" Josh Dexter-Wiens says. "I was surprised by how we found a way to make it work."
Maintaining productivity
Making it work seems to be a common disposition after more than a year of COVID-related adaptation. While there were certainly hiccups as employees across industries shifted from working in physical office spaces to working remotely, many employers were astonished by their workers' ability to maintain pre-pandemic productivity levels – and in some cases surpass them.
Purdue employees made the transition so effectively that President Mitch Daniels and other University leaders began contemplating how some pandemic-initiated adjustments could become long-term work solutions that benefit the Purdue community.
"Right now is the time to consider what we've learned, keeping our new arrangements where they work, as well or better, and adapting them in part, hybrid-fashion, where that works best," Daniels said in a March 26 video directed at Purdue faculty and staff.
By reimagining the future of work, Purdue joins companies like Microsoft, Twitter, Lincoln Financial Group, Siemens, Salesforce and Spotify in embracing flexible work arrangements. Not only do they expect increased employee autonomy to produce happier workers, they have identified many ways that a reduced physical footprint might also benefit their organizations.
At Purdue, for instance, the resulting changes will allow the University to make better use of its available space and financial resources.
In his video message, Daniels noted that campus office buildings like Krannert, Young and Schleman sat largely vacant over the last year. Associate Vice President of Administrative Operations Rob Wynkoop further notes that parking garage utilization declined 75% and that network activity decreased 57% between October 2019 and October 2020 in the section of campus that includes most class buildings.
"The feedback may be, 'Well, of course usage is down because no one's allowed to come to campus,'" Wynkoop says. "But the silver lining is, 'Yeah, but we brought students back at almost 100% and the place functioned. It worked. So what can we learn from that, and how can we do better? There's something there, so let's take a look at it from a workplace perspective and see what innovations we can come up with to improve that and maybe use that more long-term."
New work schedules
An ambitious first step will include further implementation of remote and hybrid work arrangements that were highly unusual – both at Purdue and elsewhere – prior to the pandemic.
Citing Bureau of Labor Statistics data, the Pew Research Center reported that only 7% of U.S. workers had a telework option before COVID. However, remote work has become an effective and popular option, especially among parents who benefit from the increased flexibility. In an additional Pew survey of 10,332 full- and part-time U.S. workers, 38% of respondents said their jobs could be done mostly or entirely at home. Of that group, 54% wanted to work from home most or all of the time.
"Study after study finds some inclusion of work from home increases productivity, work-life balance, retention, et cetera," Josh Dexter-Wiens says. "I prefer a hybrid model with some time in the office and some time at home, and I feel very fortunate to be heading into that setup here soon."
He selected a work schedule that will feature two days of remote work, including some evening advising hours that proved popular among students in the last year. Other College of Liberal Arts advisors selected options like working totally on campus during traditional business hours; working on campus with a non-traditional daily schedule like 10 a.m. to 7 p.m.; or working on campus three or four days per week and remotely the remaining days.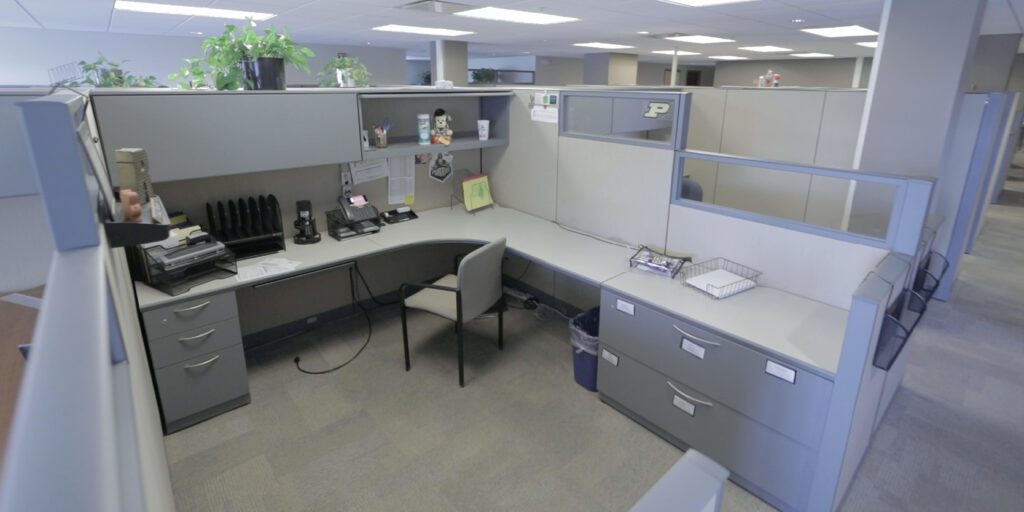 Sue Doron and her colleagues in the Krannert School of Management also plan to work hybrid schedules with three days on campus and two off.
As Krannert's executive director of marketing and communication, Doron is tremendously proud of what her team accomplished remotely in the last year, including successful launches of a new bachelor's degree program and three new online master's degree programs that Krannert unveiled well ahead of schedule. However, the remote-work veteran and her 20-person team are excited for the opportunity to congregate in the same physical space.
"It's important to have people in the office so that we can work together and just foster that intentional collaboration that we have missed in person," Doron says.
Doron emphasizes that work flexibility will largely depend on the trust between manager and worker and the core mission of the job in question. Student-facing employees generally need to be on campus more often than staff who largely work behind the scenes. This is clearly not a one-size-fits-all proposition.
Purdue For Life Foundation President and CEO Matt Folk envisions a scenario where some co-workers may never see one another in person. He predicted that while some Foundation employees will resume daily work on campus, those who can do their jobs effectively from home may pop in a couple times a week, a couple times a year or only for special occasions.
"We need managers that are flexible and we need employees that are flexible and we need an agreement up front that says what we're going to do and how we're going to perform," says Folk, who has managed remote workers for most of the last 20 years. "If you can get your job done remotely and save the gas and save the drive and save the parking spot and save all that sort of stuff, as long as you perform, what's the big deal?"
Repurposing campus space
Purdue For Life's reconfigured workspaces provide an example of what might await teams where employees are off campus for some or most of the workweek. Instead of maintaining permanent individual offices that frequently sit unoccupied, Purdue For Life converted some of its office space to "neighborhoods" where functional teams may gather, with "hotel" space available to reserve when workers visit campus.
Similarly, Purdue's Marketing and Communications team parted ways with its office space spanning two floors at Vistech 1 when it adopted significant remote-work practices, enabling the team to end a $180,000 annual lease. The department trimmed its overall footprint by 6,000 square feet and converted its news office at Purdue Technology Center Aerospace (PTCA), stuffed with cubicles, into open space that now functions as a hub for collaboration and hybrid work.
Wynkoop says the University in December ended leases for three buildings that housed approximately 500 workers in information technology, administrative operations, human resources and the treasurer's office. The annual savings from eliminating that office space and allowing those employees to work remotely? About $1.5 million.
"Those leases are now gone," Wynkoop says. "That money has been saved to use for better purposes."
On the academic side, the engineers at Ray W. Herrick Laboratories have served as models of flexibility for years, repeatedly finding creative solutions to their space issues.
Herrick managing director Maralee Hayworth says the facility converted 17 of the 31 office spaces in the original Herrick building into research space, providing 3,341 additional square feet to work on analytical modeling, numerical simulation and experimental mechanics.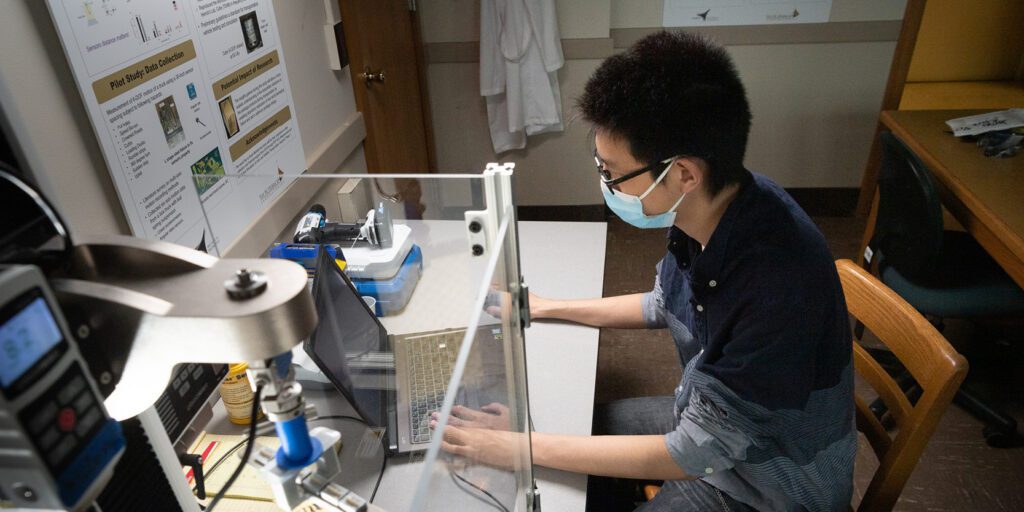 Herrick repurposed these workspaces years before COVID-19's arrival, and it plans to convert additional square footage next year since research space is at full capacity in both Herrick buildings. Hayworth says these conversions worked because the facility's faculty, staff and students understood that flexibility was necessary for their research to succeed.
"Having the additional space in the past has allowed the department to grow and recruit more tenure track faculty," says Hayworth, who noted that a plan is in the works to expand the research space available at Herrick. "Even though there has been success in repurposing old spaces, there is growth that has to be addressed. Herrick is a shared space in which no one space is solely owned by one faculty member. Herrick faculty have been instrumental in creating a culture of being flexible to relocate research to fit the best needs of all projects."
In the meantime, their spirit of teamwork has not gone unnoticed. Wynkoop credits those at Herrick for their resourcefulness.
"Hopefully, there's a better long-term solution for them, which there probably will be, but they're able to successfully do what they need to do in a space they once used for an office. They realized they really didn't need it," Wynkoop says. "And if they can figure that out, we can figure it out for a lot of other things, too."
Such shifts allow campus leaders to rethink their approach to campus planning.
With a record freshman class expected, Purdue must hire additional faculty and student services staff to support its growing student body. Creating space to accommodate these newcomers is not just welcome, it is necessary, and sometimes it can be done without new construction.
"We'll examine the possibility that we can modernize existing buildings, rather than construct new ones," Wynkoop says. "We'll save a lot of money that can go to scholarships or something else like keeping tuition frozen."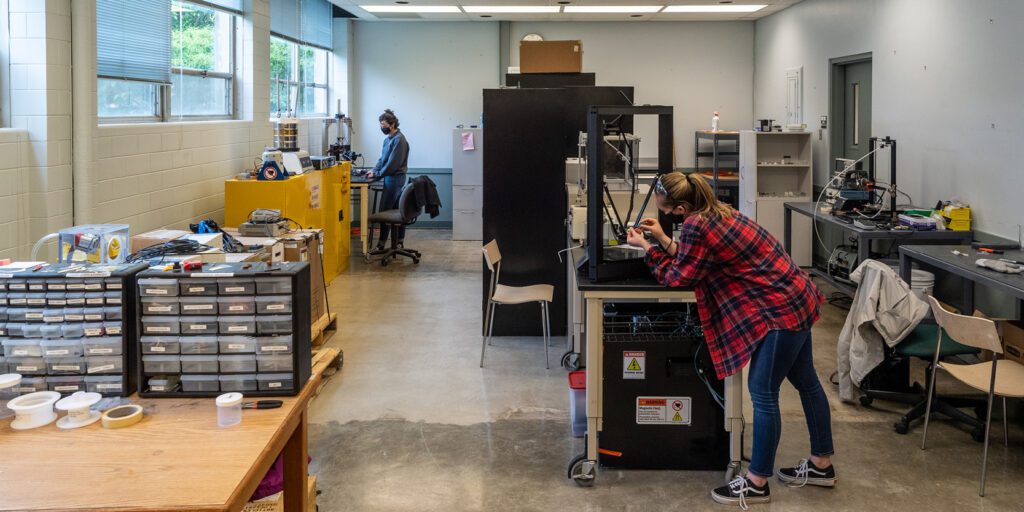 Mutual Benefits
Increased financial and space flexibility are not the only areas where Purdue stands to benefit from a shift toward remote work. It can also expand its potential hiring base to include those who are unwilling or unable to relocate to West Lafayette.
Folk notes that remote-work opportunities enabled Purdue For Life to retain valuable employees who moved away when a spouse accepted a position elsewhere, adding that telework will expand Purdue's ability to hire in cities like Chicago, Indianapolis and Fort Wayne, where talented potential employees might not want to make a daily commute to campus. In addition, some Purdue Marketing and Communications employees live as far away as Texas, Georgia and Virginia.
"It's classic win-win," Johnna Dexter-Wiens says. "The employee wins with added flexibility and time and all of that. And this year has shown that Purdue is on the winning side of the equation, too, so it's mutually beneficial."
Of course, there will be obstacles to clear, including the need to implement work structures that utilize insightful quality-control measures alongside a supportive organizational culture that promotes a healthy work-life balance.
In a fall 2020 survey of 330 human capital executives by The Conference Board, 47% reported that productivity increased during the pandemic. Researchers partially attributed the increase to the executives' observation that 60% of their employees were working longer hours, inviting potential burnout.
"I just want to figure out what drawing boundaries looks like because eventually, we had to drop all boundaries (during the pandemic)," Josh Dexter-Wiens says. "I will work whenever just because the work needs to get done, and that's something that I don't want to continue."
In his video address to faculty and staff, Daniels encouraged those throughout the Purdue community to envision the ideal workplace arrangement and provide input that can help University leaders identify "the best way to tackle the problem."
"No, make that the opportunity," Daniels added.
Allowing many employees to choose where and when they do their jobs is only one way that Purdue's pandemic-related evolution might someday serve as a model for other institutions of higher learning. But it is of monumental importance to those who benefit from the newfound workplace flexibility.
"We've all had to be really flexible as people have juggled their work duties, their child care, home schooling, whatever personal responsibilities they've had to tend to this past year," Johnna Dexter-Wiens says. "Going forward, I would really like to see Purdue continue to embrace that flexibility even beyond COVID-19, even when COVID-19 is in our rear-view mirror.

"As the parents of young children, it's been invaluable, and it's a concrete way for Purdue to live out the value of being a family-friendly employer."